Partnership News
The Innovative Partnerships Program (IPP) aims to provide leveraged technology for NASA's mission directorates, programs, and projects through investments and technology partnerships with industry, academia, government agencies, and national laboratories. The following stories highlight some of the exceptional results of these many partnerships.

New Cataract Early Detection Technique Benefits Astronauts and the Public

A compact fiber optic probe developed for the Space Program has proven valuable as the first noninvasive early detection device for cataracts, the leading cause of vision loss worldwide.

Researchers from NASA and the National Eye Institute (NEI), part of the National Institutes of Health located in Bethesda, Maryland, partnered to develop a testing device for measuring a protein related to cataract formation. Several proteins are involved in cataract formation, but one known as alpha-crystallin serves as the eye's own anti-cataract molecule. Alpha-crystallin binds to other proteins when they become damaged, preventing them from bunching together to form a cataract. Humans are born with a fixed amount of alpha-crystallin, so if the supply becomes depleted due to radiation exposure, smoking, diabetes, or other causes, a cataract can result. By detecting subtle protein changes before a cataract develops, people may be able to reduce their risk by making simple lifestyle changes, such as decreasing sun exposure, quitting smoking, stopping certain medications, and controlling diabetes.

The new device is based on a laser light technique called dynamic light scattering (DLS). It was initially developed to analyze the growth of protein crystals in a zero-gravity space environment. Dr. Rafat Ansari, senior scientist at Glenn Research Center, brought the technology's possible clinical applications to the attention of NEI vision researchers when he learned that his father's cataracts were caused by changes in lens proteins.

During the recent NASA-NEI clinical trial, researchers used the DLS device to shine a low-power laser light into the eyes of people ages 7 to 86 who had lenses ranging from clear to severely cloudy from cataracts. They had previously determined alpha-crystallin's light-scattering ability, which was then used to detect and measure the amount of alpha-crystallin in the lenses. They found that as cloudiness increased, alpha-crystallin in the lenses decreased. Alpha-crystallin amounts also decreased as the participants' ages increased, even when the lenses were still transparent. These age-related, pre-cataract changes would remain undetected by currently available imaging tools.

"This research is a prime example of two government agencies sharing scientific information for the benefit of the American people," says Paul Sieving, NEI's director.

NASA researchers will use the device to study the impact of long-term space travel on the visual system; the increased radiation exposure astronauts would receive during long-term space missions—such as a 3-year mission to Mars—could lead to cataracts and other problems. In the meantime, the DLS technique will assist vision scientists in looking at long-term lens changes due to aging, smoking, diabetes, LASIK surgery, eye drops for treating glaucoma, and surgical removal of the vitreous gel within the eye, a procedure known to cause cataracts within 6 months to 1 year. It may also help in the early diagnosis of Alzheimer's disease, in which an abnormal protein may be found in the lens.

"By understanding the role of protein changes in cataract formation, we can use the lens not just to look at eye disease, but also as a window into the whole body," says Ansari.

NASA-Developed Technologies Receive Awards for Excellence in Technology Transfer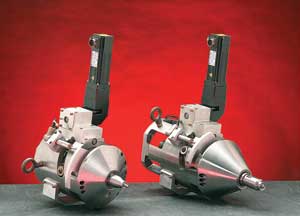 The auto-retractable pin tools developed at Marshall Space Flight Center improve the use of friction stir welding for both NASA and industry.
A welding innovation and a glucose monitoring advancement have been selected as winners of 2009 Awards for Excellence in Technology Transfer from the Federal Laboratory Consortium for Technology Transfer (FLC). The annual awards recognize laboratory employees who have accomplished outstanding work in the process of transferring a technology developed by a Federal laboratory to the commercial marketplace. A distinguished panel of technology transfer experts from industry, state and local government, academia, and the Federal laboratory system evaluated the nominations.

Marshall Space Flight Center's auto-adjustable pin tool has vastly improved the process of friction stir welding (FSW), a superior welding technique that uses frictional heat and motion from a rotating pin tool to join structural components without actually melting any of the material (Spinoff 2008 and 2009). The Marshall technology eliminates the main problem with FSW: the keyhole left by the pin tool at the end of the weld. The auto-adjustable pin tool automatically withdraws the pin into the tool's shoulder when the weld is complete; the shoulder then smoothes the end of the weld, eliminating the keyhole. The technology was developed to improve FSW for use on circumferential welds for NASA applications like the space shuttle external tank and has since been employed in commercial FSW machines.

Glenn's award-winning glucose monitoring advancement is a result of research on low-Earth orbital atomic oxygen interactions with spacecraft materials (Spinoff 2008). The contribution consists of a practical and effective method of constructing microscopic cones on the surface of optical fibers that are necessary for a fiber optic blood glucose monitoring device to function. The technology has resulted in a new glucose monitoring system that requires much smaller quantities of blood than conventional lance and absorbent strip devices, which, coupled with the enhanced affordability of the fiber sensor, invites more frequent monitoring and thus better blood glucose control. The system is currently in the process of commercialization—good news for the almost 24 million diabetics in the United States.

NASA Aircraft Monitors Wildfires, Saves Lives

When the request came in from the California Department of Forestry and Fire Protection to help battle the 2008 wildfires, Ames Research Center equipped a remote-controlled, $6 million Ikhana aircraft with an Autonomous Modular Scanner (AMS) and sent it out from NASA's Dryden Flight Research Center. The Federal Aviation Administration (FAA) allowed NASA unprecedented flexibility to fly the missions in support of the firefighting effort.

Ames had obtained the Ikhana, based on the same airframe as the military's Predator drones and manufactured by General Atomics Aeronautical Systems Inc., to use as a test bed for advanced sensor projects. (Ikhana is a Native American Choctaw word meaning "intelligent," "conscious," or "aware.") The AMS operates like a digital camera, with specialized filters to detect light energy at visible and thermal infrared wavelengths. The scanner uses an advanced mercury-cadmium-telluride detector that can be tuned to any desired infrared wavelength and is calibrated to register discrete temperature changes of
33 °F to over 1,800 °F, superior to typical thermal systems that do not accurately measure high-temperature target ranges. To more easily detect hot spots, Ames researchers crafted an algorithm to call out the hot pixels in the images that indicate the hottest parts of a fire.

"The AMS basically lets us look right through the smoke and essentially create a discrete thermal profile of the fire, with complete geospatial awareness," says Steve Hipskind, chief of the Earth Science Division at Ames.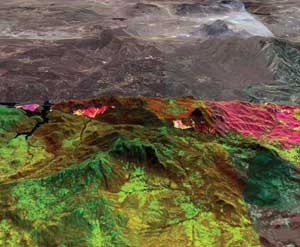 Thermal-infrared sensors on the Ikhana aircraft recorded this 3-D processed image of a fire in the mountains of California.
The AMS sensor can save more than 20 hours of image scans in its on-board data storage, or it can stream its data in real time while flying over fire areas. At Ames, the data is autonomously integrated with Google Earth and Microsoft Virtual Earth maps to see the location and scope of the fires. Within about 10 minutes, those images are received and the fire information is distributed to the field. For the 2008 flights, the National Interagency Fire Center directed Ikhana's flight sequence to incidents deemed of the highest priority. The aircraft-vectoring process relied heavily on the use of NASA's MODIS Rapid Response System data, compiled at the U.S. Forest Service Remote Sensing Applications Center, to derive fire locations and incident priority.

Ikhana's efforts brought praise from California Governor Arnold Schwarzenegger, who visited Ames to learn how NASA helps the Nation deal with natural disasters. Schwarzenegger called the Ikhana "one of the most exciting new weapons in our firefighting arsenal" and "a true lifesaver." During one flight in 2008, the Ikhana and its sensors detected a hot spot on the eastern edge of the town of Paradise. That information played a key role in the order for a mandatory evacuation of 10,000 people at risk.

Ames and Dryden were among the organizations that received the Federal Laboratory Consortium's "Interagency Partnership Award" involving NASA, USDA Forest Service, FAA, and the National Interagency Fire Center in the development and operational use of the Ikhana aircraft to monitor and track fires.

+ Back to Top

NASA Honors Inventions, Software of the Year

Hand-held instruments, a high-temperature resin, and a mission optimization program have won "Invention of the Year" and "Software of the Year" awards for 2008.

A high-speed three-dimensional laser scanner, developed by Ames, has been named "NASA Government Invention of the Year." The scanner is used in a Mold Impression Laser Tool (MILT), a hand-held instrument used to scan space shuttle tiles to detect and measure the amount of any damage. The MILT unit wirelessly transmits flaw dimensions and location information to a laptop computer several meters away. Several MILT instruments are currently in use at Kennedy Space Center for space shuttle missions and are planned for use in future missions.

"We are honored in receiving this award and wish to thank all of the people who have contributed to the success of this invention, and especially to its meaningful application to critical NASA applications," said Joe Lavelle, manager and lead engineer, 3D Vision Systems Laboratory at Ames.

The 2008 "NASA Commercial Invention of the Year," PETI-330, is a polyimide matrix resin that performs well at high temperatures and is easily processed into composites in a simple, short curing cycle. This resin was created specifically for heat-resistant composites formed with resin transfer molding and resin infusion, which formerly could only be used with low temperature resin systems. The resin is well-suited for aerospace applications, particularly products that need to be at high temperatures for thousands of hours, because it is extremely lightweight and remains durable at high temperatures typical in high altitudes.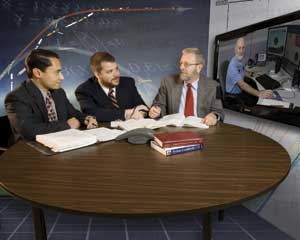 Developers of OTIS4 and winners of the prestigious 2008 "NASA Software of the Year" (seated from left) are Glenn Research Center engineers Waldy Sjauw, Robert Falck, and John Riehl, and Boeing engineer Stephen Paris on the monitor.
Invented by Langley Research Center senior scientists John Connell, Paul Hergenrother, and Joseph G. Smith, Jr., PETI-330 is now licensed to Ube Industries, based in Japan with its American headquarters in New York (Spinoff 2009). In addition to being durable and lightweight, the resin is also nontoxic, which makes it safer for workers to handle. Its nontoxic composition may help cut expenses for manufacturers because it does not require special facilities or handling.

The Optimal Trajectories by Implicit Simulation, version 4 (OTIS4) program is the 2008 NASA "Software of the Year." OTIS4, developed by John Riehl, Robert Falck, and Waldy Sjauw of Glenn and Stephen Paris of Boeing Phantom Works, is a general trajectory and mission optimization program. It has broad applications within space exploration and aeronautics research. OTIS4 is used at Glenn and Marshall in support of the Constellation Program, at Kennedy for highly detailed expendable launch vehicle performance verification and validation (for the Mars Phoenix lander, Kepler spacecraft, and others) and at Dryden in support of that Center's missions.

Similarly, OTIS4 is, in brief, widely used throughout the U.S. aerospace industry; Boeing, Lockheed Martin Skunk Works, Northrup Grumman, Johns Hopkins University's Applied Physics Laboratory, Rocketplane Global Inc., Blue Origin, and many consultants to the aerospace industry all employ the software. Additionally, OTIS4 can be used for applications outside of the aerospace industry, such as underwater autonomous vehicles, with a few, very simple modifications to the source code.

All award winners were honored during the NASA Project Management Challenge Conference in early 2009.

Pipeline-Monitoring Partnership Aids Safety and Homeland Security

With the increase in security risks in our Nation's energy infrastructure—refineries, chemical plants, and pipelines—in this post-9/11 era, monitoring liquid pipelines and pipeline rights-of-way (ROW) has become more and more critical. Pipeline operators are looking to improve monitoring instruments and systems
and to migrate from piloted to unpiloted aerial systems (UAS) and satellites for more frequent, consistent, and accurate surveillance.

Ames and the Pipeline Research Council International Inc. (PRCI) have initiated a new public-private collaboration to identify and demonstrate technologies for autonomously monitoring pipeline ROW. The Rights-of-Way Autonomous Monitoring project evolved from an earlier project with BP Pipelines and Logistics North America and is partnered with the U.S. Department of Transportation's Pipeline and Hazardous Materials Safety Administration. Broader industry interest in the project resulted in PRCI allocating resources and coordinating the project on behalf of its membership. This multi-phase, multi-year program will focus on remotely detecting three types of issues along the ROW: encroachment and intrusions, ground disturbances and movements, and leaks of hydrocarbon gasses and liquids.

A key goal of the project is near-real-time detection and reporting. Building on past research funded by PRCI and current work in progress by its member companies, as well as work by NASA, independent researchers, institutions, and commercial resources—a new generation of surveillance and encroachment management systems promises to deliver a significant improvement in the proactive prevention of third-party damage. Imagery acquisition, change-detection analysis, subsequent automated hazard assessment, and alert notification processes may be scalable for security surveillance for airborne vehicles, ground patrol vehicles, or for mounting on stationary structures. The deployment of UAS in addition to weekly piloted flights can increase ROW surveillance capability and capacity. As optimization of routes, technology, and other factors come into play, the cost per mile for UAS will be equivalent to or lower than costs for current piloted flights.

This project supports the active remote sensing program at the Ames Earth Science Division, which has utilized space-based, piloted, and unpiloted aerial platforms for more than 26 years. Further development of remote sensing capabilities for piloted and unpiloted aerial systems under this project will enhance both rapid data collection efforts in the early phases of science missions and methane detection capabilities for improved environmental monitoring. Other potential applications for this technology within the oil and gas industry, as well as for the power transmission/distribution and railroad transportation industries, are also being explored.

Zero-Gravity Flights Pave Way for Small Business Technologies

Small businesses are seeing their developing technologies make a great leap forward thanks to a new NASA program that is taking the gravity out of costly testing requirements.

NASA's IPP provides needed technology and capabilities for NASA's Mission Directorates, programs, and projects through investments and partnerships with industry, academia, government agencies, and national laboratories. A key goal of IPP is technology infusion—providing technical solutions to challenges being faced by the Agency. To meet this goal, IPP works to enable cost avoidance and technology maturation.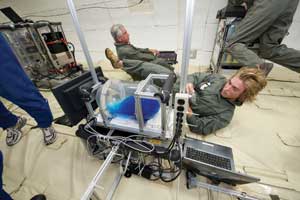 IPP's Facilitated Access to the Space Environment for Technology Development and Training (FAST) program provides opportunities for companies, research institutions, universities, and government agencies to test hardware in the space environment. Researchers fly experiments on parabolic aircraft flights, which simulate microgravity, reducedgravity, and variable-gravity conditions.
The biggest obstacle to technology infusion is the perceived risk by program/project managers of adopting a new technology. They like to have technologies that are flight-tested and demonstrated effective in their relevant environments—from microgravity to lunar or Martian gravity levels. Unfortunately, many small business technologies stall in their development due to the high costs of testing and a lack of opportunities to test prototypes in relevant environments. To create more opportunities to advance the maturity of key technologies, reduce the perceived risk of adopting those technologies, and increase the likelihood of more technology infusion, IPP has established the Facilitated Access to the Space Environment for Technology Development and Training (FAST) program.

FAST helps emerging technologies mature by providing free testing capabilities in a reduced gravity environment. This unique testing environment can be provided in an aircraft flying repeated parabolic trajectories. The aircraft can provide about 25 seconds of near-zero-gravity conditions during each parabolic maneuver and can simulate reduced-gravity levels similar to those found on the surface of the Moon or Mars. NASA has been flying parabolic flights on NASA-owned aircraft for decades out of Ellington Field in Houston under the management of the Johnson Space Center's Reduced Gravity Office. Those flights have made numerous contributions to scientific advancement and technology development.

There are now commercial providers who offer microgravity flight capabilities on a routine basis. The Zero-Gravity Corporation, headquartered in Las Vegas, has been contracted to conduct flights for the FAST program out of Ellington Field, demonstrating the effectiveness of employing the emerging commercial space sector to advance technology maturity. Initial reduced-gravity tests with small businesses developing technologies for NASA were conducted last year, with seven companies already funded by NASA Small Business Innovation Research (SBIR) contracts participating in FAST's initial flights. Those tests validated the FAST concept and have paved the way to offer this opportunity for all U.S. organizations developing technology NASA may need. In the future, the FAST program expects to provide more extensive technology testing with suborbital and orbital flights, when such commercial services become available.

+ Back to Top

NASA Researchers Receive "R&D 100" Awards

NASA researchers and contractor personnel are among the 100 winners to receive the prestigious "R&D 100" awards. An "R&D 100" award is a mark of excellence known to industry, government, and academia as proof that the product is one of the most innovative of the year. The awards were presented at a ceremony at Chicago's Navy Pier Grand Ballroom and Lakeview Terrace on Thursday, October 16, 2008.

NASA's awards this year were for the following technologies: Multidimensional Contact Angle Measurement Device (MCAMD), Simultaneous Non-Contact Precision Imaging of Microstructural and Thickness Variation in Dielectric Materials, Sensor Web 2.0, and SansEC Sensors.

MCAMD is a breakthrough in measurement technology which enables a vast number of industries to measure transparent liquid drops on a solid surface. It collects a host of crucial information simultaneously in a 360-degree view and allows scientists to see how those liquid droplets interact with different surfaces.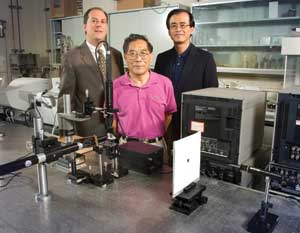 Drs. David Chao and John Sankovic of Glenn and Negli Zhang of the Ohio Aerospace Institute received an "R&D 100" award for their invention, the Multidimensional Contact Angle Measurement Device.
Because of the advancement in technology, scientists will be able to study the contact angles in a way that is superior to any currently available contact angle meters. The previous method only measured a contact angle from a single side view.

Although MCAMD's direct application involves NASA space missions, it impacts many other things, such as industrial applications like coating, painting, lubricating, gluing, film cooling, biological cell adhesion, and boiling heat transfer.

With Simultaneous Non-Contact Precision Imaging of Microstructural and Thickness Variation in Dielectric Materials, scientists use terahertz imaging to analyze the quality, compactness, and dimensions of non-conducting materials or products, including materials such as foams, over a large continuous region, without having to cut out sections.

When it comes to space travel, foams play a major role in thermal protection systems. With the new technology, NASA now has the option of performing process and quality control of foams and other thermal protection system materials without destructively cutting and using laborious conventional quality control methods.

Using revolutionary methods and software, the Terahertz Density Thickness Imager extends the ability of conventional terahertz imaging. It allows NASA scientists and engineers to measure foam spray quality in terms of thickness and density variations over a large area that might occur as a result of hail damage, improper processing, or worker handling.

The density-thickness imager technology is currently used exclusively by NASA, but in the future, it may have application not just for foam but plastics, wood, paper, ceramics, and pharmaceutical materials.

Goddard Space Flight Center's Sensor Web 2.0 was also given the prestigious award. A Web services-based software, Sensor Web 2.0 gathers and assimilates data from a network of sensors—seismic and GPS ground sensors, fire tower sensors, weather radar devices, and satellite sensors—enabling them to operate as a cohesive whole. By employing Workflow Management Coalition workflows and taking advantage of emerging "mashup" capabilities, Sensor Web 2.0 enables users to set up such sensor webs through easy point-and-click interfaces. Because the sensor-integration path is not tied to a particular system, it strengthens the U.S. contribution to GEOSS, the Global Earth Observation System of Systems that stems from about 60 countries to form a network of Earth-observing systems. The result is a complete, real-time picture of Earth via shared global resources.

Dan Mandl, the innovation team leader, noted that while all sensor web initiatives work toward early detection of natural disasters, the Sensor Web 2.0 has the advantages of being particularly user friendly and cost effective. "Scientists or emergency workers typically spent months or years working with a team of programmers to assemble sensors and data processing algorithms into workflows to accomplish an application," Mandl said. "Sensor Web 2.0 enables even students to assemble customized sensor web applications in a matter of hours or minutes, with no staff. Like the Internet, the usability will increase exponentially as the library of available workflows grows."

The technology can be applied to all manner of natural and manmade disasters, including giving advance warning of a tsunami approaching land; precisely determining hurricane strength, location, and trajectory; and detecting oil spills soon after the spill occurs. The development of such customized new applications is accomplished via "mashups," which involves creating a single, integrated tool by "mashing" together data from multiple sources. So, Sensor Web 2.0 transforms the operations of space-based, airborne, and remote ground sensors from a complicated, manpower intensive, costly effort into a user-driven mashup activity.

Sensor Web 2.0 can be used to quickly and easily make sensors accessible and controllable over the Internet. Users can select an area of interest (either geographic or event-specific) via a standard Web portal and receive notifications of events via instant message or short message service. The technology easily plugs in new sensors, which could pop up in a Google search, growing the network without additional expenditure of resources.

An "R&D 100" award also went to NASA for its SansEC Geometric Sensing Patterns, the simplest completely functional circuit that can be manufactured today. NASA scientists originally developed SansEC as a method of having thermal insulation serve as a damage detection system for inflatable space structures and discovered its additional unique qualities as a new way of creating electrical systems.

Offering several improvements over traditional closed-circuit sensors, each open-circuit SansEC sensor uses a single geometric pattern that eliminates the need for electrical connections and needs no solder or other types of mechanical connections such as pressure or screws. Developed by Langley's Stanley Woodard and Bryant Taylor of ATK Space, it has no "Achilles" point (a point that, when damaged, renders the circuit inoperable) and continues to function even when ripped, punctured, or badly torn.

Unlike other sensors, a SansEC sensor can be designed for measurements unrelated to each other—like temperature and fluid level—and easily switch from one to another or do both simultaneously.

It can be configured to measure some physical quantities or changes without exposing electrical components to harsh environments, like gaseous ammonia or chlorine, and a SansEC sensor can be deposited directly onto any smooth, non-conductive material such as fiberglass. Each sensor can be placed on an adhesive backing and made into a sensing decal or an adhesive roll and used as sensor tape.

Traditional closed-circuit sensors use electrical connections that can be degraded or damaged and have the potential for electrical arcing, but the SansEC open-circuit sensor has no conventional electrical connections, making it highly resilient to damage. It operates as a single component and not only weighs less than its closed-circuit counterparts but can be manufactured at a lower cost. It uses fewer materials, requires less time and labor, produces less waste, and has a wide range of commercial applications.

Because the electrical connections are eliminated, the choice and combination of conductive material can be used to design sensor arrays in an artistic pattern. Designs could be made for individual sensors, as well.

NASA and Ocean Tomo Sell Government Patent Licenses

NASA and Ocean Tomo Federal Services LLC, a wholly-owned subsidiary of Ocean Tomo LLC, entered into a relationship to commercialize NASA-funded technologies. The arrangement, which resulted in the sale of several licenses for Goddard-developed technologies, was the first of its kind for a government agency.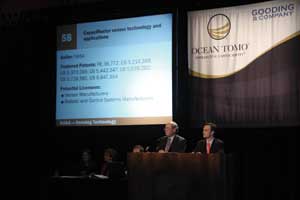 In October 2008, licenses for several Goddard Space Flight Center technologies went on the auction block, representing an innovative first for a Federal agency's technology transfer program attempt to move technologies from the laboratory to the commercial sector.
The live auction, Ocean Tomo's eighth, took place on October 30, 2008, in Chicago. The auction was
the largest to date, with over 500 in attendance. The NASA lot licensed at the auction was comprised of a portfolio of 10 U.S. patents and 1 domestic patent application for a method and system used to analyze nonlinear, non-stationary signals, known as the Hilbert-Huang Transform.

"This has been a great day for NASA," said Nona Cheeks, chief of the IPP office at Goddard, which administers these NASA patents. "Today we demonstrated that the Federal Government can be innovative in how it commercializes federally funded technology for the benefit of the American public."

"By being the first Federal agency to participate in a live, public auction of exclusive patent licenses and demonstrating success, NASA has blazed a trail for others," said Connie Chang, director of Ocean Tomo Federal Services. "We are thrilled with this outcome and look forward to helping others in the government accelerate innovation and contribute to our Nation's economic prosperity."

"The IPP office works diligently to make the most of all opportunities for Goddard technologies to be utilized beyond NASA's needs, and some innovations are better transferred through nontraditional channels," said Darryl Mitchell, a technology transfer manager in Goddard's IPP office. "That's why we welcome this opportunity to partner with Ocean Tomo. They have unique expertise and tools as well as the motivation to make this innovative pathway to the commercial sector successful."

"While both NASA and Ocean Tomo stand to benefit from the agreement, the ultimate beneficiary," said Cheeks, "is the taxpayer. This groundbreaking collaboration between Goddard and Ocean Tomo accelerates the commercialization of NASA technologies into new and advanced products that help improve quality of life. A successful partnership between Goddard and Ocean Tomo is just the beginning of an important way for all of NASA, as well as other Federal labs, to maximize the value to the Nation of Federal technological research and development for unique scientific applications."

+ Back to Top

NASA and USAID Bring Earth-Observation Benefits to Africa

NASA, the U.S. Agency for International Development (USAID), and international partners met in Nairobi, Kenya, to unveil SERVIR-Africa, a system that integrates the satellite resources of the United States and other countries into a Web-based Earth information system. This effort puts previously inaccessible information into the hands of local scientists, government leaders, and communities to help address concerns related to natural disasters, disease outbreaks, biodiversity, and climate change.

SERVIR, Spanish for "to serve," has been in operation in Central America, the Caribbean, and southern Mexico since 2005. Now, through the support of multiple government agencies and other organizations, NASA and USAID are expanding the system to Africa in partnership with the Regional Center for Mapping of Resources for Development in Nairobi. The center, an intergovernmental organization with 15 member states in eastern and southern Africa, is a leader in geospatial mapping in the region.



"A satellite birds-eye view can provide an overall picture of a natural disaster, such as a flood, and its consequences," said Tesfaye Korme, director of remote sensing and geographic information systems at the center. "Using the SERVIR-Africa platform, we will be able to develop near-real-time maps of flood-affected areas to estimate the number of displaced people and locate potential transportation disruptions."

SERVIR-Africa will use Earth science satellite data from many of NASA's missions and other information to better predict areas at risk for severe flooding and map regions hit by floods. It also will develop an early-warning tool to predict the distribution of vector-borne diseases such as Rift Valley fever. By mapping the location of climate change projections, the system will allow people to see impacts on such things as Africa's diverse ecosystems.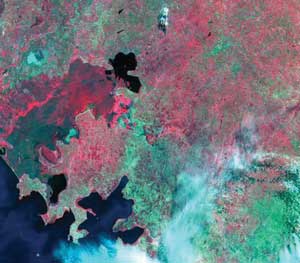 The Nzoia River basin lies entirely within the Lake Victoria basin in Kenya. The SERVIR-Africa team captured multispectral imagery of the Nzoia River basin from NASA's EO-1 satellite on August 23, 2008, to provide baseline imagery of this frequently flooded area for future analysis.
SERVIR-Africa's information technology team will use the Internet to acquire and distribute satellite and ground-based Earth observations, map data, and geospatial analyses that target issues such as urbanization, biodiversity threats, and management of natural resources.

"SERVIR-Africa will benefit from the breadth and depth of valuable NASA Earth science satellite and model analyses," said Dan Irwin, SERVIR project director at Marshall. "Science and technology are key, but ultimately it is the combination of local knowledge along with space-based observations that makes real-time monitoring of Africa's environment effective."

The strength of the SERVIR system is in its diverse international team of scientists, developers, and researchers. SERVIR-Africa builds on existing capacity at the mapping center in Nairobi. The center, together with SERVIR's lead partner in Central America, the Water Center for the Humid Tropics of Latin America and the Caribbean, are jointly developing an integrated system. These two regional organizations are standardizing database management and evaluating common methods for predicting severe weather events, analyzing impacts from climate change, and working to understand health and ecosystem interactions.

SERVIR also has been building relationships with industry.

"Public-private partnerships are critical to the success of the SERVIR system," said Jacqueline E. Schafer of USAID. "Bringing together the expertise and resources of geospatial information systems software and cell phone companies, university researchers, conservation organizations, and governments, SERVIR puts science and technology into the hands of local decision-makers."

The SERVIR system was developed with USAID by researchers at a global coordination office and rapid prototyping facility at Marshall. Three other NASA centers—Goddard, Ames, and the Jet Propulsion Laboratory (JPL) partnered with Marshall on the system. Also participating in the implementation of SERVIR-Africa is the Institute for the Application of Geospatial Technology at Cayuga Community College Inc., in Auburn, New York.

NASA Technology Advances Resource Management with Ecological Forecasts

NASA's Terrestrial Observation and Prediction System (TOPS) is helping farmers, ranchers, park managers, public health officials, and others to understand current and future environmental conditions to optimize resource management decisions.

Researchers at Ames have created a new capability for ecological forecasting (predicting the effects of changes in the physical, chemical, and biological environments on ecosystem state and activity) that has the potential to support major advances in management of natural resources in the United States and globally.

Farmers trying to allocate increasingly scarce water resources for irrigation, land managers assessing seasonal fire risk or carbon sequestration potential, or park managers evaluating potential climate change impacts on parks all need forecasts of ecological conditions. Though the latest generation of NASA Earth Observing System (EOS) satellites has brought a new dimension to monitoring the biosphere, use of EOS data to support many applications with significant economic benefits also requires a capability for forecasting biospheric conditions that cannot be provided by current satellite and other monitoring systems. Such a predictive ability facilitates advanced decision-making tools that can be used in the mitigation of natural hazards or in the exploitation of economically advantageous trends. Forecasting of key ecological parameters can support accurate prediction of agricultural shortfalls or bumper crops, agricultural irrigation demand, epidemics of vector-borne diseases such as malaria and West Nile virus, or wildfire danger as much as 3 to 6 months in advance, providing adequate lead time to alter management decisions.

Led by Dr. Rama Nemani, the Ecological Forecasting Laboratory at Ames, in collaboration with California State University, Monterey Bay, and Niruthi LLC, developed TOPS, the modeling software system designed to produce ecological forecasts. TOPS brings together advances in information technology, weather/climate forecasting, ecosystem modeling, and satellite remote sensing to enhance management decisions related to floods, droughts, forest fires, human health, and crop, range, and forest production. TOPS provides a suite of ecosystem "nowcasts" (measures of current conditions) and forecasts known as the TOPS-30. These data products include measures of vegetation condition and productivity, snow dynamics, soil moisture, and meteorological conditions.

Scientists at NASA, the California State University in Monterey Bay, and Niruthi LLC are currently applying the Terrestrial Observation and Prediction System (TOPS) to track over 30 different environmental parameters from local to global scales. TOPS includes capabilities for identifying both short term changes and long term trends in environmental conditions, including trends in global carbon flux as measured by the Net Ecosystem Exchange (NEE) of carbon between land and the atmosphere. The units for the figure are NEE (grams of carbon per meter squared per year) change per year.
A key feature of TOPS is the ability to integrate surface, satellite, and climate data using ecosystem simulation models. Within the TOPS software architecture, the Distributed Application Framework (DAF) facilitates this integration, and provides a capability to operate multiple-component biogeochemical cycle models. These models simulate the movement of water, energy, and nutrients through terrestrial ecosystems (including agricultural ecosystems), and outputs from these models can be used to produce forecasts of drought conditions, vegetation water stress, crop yields, or streamflow. TOPS component models can be used together or independently to support modeling at multiple spatial and temporal scales ranging from hourly or daily irrigation forecasts for individual agricultural fields to global monthly estimates of ecosystem productivity. As TOPS ingests data from multiple sources, it ensures that inputs are spatially and temporally consistent. The TOPS architecture includes software modules that pre-process data inputs to identify and fill gaps, screen data for quality and consistency, re-project, and mosaic inputs. These capabilities are critical to the operationally reliable production of ecological nowcasts and forecasts. The DAF middleware also includes an applications programming interface to facilitate the rapid integration of new models and data processing libraries, allowing adaptation of TOPS to address new scientific questions or resource management issues. Daily generation of nowcasts and short-term forecasts relies on a 64-node computer cluster housed in the Ecological Forecasting Laboratory, while continental and global simulations can require the use of the Columbia supercomputer at Ames.

Another key feature of TOPS that is critical to real-time monitoring and forecasting is an automated system for ingesting climate observations from local, regional, and global networks of meteorological stations in real time to produce spatially continuous gridded meteorological fields. This capability allows TOPS to provide continuous estimates of ecosystem conditions for any location in the world, even regions that are remote or sparsely instrumented. In addition to the gridded meteorological surfaces, multiple mesoscale weather models have been integrated into TOPS to provide short-term forecasts. TOPS also incorporates scenarios from global climate models, such as those used in the Intergovernmental Panel on Climate Change assessments, to produce long-term simulations of ecosystem conditions and to assess potential climate change impacts on patterns in snow melt, soil moisture, streamflow, phenological cycles, and vegetation growth.

+ Back to Top

NASA Selects 380 Small Business Research and Technology Projects

NASA has awarded contracts to 380 small business proposals that address critical research and technology needs for Agency programs and projects. The awards are part of NASA's Small Business Innovation Research program (SBIR), and the Small Business Technology Transfer program (STTR).

The SBIR program selected 348 proposals for negotiation of Phase I contracts, and the STTR program chose 32 proposals for negotiation of Phase I contract awards. The selected SBIR projects have a combined value of approximately $34.8 million. The selected STTR projects have a combined value of approximately $3.2 million.

The SBIR contracts will be awarded to 241 small, high-technology firms in 38 states. The STTR contracts will be awarded to 29 small, high-technology firms in 14 states. As part of the STTR program, the firms will partner with 24 universities and research institutions in 16 states.

The SBIR and STTR programs are managed through the Innovative Partnerships Program Office at NASA Headquarters in Washington, which works with U.S. industry to infuse pioneering technologies into NASA missions and transition them into commercially available products and services.

Results from the programs have benefited several NASA efforts, including air traffic control systems, Earth observing spacecraft, the International Space Station (ISS), and the development of spacecraft for exploring the solar system.

A few of the exciting research areas among this group of selected proposals include:
Innovative technologies to improve noise prediction, measurement methods, and control for subsonic and supersonic vehicles

Development of higher performance Thermal Protection System (TPS) materials and integrated entry systems architectures for future exploration missions

Development of reusable flight software with commoncore components and library modules that can be used repeatedly for multiple small satellite missions

Technologies and analysis to support the navigation capabilities for planetary spacewalks, manned rovers, and lunar surface space suits
The SBIR program is a highly competitive, three-phase award system. It provides qualified small businesses—including women-owned and disadvantaged firms—with opportunities to propose unique ideas that meet specific research and development needs of the Federal Government.

The criteria used to choose these winning proposals included technical merit and feasibility; experience, qualifications, and facilities; effectiveness of the work plan; and commercial potential and feasibility.

Centennial Challenge Winner Creates Lunar Lander Prototype

The Centennial Challenges are NASA-sponsored prize competitions that seek to drive progress in aerospace technology and find innovative solutions to NASA's technical challenges. In 2008, teams won some of the purses available for developing technology to aid future NASA missions to the Moon. 

As part of the 2008 Lunar Lander Challenge, sponsored by Northrop Grumman, nine teams with rocket-powered vehicles competed for $2 million in NASA prize money, October 24–25, at Las Cruces International Airport in New Mexico. The challenge is designed to accelerate technological developments for a new generation of lunar landers capable of ferrying payloads or humans back and forth between lunar orbit and the lunar surface.

Armadillo Aerospace won the first portion of the Northrop Grumman Lunar Lander Challenge, earning $350,000 in prize money. This first stage of the contest requires a rocket to take off from a designated launch area, shoot up 150 feet, hover for 90 seconds, and then land precisely on a landing pad. The flight must then be repeated in reverse. The next stage, which has not yet been won, requires the rocket to hover for twice as long as before, and then land on a simulated lunar surface.

In August 2008, NASA also awarded a total of $97,000 in prizes at the 2008 General Aviation Technology Challenge in an event managed by the Comparative Aircraft Flight Efficiency (CAFE) Foundation in Santa Rosa, California. The largest prize awarded was $50,000 for overall best safety features in an aircraft from Vance Turner of El Dorado Hills, California.

The other challenge categories in 2008 generated spirited competition, but no cash awards. Twenty-five teams competed in the Lunar Regolith Excavation Challenge in August at California Polytechnic State University, attempting to build a roving excavator that could navigate, excavate, and transfer 150 kg of simulated lunar soil into a collector bin within 30 minutes, without large amounts of power or excessively heavy equipment.

At the Space Elevator Games in 2008, in a demonstration of wireless power transmission, teams in the Power Beaming Challenge attempted to drive their laser-powered devices up a cable 1 kilometer high. Also, in the 2008 Tether Challenge, competitors tried to win the $2 million prize that requires a team's tether to exceed the strength of the best available commercial tether by 50 percent with no increase in mass.

Similarly, in the Lunar Oxygen Challenge in San Luis Obispo, California, no team succeeded in creating a system that could generate breathable oxygen from simulated lunar soil.

Finally, the Astronaut Glove Challenge, last held in 2007, will be in fall 2009 with a $400,000 purse.

Johnson Space Center Engineers Bring Clean Water to Needy Communities


| | |
| --- | --- |
| | |
Volunteers from Johnson Space Center and the surrounding community in Houston are bringing clean water, energy, and food to rural communities in Rwanda and Mexico through Engineers Without Borders (EWB). The EWB-JSC chapter became involved in humanitarian efforts in Rwanda in 2005, and through this project, volunteers have installed several surface water treatment systems for rural communities.

Based on these efforts, the Manna Energy Foundation, a Houston-based nonprofit, is negotiating an agreement with the government of Rwanda to install water treatment systems at every secondary school in Rwanda over the next several years. EWB-JSC has been asked to take the technical lead in this venture, installing the first treatment system.

The team is now in the process of developing, testing, and producing an improved surface water treatment system for Puerta de Aguilar in Mexico. This project takes the Rwanda water treatment concepts and accommodates the Mexican community's request for a flat-land or pump-based system.

These are only a few of the projects in which the EWB-JSC members volunteer their time and expertise to help communities and individuals who lack access to safe drinking water, reliable sources of energy, and sustainable sources of food and revenue.

NASA's New Online Game Educates and Entertains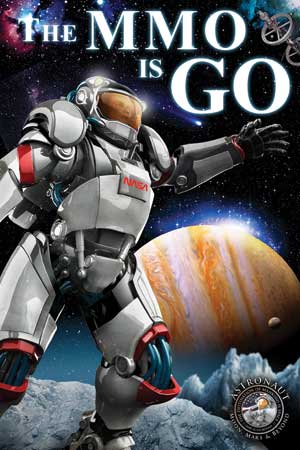 Goddard is developing the Agency's first massively multiplayer online game, a cutting-edge educational tool that also happens to be fun.
NASA has partnered with Virtual Heroes Inc., Project Whitecard Inc., and Information in Place Inc. to develop a new massively multiplayer online role-playing game in which players will play the roles of roboticists, space geologists, astrobiologists, or mechanical engineers while creating space outposts or exploring the solar system.

"We want to create a fun, compelling gaming experience that will give players the chance to learn about science and engineering careers while they play the game," explains NASA Learning Technologies (LT) research scientist Daniel Laughlin. The LT project supports the development of projects that deliver NASA content through innovative applications of technologies to enhance education in the areas of science, technology, engineering, and mathematics.

One of the main goals of this project, however, is simply to have fun. Upon receiving overwhelming feedback from the public, who said the key element of an online game was "fun," Laughlin and the NASA team realized that professional game developers needed to be in charge of their Astronaut: Moon, Mars, and Beyond game.

"We've had to create a new genre of game play, creating what we call first person exploration," the founder and CEO of Virtual Heroes, Jerry Heneghan, explained. Unlike popular "shoot 'em up" varieties of online games, the NASA project is focused on exploration and player cooperation. There will still be an educational quality to the game, however, as players (both individually and as teams) will be required to solve problems in math, science, and engineering in order to unlock different features and options, such as creating new vehicles or space suits.

Virtual Heroes was behind the design of the U.S. Army's free online game, America's Army, and the programming is based on Epic's Unreal Engine 3. A playable beta version of the game will be available by the end of 2009. The full subscription-based game is expected to be released in 2010.

NASA and Cisco Collaborate for Climate Change Monitoring Platform



In March 2009, NASA and Cisco Systems Inc. announced a partnership to develop an online collaborative global monitoring platform called the Planetary Skin to capture, collect, analyze, and report data on environmental conditions worldwide.

Under the terms of a Space Act Agreement, NASA and Cisco will work together to develop the Planetary Skin as an online collaborative platform to capture and analyze data from satellite, airborne, sea- and land-based sensors around the globe. This data will be made available for the public, governments, and businesses to measure, report, and verify environmental data in near-real-time to help detect and adapt to global climate change.

"In the past 50 years, NASA's expertise has been applied to solving humanity's challenges, including playing a part in discovering global climate change," said S. Pete Worden, director of Ames. "The NASA-Cisco partnership brings together two world-class organizations that are well equipped with the technologies and skills to develop and prototype the Planetary Skin infrastructure."

Cisco and NASA will kick off Planetary Skin with a series of pilot projects, including Rainforest Skin, which will be prototyped during the next year. Rainforest Skin will focus on the deforestation of rainforests around the world and explore how to integrate a comprehensive sensor network. It will also examine how to capture, analyze, and present information about the changes in rainforest carbon in a transparent and useable way. According to scientists, the destruction of rainforests causes more carbon to be added to the atmosphere and remain there. That contributes significantly to global warming.

"Mitigating the impacts of climate change is critical to the world's economic and social stability," said John Chambers, Cisco CEO. "This unique partnership taps the power and innovation of the market and harnesses it for the public good. Cisco is proud to work with NASA on this initiative and hopes others from the public and private sectors will join us in this exciting endeavor."

NASA provides continuous global observations of our home planet using a constellation of spacecraft, as well as airborne and in situ ground observations to monitor the health and well-being of Earth.

Cisco will bring its experience and expertise in networking technologies and advanced innovation to the project. Cisco's Internet Business Solutions Group has a unique combination of business acumen, scientific, economics, and policy understanding. Its experts will conduct complex data analysis and modeling, and share an in-depth knowledge of the next-generation Internet Protocol architectures to determine how to best prototype, replicate, and scale a Planetary Skin to millions of participants.

Cisco is also working on the Planetary Skin program with the United Nations, multilateral development banks, businesses, international government agencies, universities, think tanks, nongovernmental agencies, and foundations. Planetary Skin participants will pool their unique skills, assets, and technologies to develop the decision support capabilities to effectively manage natural resources such as biomass, water, land, and energy; climate change-related risks such as a rise in sea level, droughts, and disease proliferation; and new environmental markets for carbon, water, and biodiversity.

+ Back to Top

Space Technology Hall of Fame Inducts NASA Spinoff Technologies

At the National Space Symposium in Colorado Springs in April 2009, the Space Foundation inducted two NASA-developed technologies into the Space Technology Hall of Fame: drag reduction for semi-trucks, based on research done at Dryden, and a common nutritional supplement that spun out of work done at Ames as part of the Closed Environment Life Support System (CELSS).

The drag-reduction work dates back several decades but continues to have lasting results. Vehicles push the air as they move, and large trucks move huge quantities of air, creating high-pressure zones. The compressed air spills around the cab in swirling vortices. At the back end, the opposite occurs, with the air unable to negotiate the abrupt turn, creating a low-pressure zone. These effects produce significant aerodynamic drag. In the early 1970s, Edwin J. Saltzman, a Dryden aerospace engineer, felt these turbulent effects first-hand while cycling to work. As trucks overtook him, the air waves pushed him away from the road; as the trucks swept past, their wake drew him toward the road.

Saltzman and other Dryden engineers—already studying drag and wind resistance on aircraft and space shuttle designs—applied their knowledge to improving truck design.

Using a retired delivery van, they used aluminum sheeting to create a "shoe box" similar in design to many period vehicles. After measuring baseline drag, modifications began, rounding edges to reduce drag by more than 52 percent, resulting in an estimated highway fuel economy gain of 20 percent.

Further research determined which adjustments best reduced drag and improved efficiency. The team next modified a cab over engine tractor trailer, the dominant design at the time. These included rounding the corners and edges of the box-shaped cab and reducing drag at those points by as much as 54 percent with a negligible loss of internal volume. Other modifications included placing a smooth fairing on its roof, and extending the sides back to the trailer to produce additional significant drag reduction and fuel savings. Assuming annual mileage of 100,000, these modifications translated to fuel savings of more than 6,000 gallons per year.

In keeping with the Space Act of 1958 to disseminate newfound technologies to the public, NASA shared its research and expertise through a variety of means. The modifications tested at Dryden have been widely adopted. Streamlined cabs and fairings are now a common sight around the world with the once-prominent cab-over design virtually abandoned.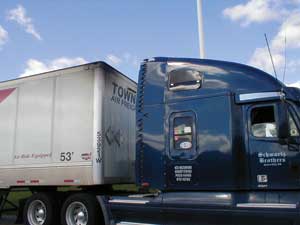 Studying space shuttle aerodynamics, engineers at Dryden Flight Research Center discovered specific ways that standard semi-trucks could benefit from design modifications.
The other technology inducted this year is just as far-reaching. Millions of infants and adults around the world benefit from nutrition technology that began with space research.

In the early 1980s, NASA's CELSS program explored the use of microalgae as a food supply, oxygen source, and waste disposal catalyst on long duration interplanetary missions.

Scientists continued work independently after the program was suspended, founding what would become Martek Biosciences, of Columbia, Maryland, a leader in microalgae research and development.

Martek research soon identified Crypthecodinium cohnii, algae that produce high levels of docosahexaenoic acid, known as DHA omega-3 fatty acid, and a fungus, Mortierella alpina, that yields arachidonic acid, or ARA, another essential fatty acid.

Both of these essential fatty acids occur naturally in human milk and are important to healthy infant development. However, neither was found in infant formulas until the development of Martek's algae-based Formulaid supplement. DHA- and ARA-rich dietary supplementation can be particularly vital for premature and low-birth-weight infants who may not get their full allotment in utero.

The British Nutrition Foundation and the United Nations Food and Agriculture Organization/World Health Organization Expert Committee on Human Nutrition recognize DHA and ARA as beneficial additives in pre- and full-term infant formulas and as nutrients for women during pregnancy and lactation. The supplement is now found in nearly all U.S. infant formulas and in infant formulas in more than 75 other countries, and is consumed by more than 33 million babies worldwide.

DHA is found throughout the body and is critical for healthy brain and eye development and function and has been shown to support heart health through adulthood. Just as calcium is essential for building strong bones, DHA ensures that the cells in the brain, retina, heart, and other parts of the nervous system develop and function properly. Martek and the National Institutes of Health continue to study the potential benefits of DHA such as improved cognitive function, and reduced risk of diseases including Alzheimer's.

Today a growing range of products containing DHA for children and adults are found around the world through household names such as Minute Maid, Horizon Organic, Kellogg's, and Yoplait.

NASA and NRP Tenants Collaborate in Intellectual Environment

In 2002, Ames began creating strategic partnerships with academic, nonprofit, and industry partners dedicated to advancing the goals of the NASA Research Park (NRP). NRP's industry partners position themselves for extraordinary opportunities to engage in mutually beneficial cutting-edge research with NASA scientists and engineers. These small, high-tech businesses, now leasing at NRP, conduct research in biotechnology, environmental technology, nanotechnology, communication, and homeland security.

A few of the over two dozen industry tenants at NRP include well-known names such as Tesla Motors Inc. and Google Inc., but also many small businesses with products ranging from the medical—Changene Lab's bone loss therapy or Tibion Corporation's bionic knee—to the environmental—KleenSpeed Technologies Inc.'s electric propulsion systems. Other companies at NRP are creating user-friendly digital photography tools, applying nanoparticles to inkjet technology, and making strides in wireless emergency communications. One small business thriving at the NASA campus is Pragati Synergetic Research Inc., a tenant since June 2005.

Pragati's flagship product, Expozé, analyzes large semi-structured information systems, ferreting out data patterns and revealing key information. In 2004, under a Phase I SBIR contract, Pragati developed Expozé into a cluster-based information extraction tool that creates structured representations from natural language text, rendering anecdotal or qualitative content more usable for quantitative analysis. The basic philosophy behind what the company calls its "multi-viewpoint clustering analysis" is that any large system has to be understood from different perspectives before it can be analyzed meaningfully.

With this SBIR from Ames, Pragati then used Expozé to analyze safety-related reports written by airline pilots. The conceptual clusters discovered by Expozé revealed regular patterns of preventive measures pilots took when conditions such as turbulence, ice, or birds flying into the blade fans occurred in flight. A laundry list of preventive measures for how to avoid similar accidents in the future could be developed from Pragati's analysis.

Pragati currently has a Phase II SBIR with the Office of Naval Research, and the company is looking forward to the commercialization of an Expozé tool suite with the Army and the intelligence community. With wider exposure in mind, Pragati is also pursuing potential collaborations at Ames' Information Technology directorate.

Whether the companies at NRP have formal partnerships, awards, or informal collaborations with NASA, both industry and the Agency are benefiting; this thriving intellectual culture is sure to produce more technological advancements and useful products for the public as well.

Essay Competition Winner Takes in Space Shuttle Launch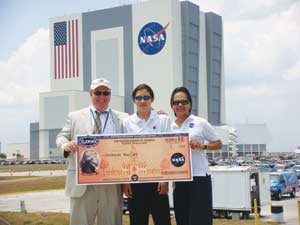 Innovative Partnerships Program (IPP) Director Doug Comstock and IPP Communications Manager Janelle Turner present essay contest winner Jackson Warley with his $5,000 savings bond in front of the Vehicle Assembly Building at Kennedy Space Center.
"Since NASA's inception fifty years ago, the technology it has developed has changed everyday life dramatically," writes Jackson Warley in his submission to NASA's 50th Anniversary Essay Competition, held during the 2007-2008 academic year. Warley's own life has changed thanks to his interest in NASA: His essay won first prize. Warley, 14, traveled to Kennedy this past May, where he received a $5,000 college scholarship savings bond and witnessed the spectacular liftoff of the Space Shuttle Atlantis, on the STS-125 mission to perform the final maintenance operations on the Hubble Space Telescope.

The international essay competition challenged middle school and junior high students to discuss, in an essay of 500 words or less, one of two topics: how they have benefitted in their everyday lives from aerospace technologies built by NASA during the past 50 years, or how their lives may be different 50 years in the future because of NASA technology. Sponsored by IPP at NASA Headquarters, in conjunction with the Office of Education, the competition was designed to inspire and encourage students to continue with science, engineering, and math in high school, college, and beyond, becoming future contributors who will carry on humanity's expansion into space while bettering life on Earth, as well.

Second prize in the competition and a $2,500 college scholarship went to Grace Nowadly, a student at Berkeley Middle School in Williamsburg, Virginia. Megha Subramanian of Hershey Middle School in Hershey, Pennsylvania won third prize and a $1,000 college scholarship. NASA astronauts will visit both students' schools.

NASA Gains Recognition for Web Presence

NASA has received two Webby Awards for excellence on the Internet. NASA's main Web site, www.nasa.gov, won the "People's Voice" award in the best government site category. The Cassini mission Web site, saturn.jpl.nasa.gov, received the "Webby" award for best science site.

The "People's Voice" award is the second for NASA's Web site, which also won in 2003. More than 500,000 people cast votes this year.

"We're extremely happy to be honored by the Internet community this way," says Brian Dunbar, the content manager for NASA's main Web site. "We've always tried to focus the site on giving the public what they're looking for in an engaging and compelling way. Combined with some of the highest customer satisfaction ratings in the government, this award tells us we're on the right track."

NASA's Web site, which received 120 million visits in 2008, offers the public the latest news, mission coverage, and multimedia from the Agency's scientific research, technology development, and exploration efforts. Visitors can surf thousands of images from throughout the universe, watch live video from the ISS, or read more than a dozen blogs written by Agency employees.

Judges from the International Academy of Digital Arts and Sciences, which sponsors the Webbys, selected the Cassini site for the top honor in the science category.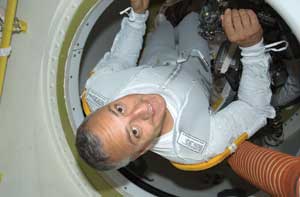 Mission specialist Mike Massimino Twittered from space under the name Astro_Mike, keeping the public informed about the status of STS-125.
"The Cassini Web site is the door to the science and technology of the mission to Saturn," says Alice Wessen, manager of Cassini public engagement at JPL. "The site houses all the latest news, science findings, and images Cassini returns as it orbits Saturn. The public can see every picture within eight hours after it's beamed down from the spacecraft."

In the last year, the NASA Web team has expanded its presence into social media, creating an official NASA channel on YouTube at www.youtube.com/nasatelevision, multiple Twitter feeds led by @NASA, and mission and center pages on Facebook and MySpace. NASA was recognized in February with a "Shorty" award in the science category for its @marsphoenix Twitter presence, which was written in the "voice" of the spacecraft. The Shorty Awards were created to honor the best producers of short content on Twitter. The Mars Phoenix Twitter delivered more than 600 "tweets," or updates limited to 140 characters or less, during the 152 days the lander operated in the north polar region of Mars. By the end of the lander's mission in early November 2008, more than 38,000 people were following its reports. The account is still used to provide updates on the mission's science results and has more than 41,000 followers.


"The response was incredible," says Veronica McGregor, manager of the news office at JPL and originator of the updates. "Very quickly it became a way not only to deliver news of the mission, but to interact with the public and respond to their questions about space exploration."

The Agency continues to employ social networking tools for just such purposes. Beginning in April, STS-125 astronaut Mike Massimino used Twitter to provide a unique, behind-the-scenes peek at the last weeks of his training and his time on board the Space Shuttle Atlantis on the fifth and final shuttle servicing mission to the Hubble Space Telescope.

For a list of NASA missions providing updates on social media Web sites, visit www.nasa.gov/collaborate.

High School Team Wins Pete Conrad 'Spirit of Innovation' Award

On April 4, 2009, at Ames, winners of the Pete Conrad "Spirit of Innovation" award were recognized as a part of the 3-day Innovation Generation Summit.

High school teams from across the country competed for more than $120,000 in grants. During the summit, 21 finalists presented their concepts and participated in workshops with members of the scientific community. All of the student-led teams were challenged to create an entrepreneurial enterprise and develop a concept in one of three categories: Personal Spaceflight, Lunar Exploration, or Renewable Energy.

Final Frontier Apparel, a group of juniors from Milken Community High School in Los Angeles, won first place in Personal Spaceflight for its mechanical counter pressure space suit. The Lunar Exploration category was won by ALGAE from Eagle's View Academy in Jacksonville, Florida, for its proposal on using algae to provide oxygen on the Moon. Harwell Asturias Labs, from Cinco Ranch High School in Katy, Texas, won its category for designing a device to convert thermal energy into electrical energy. First place teams won grants of $10,000, and second and third place teams won $6,000 and $4,000.

The "Spirit of Innovation" award is named for the late Charles "Pete" Conrad, a highly decorated naval aviator and astronaut who, as commander of Apollo XII in 1969, was the third person to walk on the Moon. The winning team received a grant for its school and a trophy presented by Nancy Conrad, wife of the late Pete Conrad and creator of the prize.

NASA and Challenger Center Announce Name of Antarctic Habitat
NASA and the Challenger Center for Space Science Education have selected the winner of the Antarctic habitat naming contest. The name "Resolution" took top honors in the "Name that Habitat" competition. The winning name was submitted by 9th grade students at Holy Cross High School in Delran, N.J.

The exploration vessel Resolution was the first ship to cross the Antarctic Circle in January 1773 and was under the command of Captain James Cook. Holy Cross students said the new habitat represents an advance in technology, much as Cook's ship did. The students also pointed out that the word "resolution" aptly describes America's intent to explore space.

The contest, which began in the fall of 2008, gave students in the sixth through tenth grades the opportunity to submit entries to name an inflatable habitat designed to serve as a trailblazer for new construction methods on Earth and other worlds. NASA unveiled the inflatable habitat in November 2007. It is scheduled to be disassembled and returned to the United States later this month.

The development and deployment of the habitat was funded through NASA's Innovative Partnership Program's Seed Fund initiative, with in-kind resource contributions by the National Science Foundation and ILC Dover of Frederica, Delaware, the manufacturer of the structure.

The "Name that Habitat" contest was conducted through a Space Act Agreement between NASA and the Challenger Center for Space Science Education. It continues NASA's tradition of investing in the nation's education programs and is directly tied to the agency's education goal of engaging Americans in NASA's mission. NASA is committed to building strategic partnerships and links between science, technology, engineering and mathematics education providers. Through hands-on, interactive educational activities, NASA is engaging students, educators, families, the public and agency stakeholders to increase Americans' science and technology literacy.

The Challenger Center for Space Science Education is an international, nonprofit educational organization founded in 1986 by the families of the astronauts lost during the final flight of the space shuttle Challenger. The goal of the organization is to foster student interest in careers in science, technology, engineering and mathematics.

Google Earth™ is a trademark of Google Inc.
SkunkWorks® is a registered trademark of Lockheed Martin Corporation.
Microsoft Virtual Earth™ is a trademark of Microsoft Corporation.
Cisco™ is a trademark of Cisco Systems Inc.
Virtual Heroes™ is a trademark of Virtual Heroes Inc.
Unreal® Engine is a registered trademark of Epic Games Inc.
life'sDHA™ and life'sARA™ are trademarks of Martek Biosciences Corporation.
Minute Maid™ is a trademark of The Coca-Cola Company.
Horizon Organic® is a registered trademark of WhiteWave Foods Company.
Kellogg's® is a registered trademark of Kellogg Company.
Yoplait® is a registered trademark of YOPLAIT Marques Internationales SAS (France) used under license.
Expozé™ is a trademark of Pragati Synergetic Research Inc.
Twitter™ is a trademark of Twitter Inc.

+ Back to Top