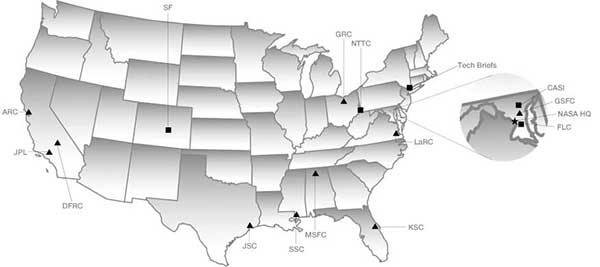 The 2010 Office of the Chief Technologist (OCT) network extends from coast to coast. For specific information concerning technology partnering activities, contact the appropriate personnel at the facilities listed or visit the Web site: http://www.nasa.gov/oct. General inquiries may be forwarded to the Spinoff Program Office at: spinoff@sti.nasa.gov.
To publish a story about a product or service you have commercialized using NASA technology, assistance, or know-how, contact the NASA Center for AeroSpace Information, or visit: http://www.sti.nasa.gov/tto/contributor.html.
★ NASA Headquarters manages the Spinoff Program.
▲ The Office of the Chief Technologist at each of NASA's 10 field centers represent NASA's technology sources and manage center participation in technology transfer activities.
■ Allied Organizations support NASA's OCT objectives.
.

★ NASA Headquarters

National Aeronautics and Space Administration
300 E Street, SW
Washington, DC 20546
NASA Spinoff Publication Manager:
Janelle Turner
Phone: (202) 358-0704
E-mail: janelle.b.turner@nasa.gov

▲ Field Centers

Ames Research Center
National Aeronautics and Space Administration
Moffett Field, California 94035
Chief Technologist:
John Hines
Phone: (650) 604-5538
E-mail: john.hines@nasa.gov

Dryden Flight Research Center
National Aeronautics and Space Administration
4800 Lilly Drive, Building 4839
Edwards, California 93523-0273
Chief Technologist:
David Voracek
Phone: (661) 276-2463
E-mail: david.f.voracek@nasa.gov

Glenn Research Center
National Aeronautics and Space Administration
21000 Brookpark Road
Cleveland, Ohio 44135
Chief Technologist:
Howard Ross
Phone: (216) 433-2562
E-mail: howard.ross@nasa.gov

Goddard Space Flight Center
National Aeronautics and Space Administration
Greenbelt, Maryland 20771
Chief Technologist:
Peter Hughes
Phone: (301) 286-2342
E-mail: peter.m.hughes@nasa.gov

Jet Propulsion Laboratory
National Aeronautics and Space Administration
4800 Oak Grove Drive
Pasadena, California 91109
Chief Technologist:
Paul Dimotakis
Phone: (818) 393-7600
E-mail: paul.e.dimotakis@nasa.gov

Johnson Space Center
National Aeronautics and Space Administration
Houston, Texas 77058
Chief Technologist:
John Saiz
Phone: (281) 483-8864
E-mail: john.r.saiz@nasa.gov

Kennedy Space Center
National Aeronautics and Space Administration
Kennedy Space Center, Florida 32899
Chief Technologist:
Karen Thompson
Phone: (321) 867-7555
E-mail: karen.l.thompson@nasa.gov

Langley Research Center
National Aeronautics and Space Administration
Hampton, Virginia 23681-2199
Chief Technologist:
Rich Antcliff
Phone: (757) 864-3000
E-mail: richard.r.antcliff@nasa.gov

Marshall Space Flight Center
National Aeronautics and Space Administration
Marshall Space Flight Center, Alabama 35812
Chief Technologist:
Andrew Keys
Phone: (256) 544-8038
E-mail: andrew.keys@nasa.gov

Stennis Space Center
National Aeronautics and Space Administration
Stennis Space Center, Mississippi 39529
Chief Technologist:
Ramona Pelletier Travis
Phone: (228) 688-3832
E-mail: ramona.e.travis@ssc.nasa.gov

■ Allied Organizations

National Technology Transfer Center (NTTC)
Wheeling Jesuit University
Wheeling, West Virginia 26003
Darwin Molnar, Vice President
Phone: (800) 678-6882
E-mail: dmolnar@nttc.edu

Space Foundation
310 S. 14th Street
Colorado Springs, Colorado 80904
Kevin Cook, Director, Space Technology Awareness
Phone: (719) 576-8000
E-mail: kevin@spacefoundation.org

Federal Laboratory Consortium
300 E Street, SW
Washington, DC 20546
John Emond, Collaboration Program Manager
Phone: (202) 358-1686
E-mail: john.l.emond@nasa.gov

Tech Briefs Media Group
1466 Broadway, Suite 910
New York, NY 10036
Joseph T. Pramberger, Publisher
(212) 490-3999
www.techbriefs.com

NASA Center for AeroSpace Information
Spinoff Program Office
7115 Standard Drive
Hanover, Maryland 21076-1320
E-mail: spinoff@sti.nasa.gov

Daniel Lockney, Editor
Phone: (443) 757-5828
E-mail: daniel.p.lockney@nasa.gov

Bo Schwerin, Senior Writer
Lisa Rademakers, Writer
John Jones, Graphic Designer
Deborah Drumheller, Publications Specialist