NASA Partners to Revolutionize Personal Transportation
A truck trailer is prepped to be placed inside the world's largest wind tunnel, Ames Research Center's National Full-Scale Aerodynamics Complex. Testing in the facility of aerodynamic devices designed to reduce drag on tractor-trailers could ultimately result in millions of gallons of diesel fuel saved per year.
NASA officials have signed an agreement with Unimodal Systems Inc. to collaborate on the use of NASA-developed control software and human factors techniques to evaluate acceleration, jerk, and vibration of an advanced transportation vehicle system. The software was originally designed to control robots and other applications. The collaboration will help NASA better understand the software's usefulness, human performance, and safety.
"This collaborative effort is anticipated to help NASA with its aeronautics and space activities, while Unimodal gets to develop the next generation high-speed transportation system," said Jeffery Smith, deputy chief of the Entrepreneurial Initiatives Division at Ames Research Center. "NASA will receive valuable feedback from our systems software usage." Per the agreement, Unimodal will contribute its SkyTran vehicle, currently located at the NASA Research Park, and its advanced transportation technology; NASA will provide its Plan Execution Interchange Language (PLEXIL) and Universal Executive (UE) software to control the vehicle.
In the future, SkyTran will use small vehicles running on elevated, magnetically levitated (maglev) guideways, which distinguishes it from other railed systems. The vehicles are lightweight, personal compartments that can transport up to three passengers. Travelers board the pod-like vehicles and type their destinations into a small computer. Using intelligent control system software, SkyTran will run non-stop, point-to-point service without interrupting the flow of traffic.
These vehicles will eventually travel up to 150 mph and move 14,000 people per hour, both locally and regionally. SkyTran will serve as a feeder system to other transit systems, such as subways and high-speed rail.
"SkyTran's personal rapid transit has generated serious interest with local, regional, and state transportation leaders who are considering funding the building of the Unimodal maglev PRT system in the NASA Research Park," said Michael Marlaire, director of the NASA Research Park at Ames. "This construction and new R&D partnership may usher a new 'green' technology maglev PRT system into Silicon Valley." "We're working with NASA and aerospace engineers to ensure aerospace-level standards that exceed the safety records of current transportation systems," explained Christopher Perkins, chief executive officer of Unimodal. Both organizations will mutually benefit. NASA will receive feedback on its software's usefulness in ground-based propulsion systems, while Unimodal will develop a transportation system designed to eliminate traffic congestion, mitigate greenhouse gasses, and reduce dependence on foreign oil."For cities across the Nation, SkyTran will create green technology jobs and launch a new era of public-private partnerships that will make public transit affordable to install, and profitable to operate," said Perkins.
NASA Wind Tunnel Used to Test Truck Fuel Efficiency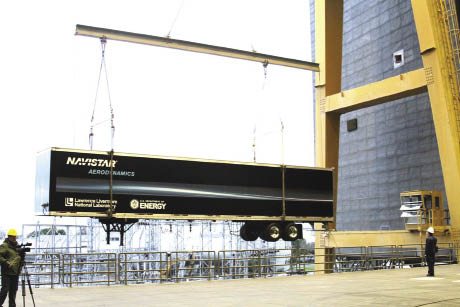 A truck trailer is prepped to be placed inside the world's largest wind tunnel, Ames Research Center's National Full-Scale Aerodynamics Complex. Testing in the facility of aerodynamic devices designed to reduce drag on tractor-trailers could ultimately result in millions of gallons of diesel fuel saved per year.
Saving the Nation $10 billion annually in diesel fuel costs may be possible in a few years, thanks to new devices developed at Lawrence Livermore National Laboratory (LLNL) and now being tested at Ames.
In support of the U.S. Department of Energy's mission to reduce U.S. dependency on fossil fuels, LLNL has teamed with Ames; Navistar Inc., of Warrenville, Illinois; the U.S. Air Force; and industry to develop and test devices for reducing the aerodynamic drag of tractor-trailers. The devices could increase the trucks' fuel efficiency by as much as 20 percent.
Tractor-trailers make up about 12 percent of U.S. petroleum consumption, or 21 million barrels per day. The average fuel mileage of a tractor-trailer is 6 miles per gallon. A 2-percent reduction in the aerodynamic drag of tractor-trailers translates into 285 million gallons of diesel fuel saved per year.
"We are delighted to host this important test that could help our Nation save billions of dollars in fuel costs each year," said S. Pete Worden, director of Ames. "This is an excellent example of what can be accomplished through our collaboration with other Federal laboratories and industry."
Aerodynamic drag is caused from pressure differences around the vehicle. At highway speeds, a tractor-trailer uses more than 50 percent of the energy produced by the engine to overcome aerodynamic drag, while rolling resistance consumes roughly 30 percent of the usable energy.
Complementing 30 years of tractor-trailer aerodynamic research and development, LLNL computer simulations have identified critical drag producing regions around the trucks, such as the trailer base, the underbody, and the gap between tractor and trailer. LLNL scientists estimate that with aerodynamic devices placed in these regions, the trucking industry could see as much as a 20-percent increase in the fuel mileage efficiency rate, which saves 4.9 billion gallons of diesel per year, equaling approxi-mately $14.7 billion in savings.
"This is a technology that could easily be installed on the tractor-trailer trucks that are out on the highway today," said Kambiz Salari, LLNL's lead scientist on the project. "And it's time to market is incredibly quick. In just 3 years, we could see these devices on the road and realize the real fuel savings."
The lab is conducting a full-scale test in the world's largest wind tunnel, the National Full-Scale Aerodynamics Complex (NFAC), which operates under the direction of the Arnold Engineering Development Center at Ames. The goal is to identify drag reduction devices, both commercially available and under development, that show the potential for improving fuel efficiency. The wind tunnel test section's huge size—80 feet by 120 feet—makes it ideal for testing a full-scale semi with a 53-foot trailer.
"This testing highlights a special opportunity for an Air Force-run facility to participate in research in areas beyond the Department of Defense and work to improve everyday issues such as fuel economy on national roadways," said Christopher Hartley, test engineer for Jacobs Engineering Group Inc., based at the NFAC.
"Making our
trucks more fuel
efficient means . . .
we can get our goods
to the general public
in a more timely,
and ultimately, less
expensive way."
The commercially available devices to be tested are manufactured by Aerofficient, Aeroindustries, AT Dynamics, Freight-wing, Ladyon, and Windyne. Prototype devices currently under development will be provided by LLNL and Navistar, which are collaborating to get proven drag reduction devices on the road. Performance will be evaluated under different tractor-trailer combinations.
Livermore's project is funded by the Department of Energy's Energy Efficiency and Renewable Energy Program's Freedom Cooperative Automotive Research and fuel partnership.
"Making our trucks more fuel efficient means we can not only travel further using less fuel, but it means we can get our goods to the general public in a more timely, and ultimately, less expensive way," said Ron Schoon, chief engineer of aerodynamics at Navistar.
The lab is collaborating with Navistar to push the state of the art in semi-truck aerodynamics and design the next generation of highly aerodynamic, integrated, energy efficient semi-trucks. Navistar International Corp., formerly International Harvester Company, produces commercial trucks, mid-range diesel engines, and other vehicle products.
NASA Chooses Small Business High-Tech Projects for Development
NASA has selected for development 368 small business innovation projects that include research to minimize aging of aircraft, new techniques for suppressing fires on spacecraft, and advanced transmitters for deep space communications.
Chosen from more than 1,600 proposals, the competitively selected awards will address Agency research and technology needs. The awards are part of NASA's Small Business Innovation Research (SBIR) and Small Business Technology Transfer (STTR) programs.
The SBIR program selected 335 proposals for negotiation of Phase I contracts, and the STTR program chose 33 proposals for negotiation of Phase I contract awards. The selected SBIR projects have a combined value of approximately $33.5 million. The selected STTR projects have a combined value of approximately $3.3 million.
The SBIR contracts will be awarded to 245 small, high-technology firms in 36 states. The STTR contracts will be awarded to 31 small, high-technology firms in 19 states. As part of the STTR program, selected firms will partner with 26 universities and research institutions in 20 states.
Past innovations from the program have benefited a number of NASA efforts, including air traffic control systems, Earth observing spacecraft, the International Space Station, and the development of spacecraft for exploring the solar system.
A few of the research areas among this group of selected proposals include:
Advanced aerospace adhesives to minimize aging and increase durability of aircraft

Novel computational tools to better design future hypersonic spacecraft

New approaches to fire suppression in spacecraft environments

Technologies to monitor crew health and well-being using very small scale testing devices

New instruments for small lunar rovers or landers to enable critical mineralogical analysis for studying regolith, rock, ice, and dust samples

Advanced transmitters for deep space communications
As a highly competitive, three-phase award system, the SBIR program provides qualified small businesses—including women-owned and disadvantaged firms—with opportunities to propose unique ideas that meet specific research and development needs of the Federal government. The criteria used to choose these winning proposals included technical merit and feasibility, experience, qualifications and facilities, effectiveness of the work plan and commercial potential and feasibility.
NASA works with U.S. industry to infuse pioneering technologies into Agency missions and transition them into commercially available products and services.
NASA Develops Algae Bioreactor as a Sustainable Energy Source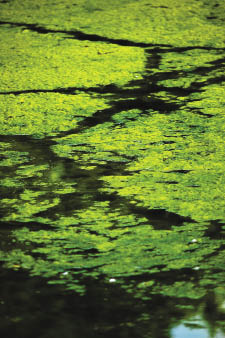 A newly licensed NASA technology will soon be using algae to cleanse water and provide a sustainable, inexpensive fuel source.
As a clean energy alternative, NASA invented an algae photo-bioreactor that grows algae in municipal wastewater to produce biofuel and a variety of other products. The NASA bioreactor is an Offshore Membrane Enclosure for Growing Algae (OMEGA) and will not compete with the agriculture industry for land, fertilizer, or freshwater.
Ames licensed the patent-pending algae photo-bioreactor to Algae Systems LLC, of Carson City, Nevada, which plans to develop and pilot the technology in Tampa Bay, Florida. The company plans to refine and integrate the NASA technology into biorefineries to produce renewable energy products, including diesel and jet fuel.
"NASA has a long history of developing very successful energy conversion devices and novel life support systems," said Lisa Lockyer, deputy director of the New Ventures and Communications Directorate at Ames. "NASA is excited to support the commercialization of an algae bioreactor with potential for providing renewable energy here on Earth."
The OMEGA system consists of large plastic bags with inserts of forward-osmosis membranes that grow freshwater algae in processed wastewater by photosynthesis. Using energy from the Sun, the algae absorb carbon dioxide from the atmosphere and nutrients from the wastewater to produce biomass and oxygen. As the algae grow, the nutrients are contained in the enclosures, while the cleansed freshwater is released into the surrounding ocean through the forward-osmosis membranes.
"The OMEGA technology has transformational powers. It can convert sewage and carbon dioxide into abundant and inexpensive fuels," said Matthew Atwood, president and founder of Algae Systems. "The technology is simple and scalable enough to create an inexpensive, local energy supply that also creates jobs to sustain it."
When deployed in contaminated and "dead zone" coastal areas, this system may help remediate these zones by removing and utilizing the nutrients that cause them. The forward-osmosis membranes use relatively small amounts of external energy compared to the conventional methods of harvesting algae, which have an energy intensive dewatering process.
Potential benefits include oil production from the harvested algae, and conversion of municipal wastewater into clean water before it is released into the ocean. After the oil is extracted from the algae, the algal remains can be used to make fertilizer, animal feed, cosmetics, or other valuable products.
This successful spinoff of NASA-derived technology will help support the commercial development of a new wastewater treatment method as well as an algae-based biofuels industry.
NASA Portable Hyperbaric Chamber Technology Finds Home on Earth
NASA has signed a patent license agreement with a California company to improve the medical community's access to hyperbaric chambers used to treat many medical conditions and emergencies. OxyHeal Medical Systems Inc., of National City, California, will develop new products based on technologies NASA originally developed for space.
Hyperbaric chambers create an environment in which the atmospheric pressure of oxygen is increased above normal levels. The high concentrations of oxygen can reduce the size of gas bubbles in the blood and improve blood flow to oxygen-starved tissues.
"NASA has a long
history of making
space-aged
technologies available
for commercialization,
creating new
markets that power
the economy."
"These technologies will allow OxyHeal to develop new products capable of providing life-saving treatments and care to patients in remote areas that may not have access to large, fixed-site hyperbaric chamber facilities," said Ted Gurnee, president of OxyHeal. Additionally, the company is working on solutions that involve large portable hyperbaric chambers for possible use in treatment of disaster victims.
The partially exclusive patent license agreement allows the company to use three technologies developed at NASA's Johnson Space Center in Houston that are associated with inflatable spacecraft modules and portable hyperbaric chambers.
NASA developed the technologies as part of a program to plan for how astronauts in space might be treated for decompression sickness. Decompression sickness, commonly called "the bends," can occur in astronauts as they undergo pressure changes returning from spacewalks and in divers as they return to the water's surface.
In addition to treating decompression sickness, hyperbaric chamber therapy on Earth also commonly provides treatment for carbon monoxide poisoning, crush injuries, healing-problem wounds, soft tissue infections, significant blood loss, and other ailments.
The NASA inventors of the portable hyperbaric chamber, James Locke, William Schneider, and Horacio de la Fuente, recently were recognized by the Federal Laboratory Consortium with a "Notable Technology Development Award."
"NASA has a long history of making space-aged technologies available for commercialization, creating new markets that power the economy," said Johnson's Michele Brekke. "These commercial products and services allow the taxpayers to benefit from space exploration."
NASA and General Motors Create Cutting-Edge Robotic Technology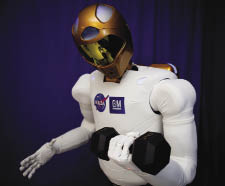 Robonaut 2 will soon take up residence on the International Space Station, becoming the first humanoid robot to travel and work in space.
NASA and General Motors (GM) are working together to accelerate development of the next generation of robots and related technologies for use in the automotive and aerospace industries.
Engineers and scientists from NASA and GM worked together through a Space Act Agreement at Johnson to build a new humanoid robot capable of working side by side with people. Using control, sensor, and vision technologies, future robots could assist astronauts during hazardous space missions and help GM build safer cars and plants.
The two organizations, with the help of engineers from Oceaneering Space Systems, of Houston, developed and built the next iteration of Robonaut, a humanoid robot designed for space travel. The original was built 10 years ago by the Software, Robotics, and Simulation Division at Johnson in a collaborative effort with the Defense Advanced Research Projects Agency. Robonaut 2, or R2, is a faster, more dexterous and more technologically advanced robot. This new-generation robot can use its hands to do work beyond the scope of prior humanoid machines. R2 can work safely alongside people, a necessity both on Earth and in space.
"This cutting-edge robotics technology holds great promise, not only for NASA, but also for the Nation," said Doug Cooke, associate administrator for the Exploration Systems Mission Directorate at NASA Headquarters. "I'm very excited about the new opportunities for human and robotic exploration that these versatile robots will provide across a wide range of applications."
"For GM, this is about safer cars and safer plants," said Alan Taub, GM's vice president for global research and development. "When it comes to future vehicles, the advancements in controls, sensors, and vision technology can be used to develop advanced vehicle safety systems. The partnership's vision is to explore advanced robots working together in harmony with people, building better, higher quality vehicles in a safer, more competitive manufacturing environment."
The idea of using dexterous, human-like robots capable of using their hands to do intricate work is not new to the aerospace industry. During the past decade, NASA has gained significant expertise in building robotic technologies for space applications, including the original Robonaut. These capabilities will help NASA launch a bold new era of space exploration.
"Our challenge today is to build machines that can help humans work and explore in space," said Mike Coats, Johnson's director. "Working side by side with humans, or going where the risks are too great for people, machines like Robonaut will expand our capability for construction and discovery."
Flying Telescope Passes Key Test
Most astronomers would not dream of opening their observatory's doors in 100-mph winds, yet NASA's new SOFIA telescope recently flew in an airplane at 250 mph with the door wide open.
In December 2009, the Stratospheric Observatory for Infrared Astronomy (SOFIA) flew in a modified Boeing 747 at 15,000 feet for 1 hour and 19 minutes. For 2 minutes of that time, the door by the telescope was wide open.
"This was the first time the door was fully opened in flight," said Bob Meyer, SOFIA program manager at Dryden Flight Research Center. "We wanted to find out whether opening the door affected flying and handling the aircraft, caused acoustic resonance in the cavity, made anything come loose in the cavity because of wind.
"When you blow air over a soda pop bottle and hear a hum, that's acoustic resonance. If that happened in the plane, it could vibrate the structure of the plane and the telescope and cause problems."
SOFIA passed with flying colors. "Everything went well. No adjustments or corrections were needed. Nothing shook loose or got damaged."
The 98-inch infrared telescope is ultimately destined to fly at 40,000 feet and study a range of astronomical objects over its expected 20-year lifetime. Those objects include other galaxies and the center of our own Milky Way Galaxy; the interstellar medium, especially the building blocks of life it contains; the formation of stars and planets; and comets and asteroids in our solar system.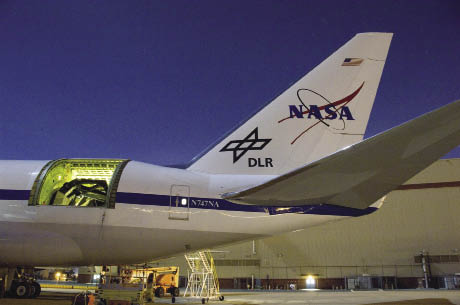 The SOFIA telescope peers out of the fuselage of its Boeing 747 mothership. The telescope will provide infrared imagery of a range of astronomical objects during flights at 40,000 feet—above the atmosphere's infrared-disrupting veil of water vapor.
The veil of water vapor enveloping Earth acts like an invisible brick wall to the infrared energy from cosmic objects SOFIA wants to see. SOFIA solves this problem by viewing the heavens from "above the veil"—something ground-based scopes cannot do. Like space-based telescopes, SOFIA will collect infrared energy before it reaches Earth.
As in the test, the telescope, with its primary, secondary, and tertiary mirrors, will sit in a cavity in the rear of the plane and look through the open door of the aircraft. The telescope's controls, computers, spectrometers, and other instruments will ride in the pressurized cabin.
More testing is planned before SOFIA can begin science operations.
"We'll test at all the speeds the plane can fly and all the altitudes planned for the mission," said Meyer. "We'll test different pointing elevations of the telescope itself.
"Our first light test, where we actually look at an image and characterize the telescope, is set for April 2011. In that test we'll unlock and uncage the telescope so it will move as though it's really observing. The wind will be buffeting and shaking SOFIA, so that will be the first true test of its ability to obtain stable images."
How do you keep a telescope still enough to point accurately and stay "on point" in a moving airplane with the door open?
"The telescope," explained Meyer, "rests on big shock mounts that isolate the mechanical vibrations of the plane from it. And on the back edge of the cavity there's a ramp that catches the airflow entering the cavity and redirects it back over the ramp and out of the cavity."
SOFIA will also have weights attached to it that can be sized and tuned to dampen any shaking. And the drive system can move the scope back and forth to compensate for lower frequency vibrations or movement of the aircraft. The secondary mirror can even be oscillated to remove the shaking of the image.
"SOFIA is really a marvelous piece of engineering," concluded Meyer. "This flight test represents a huge success and significant milestone for all the people who have worked hard for a decade on this mission."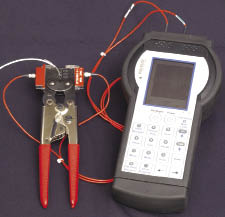 The 2009 "NASA Government Invention of the Year"—Ultrasonic Wire Crimp Inspection Technology—provides reliable testing of critical electrical connections.
Langley Wire Inspection Technology Wins 'NASA Government Invention of the Year'
Langley Research Center's K. Elliott Cramer, Daniel F. Perey, and William T. Yost are the co-inventors of Ultrasonic Wire Crimp Inspection Technology, which was selected as the 2009 "NASA Government Invention of the Year" winner.
The invention enables wire crimp connections to be checked for quality using a hand-held tool that measures response to a signal sent through the wire joint. Current testing methods, which include a physical pull test (which can be destructive) and measuring the electrical resistance of the joint (which can be time consuming) have proven to be unreliable. The technology can be applied to many different crimping operations, especially critical connections such as those employed on flight vehicles.
The technology is being used as part of the Aircraft Aging and Durability Project to investigate failure of electrical wiring systems in commercial and military aircraft.

+ Back to Top

Shuttle Leak Detector at Heart of Volcano Alert System
As Tim Griffin and his team were working on better ways to detect hazardous gasses on the shuttle launch pad, they found out they also could build something to find hazardous gasses venting from a volcano. That means they may be close to building an early warning system for volcano eruptions—a system that could give those near an active cone days or more to evacuate to safety.
"There are all kinds of volcano eruptions, some have all kinds of gasses and some don't have any gasses," Griffin said. "The long-term idea is that we'd be able to characterize the volcanoes. Then if the volcano becomes more active, we can get a better idea of what's going on, how active it is, [and] do we think it's going to be a violent eruption or mainly gasses coming out?"
Griffin, who is the chief of Kennedy Space Center's Chemical Analysis Branch and holds a Ph.D. in chemistry, never studied volcanoes. Instead, his group's goal was to shrink the leak detection system at the launch pad from the size of three refrigerators to something that could be carried by hand, in a car, or perhaps inside a spacecraft.
"This project started off as a way to push the boundaries with our shuttle system," said Richard Arkin of ASRC Aerospace, the detector's co-designer. "We wanted to make it smaller, more powerful and lighter while still maintaining operational abilities and maintenance."
| | |
| --- | --- |
| | |
| Tim Griffin works with the mobile leak detector before a sampling flight. The shuttle leak detection system used at the launch pads is the size of three refrigerators, but Griffin's team reduced it in size and added automation so it could be mobile. | Griffin and his team of researchers carried the leak detector by hand into the cone of the Turrialba volcano in Costa Rica in 2005. |
Parts of the miniaturization work were easy, such as going from numerous sampling ports required at the pad to a single port for the smaller machine. Other aspects, such as building smaller pumps and additional components, required innovation and invention. In both, a mass spectrometer is used to find out what chemicals are present in the air.
They also set out to make the unit relatively autonomous, but still reliable and hearty.
At this point, the detector weighs in at 75 pounds. It stands about 9 inches tall, and its footprint is a bit larger than a backpack. In fact, one of the goals of the project is to make it small enough to be carried in a backpack.
Griffin was talking about some of the work involved in chemical analysis at a conference when officials from Costa Rica's scientific program asked about applying the technology to the volcanic studies. It started to look like a natural fit.
Costa Rica proved a good testing ground for the equipment because most of the population lives around or near four active volcanoes. They not only worry about sudden eruptions, but also high concentrations of carbon dioxide the volcanoes vent. The gas tends to kill all vegetation and livestock near the venting areas, but people cannot see the carbon dioxide.
The detector showed a way to find out where the gas pockets are and how they change. The team flew the detector on three different kinds of airplanes, where it modeled the chemicals in volcanic plumes in three dimensions, a level of precision that astonished Arkin.
"That was something that I never thought about doing," Arkin said.
The team put the detector in the backseat of a car and drove it through Costa Rican cities to sample the air and also carried it into the volcanoes by hand. In the future, Griffin wants to load it inside drones so the detection system can fly directly into the plumes of erupting mountains without endangering a pilot.
The results are expected to provide more information to help researchers pinpoint what volcanoes are doing at any given time, and when or if they might be about to spew.
Although the highest potential is still a few years away for the detection system, Griffin said he can envision a time when there are a number of detectors based around the world ready to scan volcanoes suspected of erupting. The extra information could be enough to convince officials to order an evacuation before it's too late.
Two NASA Technologies Inducted into the Space Technology Hall of Fame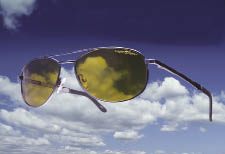 Inducted this year into the Space Technology Hall of Fame, Eagle Eyes Optics sunglasses filter out harmful wavelengths of light known to contribute to cataracts and other eye conditions.
Lenses that protect human eyes from solar radiation and digital fly-by-wire technology that significantly improves the fuel efficiency, reliability, and cost of modern aircraft have been selected for induction into the Space Foundation's Space Technology Hall of Fame. This recognition honors outstanding technologies developed for use in space that have been adapted to improve life on Earth.
Eagle Eyes Optics and NASA's Jet Propulsion Laboratory (JPL) will be inducted for radiation-filtering technology now used in sunglasses, and Venture Technology Inc. will receive a commendation for its early work on the optical technology.
Dryden, Draper Laboratory, The Boeing Company, and Airbus will be inducted for developing a technology that uses electronic pulses instead of mechanical or hydraulic linkages to control the actuators for the ailerons, flaps, and other control surfaces of an aircraft.
In the 1960s, JPL began looking for a method to protect human eyesight from the harmful effects of solar radiation in space, especially ultraviolet and blue-light rays that are known to contribute to cataract and age-related macular degeneration.
Researchers learned that the eyes of birds-of-prey contain oil droplets that filter out harmful radiation and permit only specific wavelengths of light to enter. This natural filtering process provides them with extreme visual clarity—even at great distances. The researchers replicated this natural system and created the first transparent welding curtain to filter out harmful light and protect human eyesight in hazardous environments.
The new technology was soon applied to sunglasses and introduced to the public under the SunTiger name, known today as Eagle Eyes Optics. These lenses absorb over 99 percent of all photo wavelengths considered hazardous to human eye tissue—including ultraviolet and blue light up to 475 nanometers in the wavelength spectrum, the cut-off point at which visible light is allowed to transmit through the lens. This range is the most beneficial to the human eye for protection, for increased visual perception and contrast, and for reduced chromatic aberration.
"Eagle Eyes products are recognized around the world for their protective and vision-enhancing capabilities," said Kevin Cook, the Space Foundation's director of space awareness programs, who administers the Space Technology Hall of Fame. "They are another excellent example of how space technology benefits life on Earth."
In the late 1960s, engineers at NASA Flight Research Center (now Dryden Flight Research Center) proposed replacing bulky mechanical flight-control systems on aircraft with much lighter-weight and more reliable fly-by-wire technology. The engineers had been exploring ways to apply knowledge gained from their work in support of the Apollo Program.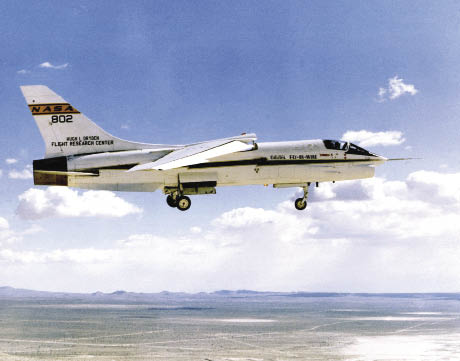 This modified F-8 Digital Fly-By-Wire Crusader was the test bed of the fly-by-wire flight control systems now used on the space shuttles and military and civil aircraft to make them safer, more maneuverable, and more efficient. Digital fly-by-wire and its developers were inducted into the Space Technology Hall of Fame this year.
They initially envisioned controlling aircraft using analog computers—the standard of the era; however, astronaut Neil Armstrong, who had successfully flown to the Moon using digital technology developed for the Apollo Program, encouraged Dryden to explore a digital option. Dryden teamed up with Draper Laboratory, which had worked with NASA on the Apollo Program, to develop a digital fly-by-wire (DFBW) solution using the specialized hardware and software developed for Apollo.
Proven performance and solid cooperation between NASA and industry translated into use of DFBW systems in new aircraft design in a remarkably short time. Airbus and Boeing developed the first commercial airliners using the new DFBW technology.
DFBW-equipped aircraft are more fuel efficient because they maintain constant speed and altitude over long distances. Without bulky hydraulics, cables, rods, and pulleys, they have greater payload capacity and greater range. The electronic systems require less maintenance and, because there are fewer mechanical parts to fail, the airplanes are far more reliable. DFBW systems are easier to install and troubleshoot, which makes assembly and maintenance more efficient, and the reduced vulnerability to battle damage makes DFBW ideal for military aircraft.
"DFBW technology is a quantum jump in aircraft design and performance," said Cook. "Safer and more efficient aircraft around the globe represent a major aeronautics success, as well as another example of how technology developed for space exploration directly benefits life on Earth."
The Space Technology Hall of Fame was created in 1988 by the Space Foundation, in cooperation with NASA, to increase public awareness of the benefits resulting from space exploration programs and to encourage further innovation. To date, the Space Foundation has inducted 61 technologies as well as honored the organizations and individuals who transformed space technology into commercial products that improve the quality of life for all humanity.
NASA Ames 'Tops Out' First Building in 30 Years
"Beam me up!" was the message signed on the final beam hoisted into place on the iron skeleton of NASA's new building, called Sustainability Base, on Friday, March 12, 2010.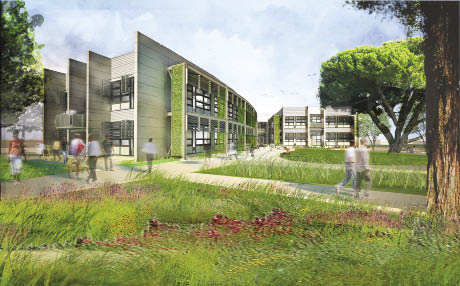 With NASA innovations and intelligence integrated throughout, the Ames Sustainability Base will be among the greenest and best performing buildings in the Federal government.
Although not yet completed, Sustainability Base has begun ushering in a new era of innovation, good will, and renewed American tradition. Under construction at Ames, the building advances the standard for what it means to be "green." Sustainability Base is expected to achieve a platinum rating under the Leadership in Energy and Environmental Design (LEED) standards for the environmentally sustainable design, construction, and operation of buildings. The building, however, goes beyond LEED to serve as a showcase of NASA and partner ingenuity, incorporating technologies designed for space exploration and applied to improve life here on our home planet. Sustainability Base will be a window to the future on Earth.
"It will be one of the greenest and highest performance buildings in the Federal government," said Steve Zornetzer, associate administrator of Ames. "Today is a good day to celebrate. It's a good day to stop, reflect, and show appreciation for work that was well done."
Together, NASA and Swinerton Builders workers and management signed the final beam as part of a celebration, called the "Topping Out." No one really knows how or when it originated, but the tradition places an evergreen tree, a flag, or both on the last beam as it is lifted into place to signify the structure has reached its height and that the skeleton is completed.
"As a company, we are proud to be part of a green effort that is so successful," said Dan Beyer, vice president of Swinerton Builders. "The tree signifies new growth as the building construction comes to fruition and is used over time; the flag represents who we are as Americans."
Over the years, the Topping Out custom remains important to ironworkers in the steel construction industry. For some, the evergreen symbolizes the successful completion of construction without loss of life; for others, it's a good luck charm for the occupants. Similarly, the flag also has multiple meanings: the construction of a Federal building, patriotism, or the American dream. Whatever the interpretation, it welcomes the future while providing a link with the past.
Honey Bees Turned Data Collectors Help Scientists Understand Climate Change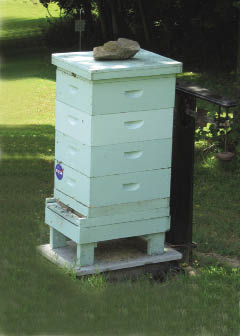 Beekeepers around the country are collecting crucial ecological data through an unusual method: weighing their hives each day. The effort was launched by a Goddard Space Flight Center researcher.
Estimates are that there are somewhere between 6 and 10 million species of insects on the planet, yet few are as charismatic as the honey bee.
Part of an order of winged insects called Hymenoptera, honey bees are best known for being prodigious producers of honey, the sweet amber substance they produce by partially digesting and repeatedly regurgitating the sugar-rich nectar found within the petals of flowering plants. They're also the workhorses of the modern industrial agricultural system, relied upon to pollinate crops ranging from almonds to watermelons to peaches. And they're even noted dancers capable of performing an array of complex "waggle" dances to communicate.
And now—thanks to an innovative project conceived by Wayne Esaias, a veteran oceanographer at NASA's Goddard Space Flight Center—bees have yet another role: that of climate data collectors.
When honey bees search for honey, colony scouts tend to scour far and wide and sample the area around a hive remarkably evenly, regardless of the size of the hive. And that, Esaias explained, means they excel in keeping tabs on the dynamics of flowering ecosystems in ways that even a small army of graduate students cannot.
The key piece of data bees collect relates to the nectar flow, which in the mid-Atlantic region tends to come in a burst in the spring. Major nectar flows, typically caused by blooms of tulip-poplar and black locust trees, leave an unmistakable fingerprint on beehives—a rapid increase in hive weight sometimes exceeding 20 pounds per day. When a nectar flow finishes, the opposite is true: hives start to lose weight, sometimes by as much as a pound a day.
By creating a burgeoning network of citizen scientists (HoneyBeeNet) who use industrial-sized scales to weigh their hives each day, Esaias aims to quantify the dynamics of nectar flow over time. Participating beekeepers send their data to Esaias, who analyzes it and posts nectar flow trend graphs and other environmental data for each collection site on HoneyBeeNet's Web page.
The size of HoneyBeeNet, which relies almost entirely on small-scale backyard beekeepers, has doubled over the last year and now includes more than 87 data collection sites. While the majority of sites are in Maryland, HoneyBeeNet now has sites in more than 20 states.
Data from the network, when combined with additional data that reach back to the 1920s, indicate that the timing of spring nectar flows have undergone extraordinary changes. "Each year, the nectar flow comes about a half-day earlier on average," said Esaias. "In total, since the 1970s, it has moved forward by about month in Maryland."
Esaias' research
offers hints
about how
bees might
respond to
climate change.
Esaias and Goddard colleague Robert Wolfe recently compared nectar flow data from HoneyBeeNet to satellite data that measures the annual "green up" of vegetation in the spring, one of the first times that scientists have attempted such a comparison. They corresponded nearly perfectly, confirming the usefulness of the citizen-science derived data from HoneyBeeNet to address changes in nectar flows.
What's to blame for the remarkable warming trend in Maryland? Washington's growth has certainly played a role. Urban areas, explained Esaias, produce a "heat island" effect that causes temperatures in surrounding areas to creep upward. But, in addition to that, Esaias suspects that climate change is also contributing. And that has him nervous. "A month is a long time. If this keeps up, and the nectar flows continue to come earlier and earlier, there's a risk that pollinators could end up out of sync with the plant species that they've pollinated historically," Esaias said.
Esaias is not the only researcher who's looking at this issue. The National Academies of Science published a landmark report in 2007 that highlighted the precarious status of pollinators in North America.
Many pollinators—ranging from honey bees, to bumblebees, to lesser known species—seem to be in the midst of protracted population declines. Managed honey bee colonies, for example, have seen their numbers fall from about 5.9 million in 1947 to just 2.4 million in 2005.
In most cases, it is not clear what's causing the population declines or whether climate change is exacerbating the problem, though many researchers suspect that new types of viruses, mites, and other parasites and pesticides are important factors.
"But it's not just the honey bees that we need to be looking at," said May Berenbaum, an ecologist at the University of Illinois at Urbana-Champaign and the lead author on the National Academies report. "For honey bees, at least we can truck them around or feed them when there's a problem. It's the wild species of pollinators that are the greatest cause for concern."
Bumblebees, wasps, butterflies, and countless other insects—as well as some bats and birds—are the glue that keeps many wild ecosystems intact through pollination. And scientists are only beginning to comprehend the potential consequences that could unfold if the pollinators and the plants that rely on them get so far out of sync that extinctions begin to occur.
"To borrow an old analogy that Paul Ehrlich often used, with the wild pollinators, losing a species is a bit like losing screws in a plane," said Berenbaum. "If you lose a few here or there, it's not the end of the world, and your plane can still fly. But if you lose too many, at some point, the whole plane can suddenly come apart in mid-flight."
Indeed, entomologists have hardly begun the task of identifying wild pollinators, not to mention determining definitely which species are threatened or how they might respond as the climate shifts. Esaias' research offers hints about how bees might respond to climate change. Still, scientists estimate that there are more than 30,000 different bee species alone, and only about half of them have been formally described.
HoneyBeeNet is one way that citizens can help scientists better understand how climate change is affecting one species of pollinator. Alice Parks, a backyard beekeeper from West Friendship, Maryland, has participated for 2 years. She bought a used scale for just $26 at an auction, and weighs her hive every night.
"Weighing can be a chore sometimes," she said. "But it's such an incredibly rewarding project that it's worth it. I'm learning so much about my bees that's making me a better beekeeper, but I'm also contributing to a larger project that's helping scientists address environmental problems on a global scale."
Glenn Research Center Receives Three 'R&D 100' Awards
Three research teams at NASA's Glenn Research Center have been recognized by the editors of R&D Magazine with a prestigious "R&D 100" award.
The "R&D 100" award is given to the top 100 most technologically significant products of the year. The awards have been helping companies provide the important initial push a new product needs to compete successfully in the marketplace. It provides a mark of excellence known to industry, government, and academia as proof that the product is one of the most innovative ideas of the year.
The three Glenn award winners are OTIS4, the Mini-Classifier, and the L-3 ETI Model 2300HE.
The Optimal Trajectories by Implicit Simulation version 4 software, or OTIS4, is a general purpose program used to perform trajectory performance studies. Its principal application includes the preliminary design of aerospace vehicles. The trajectory performance is linked to the physical design of the vehicle by factors such as weight, fuel tank volume, and solar array sizing. OTIS4 also received NASA's 2008 "Software of the Year" award and received special recognition in May 2009 at the Northeast Ohio Software Association annual "Best of Tech" award in the category of Best Software Product. Members of the team are John P. Riehl, Waldy K. Sjauw, and Robert D. Falck of Glenn's Mission Design and Analysis Branch, along with Stephen Paris from Boeing Research and Technology.
The Mini-Classifier is a compact low-power device that measures size distributions of aerosols, including ultrafine components less than 100 nanometers (about 4 millionths of an inch), which are of great interest to epidemiology and respiratory health. This development represents a significant advancement in particle measurement technology. Members of the team are Glenn's Paul Greenberg of the Combustion and Reacting Systems Branch; Patrick Spanos and Al Blaze of the Machining Branch; William Yanis with the National Center for Space Exploration Research in Cleveland; and Da-Ren Chen and Chaolong Qi with Washington University in St. Louis.
The L-3 ETI Model 2300HE is a high-efficiency space traveling wave tube amplifier for NASA's Lunar Reconnaissance Orbiter spacecraft. This high-efficiency, high-reliability microwave power amplifier is capable of transmitting science data and images from the Moon to Earth faster than previously possible. It is the first high data rate K-band transmitter to fly on a NASA spacecraft. Members of the team are Rainee Simons of Glenn in collaboration with Paul Spitsen, William Menninger, Neal Robbins, Daniel Bibb, and Phillip Todd of L-3 Communications Electron Technologies Inc.
Stennis All-Hazards Network Being Adopted Throughout NASA
It has been called "the wave of the future," and now the "all-hazards network" system (HazNet) developed at Stennis Space Center, is being implemented across the Space Agency.
HazNet incorporates maps, reports, Internet-derived data, and real-time sensor input into a geographic information system (GIS)-based display to provide organizations and officials with comprehensive information during emergency and disaster situations. It also allows organizations and officials to communicate, collaborate, and share data during such events, enabling a coordinated response.
"The system is a real benefit for managing incidents," Stennis' emergency director Ron Magee said. "It draws information from a variety of sources and allows you to have at your fingertips information that you need to properly respond to events."
Based on 5 years of research and thousands of hours of testing, the HazNet system was developed by NVision Solutions Inc., a Bay St. Louis, Mississippi, company that worked with NASA, the U.S. Department of Homeland Security, the Federal Emergency Management Agency, and others on the project. Most of the funding for development came through NASA programs, including the SBIR program.
"This tool ushers in a new era of information gathering and sharing between Federal, state, and local agencies across multiple geographies," said Craig Harvey, chief operating officer for NVision. "We view NASA as a key partner in its development."
Through the NASA partnership, the HazNet system was implemented in neighboring St. Tammany Parish, Louisiana, and Hancock County, where Stennis is located. A contract was awarded last year to install the system at three NASA locations: Stennis, Michoud Assembly Facility in New Orleans, and NASA Headquarters in Washington, D.C. At Stennis, the system was unveiled with the opening of the facility's new Emergency Operations Center.
An SBIR Phase III contract has been awarded to install the system throughout NASA centers, and Stennis will host emergency operations personnel from those facilities for a training session. "The system provides facility information, weather information, and various data from a number of sources," Magee explained. "It provides emergency responders with all the information they might need, all in one place."
"The system
provides emergency
responders with
all the
information they
might need, all in
one place."
The goal is to provide a real-time common operating picture for responders, so breakdowns in communication and gaps in knowledge will not hamper emergency and/or disaster response. At Stennis, a major feature of the system is to enable effective response during a possible hurricane; however, the system is designed to help officials make timely, informed decisions in all types of emergencies.
For instance, during a flood, HazNet helps officials determine where flood waters are headed, allowing for warnings to be issued and thus protecting lives and property. The system also enables timely response during events such as fires, hazardous spills, and terror attacks.
Another key feature of the new system is its adaptability. As Harvey explained, features are continually being added. For instance, 3-D building displays are being incorporated, as well as emergency vehicle tracking and storm evacuation capabilities and an emergency shelter management system.
An NVision goal is to incorporate HazNet in all of the parishes and counties surrounding Stennis. However, even before that is done, there is little doubt in Magee's mind about HazNet's value. "This represents a very big step forward in safety and security for Stennis and all of NASA," he said. "We're excited to have been a part of its development."
NASA Honors 2009 Centennial Challenges Winners
Paul's Robotics (above) won the Regolith Excavation Centennial Challenge with its innovative robot, Moonraker (above and left), capturing the $500,000 first prize. Overall, Centennial Challenge winners garnered $3.65 million in combined prize money while developing remarkable technologies that may soon find use for space exploration or on Earth.
In February, NASA honored the achievements of the 2009 Centennial Challenges prize winners and competition hosts with a technical symposium and recognition ceremony at NASA Headquarters in Washington, D.C. Centennial Challenges is NASA's program of technology prizes for the citizen-inventor. The program's goals are to drive progress in aerospace technology that is of value to NASA's missions; encourage participation of independent teams, individual inventors, student groups, and private companies of all sizes in aerospace research and development; and find innovative solutions to technical challenges through competition and cooperation.
Five Centennial Challenge events were held in 2009, awarding $3.65 million in combined prize money at four of the competitions: Regolith Excavation, Lunar Lander, Power Beaming, and Astronaut Glove.
Paul's Robotics, a team led by college student Paul Ventimiglia of Worcester Polytechnic Institute in Worcester, Massachusetts, won the $500,000 first prize in the Regolith Excavation Challenge hosted at NASA Ames Research Park and managed by the California Space Education and Workforce Institute. Other teams won the $150,000 second-place and $100,000 third-place prizes. Teams were required to design, build, and operate a mobile robot that could dig up and deposit at least 150 kilograms of material from a simulated lunar surface and deposit it in a collection bin, demonstrating a key task in lunar construction and resource harvesting.
Masten Space Systems, of Mojave, California, won the $1 million first prize in the Northrop Grumman
Lunar Lander Challenge. Managed by the X PRIZE Foundation, the challenge involved building and flying a rocket-powered vehicle that simulates the flight of a vehicle on the Moon, requiring exacting control and navigation, as well as precise control of engine thrust, all done automatically. Armadillo Aerospace, of Rockwall, Texas, claimed the $500,000 second prize.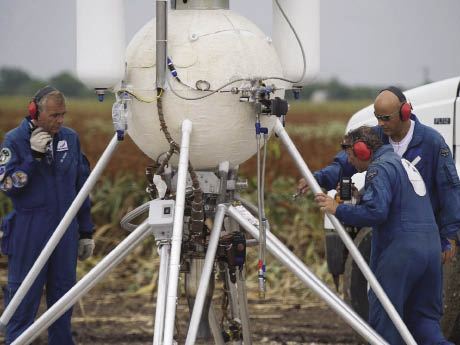 Armadillo Aerospace successfully met the Level 2 requirements for the Lunar Lander Centennial Challenge and qualified to win a $1 million first place prize. To qualify for the Level 2 prize, Armadillo Aerospace's rocket vehicle took off from one concrete pad, ascended horizontally, then landed on a second pad that featured boulders and craters to simulate the lunar surface. The team ultimately came in second place in the overall competition behind Masten Space Systems.
The Power Beaming Challenge, hosted at Dryden and managed by The Spaceward Foundation, was a demonstration of wireless power transmission in which teams build and demonstrate systems to beam energy from the ground to a robotic device that climbs a vertical cable. NASA is interested in power-beaming technology for purposes such as remotely powering rovers and other instruments. On Earth, the technology might supply communities with power following natural disasters, and there are intriguing applications including power beaming for airships, satellites, and space transportation, including the space elevator concept. LaserMotive LLC, of Seattle, met the stringent requirements to win the challenge's first level, winning a $900,000 prize. A prize purse of $1,100,000 remains for the next Power Beaming competition.
Peter Homer, of Southwest Harbor, Maine, winner of the 2007 Astronaut Glove Challenge, also won the 2009 challenge to develop innovative space suit glove designs to reduce the effort needed to do work during spacewalks. Homer won $250,000 for his first place design, while Ted Southern, of Brooklyn, New York, won the $100,000 second prize. The competition was managed by Volanz Aerospace.
NASA has plans for additional competitions, including the Green Aircraft Challenge set for 2011. The Power Beaming Challenge will continue, as will the Strong Tether Challenge, which is awaiting its first winner.
"I think the Centennial Challenges are very cool and exciting. Ultimately, in the real world, it can lead to things like startup companies," said Regolith Excavation Challenge winner Ventimiglia. He has plans for launching his own robotics company with the support of the prize money, and Astronaut Glove Challenge winner Homer has already launched Flagsuit LLC to explore the commercial applications of his winning technology. These are just the early signs of the impact the Centennial Challenges have beyond NASA.
According to NASA Centennial Challenges program manager Andrew Petro, "NASA's investment is relatively small, and the return is enormous. In addition to specific innovations that might be considered in future designs, the NASA engineers present were able to observe and evaluate a collection of working prototypes that would normally cost millions of dollars to create. Furthermore, there is tremendous value in giving a new generation of innovators the opportunity to test their ideas in real-world conditions, or in this case, out-of-this-world conditions. The experience they gain through these projects will aid them in their future work and benefit our Nation's economy for years to come."
Space Technology Hall of Fame® is a registered trademark of the Space Foundation.
 Previous Page / Home / Contents / Next Page