Fuel cells have been used on every crewed space vehicle since their initial commercial development for NASA's Gemini program. In addition to providing power, fuel cells coupled to electrolyzers—forming a regenerative fuel cell—store energy to provide continuous power during long eclipse or low-light periods. Improving the reliability of fuel cells is becoming more important as mission durations become longer and more distant from the Earth.
To meet the expected power needs of human exploration systems, NASA is developing novel fuel cell and regenerative fuel cell systems. In conjunction with Infinity Fuel Cell and Hydrogen Inc., of Windsor, Connecticut, the Agency is working on a non-flow-through proton exchange membrane fuel cell system. These advanced fuel cells convert hydrogen and oxygen to electricity, creating only water and heat as by-products; the innovation lies in the cell design and the means for removing water. By passively wicking water away, the technology does not require mechanical pumps, water separators, or other associated components. With the elimination of most moving parts, the reliability of the system is expected to increase. Because power is not needed to drive external elements, the energy conversion efficiency is also increased. This translates directly into smaller tanks for the hydrogen and oxygen, a significant benefit when space is at a premium. Lastly, due to fewer components, the cost of flight hardware could be reduced.
Initially developed under the Small Business Innovation Research (SBIR) program in 2005, the fuel cell stack began receiving direct support in 2008 from NASA's technology development program for human exploration. Now, several systems nominally producing 100 watts have been built and tested by NASA and Infinity. A larger system, nominally rated at one kilowatt of electrical power, is currently under development.


Turning Green
To reduce the impact of aviation on the environment, NASA created the Environmentally Responsible Aviation (ERA) project. This project explores and documents the feasibility, benefits, and technical risk of vehicle concepts and enabling technologies to reduce the environmental effects of developing and operating aircraft.
One of the goals of ERA is to create a lightweight, manufacturable airframe that can withstand flight and ground loads, as well as satisfy acoustic requirements for a hybrid wing body vehicle at an acceptable cost. In order to meet this goal, a new structural concept is being explored: the hybrid wing/body (HWB) vehicle. This airframe will benefit from fabrication of large components, which reduce the number of joints and fasteners compared to today's aircraft, and also reduce the weight of the airframe, the number of parts, and the assembly time.
NASA and its partners have also worked to develop new low-cost, lightweight composite structures for aircraft. A new design and manufacturing approach called the pultruded rod stitched efficient unitized structure (PRSEUS) concept offers advantages over traditional metallic structures and is suited for an HWB application. Experiments with PRSEUS involving low speed impact damage, severe penetration damage, buckling, and excessive pull-off loading have all indicated that it can withstand the challenges associated with aircraft fight and ground conditions. Trade studies indicate that it would be 10-percent lighter than its sandwich counterpart, a reduction that would result in approximately a 3-percent savings in overall fuel burn for an aircraft.
ERA is using a building-block approach to obtain information to apply to future aircraft. Smaller test articles are evaluated first, and the lessons learned can be applied to larger articles. This will result in experimental evidence that a PRSEUS section can sustain the required loads for a flight vehicle.


Shedding Light on Vitamin D
Most people know that vitamin D is important to maintain strong bones, and that one way people attain vitamin D is through exposure to ultraviolet (UV) light. But what happens to vitamin D in astronauts who are not exposed to UV light during spaceflight?
To better understand the effects of spaceflight on astronauts, a team of investigators from NASA's Human Research Program at Johnson Space Center, in collaboration with the National Science Foundation, studied groups of people who wintered at McMurdo Station, Antarctica. With no sunlight at the station for 6 months out of the year, the location is analogous to the conditions of spaceflight. The results of two studies are now helping NASA scientists and physicians define vitamin D requirements for astronauts, as well as for people on Earth.
Using data from studies in environments with minimal UV light—including the NASA studies—the Institute of Medicine developed a dose response curve and based the new 2011 vitamin D recommendation for North America, in part, on the curve. An additional finding from the NASA study was that body mass index can affect vitamin D status, as people with a higher body mass index require more vitamin D in order to achieve the same blood concentration of vitamin D as someone who has a lower body mass index.


Working Out the Bugs
Reducing the amount of drag an aircraft encounters has long been one of the aviation industry's great challenges. To assist in meeting overall drag reduction goals, NASA's Environmentally Responsible Aviation (ERA) project is developing low surface energy coatings that increase fuel efficiency by mitigating bug buildup on the leading edge surface of aircraft wings. The accumulation of bugs occurs mostly during takeoff and landing, where flying insects impact the wing edges at high speeds.
To assess low surface energy coatings, ERA first needed to determine the dynamics of the impact of insects, as well as the composition of the resulting residue. To closely simulate the impact of insects, ERA used a bug gun, consisting of PVC piping and a fan operating at 3,160 revolutions per minute to apply a thin coating of insects to sheets of aluminum.
Tests found the insect residue was composed mostly of water but also contained proteins that had adhesion properties very different from water. Due to this finding, the tests concluded that hydrophobic (water repelling) coatings would not be effective in mitigating insect adhesion. Some approaches being considered focus on the prevention of biological fluid adhesion, including a combination of surface engineering and molecular design of the coatings. If successful, the formulation could potentially spin-off into broader applications in the automotive and marine industries.

+ Back to Top
Research to Revolutionize Aircraft
In the short history of air transportation, a trend emerges: Air traffic and passenger volume continue to grow, both domestically and internationally, stressing the existing infrastructure. Within four to five decades, the amount of air traffic is predicted to double. To produce innovative concepts, tools, capabilities, and technologies to enable revolutionary advances in efficient vehicle designs for subsonic, supersonic, and hypersonic flight, NASA's Fundamental Aeronautics Program (FAP) conducts cutting-edge research.
NASA's Fundamental Aeronautics Program
is making aggressive investments to spur future innovations.


Partnering with industry, universities, and international organizations, FAP is making aggressive investments in knowledge development to spur future innovations that will enable revolutionary air vehicle concepts and designs. These activities hold promise for the future aircraft technologies of the next generation air transportation system.
Recently, FAP's Subsonic Fixed Wing (SFW) project awarded contracts for a study to develop advanced concepts for commercial subsonic transport to enter service in the 2030–2035 timeframe. Conducted by four industry and university teams led by Boeing, Northrop Grumman, General Electric, and MIT, the results introduced a range of candidate technologies and advanced vehicle architectures capable of meeting reductions in fuel burn, noise, and emissions. The vehicles represent a research and development generation known as N+3, denoting three generations beyond the current commercial transport fleet.
For future rotorcraft transport that could change how airport systems operate, FAP's Subsonic Rotary Wing (SRW) project is performing studies for large civil rotary wing transport that could carry about 100 passengers and take off without runways. SRW is also developing new technologies for more efficient engines, lighter weight rotor systems that can fly faster and quieter with low noise and vibration, as well as efficient drive trains and advanced transmission designs for variable speed propulsion system.
Through the Supersonics project, FAP is investing in developments to overcome the technological barrier of commercially viable low boom supersonic transport aircraft. The project is also conducting studies to gain a better understanding of advanced airframe and propulsion concepts and enabling technologies that address many of the challenges for commercial supersonic aircraft. Two teams, one led by Boeing and the other by Lockheed Martin, assessed the technology needs and sonic boom mitigation concepts for future supersonic transport. The results revealed unique concepts and technologies with the promise of low boom signatures that will enable truly overland supersonic flight—a potential breakthrough that could enable a supersonic business jet, and ultimately, commercial supersonic transport.


From Space to Surgery
Not all great collaborations are planned. In fact, many of the best partnerships are the result of serendipity. Such is the case with two old friends who met to talk about life and work but ended up brainstorming a new development with the potential to benefit people across the globe.
Scott Dulchavsky was the primary investigator for NASA's Advanced Diagnostic Ultrasound in Microgravity (ADUM) investigation, which developed revolutionary medical ultrasound diagnostic techniques for long-distance use—including on the International Space Station. When Dulchavsky reconnected with a friend, Stephen Smith, chair of the American College of Surgeons National Ultrasound Faculty, the pair discovered an unlikely connection between their careers. Dulchavsky had a cutting-edge software, known as Onboard Proficiency Enhancement, for training astronauts on ultrasound use. Smith, coincidentally enough, needed a better way to provide ultrasound education to residents and practicing surgeons around the country.
"He told me about what he was doing with NASA to facilitate ultrasound training on the space station, and he showed me the training modules they had created," Smith says. "We then thought this would be a great next step in putting together training programs for surgeons."
Dulchavsky then presented the ultrasound training software possibilities to the board of the American College of Surgeons National Ultrasound Faculty, where he received a very positive response. "I showed the software to the board and they loved it, thought it was best in class, and wanted to incorporate the teaching methods into their new CD-ROM courses for surgeons," he says. "This software is now a required component for ultrasound instruction for all surgeons."
Commissioned by the American College of Surgeons Division of Education, the software developed for use on the space station was adjusted to incorporate specialized surgical ultrasound knowledge and techniques. The resulting multimedia surgical training module provides core training education in ultrasound imaging for clinical applications, and is now in use by residents and practicing general surgeons on a national level.
"We've been able to disseminate ultrasound education to areas that we could never have reached before," says Smith. "There have been guys in the military that were deployed to Iraq or Afghanistan that have been able to use these modules on CD-ROM to bring their knowledge up to speed."
The origins of the training application on the space station contributed to the success of the final product. "The space station was an excellent testbed to evaluate new educational paradigms to promote medical care in remote environments. The constraints of that environment required us to develop novel, just-in-time training methods and focus on efficient processes," Dulchavsky says.
The long-distance ultrasound diagnostic techniques developed during the ADUM experiment are already in use diagnosing injuries and medical conditions in mountain climbers, professional and Olympic athletes, and residents of remote communities, such as Inuit populations in the Arctic Circle. The experiment also resulted in commercial technology for sending and storing ultrasound imaging over the Internet (Spinoff 2009).
According to Dulchavsky, the newly developed training module may soon find additional use in mechanics and humanitarian efforts. Talks are already underway with General Electric Company and Sonosite Inc., with intentions of incorporating another version of the software on machines for point of care instruction, he says. "We are also working with the United Nations to use some of this software for global ultrasound instruction."


A Fuel Station in Space
A joint effort between NASA and the Canadian Space Agency is making the first attempt to test in-orbit robotic refueling and repair techniques for spacecraft that were not originally designed to be serviced. The Robotic Refueling Mission (RRM) is an external International Space Station (ISS) experiment to demonstrate and test the tools, technologies, and techniques needed to robotically refuel and repair satellites in orbit; it also marks the first use of Dextre—the space station's Canadian, twin-armed "handyman"—beyond Dextre's planned maintenance of the ISS.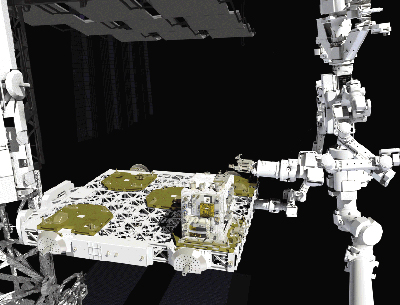 Several nations and space agencies have identified satellite servicing as a valuable capability, as robotic refueling and repair capabilities could extend the lifetime of satellites and thereby offer satellite owners and operators additional service and revenue, value from the initial satellite investment, and savings on replacement costs. A robotic refueling capability and a fuel depot in space could also potentially allow human and robotic explorers to reach distant destinations more efficiently and effectively.
To meet the challenge, the RRM development team at NASA's Goddard Space Flight Center assessed the tasks that would be necessary for a robot to access the triple-sealed fuel valve of an orbiting satellite and refuel it. They also examined robotic satellite repair tasks. The team then developed the cube-shaped RRM module, which is about the size of a washing machine and weighs approximately 550 pounds. The team also developed unique tools for RRM that contain cameras with built-in LEDs to give mission controllers the ability to see and control the instruments.
Launched to the ISS in July 2011 on the final shuttle mission STS-135, RRM operations will take place for 2 years and will be remotely controlled by flight controllers at Goddard Space Flight Center, Johnson Space Center, Marshall Space Flight Center, and the Canadian Space Agency's control center.
Once the RRM module is securely mounted to a platform on the space station, mission controllers will direct Dextre to retrieve RRM tools to cut and manipulate protective blankets and wires, unscrew caps and access valves, transfer fluid, and leave a new fuel cap in place. At one stage of the demonstration, Dextre will use RRM tools to open up a fuel valve, similar to those commonly used on satellites today, and transfer liquid ethanol across a robotically mated interface via a sophisticated robotic fueling hose.
Performance data collected from RRM operations will be used to validate contact dynamics simulations conducted at the Goddard Satellite Servicing Demonstration Facility (GSSDF), which was developed in parallel with the RRM flight hardware. Such a confirmation would validate the GSSDF's capability to develop and test any future space robotic servicing and assembly missions with a high degree of accuracy. Completing the demonstration will validate the tool designs, the fuel pumping system, and robotic task planning—all of which could be used during the design of a potential future refueling spacecraft.