Goddard Space Flight Center
NASA Headquarters and Centers
---
When you drive through Goddard Space Flight Center in Greenbelt, Maryland, you see history at every corner. A case in point is the intersection of Minitrack and Tiros roadways. These names were part of Goddard's early space history in tracking and obtaining early images of Earth's weather.
Dotting a sprawling 1,200-acre complex of buildings are control centers, geophysical and astronomical observatories, as well as antenna and laser test ranges. Goddard has been at the forefront of U.S. space progress since it was established in January 1959. Ten miles northeast of Washington, D.C., Goddard has one of the world's leading groups of scientists, engineers and administrative managers. It has the largest scientific staff of all the NASA centers.
The center is named after American rocket pioneer, Robert Goddard, who designed and flew the world's first liquid-fueled rocket. NASA established Goddard as its first major scientific laboratory devoted entirely to the exploration of space.
Because of its versatility, Goddard scientists can develop and support a mission, while Goddard engineers and technicians design, build and integrate spacecraft. Goddard is also involved in implementing suborbital programs using aircraft, balloons, and sounding rockets. This function is located at the Wallops Flight Facility on Wallops Island, Virginia.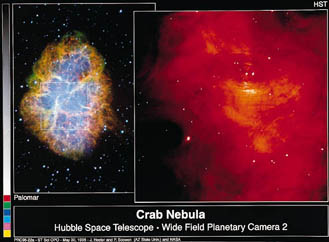 A new sequence of Hubble Space Telescope images of the remnant of a tremendous stellar explosion is giving astronomers a remarkable look at the dynamic relationship between the tiny Crab Pulsar and the vast nebula it powers. Left is the entire Crab Nebula; right is an image of the inner parts of the Crab.
Much of the center's theoretical research is carried out at the Goddard Institute for Space Studies in New York City. Operated in close association with area universities, the institute provides support in geophysics, astronomy and meteorology.
Goddard has played a key role in space progress almost from the day it opened. From the early Vanguard and Tiros weather watching satellites to the Compton Gamma Ray Observatory, the Cosmic Background Explorer, the Upper Atmosphere Research Satellite, the Extreme Ultraviolet Explorer and controlling the Hubble Space Telescope, Goddard is a site of active and vibrant scientific and technological research. Goddard is a preeminent world leader in Earth and space science. Scientific research in Earth science, physics and astronomy is its designated Center of Excellence area.
Rolling back the clock to 1973, Goddard's sea-going tracking station, the USNS Vanguard, was sailing in late-March to its new temporary home in Mar Del Plata, Argentina. As part of NASA's Spaceflight Tracking and Data Network, the ship was moved from its home port near Cape Canaveral, Florida to support the forthcoming Skylab space station launch.
Goddard's Earth Resources Technology Satellite (ERTS) team was receiving kudos for its involvement in the program to use a spacecraft that studied crops and scanned for resources. Launched in July 1972 as the world's first Earth remote sensing satellite dedicated to resource mapping the globe, ERTS-1, was later renamed as part of the Landsat series. By November 1973, Goddard's NASA Data Processing Facility had processed and shipped its one millionth film product from the ERTS.
That same year, the Computer Software and Management Information Center (COSMIC ®) in Atlanta, Georgia had selected several Goddard computer programs for distribution. These computer programs ranged from a unique system for automatically wiring tiny electrical circuits to a mechanistic numerical program "debugging" tool for use with conventional computer languages.
Scientists from around the world attended a May 1973 workshop on Gamma-Ray astrophysics. Symposium topics covered, in part, the changing picture of the universe made possible by experiments aboard Apollos 15,16, and 17. At the same gathering, preliminary results were offered from the second Small Astronomy Satellite, launched in November 1972.
Also in 1973, center scientists were ecstatic about the liftoff of the Goddard-built Radio Astronomy Explorer-B. Renamed Explorer 49, the spacecraft sent back first scientific data from a near perfect "anchor'" orbit around the Moon. Meanwhile, throughout the year, meetings were underway between Marshall Space Flight Center and Goddard on using the Space Shuttle in early 1980 to launch the Large Space Telescope.
Lastly, Goddard space scientists were pondering how best to capture a rare visitor from space. Comet Kohoutek was to make its closest approach at year's end, with ground and spaceborne equipment at the ready to study the celestial passerby.
Moving the clock forward to today, Goddard Space Flight Center is committed to excellence in scientific investigation, in development and operation of space systems, and in advancement of essential technologies.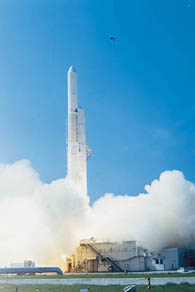 The Goddard-built Radio Astronomy Explorer-B (renamed Explorer 49) was launched in June 1973 from Cape Kennedy by a Delta vehicle. The Explorer mission's goal was to detect and measure the intensity of low frequency radio signals from solar, galactic and extragalactic sources.
This commitment is evidenced by the highly successful, Goddard-managed, servicing missions of the Hubble Space Telescope (HST) in December 1993 and in February 1997. Goddard is also the home of the Space Telescope Operations Control Center (STOCC). The STOCC is the nerve center for HST where all commands for the telescope originate.
Goddard is also responsible for procurement, development and verification testing of the Geostationary Operational Environmental Satellite (GOES). Once checked-out, each GOES is turned over to the National Oceanic and Atmospheric Administration (NOAA).
A host of other satellites are now waiting in the wings, being prepared for launch. Submillimeter-Wave Astronomy Satellite (SWAS) is one of three missions in NASA's Small Explorer program. The Goddard-managed SWAS is built to investigate one of the great mysteries of astronomy: how stars are born.
Sea-viewing Wide Field-of-view Sensor (SeaWiFS) is considered to become a powerful tool for understanding the biological and physical processes in the world's oceans by measuring the color of the ocean. This instrument will be the only scientific payload aboard the SeaStar commercial spacecraft. SeaWiFS will provide large amounts of ocean information to the Earth science community.
The Tropical Rainfall Measuring Mission (TRMM) is a joint scientific satellite project between NASA and the Japanese Space Agency. The TRMM office, based at Goddard Space Flight Center, sponsors several rainfall research programs in the United States and abroad.
Arguably, the most important venture that can be undertaken in space is NASA's Mission to Planet Earth (MTPE). Goddard is lead center for the MTPE program. The Earth Observing System (EOS) is the centerpiece of MTPE and is managed by Goddard. EOS will feature a series of polar-orbiting and low inclination satellites for global data-collection.
The end product of MTPE will be the ability to develop and implement environmental policies based on a better understanding of how our environment works. To develop that understanding, MTPE will rely on the EOS Data and Information System (EOSDIS). The EOSDIS has been designed to achieve, manage and distribute MTPE data worldwide.
Just as the first weather and resource monitoring, space astronomy and communications satellites fundamentally changed our way of thinking about those fields, so the element of Mission to Planet Earth will expand our perspective of the global environment and climate. By harnessing data gleaned by satellites, better stewardship of planet Earth is possible.
In no small measure, Goddard Space Flight Center's role in these efforts underscores what Robert Goddard said many years ago: "There can be no thought of finishing, for 'aiming at the stars,' both literally and figuratively, is a problem to occupy generations, so that no matter how much progress one makes, there is always the thrill of just beginning."
® COSMIC is a registered trademark of the National Aeronautics and Space Administration.
---
Previous Page
/
Home
/
Contents
/
Next page