Lewis Research Center
NASA Headquarters and Centers
---
Located in Cleveland, Ohio, Lewis Research Center is engaged in advancing propulsion technology, permitting aircraft to fly faster, farther and higher, and focusing its research talents on aircraft fuel economy, noise abatement, reliability, and reduced pollution.
Lewis is NASA's Center of Excellence in turbomachinery and commands top priority research in aeropropulsion. The Lewis Aeronautics Directorate and Aeropropulsion Research Program Office lead efforts in subsonic and supersonic propulsion, propulsion materials and structures, associated propulsion support technologies, as well as hybrid hyperspeed propulsion for aerospace application.
Among the specialty areas of investigation at the center are instrumentation and controls; fluid mechanics and heat transfer; high temperature metallic, intermetallic, ceramic, polymeric, and composite materials; structural mechanics and durability; basic chemistry and electrochemistry; tribology; photovoltaics; and microwave electronics. Both theoretical and applied research are pursued, the latter ranging from small laboratory experiments to full -scale component and systems tests.
Organized in 1941 by the National Advisory Committee for Aeronautics (NACA), the forerunner organization to NASA, this center is one of four assigned to NASA's Aeronautics and Space Transportation Technology Enterprise.
Research efforts at Lewis have affected every United States aircraft built since the early 1940s and have contributed to American leadership in international aviation. This is characterized by the Icing Research Tunnel, the world's largest, established in 1944. Research in this facility led to the development of ice protection technologies that largely have diminished icing problems for aircraft, although improvements in this arena continue at the tunnel.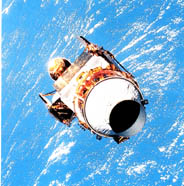 NASA's Advanced Communications Technology Satellite (ACTS) is the technology leader of satellite communications, using futuristic dynamic hopping beams and advanced on-board switching and processing.
The year 1973 saw Lewis intent on reducing jet engine noise. A ground and flight test phase of a program aimed at significantly reducing the jet engine noise of DC-9 and 727 commercial transports was being shaped. Studies had been completed at the time, indicating it was possible, using existing technology, to quiet these aircraft jet engines without degrading engine or aircraft performance. NASA-contracted studies were done by Pratt and Whitney Aircraft Division of United Aircraft Corporation (now United Technologies Corporation), the Douglas Aircraft Company of McDonnell Douglas Corporation, and the Boeing Company.
A refanning phase of the program dealt with modifying a JT8D jet engine. Where the engine's present two-stage fan was contained, a larger, single stage fan would be installed. As a result of the larger single fan, the jet engine exhaust velocity was reduced, thereby significantly reducing jet engine noise. Acoustic treatment to muffle fan noise was incorporated in the engine housing. Two booster stages were added to the jet engine, lowering pressure compression to maintain the proper airflow conditions to the engine core.
Intensive work at Lewis was also carried out in 1973 on the guidance equations for NASA's liquid -hydrogen fueled Centaur launch vehicle. The Centaur, an upper stage for the Atlas and Titan rockets which was pioneered and perfected under Lewis management, had been updated to automatically check by computer the vehicle systems prior to and during the flight. A 16,000 -word capacity computer had replaced the original 4,800 word capacity computer.
On the environmental front, Lewis assisted the Environmental Protection Agency in developing the technology for a low pollution automobile using a gas turbine engine. Still another move by Lewis on modifying automobile engine exhaust made use of technology originally designed to protect nuclear rocket nozzles from vibration.
That same year, Lewis engineers were also occupied by installing a solar system at the center. Not quite on the planetary scale, this experimental solar system collected sunlight to heat and cool a one-story office building. The hardware itself was being planned for Langley Research Center in Hampton, Virginia.
This rich history and diversity of work continues today at Lewis. Aeronautical and related programs in 24 major facilities and over 500 specialized research facilities are done at the center's 350-acre Cleveland location and 6,400-acre Plum Brook Station site in Sandusky.
One of those facilities, the Hypersonic Wind Tunnel, is the only nonvitiated hypersonic tunnel in the United States. It produces high mass-flow rates of high temperature, uncontaminated air for simulating Mach 5 through Mach 7 velocities. Other wind tunnels support supersonic, transonic, and subsonic research.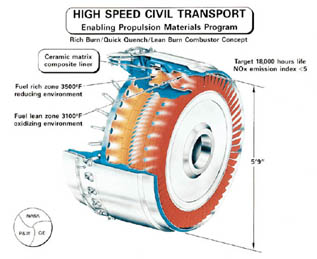 Advanced high-temperature materials with lifetimes up to 18,000 hours are critical to the design of low-emission powerplants for a future high -speed civil transport. NASA's Enabling Propulsion Materials program seeks to meet the technical challenges of supersonic airliner engine requirements.
Fundamental microgravity science experiments are tasked to the Lewis Microgravity Division. Academic, industry and government researchers have access to the Lewis ground-based research facilities. The program also supports the conduct of microgravity science experiments on the Shuttle and in the future aboard the International Space Station.
Combustion Module-1 (CM-1), for example, is the largest payload of Lewis-developed experiments ever flown. Slated to fly in 1997, lessons learned from CM-1 will improve awareness regarding the process of combustion. This appreciation may lead to practical applications both in space and here on Earth, such as improved fire safety and more efficient, clean-burning combustion engines. Moreover, CM-1 is a prototype for a permanent combustion experiment facility on board the International Space Station.
Plum Brook Station at Lewis received a taste of Mars. The Station hosted tests of the air bag landing gear that provided the Mars Pathfinder with a soft, upright landing when it encounters the rugged terrain of Mars in July 1997. In addition, Pathfinder was fitted with three experiments designed and built by Lewis to determine the effects of the Martian environment on surface exploration systems.
Back down on Earth, satellite communications is another Lewis specialty. The center manages the Advanced Communications Technology Satellite (ACTS) project, essentially an orbiting technology laboratory for communications. ACTS is examining and verifying advanced high-gain spot-beam Ka-band technologies. Industry, government, and university organizations are using ACTS to conduct a wide variety of integrated video, data, voice, and multimedia tasks. Experiment operations are now conducted 24 hours a day, seven days a week after it was deployed from a Space Shuttle in September 1993, then boosted into geostationary orbit.
Satellite operations and experiments are expected to continue to the year 2000. The 14 Federal Communications Commission filings for orbital slot locations demonstrate the impact that the ACTS experiment has had on the future of communications services.
Lewis Research Center is committed to playing a critical role in sustained aerospace leadership of the United States in the 21st century. It has the necessary technical assets, core capabilities, human capital, and facilities to support aeropropulsion and space research, technology, and development. Just as important, it has the support of its customers, stakeholders, and strategic partners in the business, university and public sectors. That confab assures that Lewis will have a major impact on the scope and direction of the nation's aerospace program and on national competitiveness in the approaching new millennium.
---
Previous Page
/
Home
/
Contents
/
Next page