Foreword
---
For a quarter of a century we have been writing about the effect NASA research and development has on you, the individual taxpayer, on industry and its commercial successes, and on the quality of life for humankind. In no small measure, this organization's scientific and engineering endeavors have favorably impacted our existence on Earth.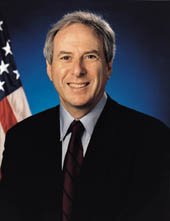 Past, current, and future aerospace programs will continue to provide technological advances that keep our industry in the forefront of global competition, contribute to major improvements in the health field, and improve lives in general.
Federal agencies are experiencing large-scale funding cuts in an effort to decrease the national deficit. NASA's Strategic Plan, as well as its reorganization, realignment, and restructuring, have positioned the Agency to continue its mandate: the expansion of frontiers and the exploration of that which lies beyond the horizon--space, planets, and other solar systems. In aeronautics, NASA will facilitate major improvements in global civil aviation impacting safety, revolutionary technology leaps cutting the development cycle for aircraft, and access to space resulting in reduction of payload cost to low-Earth orbit.
At the same time, a new way of doing business ensures that the technologies developed will have maximum commercial potential. This will be accomplished through proactive involvement of the private sector from the onset.
With the help of the greatest scientific and engineering minds of this great country, NASA will push forward and continue its research. Resulting transferrable technologies will find their way into products and services benefiting every aspect of life--manufacturing, jobs, health, income, convenience, exports, sales, and recreation.
Our efforts in aerospace exploration are supported by the expertise of nine NASA field centers and the Jet Propulsion Laboratory in disciplines such as robotics, environment, life sciences, materials, sciences and engineering, bioengineering, microgravity research, thermal efficiencies, satellite technologies, and wind tunnel testing. The centers also ensure that the technologies they develop quickly reach U.S. companies. They assist industry in remaining globally competitive as well as enriching the quality of life for all.
A sampling of research and development activities carried out at the field centers during the past 25 years is presented with great pride in this publication. And it is their technologies that enable NASA to contribute so successfully to the development and enhancement of products and services, to increased U.S. productivity, and to enhancing life in general in the areas of medicine, environment, entertainment, recreation, and education.
All spinoffs cited in this publication in previous years and those introduced here today are a tribute to the human spirit that brings forth technological progress. It honors entrepreneurs and visionaries in industry who have a keen eye for commercial success, improvements in health, and a cleaner environment. They display a never-ending search for technological advancement and excellence.
Daniel S. Goldin
Administrator, National Aeronautics and Space Administration
---
Previous Page
/
Home
/
Contents
/
Next page