Affiliated Organizations and Programs
Affiliations
---
In addition to the Technology Transfer & Commercialization Offices, NTTC and RTTCs, the NASA Technology Transfer Network spans into several other NASA and affiliated organizations and programs. The trend is to get closer to the customer, becoming more accessible and proactive in technology transfer.
Technology Incubators
In the spirit of the new direct approach to commercial technology development, NASA established five technology incubators to house fledgling businesses during their vulnerable beginnings. For example, Ames Technology Commercialization Center (ATCC) at Ames Research Center house 25 high-technology startup companies as of early 1997. All these companies have a specific relationship with NASA: they use NASA technologies to enhance their product or service, provide spin-in technologies to NASA to leverage existing research/engineering/administrative efforts, or collaborate with Ames on technical projects. Through licenses, contracts and Space Act Agreements, the companies are utilizing NASA software, hardware, aerospace technology, robotics, and expertise. ATCC is operated by The Enterprise Network, which provides teams of volunteer executives to assist tenants.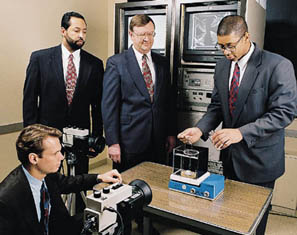 NASA Lewis researcher Dr. Mark Bethea (right) demonstrates his Stereo Imaging Velocimetry technology to Lewis Incubator for Technology (LIFT) associates (standing, left to right) Kim Veris, NASA Lewis Commercial Technology Office; Wayne Zeman, LIFT executive director; and (kneeling) Rob Usher, Great Lakes Industrial Technology Center. This breakthrough technology has already improved commercial products from vacuum cleaners to steel production.
The tenants of the Mississippi Enterprise for Technology at Stennis Space Center have combined sales exceeding $6 million. Two new incubators launched in July and August 1996 respectively expect similar success: the Lewis Incubator for Technology at Lewis Research Center, the result of a partnership with Enterprise Development, BP America, Inc., and the Great Lakes Industrial Technology Center; and the Florida/NASA Business Incubation Center at Kennedy Space Center, managed through a joint partnership of Brevard Community College, the Florida Technological Research and Development Authority and Kennedy Space Center.
Partnerships
Various partnership options are available for industry to tap NASA resources, each with a different level of NASA participation and funding. For example, a company may enter a Reimbursable Space Act Agreement with NASA and essentially pay for a good or service; in a Nonreimbursable Space Act Agreement, both NASA and the company contribute resources to a project of interest to both parties. A Memorandum of Understanding involves no exchange of funds or resources, but is a statement of policy, practice or intention affecting a project of mutual interest.
Another partnership is the Small Business Innovation Research (SBIR) contract, which is a means for small businesses to participate in federal R&D activities and receive funding. NASA's program has produced hundreds of new systems that not only advance NASA's capabilities but many of which have become commercial products, over 60 of which have been featured in Spinoff. The Small Business Technology Transfer (STTR) contract is similar to the SBIR, but focuses on commercializing technology developed by universities and federal laboratories through the entrepreneurial efforts of a small business.
Other Organizations
Under a Space Act Agreement, the Computer Software Management and Information Center (COSMIC) went from NASA contractor to self-funding business partner in late 1996. COSMIC continues to distribute software for the NASA centers on a cost-recovery basis, and to provide services such as peer review, electronic cataloging, program support, author feedback, and update notification.
The robotics industry is an $8 billion per year international industry, once dominated by the United States. The National Robotics Engineering Consortium (NREC) in Pittsburgh, operated by Carnegie-Mellon University, establishes a collaborative government/academia/industry commitment to rapidly move NASA-developed robotics technology out of federal laboratories and into the private sector. A self-sustaining program, the consortium was initiated in 1994 with NASA grants to Carnegie-Mellon which stipulate equal participation by government and industry. NREC aims to re-invigorate the U.S. robotics industry, with projects including the development of an automated agricultural harvesting system and an autonomous mining vehicle.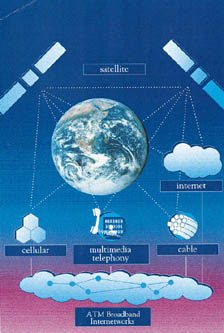 The Center for Satellite and Hybrid Communications Networks at the University of Maryland, established in 1991, specializes in communication networks that utilize both satellite and terrestrial resources. The diagram shows the relationship between the Earth, satellites and the various networks the Center employs
The Federal Laboratory Consortium (FLC) for Technology Transfer promotes and strengthens technology transfer nationwide. More than 600 major federal laboratories and centers and their parent departments and agencies are members, including NASA. Research Triangle Institute (RTI) provides a range of technology management services including: technology assessment, valuation and marketing; market analysis; intellectual property audits; commercialization planning; and the development of partnerships. In the last two years, RTI commercialization activities in support of NASA have resulted in 12 new products, 17 cooperative agreements and 24 licenses in product areas that include medical, manufacturing, public safety, sensors and materials.
Managed by the NASA Center for AeroSpace Information (CASI) in Linthicum Heights, Maryland, the Scientific and Technical Information Program (STI) provides access to over 3 million aerospace and related citations. STI produces databases such as RECONplus, an electronic version of the NASA Thesaurus, and the NASA GALAXIE system, a database of all holdings in NASA libraries.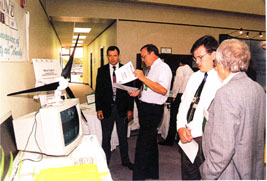 At an open house at the Florida/NASA Business Incubation Center, the president of Coconut Telecomp Inc., an off-site client, speaks to Brevard Community College's Chip Woods about the company's remote sensing device while other attendees look on.
There are over a dozen Commercial Space Centers (CSCs) in the network, each providing a unique service. The CSC program was established in 1985 to increase private sector investment and interest in commercial space-related activities while stimulating advances in promising areas of research and development. The CSCs include the Center for Satellite and Hybrid Communications Networks at the University of Maryland, established in 1991 and specializing in communication networks that utilize both satellite and terrestrial resources.
---
Previous Page
/
Home
/
Contents
/
Next page