Publications
Information Resources
---
NASA wind tunnel technique for studying the flow of fluid over a surface by use of multilayered, multicolored coatings helped lead to a breakthrough in one company's medical diagnostic systems.
This application of NASA technology to the commercial sector did not happen accidentally it was inspired by technology distributed through the monthly NASA Tech Briefs publication.
DiaSys Corporation, Waterbury, Connecticut, was experiencing difficulties with its Optical Slide Assemblies (OSAs) used in its automated urinalysis system, R/S 2000. Particles tended to collect and bunch up within cell chambers and obscure the view from the microscopes, rendering the specimens unacceptable. Then Walter Greenfield of DiaSys discovered several applicable articles in Tech Briefs, including the wind tunnel technique by Langley Research Center and work performed by the Jet Propulsion Laboratory on hydro dynamic stability.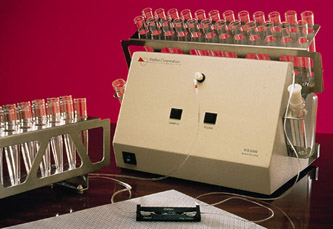 NASA Tech Briefs helped DiaSys Corporation resolve a difficult problem in the development of the company's R/S 2000 instrument for automated urinalysis. The publication is just one way NASA disseminates information on cutting-edge research
This led company researchers to aerospace studies on fluid dynamics, such as articles on the characteristics of airflow and how it parallels fluid motion. DiaSys President Todd M. DeMatteo said, "Taking advantage of the information presented, we were able to design the OSA to be aerodynamicallyand therefore fluid-dynamicallycorrect." The company later applied the same technology to its FE-2 workstation, which automates and reduces the cost of microscopic analysis of fecal concentrates.
The National Aeronautics and Space Act requires NASA contractors to provide written reports about inventions, improvements and innovations developed while working for NASA; information from these reports and work done by NASA scientists and engineers are the basis of NASA Tech Briefs. About 70 percent of the listings have an accompanying Technical Support Package (TSP), which has detailed information about the particular technology. The briefs are also available on the Internet, with searching capabilities for issues printed over the last two decades. The publication is free and is an awareness and problem-solving tool for U.S. government and industry readers. The articles have ranged in subject from increasing the shelf life of food products to new computer scheduling programs and technology for aircraft drag reduction.
Tech Briefs began in 1962 as a single white paper, which grew into a quarterly government-funded publication printed and distributed by the U.S. Government Printing Office in 1976. The publication evolved from a black-and-white circular to a full-color magazine, privately-funded and produced commercially by Associated Business Publications Co., Ltd. New York, New York. The venture not only saves NASA all printing and postage costs, but other publication costs as well, totalling approximately $20 million since it began. In January of 1997, the magazine celebrated its 20th yearwith over 12,000 individual briefs published, 1.8 million requests for Technical Support Packages generated, and over 207,000 current subscribers.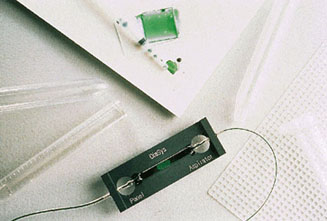 DiaSys Corporation's automated urinalysis system (bottom of photo) eliminates the use of potentially messy and hazardous pipettes, slides and slide cover slips (top of photo). NASA hydrodynamic studies published in NASA Tech Briefs helped the company resolve fluid manipulation problems in the system.
Complementing NASA Tech Briefs is the Spinoff publication, which highlights technology transfer successes that result in commercial products or processes. The stories featured include technology transferred through NASA Tech Briefs, NASA technical reports, former NASA employees, contractor diversification, technical assistance, patent licenses, and many other mechanisms. Although distributed by the National Technology Transfer Center, the NASA Center for AeroSpace Information (CASI) performs the research and coordination of the publication. Companies with NASA spinoff products or processes may contact Walter Heiland at CASI directly in order to be considered for the publication. CASI also maintains a database of published stories on the Internet which includes abstracts, key centers, origins of the technologies, and manufacturer's addresses. This database and a Web version of the publication can be accessed at http://www.sti.nasa.gov/tto/spinoff.html.
Every NASA facility and affiliated organization maintains a site on the World Wide Web, all of which can be accessed through the NASA Commercial Technology Network homepage at http://nctn.hq.nasa.gov/nctn/. On-line versions of many other publications including Aerospace Technology Innovation, a bimonthly publication of the NASA Office of Aeronautics, and monthly newsletters from the field centers are also linked to the homepage.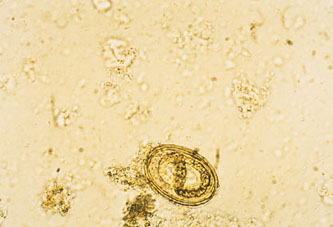 The FE-2 workstation, developed using information from NASA Tech Briefs, automates and reduces the cost of microscopic analysis of fecal concentrates. Shown is a sample containing an ascaris embryo, magnified 100 times, courtesy of Dr. Dwight F. Miller of Saint Mary's Hospital in Waterbury, Connecticut.
---
Previous Page
/
Home
/
Contents
/
Next page