Foreword
As we move into the 21st century, NASA's ambitious missions will require revolutionary new technologies, and many of these technologies will dramatically improve people's lives here on Earth.
We do not know which future technologies will hold the most promise. We do know that the innovative people at NASA and our partners in the entrepreneurial community will continue to surprise and amaze us, and the products they deliver will continue to make our lives better and safer.
From healthcare and advances in computing to improvements in everyday products, technologies derived from the space program provide incredible benefits to humankind.
There are three core technologies that will be essential to NASA's future success: biotechnology, nanotechnology, and information technology.
When you look through this year's Spinoff, you will see a large number of computer technology articles, and I am very pleased to see that. NASA has always been at the leading edge of technological development, and this trend in our technology spinoff program shows that we are still leading the world in innovation.
In addition, I am pleased that more and more of the technologies highlighted in Spinoff are resulting from NASA's Small Business Innovation Research (SBIR) program. As we widen the net we cast for industrial partners, NASA is able to draw on the full strength of America's diversity to enrich our missions and the innovative genius of America's entrepreneurial community.
The pioneers of the Apollo era led America to the moon, and as we move to the stars and beyond, a new generation of pioneers will lead the way. Many of the tools we develop to take them there will have profound implications for the quality of our lives here on Earth.
Spinoff 2000 catalogs many of this year's most exciting tools. Every one of us should take pride.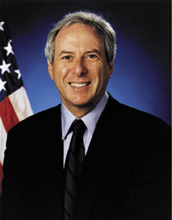 Daniel S. Goldin
Administrator
National Aeronautics and Space Administration
Previous Page / Home / Contents / Next page