Preface
Inspiring our next generation of explorers, inventors, discoverers, technologists, scientists, mathematicians, and engineers is the cornerstone of the new Education Enterprise.

For nearly 50 years, the men and women of NASA have broken barriers to open new horizons of opportunity. Our journeys in air, space, and laboratories have enabled new understanding of our universe, safer and faster air travel, breakthroughs in health care and scientific research, and inspired humanity to reach for new heights. While these achievements and the people behind them are unique, at their foundation they are linked by a common denominator: education. None of the accomplishments we herald in our Nation's history, our daily lives, or in our laboratories and research centers would have been possible without quality education and the people who help open the minds of those who dare to explore and dream.

Educators create horizons of opportunity in classrooms every day. They prepare, inspire, excite, encourage, and nurture the exploration for answers and new questions. Educators are the adventurers in our midst and without them our journeys would not succeed. As we move into our second century of flight, we must work with all who touch the future to help prepare a new generation of Americans to meet the growing challenges in science, technology, engineering, and mathematics.

To meet this challenge, NASA has established the Education Enterprise. Working collaboratively with NASA's scientific and technical enterprises, the Education Enterprise will ensure that education is an integral component of every major NASA research and development mission. This enterprise will provide unique teaching and learning experiences, as only NASA can, through the Agency's research and flight capabilities. Students and educators will work with NASA and university researchers and scientists to use real-time data to study the Earth, explore the universe, and conduct scientific investigations in the fields of aerospace and space-based research.

NASA's Education Enterprise will provide opportunities for students and educators to work with the Agency's scientists and engineers to learn what it takes to develop the new technology required to understand our home planet, explore the universe, and to live and work in space.

As we celebrate the accomplishments of the Nation's first 100 years of flight, we look forward with great anticipation to the next century of flight. The next generation of explorers—the Explorers of the New Millennium—must represent fully this Nation's vibrant and rich diversity. NASA's Education Enterprise will strive to ensure that all children can explore their full potential as Americans. We will fully engage the underrepresented and underserved communities of students, educators, and researchers. Furthermore, we will support our Nation's universities, colleges, and community colleges by providing exciting research and internship opportunities that "light the fire" and "fuel the passion" of young people, thereby creating a culture of learning and achievement in science, technology, engineering, and mathematics.

Welcome to NASA's Education Enterprise. Working together, we can "see learning in a whole new light."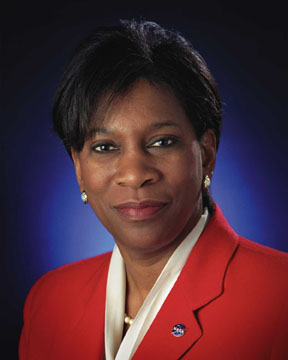 Dr. Adena Williams Loston
Associate Administrator for Education
National Aeronautics and Space Administration

---
Previous Page | Home | Contents | Next page