Foreword
In this "Centennial of Flight" year, it is worth noting for all the amazing progress the age of aviation and space flight has made possible, our gains have not come easily. Every step of the way, the technological breakthroughs that have enabled people to fly around the world and brave explorers to extend our horizons heavenward, were the result of hard work, perseverance, and a willingness to overcome major setbacks.

On February 1, 2003, a terrible tragedy occurred when the NASA family, our Nation, and the world lost seven remarkable individuals, the heroic crew of the Space Shuttle Columbia.

NASA is now working hard to return to space flight operations that are as safe as humanly possible. We are also continuing to pursue our mission goals of understanding and protecting the home planet, exploring the universe and searching for life, and inspiring the next generation of explorers. We hope our unceasing efforts to pioneer the future will provide a fitting tribute to the Columbia seven.

This year, which marks NASA's 45th year of conducting aeronautics and space research and exploration missions on behalf of the American public, is also noteworthy for some important advances:

Our Expedition crews onboard the International Space Station continued to perform experiments on the orbiting facility spanning several scientific disciplines. From these experiments, scientists are: learning better methods of drug testing; developing models that predict or explain the progress of disease; investigating how to use microbes to make antibiotics; determining how to improve manufacturing processes; and studying changes in Earth climate, vegetation, and crops.

We successfully launched our twin Mars Exploration Rovers, Spirit and Opportunity, which are now en route for their January 2004 exploration of sites on the Red Planet where water may have once flowed freely.

We celebrated the Nobel Prize in Physics awarded in December 2002 to astronomer Riccardo Giacconi for his groundbreaking NASA-sponsored research in X-ray astronomy.

We initiated the NASA Explorer School Program to provide fifth through eighth grade-level educators, administrators, students, and their families the opportunity to engage in sustained involvement with NASA's research, discoveries, and missions. NASA also began a program to recruit the first class of Educator Astronauts, who in addition to performing regular flight duties on multiple missions, will take their classrooms into space to directly engage millions of school children in lessons about the wonders of science.

We launched several satellites and instruments that are helping scientists better understand the dynamics of Earth's climatic system and the possible causes and consequences of global climate change.

Fittingly for an Agency that holds dear its aviation roots, we also continued to make significant investments to improve the efficiency, safety, and security of our Nation's air transportation system. Spinoff 2003 recognizes a number of exciting NASA aeronautics research efforts that may well help revolutionize the way we travel in the future.

As always, this publication highlights NASA's extensive efforts to promote the transfer of aerospace technology to the private sector. Every day, in an astounding variety of ways, American lives are affected positively by our Nation's investment in NASA. Such fields as agriculture, communications, computer technology, environment and resources management, health and medicine, manufacturing, transportation, and climate modeling have benefited greatly from NASA-derived technologies.

As the second century of flight gets underway, we will strive mightily to continue providing tangible and significant benefits to the American public. For at NASA, we believe the sky and the heavens beyond are not limits, but rather vital venues for exploration and technological progress.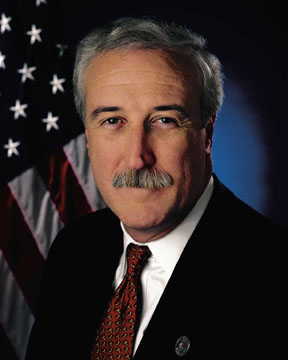 Sean O'Keefe
Administrator
National Aeronautics and Space Administration
---
Previous Page |
Home
| Contents
| Next page