Foreword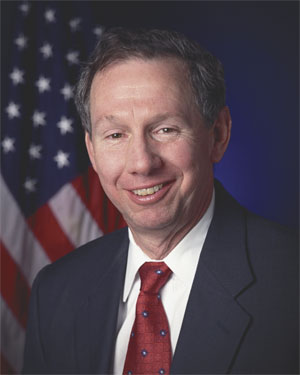 Michael D. Griffin
Administrator

National Aeronautics and Space Administration
On January 14, 2004, President George W. Bush announced the Vision for Space Exploration, giving the National Aeronautics and Space Administration (NASA) a new and historic focus and clear objectives.

The fundamental goal of the Vision is "...to advance U.S. scientific, security, and economic interests through a robust space exploration program." In issuing this directive, the President committed the Nation to return human explorers to the Moon by the end of the next decade, and to prepare for the exploration of Mars that will follow. NASA is now working hard to develop a new generation of spacecraft and space launch vehicles that will enable the achievement of these goals within the modest expenditure of tax revenues—on average, $55 per year for every American citizen—that our Nation invests in space exploration and research.

As we continue to explore the universe, I am confident that NASA's pioneering exploration activities will keep fueling American creativity, innovation, and technology development. Indeed, throughout the Agency's history, technologies developed to advance our exploration missions have boosted economic progress and benefited millions of people here on Earth.

Spinoff 2005 highlights NASA's work, consistent with our Agency's charter, to "research, develop, verify, and transfer advanced aeronautics, space, and related technologies." Among the beneficial NASA-derived technologies featured in Spinoff 2005 now utilized in the commercial and public sector are:


a bacterial spore-detection unit designed to sterilize Mars-bound spacecraft that can also recognize anthrax and other harmful spore-forming bacteria.



a remote command and control system NASA uses to run experiments on the International Space Station that allows people to use a cell phone, personal digital assistant (PDA), or Internet connection to activate their kitchen appliances and begin cooking dinner before they get home.



space suit technology used in the production of lighter-than-air vehicles, such as blimps and dirigibles, during pharmaceutical manufacturing and the production of gas masks for military and civilian use.



a prototype of the Mars Exploration Rover that is being used in Afghanistan and Iraq to help U.S. troops clear caves and bunkers, search buildings, cross live antipersonnel mine fields, and deal with the dangers posed by improvised explosive devices.



lightning-detection devices used on NASA's launch pads at the Kennedy Space Center in Florida that are now being used to pinpoint lightning strikes at airports.



a powerful lubricant designed for use in turbomachinery that is now being widely used in industry.



a filter designed for use on satellites being used to clean the air breathed by racecar drivers.


These innovations demonstrate that a vigorous space exploration program has and will continue to provide the American public with an impressive technological return on investment. Although technological spinoffs are ancillary benefits of NASA's exploration activities, and not the chief reason for doing what we do, they are tangible and benefit the country.



Previous Page | Home | Contents | Next page