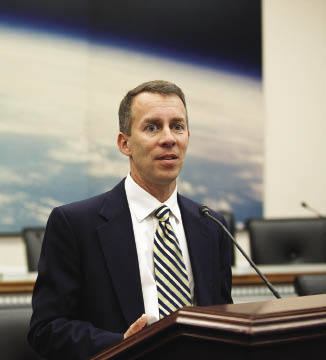 Dr. Robert D. Braun, NASA's Chief Technologist, serves as the principal advisor and advocate on matters concerning Agency-wide technology policy and programs. Braun will help develop a broadly focused advanced concepts and technology development program leading to new approaches to future NASA missions and solutions to significant national needs.
NASA's Chief Technologist serves as the NASA Administrator's principal advisor and advocate on matters concerning Agency-wide technology policy and programs. The Office of the Chief Technologist (OCT) is responsible for direct management of NASA's Space Technology programs and for coordination and tracking of all technology investments across the Agency. The office also serves as the NASA technology point of entry and contact with other government agencies, academia, and the commercial aerospace community. The office is responsible for developing and executing innovative technology partnerships, technology transfer and commercial activities, and the development of collaboration models for NASA.
OCT will provide a technology and innovation focus for NASA through the following goals and responsibilities:
Principal NASA advisor and advocate on matters concerning Agency-wide technology policy and programs

Up and out advocacy for NASA research and technology programs, communication and integration with other Agency technology efforts

Direct management of Space Technology Programs

Perform strategic technology integration and coordination of technology investments across the Agency, including the mission-focused investments made by the NASA mission directorates

Change culture towards creativity and innovation at NASA centers, particularly in regard to workforce development

Document, demonstrate, and communicate societal impact of NASA technology investments and lead technology transfer and commercialization opportunities across the Agency
NASA's Space Technology initiative managed by OCT will develop and demonstrate advanced space systems concepts and technologies enabling new approaches to achieving NASA's current mission set and future missions not feasible today. This approach is in contrast to the mission-focused technology development activities within the NASA Mission Directorates, which "pull" technology development based on established mission needs. OCT and the Space Technology initiative will perform "push" technology development and demonstration. Such technologies are either crosscutting, which serves multiple NASA Mission Directorates, industry, and other government agencies; or game-changing, which enables currently unrealizable approaches to space systems and missions. OCT and Space Technology will complement the technology development activities within NASA's Mission Directorates, leveraging synergies between them, and delivering forward-reaching technology solutions for future NASA science and exploration missions and significant national needs.
| | | |
| --- | --- | --- |
| | | |
| The annual SBIR/STTR Program Solicitations introduces a number of R&D topics and subtopics, consistent with NASA's stated needs or missions. | NASA Administrator Charles F. Bolden speaks with teachers and middle school students during the kick off of NASA's Summer of Innovation program at the Jet Propulsion Laboratory. | Published by the Office of the Chief Technologist (OCT), Technology Innovation is a NASA magazine for business and technology. |
In continuing to build upon the successes of NASA's former Innovative Partnerships Program (IPP), the newly established OCT is responsible for managing technology partnership development, transfer, and innovation through investments and partnerships with industry, academia, government agencies, and national laboratories.
OCT also has offices at each of NASA's 10 field centers and will continue managing the Centennial Challenges, Small Business Innovation Research (SBIR) and Small Business Technology Transfer (STTR) programs, and Innovation Fund. In FY 2010:
NASA entered into over 300 Space Act Agreements with private and other external entities for development of dual-use technology targeted to Mission Directorate technology needs.

The former IPP facilitated the signing of about 290 license agreements and 575 Software Use Agreements. IPP facilitated the reporting of more than 1400 new invention disclosures. As a result of IPP's efforts, over 80 NASA patent applications were filed and about 80 patents awarded in FY 2010. Revenues realized from licenses of NASA-sponsored technologies exceeded $3.5 million in FY 2010.

IPP funded commercial parabolic flight services for 17 projects involving external entities that can take advantage of limited exposure to reduced gravity to mature NASA mission relevant technologies.

IPP provided $2 million in funding for 41 Innovation Fund projects to encourage creation of breakthrough technologies by NASA civil servant inventors. IPP funding was matched by $800,000 in external contributions in those cases where the projects involved partnering.

NASA completed six Centennial Challenge events during the past year and awarded $3.65 million in combined prize money to eight winning teams at four competitions. All of the winners participated in a technical symposium and recognition ceremony at NASA Headquarters in February. Preparations are underway for the 2011 Power Beaming and Green Flight Challenges as well as three new challenges announced this year: Nano-Satellite Launch, Night Rover and Sample Return Robot.