International Space Station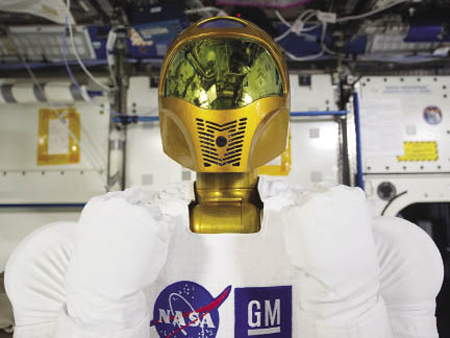 Robonaut2 onboard the International Space Station (ISS).
Innovation Above:

International Space Station Research Pays Dividends Here on Earth

On August 22, 2011, one of the crewmembers on the International Space Station (ISS) woke up. There wasn't much to see, just a wall of electronics, knobs, and wires. But it was the first time since boarding the ISS that Robonaut2 had seen anything.

The newly awakened humanoid robot, also known as R2, is set to define a new era of exploration in space as the first permanent crew member of the ISS. On the ground, General Motors (GM), NASA's partner in R2's development, plans to use the robot to test advanced vehicle safety systems and to create safer manufacturing options, broadening the competitive advantage of U.S. industry. GM expects the robot will eventually be used on the factory floor, alongside workers, to build higher quality vehicles.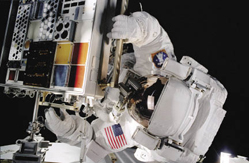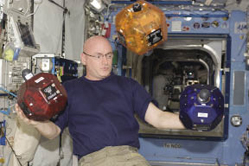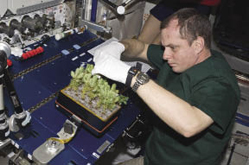 (Top) The ISS-based MISSE study has tested the effects of long-term space exposure on an array of materials, including solar cells. (Middle) The SPHERES experiment uses three free-flying satellites inside the ISS to test satellite servicing, vehicle assembly, and formation flying spacecraft configurations. (Bottom) The NASA-Canadian Space Agency APEX-Cambium plant experiments may provide insight into how wood cells form.
R2 is only one example of a NASA partnership facilitated by the unique capabilities of the ISS, resulting in benefits both for space exploration and for Earth. A multinational effort involving NASA employees and contractors across the Nation, plus space agencies in 15 countries, the ISS is humanity's home in space. It has captured the world's imagination since its first component launched into orbit in 1998 and has continued to hold our attention. While the ISS provides invaluable information about living in space—essential for future long-duration missions—everything from the station's construction to biological experiments conducted onboard have led to spinoffs that are improving life on Earth.
As a National Laboratory, the ISS is now entering its utilization phase, achieving its full capabilities as a low-Earth orbit science facility and technology testbed—yet more than 550 experiments have already been conducted by the station's international partners or are currently underway. Seeking to answer some of the primary challenges here on Earth, the experiments span a wide variety of disciplines: human life sciences and physiology, biological science, physical and material science, and Earth and space science. Through this work, researchers are finding new ways to fight disease, advancing our understanding of food-borne illnesses, growing crops for alternative energy usage, and developing superior materials for use both in space and here at home.
Current research onboard the ISS is steadily progressing, including experiments to understand the muscular deterioration of astronauts' hearts in microgravity, which will add to the understanding of heart function and expand potential treatment options for patients with heart disease. Experiments in accelerated cell growth in microgravity are showing promise for the development of new vaccines and cancer treatment delivery technologies. Studies investigating the growth and harvest of new crops in space are revealing possible sources for biofuels to power future space missions and provide sustainable energy on Earth.
As NASA and its partners actively pursue these efforts on the ISS, researchers will learn more about the long-term effects of living in space, and they will translate that knowledge into benefits for people on Earth. The continued advancement of telemedicine procedures that allow astronauts in space to stay healthy will help doctors provide expertise and medical support to patients in remote regions of the globe. And the development of new methods to recycle water and conserve energy—both necessities on the ISS—will help the United States and other nations become better stewards of our home planet. All the while, the next generation of engineers and innovators are benefiting from unique learning opportunities offered through education initiatives that let students and teachers bring space into their schools.
Crowning the array of benefits from ISS research are the dozens of technologies with a direct heritage to the space station that have been commercialized by NASA's industry partners. These innovations are not only improving healthcare, transportation, clean energy, information technology, and more—they are also stimulating the Nation's economy, creating jobs, and supporting the United States' position as a world leader in technological innovation. Here are only a few of examples of ISS spinoffs making a difference on Earth today—with many more to come.
Monitoring Water Quality in Real Time

Originally designed to provide real-time detection of nutrient levels in hydroponic solutions for growing plants in space, the ChemScan analyzer, produced by ASA Analytics Inc. of Waukesha, Wisconsin, now monitors treatment processes at water and wastewater facilities around the world. The company has experienced a compound annual growth rate of 40 percent over its 15-year history as a direct result of the technology's success.


Providing Small Solutions to Big Problems

With the aid of Small Business Innovation Research (SBIR) contracts with Marshall Space Flight Center, Micro-Bac International Inc. of Round Rock, Texas, developed a phototrophic cell for water purification on the ISS. Inside the cell: millions of photosynthetic bacteria. The microbial formulation is now used for the remediation of wastewater systems and waste from livestock farms and food manufacturers. Strains of the SBIR-derived bacteria also feature in solutions that treat environmentally damaging oil spills.




Closing the Distance Between Patients and Doctors

A medical emergency room does not exist on the ISS. This fact lead to an experiment that developed medical ultrasound techniques for long-distance use. Mediphan, a Canadian company with U.S. operations, drew on NASA expertise to create technology that sends diagnostic-quality ultrasound images and video to medical professionals via the Internet in near real time. The technology has been used to diagnose musculoskeletal injuries in Olympians and professional athletes, to identify pulmonary edema in mountain climbers, and to monitor pregnancies and diagnose injuries in remote communities, such as among the Inuit populations of the Arctic Circle.




Advancing Medical Research

Many experiments with the potential to enhance healthcare capabilities on Earth are underway on the ISS. One spinoff has proven to be a groundbreaking tool for medical researchers both in space and on the ground. The rotating wall bioreactor, invented by NASA engineers at Johnson Space Center, mimics microgravity conditions, allowing for healthier cell cultures that closely resemble the way tissues form in the body. The devices, commercially available from Houston-based Synthecon Inc., now enable research into a range of treatments for diseases such as cancer and diabetes and are a key technology for adult stem cell research. (Read More)




Starting Dinner from the Web

Engineers who designed the ISS Electric Power System created "embedded web technology," which allows users to control devices remotely, including a commercial oven. TMIO LLC of Cleveland now markets the intelligent oven, which has both heating and cooling capabilities and can refrigerate a prepared dish until the programmable cooking cycle is initiated, allowing dinner to be perfectly cooked when the user arrives home.




Securing the Safety of the Water Supply

With sophisticated systems to generate solar electricity, recycle nearly all of its own water, and supply oxygen, the ISS is an orbiting model of sustainability. Working with Johnson Space Center, OI Analytical of College Station, Texas, developed a total organic carbon analyzer to monitor the quality of the recycled water supply onboard the ISS. The technology was a major enabler for the station, allowing it to realize its full crew capacity of six members. The company commercialized the technology, which is now providing significant cost savings and improved efficiency for water quality monitoring applications—such as helping ensure the security of the Nation's drinking water—on Earth. (Read More)




Targeting Plant Growth

To help develop technologies for growing edible crops in space, Kennedy Space Center partnered with Orbital Technologies Corporation (ORBITEC) of Madison, Wisconsin. One result of this research was the High Efficiency Lighting with Integrated Adaptive Control (HELIAC) system, components of which have been incorporated into a variety of agricultural greenhouse and consumer aquarium lighting features. The lighting systems can be adapted to a specific plant species during a specific growth stage, allowing maximum efficiency in light absorption by all of the plant's leaves.
 Previous Page / Home / Contents / Next Page