Spinoffs in Manufacturing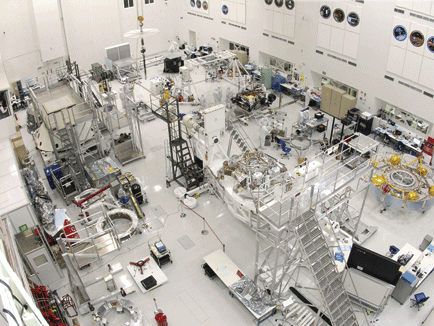 Inside the Spacecraft Assembly Facility at NASA's Jet Propulsion Laboratory
Built to Last

Using NASA technologies, American
manufacturing grows stronger

How do you build a build a space shuttle when no one has built one before? How do you build a probe to study the moons of Saturn? A rover to traverse the red soil of Mars? A space station orbiting the Earth? How do you create the next generation of vehicles that will carry human explorers farther into space than ever before?
NASA's aeronautics and space exploration missions require the Agency to continually push the boundaries of technology in order to answer questions like these and many more. Challenges such as landing rovers on Mars or sustaining human life in space for months at a time necessitate not only innovative ideas but the means to realize them. This often involves the creation of new or enhanced manufacturing technologies, materials, and processes that allow spacecraft, instruments, and capabilities without precedent to make the leap from the minds of NASA engineers to the skies and stars.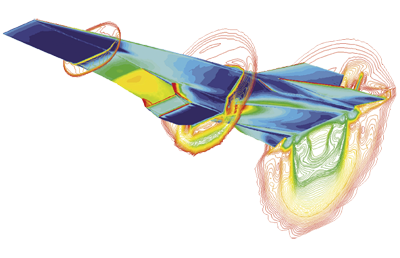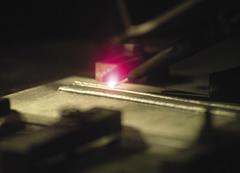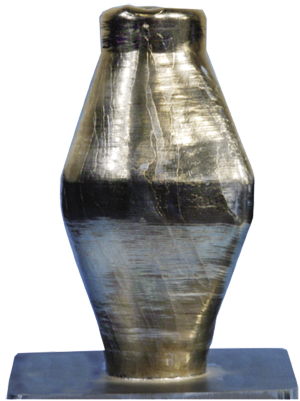 From the top down NASA has a long history of innovation in manufacturing, including advances in computer modeling, cutting-edge technologies such as electron beam freeform fabrication, which was used to create the structural metal part.
The Office of the Chief Technologist (OCT) and Space Technology Program (STP) lead the Agency's efforts to create the technologies that will enable NASA and the Nation to pursue its ambitions as the world's leader in aeronautics and space exploration. OCT and STP recognize that a technologically advanced American manufacturing sector is essential not only to NASA's missions but to the economic strength of the country as a whole. Through initiatives such as the NASA Manufacturing Innovation Project—a part of the Game Changing Development Program—the Agency seeks to drive the creation and evolution of manufacturing technologies critical to future missions and the Nation's global competitiveness.
Building on its congressional mandate to transfer its technologies whenever possible to benefit the public, NASA has from its earliest days worked to nurture and advance American manufacturing. These efforts take many forms. Through licensing, Space Act Agreements, the Small Business Innovation Research (SBIR) and Small Business Technology Transfer (STTR) programs, and other partnerships, the Agency provides the Nation's industrial leaders with cutting-edge technologies and capabilities that reduce production costs, preserve and create jobs, lessen environmental impacts, enable entirely new products, and much more.
NASA also actively transfers its world-class expertise through venues such as its Manufacturing Technology Transfer Centers. Established in the 1960s, these centers continue to offer technical training in the manufacture, assembly, and inspection of flight and ground support hardware—providing certification to over 25,000 workers from NASA, Government agencies, and private industry.
The transfer of NASA aerospace innovations not only benefits American manufacturers but returns to the Agency by providing its partners with the means to create technologies that enable missions, lower costs, and extend space exploration in ways previously only dreamed of.
A nation that stops building starts stagnating. By driving deeper into space, NASA is placing demands on its uniquely talented workforce and network of industry partners, pushing all to achieve new heights, fueling a cycle of innovation that will continue to generate spinoffs in manufacturing.
NASA and its partners have commercialized more than 350 documented spinoffs relating to industrial productivity and manufacturing. These technologies have ranged from cutting-edge design software to advanced construction tools to industry-launching innovations in materials and fabrication techniques. By supporting a healthy industrial sector, NASA spinoffs also result in job creation and help drive the economy as a whole.
The following are just a few of the recent spinoffs from the Space Program that are helping build the Nation's future.

Advancing Composite Manufacturing

Through the SBIR program, Accudyne Systems Inc. of Newark, Delaware, developed a device for creating thermoplastic composite structures without the use of an expensive autoclave. The partnership yielded technology for the company's commercial, custom-built composite manufacturing machines, helping advance composite part fabrication. The company's automated solutions enable the production of higher quality parts at lower costs, while not threatening the jobs of the workers who previously fabricated the composite parts by hand.

In order to build spacecraft unprecedented in their times, NASA had to invest in the development of new materials and manufacturing techniques. From the Saturn V rockets of the Apollo Program (left inset), to the space shuttle (middle inset), to the US modules of the International Space Station (ISS, right inset), the Agency created the means to realize human exploration of space. NASA's latest exploratory vehicle, Orion (a test vehicle shown above, during assembly), is the latest example of that endeavor.




Developed through a partnership between NASA and General Motors, Robonaut 2, now onboard the ISS, may one day assist workers in auto factories on Earth. Chief Technologist Mason Peck (left inset) oversees NASA's efforts to create the remarkable new technologies that will carry the Agency's missions forward, while facilities like NASA's Michoud Assembly Facility (middle inset)—one of the world's largest manufacturing plants—remain the site of creation for the next generation of American manned space vehicles. Meanwhile, NASA continues to build and launch the world's most innovative spacecraft, such as Juno (right inset), currently on its way to study Jupiter.




Improving a Revolutionary Weld Technique

Nova-Tech Engineering LLC, of Lynnwood, Washington, received a co-exclusive license for Marshall Space Flight Center technology that significantly improves an advanced welding technique called friction stir welding (FSW). While the technique creates a superior weld to traditional fusion methods, FSW leaves a hole when the welding machine's rotating pin, which creates the weld, exits the weld joint. It also has difficulty welding materials of tapering thicknesses. Marshall invented an auto retractable pin tool that solves these problems. The innovation now allows Nova-Tech's FSW machines to perform effective welds for offshore drilling rig piping, armor plating, and rocket manufacturing.




Lightening Components

Leveraging its private resources with SBIR contracts with NASA, WebCore Technologies LLC, of Miamisburg, Ohio, developed a lightweight, fiber-reinforced foam sandwich panel that can be used for a wide variety of industrial and consumer applications. The patented and trademarked material has found use in the manufacture of structures and vehicles including marine and ground transportation, mobile shelters, bridges, and most notably, wind turbines.




Enhancing Medical Imaging

Collaborating with Goddard Space Flight Center, Mike Appleby developed a manufacturing process to create specialized components for a NASA Sun-imaging satellite. Through SBIR funding, Appleby's company, Mikro Systems of Charlottesville, Virginia, perfected the process now used to fabricate advanced parts for medical and security imaging devices. The company added 37 jobs as a result of its NASA work.
Simplifying Circuit Board Manufacturing

G

lenn Research Center's extensive knowledge of polyimide chemistry and its expertise in the synthesis of ultraviolet light curable polyimides was the critical component that allowed Advanced Coatings International, of Akron, Ohio, to prototype the platform chemistry for a polyimide-based, liquid coating ideal for the manufacture of printed circuit boards. These coatings are environmentally friendly, enhance worker safety, and reduce manufacturing and operating costs.

Upgrading Optics Manufacturing

B

ecause NASA depends on the fabrication and testing of large, high-quality aspheric (nonspherical) optics for applications like the James Webb Space Telescope, it sought an improved method for measuring large aspheres. Through SBIR awards from Goddard Space Flight Center, QED Technologies of Rochester, New York, upgraded and enhanced its stitching technology for aspheres. QED's spinoff technology earned the company an R&D 100 Award, and the company also developed a breakthrough machine tool called the aspheric stitching interferometer. The equipment is applied to the manufacture of advanced optics in telescopes, microscopes, cameras, medical scopes, binoculars, and photolithography.

Reducing the Cost and Enhancing the Quality of Nanotubes

SBIR contracts with Johnson Space Center supported the development and demonstration of a nanotube production method pioneered by SouthWest Nanotechnologies Inc. (SWeNT), of Norman, Oklahoma. SWeNT's scalable, efficient process results in mass-produced nanotubes that are customizable to client needs and more pure than those created by other methods. These enhanced manufacturing capabilities may soon allow for nanotube-enabled technologies like advanced body armor, ultra-conductive wiring, printable electronics, and green innovations like more affordable solar panels and low-energy, solid-state lighting products. SWeNT's NASA-supported process has allowed the company to increase production a hundredfold while lowering cost tenfold.


"Around the world, the best and brightest students are being given
the most extraordinary opportunity: a chance to perform experiments on the
US National lab in outer space."

—Jeff Manber, NanoRacks LLC

NASA partnerships in commercial space are building an entire new industry, creating jobs and supporting the private, US-based manufacture of commercial spacecraft that are central to NASA's plans for supplying and staffing the ISS for years to come. Seen here is the manufacturing floor of SpaceX's Hawthorne, California facility, with a Dragon capsule at center.



Developing UAVs for Science, Military

ASpace Act Agreement with Goddard Space Flight Center and West Virginia University enabled Aurora Flight Sciences Corporation, of Manassas, Virginia, to develop cost-effective composite manufacturing capabilities and open a facility in West Virginia. The company now employs 160 workers at the plant, tasked with crafting airframe components for the Global Hawk unmanned aerial vehicle (UAV) program. The company also develops advanced UAV technologies that are redefining traditional approaches to unmanned aviation. Since the company's founding, Aurora's cutting-edge work has been supported with funding from NASA.

Enhancing Architecture around the World

Using a remarkable fabric originally developed to protect Apollo astronauts, Birdair Inc., of Amherst, New York, has crafted highly durable, safe, environmentally friendly, and architecturally stunning tensile membrane roofs for over 900 landmark structures around the world. Travelers in airports, sports fans at stadiums, and shoppers in malls have all experienced the benefits of the Teflon-coated fiberglass fabric that has enabled Birdair to grow from a small company established in its founder's kitchen in 1955 to a multimillion-dollar specialty contractor today.

Advancing Aerospace Manufacturing

T

he 2008 NASA Commercial Invention of the Year, PETI-330, is a polyimide matrix resin that performs well at high temperatures and is easily processed into composites in a simple, short-curing cycle. Invented by scientists at Langley Research Center, PETI-330 is now licensed to Ube Industries, based in Japan with American headquarters in New York. In addition to being durable and lightweight, the resin is also nontoxic, which makes it safe for workers to handle. PETI-330 was created specifically for heat-resistant composites formed with resin transfer molding and resin infusion, which formerly could only be used with low-temperature resin systems.
 Previous Page / Home / Contents / Next Page