A Three-Peat at Ames
A tiny sensor that can detect chemicals in the air, invented at Ames Research Center, has won the 2012 NASA Government Invention of the Year. "High Sensitive, Low Power and Compact Nano Sensors for Trace Chemical Detection" was invented by Jing Li and Meyya Meyyappan of Ames and Yijang Lu of the University of California, Santa Cruz.
The invention includes methods and systems for estimating one or more unknown parts of a gas using carbon nanotubes. The electronic sensors developed from these carbon nanotubes are inexpensive, lightweight, and consume very little power.
The sensors have been deployed by NASA to detect trace gases in the crew cabin on the International Space Station (ISS). Other federal agencies are using sensors based on this technology to detect trace gases in various environments. Specific applications for which the innovative sensors have been tested and used include trace chemical detection in planetary exploration, air monitoring, leak detection, and hazardous agent detection using cell phones. Potential future applications may include environmental monitoring, industrial process monitoring and control, and biomedical diagnosis.
"We're very pleased to have Ames inventiveness recognized with this award for the third consecutive year," said S. Pete Worden, Ames' center director. "With this invention, our people have basically created the insides of a tricorder, and based on the uses we've already demonstrated, I can't wait to see the fantastic applications that NASA and industry are going to devise for it."
Each NASA field center submits nominations for the awards, which are evaluated by NASA's Inventions and Contributions Board. The board determines which nominations qualify for each category, ranks the nominees, and makes recommendations to the NASA Office of the General Counsel for review and approval.
This year Ames also won Commercial Invention of the Year runner-up recognition for its Rehydration Beverage, a patented water-electrolyte beverage that results in significantly higher body-hydration levels than similar beverages available on the market. Invented by Ames' John Greenleaf, it has been used by astronauts before, during, and after spaceflight, including missions to the ISS.
The technology became a popular spinoff and is now used by athletes who require rapid rehydration after strenuous activity (Spinoff 2000). Marketed as The Right Stuff and sold by Wellness Brands Inc., the concentrate contains the original sodium chloride and sodium citrate blend developed by NASA, along with flavoring and sweetener to counter the saltiness of the electrolytes. Users add a small vial of the product to their water—or any training beverage—in order to significantly enhance rehydration.


Goddard's Tech-Transfer Team Recognized for Innovation
The Innovative Partnerships Office (IPO) and the Information Technology and Communications Directorate at NASA's Goddard Space Flight Center accepted Information Week magazine's Best Innovative Government Agency Award. The award was presented during the InformationWeek 500 Conference, held annually to honor the most innovative US-based users of business technology.
Goddard's IPO is responsible for the identification, review, and evaluation of advanced aerospace technologies and innovations, including a determination of the commercial potential for patenting and/or licensing those technologies. Goddard's IPO has negotiated licenses that have resulted in hundreds of thousands of dollars in royalties shared among NASA, civil-servant inventors, and the US Treasury.
The IPO also manages the Center's Small Business Innovation Research (SBIR) program, which awards small businesses more than $9 million per year. Thanks in part to the IPO's efforts, Goddard innovators have recently won numerous awards, including recognition from R&D Magazine, Women in Aerospace, the Space Technology Hall of Fame, NANO 50, and the Federal Laboratory Consortium.
Said Ted Mecum, a senior technology manager at Goddard, "It is an honor for Goddard to be recognized for being innovative in technology transfer activities and IT applications related to open source cloud-computing solutions. We have a great team and this means a lot." Adrian Gardner, chief information officer at Goddard, added, "Goddard Space Flight Center's selection among Information Week's 500 is a tribute to its leadership and frontline workers' commitment to the task of developing and implementing new ways to deliver the Center's mission."
"Given the current fiscal climate," Gardner said, "it will take an infusion of innovative tactics, techniques, technologies, and business practices to meet the growing demands of a tech-savvy workforce at a drastically reduced cost. As the Goddard CIO, I believe that we must invest in cloud, mobile, and big data analytics to deliver customer-facing and timely IT services."
NASA Software has Earthshaking Implications
QuakeSim, software that models the behavior of earthquake faults to improve earthquake forecasting and our understanding of earthquake processes, was a co-winner of NASA's 2012 Software of the Year Award. The award recognizes innovative software technologies that significantly improve the Agency's exploration of space and maximize scientific discovery on Earth.
Developed at the Jet Propulsion Laboratory (JPL), QuakeSim is a comprehensive, state-of-the-art software tool for simulating and understanding earthquake fault processes and improving earthquake forecasting. It uses NASA remote sensing and other earthquake-related data to simulate and model the behavior of faults in 3D, both individually and as part of complex, interacting systems. This provides long-term histories of fault behavior that can be used for statistical evaluation.
QuakeSim is also used to identify regions of increased earthquake probabilities called hotspots. Studies have shown QuakeSim to be the most accurate tool of its kind for intermediate earthquake forecasting and detecting the subtle, transient deformation in Earth's crust that precedes and follows earthquakes. Its varied applications include scientific studies, developing earthquake hazard maps that can be used for targeted retrofitting of earthquake-vulnerable structures, providing input for damage and loss estimates after earthquakes, guiding disaster response efforts, and studying fluid changes in reservoirs.
Studies have shown QuakeSim to be the most accurate tool of its kind
for intermediate earthquake forecasting.
The software has had a number of notable accomplishments to date: It produced the first readily accessible set of digital fault models of California and was used to identify regions in southern California at risk for earthquakes; QuakeSim helped to rule out tectonic deformation of Earth's surface as a factor when a spate of water pipe breaks afflicted Los Angeles in 2009; and it was used in several recent government earthquake response exercises, including the 2008 California ShakeOut, the 2011 National Level Exercise, and the 2012 Golden Guardian Exercise.
QuakeSim approaches are also being adopted by numerous organizations, including the Southern California Earthquake Center, United States Geological Survey, and the California Geological Survey.

Space Technology Hall of Fame Celebrates 25 Years—with NASA Technology
During the Space Foundation's 2013 National Space Symposium, two NASA-developed technologies were honored by being inducted into the Space Foundation's Space Technology Hall of Fame, which has for 25 years recognized exceptional examples of space technology making a practical impact on Earth. An inflatable antenna communication device and an ultrasound system capable of remote operation, both developed through NASA partnerships, were celebrated at the event.
Glenn Research Center was honored alongside GATR Technologies for its role in developing an inflatable antenna system—a highly portable and easily deployed communication device that relies on geostationary satellites to secure high-bandwith communication links nearly anywhere in the world. The technology was originally intended to be used as a tool for power generation by an engineering firm working under a Small Business Innovation Research (SBIR) contract with Glenn. But in 2004 GATR licensed the device, made improvements to it under a series of Space Act Agreements, and launched it as a commercial communication product (Spinoff 2010).
GATR's antenna can provide Internet access and enable a wide variety of communication, including voice and video connections. Because of its reliance on satellites, it provides coverage even in remote areas and is thus popular with US military forces and emergency first responders, among others. The complete system takes only minutes to set up or tear down, and it packs into two suitcases that weigh less than 90 pounds each. The antenna has played a role in humanitarian aid following natural disasters, including Hurricanes Katrina, Ike, and Sandy, and the 2010 Haiti earthquake.
Two ultrasound devices commercialized by Mediphan, a remote diagnostics company, following technology advances made by Johnson Space Center, were also inducted at the Space Technology Hall of Fame ceremony. The DistanceDoc, which allows remote ultrasound users to transmit images securely in real time over the internet, and MedRecorder, which captures diagnostic-quality images for future reference, both allow for telemedicine ultrasound procedures to be performed in previously inaccessible locations by minimally trained individuals.
The 2013 inductees to the Space Technology Hall of Fame were two NASA spinoffs: an inflatable communication antenna (left) and portable ultrasound technology (right).
The enabling technologies were derived from the Advanced Diagnostic Ultrasound in Microgravity project, which produced a specially designed ultrasound machine currently installed on the International Space Station. It was developed through collaboration among Johnson Space Center, the Henry Ford Hospital in Detroit, and Houston-based Wyle Laboratories Inc. (Spinoff 2009).
Aided by software and guidance from experts on the ground, the new system allows crew members with minimal technical training to image a wide range of body parts to track the effects of spaceflight on various systems. Applications on Earth include telemedicine ultrasound diagnosis, remote training and instruction for medical students, and rapid diagnosis in sports medicine.

+ Back to Top


An Eclectic Team Combines for Success
All of the right elements came together for a seven-person team at Langley Research Center, who were presented with the 2012 NASA Commercial Invention of the Year Award for "Methodology for the Effective Stabilization of Tin Oxide-Based Oxidation/Reduction Catalysts." This method can stabilize a catalyst in virtually any application that requires the removal of toxic compounds, including carbon monoxide. Unlike a conventional catalyst, this technology has low, near-room-temperature oxidation capabilities that are maintained up to temperatures greater than about 1,472 °F.
The technology has spun off in industrial equipment that keeps air pure in mining operations (page 68). It also has potential use in power generation, construction, locomotive, forestry, and marine applications.
Current catalyst systems cannot change the state of carbon monoxide and hydrocarbons in such a wide range of temperatures, but the Langley-developed technology can. Plus, it is capable of removing additional volatile compounds, such as formaldehyde, and nitrogen oxides from exhaust streams.
"The team worked very well together and was made up of chemists, engineers, technicians, as well as experts in automotive catalyst formulations and materials science," said Neal Watkins, one of the inventors. "It was an eclectic gathering of talents that was essential for the success of the program."


A Prototypical Success
NASA's next-generation spacesuit is still only in its prototype phase, but its unique design—which many have compared to the outfit worn by Toy Story's Buzz Lightyear—caught the attention of Time magazine, which named the Z-1 spacesuit one of its Best Inventions of the Year 2012.

"With this suit, the subject crawls in through the back, and then we just shut the door."

— Amy Ross, Johnson Space Center


Describing the protoype's features, Time remarked that the suit "provides go-anywhere garb featuring more-flexible joints, radiation protection for long stays in space and a hatch on the back that allows the suit to dock with a portal on a spacecraft or rover so an astronaut can crawl through without letting dust in or air out." The "hatch," known as a suitport, will allow wearers to quickly get into the spacesuit from the interior, detach it from the spacecraft, and begin exploring on the exterior of the spacecraft or rover.
The prototype was successfully tested in a vacuum chamber at Johnson Space Center—an important step, as the vacuum environment allows engineers to test the suit's hardware under conditions found in space. Z-1 will eventually be followed by a Z-2 model, with improvements and refinements that will ready the concept for use by NASA—first on the International Space Station, and eventually in crewed missions beyond Earth orbit.


Award for Former Director Inspires Future Plans at Johnson
Following closely on the heels of awards given to Johnson Space Center on behalf of the Federal Laboratory Consortium (FLC) Mid-Continent Region for Notable Technology Development and Outstanding Laboratory, former Johnson director Mike Coats was recognized by the FLC as the 2012 Laboratory Director of the Year.
This recognition reflects Johnson's outstanding leadership and numerous technological achievements. Some of the notable accomplishments under Coats that led to the award include:
medical support provided by Johnson in the efforts to rescue the trapped Chilean miners;

Johnson and commercial partner SunDanzer's solar-powered refrigerator, now enabling the storage of vaccines in remote areas without electricity (Spinoff 2003, 2013);

the Johnson-GM partnership to develop a robotic glove to alleviate repetitive stress injuries; and

the partnership with Meridian Health Systems to use NASA-patented microwave and millimeter wave technology to treat the hardening of heart arteries.
Some of these technologies represent the beginning of new commercialization activities for Johnson, which is exploring opportunities for transferring NASA technology. "We're putting more emphasis on getting our technologies out there," said Jack James of Johnson's Technology Transfer Office, which falls under the Strategic Opportunities and Partnership Development Office. "We're strengthening our partnerships with the Houston Technology Center and BayTech, and there are a few other ones we're looking to pursue."
Johnson's success, as well as this most recent award for its former director, is now part of a legacy—one that current Johnson director Ellen Ochoa says she seeks to continue. Under Ochoa's leadership, Johnson will combine efforts in human exploration, science, and space technology to meet President Obama's challenge to send astronauts to an asteroid by 2025 and to Mars by the 2030s.


+ Back to Top


Curiosity's Team Recognized for Historic Achievements—Twice
Two prominent aerospace industry organizations are recognizing the contributions of NASA, especially the achievements of the team that landed NASA's Curiosity rover on Mars in August 2012, with coveted awards.
In early May 2013, the National Aeronautic Association (NAA) presented its Robert J. Collier Trophy to the Mars Science Laboratory (MSL) Team of NASA's Jet Propulsion Laboratory (JPL) at an event in Arlington, Virginia. The previous week, the team received the American Institute of Aeronautics and Astronautics (AIAA) Foundation Award.
"It's wonderful to see NASA's people and their accomplishments recognized by the aerospace community," NASA Administrator Charles Bolden said. "In particular, the Curiosity landing was the hardest NASA mission ever attempted in the history of robotic planetary exploration. These prestigious awards are a testament to the dedication and hard work of the entire worldwide team."


"The Curiosity landing was the hardest NASA mission ever attempted in the history of robotic planetary exploration."

— Charles Bolden, NASA Administrator
The NAA established the Collier Trophy in 1911 and presents it yearly to recognize the greatest achievement in aeronautics or astronautics in America. The AIAA awards recognize the most influential and inspiring individuals in aerospace, whose outstanding contributions merit the highest accolades. Past honorees have included Orville Wright, Neil Armstrong, the team that designed the space shuttle, and the astronauts who carried out the first Hubble Space Telescope repair mission in 1993.
The NAA's Collier citation notes the MSL team's "extraordinary achievements of successfully landing Curiosity on Mars, advancing the Nation's technological and engineering capabilities, and significantly improving humanity's understanding of ancient Martian habitable environments."
More than 7,000 people in at least 33 US states and 11 other countries have worked on the Mars Science Laboratory mission. Curiosity, the laboratory's centerpiece, carries 10 science instruments to investigate the environmental history inside Gale Crater on Mars. In March 2013, rover scientists announced that an analysis of a rock sample shows Mars could have supported living microbes in an ancient freshwater environment. Curiosity's mission is expected to last at least 2 years.
"The prestigious Collier Trophy is a wonderful recognition for Curiosity, a phenomenal engineering and science achievement that has captured the hearts and minds of children and adults across America and around the globe," said Charles Elachi, director of JPL. "It's an honor to do missions like this one on behalf of NASA and the Nation."


NASA Facilities Earn Green Honors
The US Environmental Protection Agency (EPA) has recognized NASA's White Sands Test Facility in Las Cruces, New Mexico, and Johnson Space Center in Houston as Federal Green Challenge National Award winners.
White Sands received the National Award for Overall Achievement for outstanding efforts in 2012 to advance sustainability efforts and for its leadership in reducing the environmental footprint of federal government activities. "In 2012, concrete and asphalt debris piles were safely recycled into 10,712 tons of reusable materials," said Michael Jones, environmental project manager at White Sands. "As an alternative to purchasing new road base materials, White Sands now has reusable resources for future projects. This truly was a team effort between the White Sands facilities engineering, environmental, and safety organizations."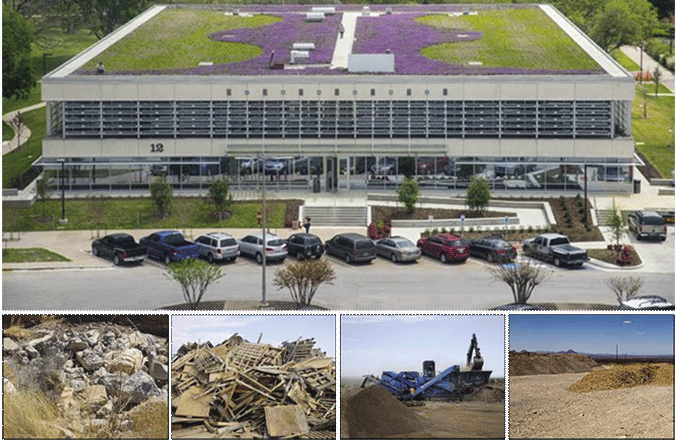 Johnson was recognized for the highest progress over the previous year. The center increased municipal solid waste composted from 16 tons in 2011 to 250 tons in 2012, which represents a 1,449-percent improvement. "Through our composting program, we no longer need to purchase mulch and compost, we don't have to pay to get rid of yard debris, and we're reducing greenhouse gas emissions—it's a win-win situation all around," said Michelle Fraser-Page, recycling manager at Johnson.
These achievements were made by NASA facilities while participating in the Federal Green Challenge, a national effort under EPA's Sustainable Materials Management Program that challenges federal agencies to lead by example in reducing environmental impact. Federal agencies are recognized for outstanding efforts that go beyond regulatory compliance and for annual improvements in selected areas.


Goddard Engineer Joins NASA Greats with Lovelace Award
NASA engineer Tom Flatley of Goddard Space Flight Center received the William Randolph Lovelace II award at the 51st Robert H. Goddard Memorial Symposium. The American Astronautical Society (AAS) award was presented to Flatley in recognition of his outstanding contributions to space science and technology through his work with SpaceCube.
SpaceCube is a compact, reconfigurable hybrid-computing platform that is being used for flight science data processing applications. It was designed for space applications that require extreme processing capability at a much higher level than current radiation-hardened space technology can handle. SpaceCube uses radiation-tolerant processing components and can collect and process 100 times more data than traditional radiation-hardened flight processors.
"SpaceCube technology is truly cutting-edge," said Chief Technologist Peter Hughes of Goddard. "This processor provides long-needed radiation-tolerant, high-performance computing from a smaller, more energy-efficient platform. These attributes are allowing spacecraft to become increasingly more autonomous and capable, particularly important today because of the massive amounts of data collected by our instruments."
The AAS award was created to honor the lifetime achievements of Lovelace (1907-1965), NASA's director of space medicine. Flatley joins other NASA notables who previously received the Lovelace award, such as astronaut Buzz Aldrin, the second man to ever walk on the moon; Neil Gehrels, chief of Goddard's Astroparticle Physics Laboratory and a gamma ray researcher; and Noel Hinners, who was Goddard's center director before becoming NASA's associate deputy administrator and chief scientist.
Robonaut Team Honored for Game-Changing Technologies
The NASA team behind Robonaut 2, the first humanoid robot in space, has been awarded the American Institute of Aeronautics and Astronautics' (AIAA) Space Automation and Robotics Award for 2013. AIAA is the world's largest technical society dedicated to the global aerospace profession.
Robonaut 2, or R2, is a dexterous humanoid robot built and designed at Johnson Space Center. Sent to the International Space Station (ISS) in 2011 with the intention of aiding astronauts on dangerous tasks and freeing them from some of their more mundane work, upgrades to the R2 system continue to produce novel advances in the field of robotics.
"The R2 development team is an incredible group of talented people and I am so proud that the team has been recognized with this prestigious honor," said Myron Diftler, Robonaut principal investigator at Johnson. "To be acknowledged this early in our planned activity on the ISS is especially notable. This award from our peers gives us increased confidence that R2 is on a track to even more success as we move towards mobility inside, and then outside the ISS."
Technologies developed by the R2 team have debuted in multiple potential spinoffs as wearable robotic devices. The Robo-Glove, codesigned by NASA and General Motors to reduce the risk of repetitive stress injuries and provide additional gripping strength to astronauts, is a direct descendant of the actuators and controls found in R2's hands. Also drawing from the robot's design team, the X1 exoskeleton device is a robot that a human could wear over his or her body either to assist or inhibit movement in leg joints.
R2 is part of NASA's Game Changing Development Program, which seeks to quickly mature innovative technologies that will have cross-cutting applications throughout Agency missions and may also be of benefit to the American aerospace industry. NASA's game-changing efforts are part of the Agency's Space Technology Program, which is innovating, developing, testing, and flying hardware for use in future science and exploration missions.


Previous Page / Home / Contents / Next Page