To Boldly Go where No Kerbal Has Gone Before
Kerbal Space Program (KSP)—a computer game set on "Kerbin," a distant, fictional planet that is home to enthusiastic space-faring creatures—just got an extra shot of realism thanks to a recent collaboration with NASA.
The game, which puts players in charge of Kerbin's burgeoning space agency, features big rockets, realistic physics and orbital mechanics, and plenty of humor. It is popular not just with the public but in particular with many NASA employees, who have used it to recreate historical missions such as the Apollo Program and Curiosity's recent trip to Mars.
NASA reached out to Squad (the company that develops KSP), and, following some discussion, both parties realized there was potential for a productive collaboration. The result was an asteroid redirect mission for KSP based largely on NASA's own plans to identify, capture, and redirect an asteroid; bring it into the moon's orbit; and send a manned mission to it.
Squad jumped at the opportunity to receive input from NASA scientists and engineers, who helped the company create realistic, in-game rocket and tool designs especially for the mission. In return, NASA hopes to raise awareness both about agency missions and goals and about the threat to Earth posed by asteroids.
"The collaboration with Kerbal Space Program can help drive interest by future explorers in next-generation technology development and deep space exploration," said Bob Jacobs, deputy associate administrator for communications at NASA. "Having an element of the experience based in the reality of NASA's exploration initiatives empowers players to manage their own space program while getting valuable insight into the reality of studying asteroids as a next step in getting to Mars."
A Crowdsourced Hunt for Asteroids
As part of the agency's Asteroid Grand Challenge, NASA partnered with private Internet technology company Slooh in 2014 to engage citizen scientists in the effort to track and characterize near-Earth asteroids (NEAs) that are potentially hazardous to our planet.
Slooh's global network of web-connected telescopes were made available for use by amateur astronomers for monitoring and characterizing NEAs, giving citizen scientists without access to professional equipment the chance to participate in the global challenge.
"We are excited by the opportunity to tap into Slooh's network of amateur astronomers, who are already producing scientific papers with their work," said Jason Kessler, program executive for the Asteroid Grand Challenge. "We look forward to expanding the meaningful science the Slooh network can provide in support of the grand challenge."
The Goldstone Deep Space Communications Complex, located in the Mojave Desert in California, is one of three complexes that comprise NASA's Deep Space Network (DSN). The DSN provides radio communications for all of NASA's interplanetary spacecraft and is also utilized for radio astronomy and radar observations of the solar system and universe—including the search for near-Earth asteroids. (inset) Astronomers have discovered what appears to be a large asteroid belt around the star Vega, the second brightest star in northern night skies. The scientists used data from NASA's Spitzer Space Telescope and the European Space Agency's Herschel Space Observatory, in which NASA plays an important role.
Live astronomy events through the NASA and Slooh platforms increase the number of people who can watch and actively participate in science as it happens. Future events will include live commentary from NASA experts. Slooh plans to provide NASA with relevant observation data from these events, which may be used for further grand challenge citizen science efforts.
"This partnership is a great validation of our approach to engage the public in the exploration of space," says Michael Paolucci, founder and CEO of Slooh. "NASA understands the importance of citizen science and knows a good way to get amateur astronomers involved is to offer them ways to do productive astronomy. Slooh does that by giving them remote access to great telescopes situated at leading observatory sites around the world."
The partnership with Slooh augments grand challenge partnerships with SpaceGambit and Planetary Resources Inc. and extends the search from existing data to direct observation through telescopes.
Enriching Agriculture in Africa
From hundreds of miles up in orbit, NASA satellites can measure how much rain falls in Niger or detect plant health in Mali. But on the ground, many African farmers and food distributors don't have good information about the growing conditions a few dozen miles down the road.
A new program is bringing together scientists in two branches of NASA's Goddard Space Flight Center with an African nonprofit organization to get relevant satellite data into the hands—and cell phones—of people who could use it the most.
"Putting the information in the hands of the agriculture users is one of the many ways that we can show that the satellite data has benefits to society," said Molly Brown, a research scientist with Goddard's Biospheric Sciences Laboratory.
Brown and her colleagues have already developed a 30-year dataset of satellite information on African precipitation rates, vegetation health, soil moisture, and evapotranspiration—all indicators of crop health in a given area. With researchers from Columbia University, New York, she is developing a system that can improve the way insurance companies set rates for drought protection.
That data, however, would also be key information for local farmers, and for food distributors, who have to determine which regions have a surplus of crops—and therefore which regions they should focus on to purchase excess food to sell at central markets. When distributors can buy excess food, it can encourage farmers to grow more in good years, knowing that there is a market.
More food production, and more efficient distribution, could improve food security for the region.
Brown is working through the mFarms platform to get satellite data to farmers and distributors. mFarms, a nonprofit organization, provides agricultural information via cell phones to their network—80,000 farmers and thousands of other distributors, warehouses, and others in 17 African countries. Agriculture in sub-Saharan Africa consists mostly of small farms. The mFarms platform connects farmers with marketing agents and buyers by creating a database of how many acres farmers plant and tracking the productivity of fields, among other features.
With NASA satellite data, the program can expand to include growing conditions for specific locations and notifications of potential weather-related problems.
A Closer Look at the Cost of Air Pollution
Ammonia pollution from agricultural sources poses larger health costs than previously estimated, according to NASA-funded research.
Harvard University researchers Fabien Paulot and Daniel Jacob used computer models, including a NASA model of chemical reactions in the atmosphere, to better represent how ammonia interacts in the atmosphere to form harmful particulate matter. The improved simulation helped the scientists refine estimates of the health costs from air pollution associated with food produced for export—a growing sector of agriculture and a source of trade surplus.
"The 'cost' is an economic concept to measure how much people are willing to pay to avoid a risk," Paulot said. "This is used to quantify the cost for society but also to evaluate the benefits of mitigation."
The new research by Paulot and Jacob calculates the health cost associated with the ammonia emissions from agriculture exports to be $36 billion a year—equal to about half of the revenue generated by those same exports. The new estimate is about double the current estimate made by the US Environmental Protection Agency.
Manure from livestock and fertilizer for crops release ammonia to the atmosphere. In the air, ammonia mixes with other emissions to form microscopic airborne particles, or particulates. To clarify the effect of ammonia on fine particulates, Paulot and Jacob first modeled the agricultural sources of ammonia emissions utilizing a relatively new ammonia emissions inventory.
Then they used the NASA GEOS-Chem model of atmospheric composition to simulate the complex chemistry that converts agricultural emissions—in this case, ammonia—into fine particulate matter. This information was then combined with food export data from the US Department of Agriculture and the United Nations Food and Agriculture Organization. Results show that US food exports account for 11 percent of the total US emissions of ammonia.
The research was sponsored by NASA as part of the Air Quality Applied Sciences Team program.
Good Things Come in Micro Packages
Invasive and systemic cancer treatment is a necessary evil for many people with the devastating diagnosis. These patients endure therapies with ravaging side effects, including nausea, immune suppression, hair loss, and even organ failure, in hopes of eradicating cancerous tissues in the body. If treatments better targeted a patient's cancerous tissues, they could provide clinicians with an alternative to lessen the delivery of toxic levels of chemotherapy or radiation. Thanks in part to NASA research, a solution to this problem may soon be commercialized.
The Microencapsulation Electrostatic Processing System-II experiment, or MEPS-II, led by Johnson Space Center, was performed on the International Space Station in 2002 and included innovative encapsulation of several different anti-cancer drugs. The experiment system improved on existing microencapsulation technology by using microgravity to modify the fluid mechanics, interfacial behavior, and biological processing methods as compared to the way the microcapsules would be formed in gravity.
Space station research has led to 13 licensed microcapsule-related patents and 2 that are pending. In addition, NuVue Therapeutics Inc. has designed devices integrating the delivery of the microcapsules with enhanced ultrasound visualization and cryotherapeutic effects. The company is currently seeking FDA approval of MEPS microcapsules containing pharmaceuticals and marker imaging agents to view the microcapsules during an ultrasound.
The newest Landsat satellite on the launchpad, before its February 2013 trip into orbit. The Landsat program has provided the world's longest continuous global record of the Earth's surface.

Image courtesy of NuVue Therapeutics Inc
Though it will take a few years to get approval to use microcapsules filled with anti-tumor drug therapies as a treatment option, several devices that will aid in drug delivery are planned for pre-clinical study as early as next year. NuVue's ultrasound-enhanced needles and the imaging marker microcapsules, which do not contain drugs, can be combined for use within the cancer patient.
After achieving full FDA approval, planned clinical trials will involve injecting microcapsules with anti-tumor drugs directly into tumor sites.
Now Available: Underwater Crime-Fighting Robot
Glenn Research Center's Mobile and Remote Sensing (MARS) team specializes in refurbishing and repurposing modern robots. A Space Act Agreement with the city of Cleveland has the team busy improving city-owned assets to assist first responders and perform valuable scientific research on Earth, with future applications in space.
One such robot is now known as the MARS Lab Aquatic Descent Instrument, or MADI. It's an underwater robotic device fitted with interfaces for sensors and instruments for applications in law enforcement and underwater science in fresh and salt water.
"The beauty of MADI is that it can be tailored to meet the needs of any underwater mission," says Mike Krasowski, a senior engineer on the team. "If first responders want to use it, we can fit the robot with metal detectors and sonar imaging equipment to locate underwater evidence in the murky depths of Lake Erie."
Diving is always dangerous, and many first-responder divers are injured each year. A robot like MADI, outfitted with specialized sensors, can dive into the water first and search an underwater scene, keeping humans out of harm's way. Then if a diver is needed, he or she can follow MADI's tether down to an area of interest. The robot was recently used to test student-designed instruments and may soon be sent to study the health of lakes and streams.
Beyond Earth, the team believes MADI could be a research tool on celestial bodies such as Titan. One of the moons orbiting Saturn, Titan has many lakes of liquid methane. "In astrobiology, we are always looking for biomarkers or biosignatures, which point to signs of life," says Krasowski. "Scientists developing submersible instruments for Titan lake science missions can proof instruments using MADI to perform underwater tests and demonstrations on Earth."
Launching into Orbit—From Orbit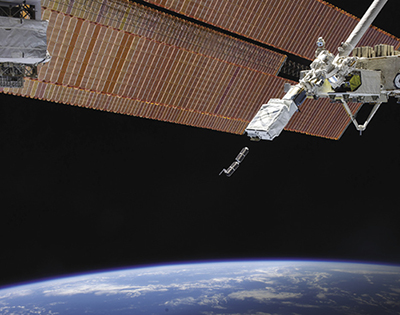 A set of NanoRacks CubeSats are deployed by the NanoRacks Launcher attached to the end of the Japanese robotic arm. The CubeSats program includes a variety of experiments such as Earth observations and advanced electronics testing.
It used to be that building and launching a working satellite was an enormously expensive and complex undertaking, feasible only for governmental and military agencies. But the CubeSat revolution of the past decade has placed satellite technology within reach of private companies, universities and even unaffiliated individuals. CubeSats are a class of research spacecraft called nanosatellites. The cube-shaped satellites measure about four inches on each side, have a volume of about a quart, and weigh less than three pounds.
That revolution has been boosted by the existence of the International Space Station (ISS), which now provides a launching platform through regular commercial cargo flights. At present, two CubeSat deployers operate aboard the station: the Japanese Experiment Module Small Satellite Orbital Deployer and the NanoRacks CubeSat Deployer. The SpaceX-4 commercial resupply mission, conducted in August, enhanced the ISS's satellite deployment capabilities with the delivery of yet another deployment tool, called Cyclops.
CubeSats have varied missions, and this year has been a particularly busy one for satellite deployments from the space station. Whether they're helping to image Earth for weather and ground data or advancing communications capabilities, the ability to set these satellites into orbit from the space station is the first step to enabling their missions.
Camille Alleyne, assistant space station program scientist, explained: "Because of the relatively low costs to build this technology, the demand for the CubeSat deployment capability has increased dramatically. Adding this third deployer as a space station facility allows us to meet demand and demonstrates the value of the unique platform for both space research and STEM education."
Solving Aviation Challenges around the World
NASA has signed separate agreements with the German Aerospace Center and the National Research Council of Canada to conduct a series of joint flight tests to study the atmospheric effects of emissions from jet engines burning alternative fuels.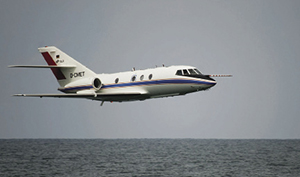 The Dassault Falcon 20E has been extensively modified by the German Aerospace Center (Deutsches Zentrum für Luft- und Raumfahrt, or DLR) for the kind of atmospheric research it will conduct as part of ACCESS II.
The Alternative Fuel Effects on Contrails and Cruise Emissions (ACCESS II) mission began in May and was flown from NASA's Armstrong Flight Research Center.
NASA flew multiple craft, burning a mix of different fuel blends, followed by other aircraft that measured emissions and contrail formation. ACCESS II is the latest in a series of ground and flight tests begun in 2009 to study emissions and contrail formation from new blends of aviation fuels that include biofuel from renewable sources. ACCESS I testing, conducted in 2013, indicated the biofuel blends tested may substantially reduce emissions of black carbon, sulfates, and organics.
Understanding the impacts of alternative fuel use in aviation could enable widespread use of one or more substitutes to fossil fuels as these new fuels become more readily available and cost-competitive with conventional jet fuels.
As part of an international team involved in this research, NASA will share its findings with the 24 member nations that make up the International Forum for Aviation Research.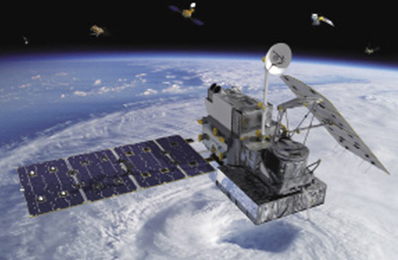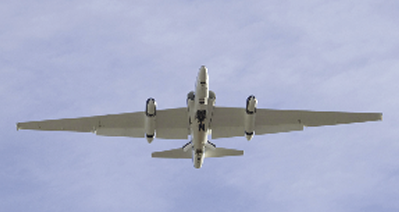 Above: The Global Precipitation Measurement mission will set a new standard for precipitation measurements from space, providing observations of rain and snow worldwide every three hours. Below: As a part of its study of rain in the Appalachian mountains, NASA flew the ER-2 aircraft to simulate satellite measurements when satellites were not overhead.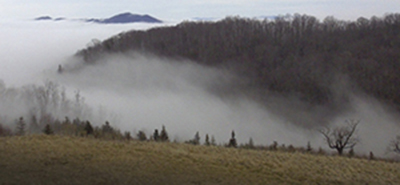 Measuring Rain from Above and Below
Rain, ice, hail, severe winds, thunderstorms, and heavy fog—the Appalachian Mountains in the United States have it all. In 2014, NASA and some of its partners began a campaign in western North Carolina to better understand the difficult-to-predict weather patterns of mountain regions.
"What we're trying to do is study and learn about the precipitation from the summit to sea, how it evolves as it moves from the mountains to the plains," said Walt Petersen of NASA's Wallops Flight Facility in Virginia, who led the project.
Involved were public authorities in the Upper Tennessee, Catawba-Santee, Yadkin-Pee Dee, and Savannah river basins to set up the rain-monitoring network for the campaign. Satellite overpasses provided the view from space. For those times when satellites weren't overhead during a storm, NASA flew its ER-2 high-altitude research plane at 65,000 feet, armed with sensors that could simulate satellite measurements. Meanwhile, at 10,000 to 25,000 feet, the University of North Dakota's Citation aircraft flew through clouds to measure raindrops and ice particles where they form.
The field campaign also served as validation for measurements made by the Global Precipitation Measurement (GPM) mission's Core Observatory. GPM is an international satellite mission, launched in 2014, to observe rain and snow around the world. The advanced instruments on the GPM Core Observatory satellite provide the next generation of precipitation measurements, including the new capability to detect snow and light rain.
A Race against Time
Scientists at the Jet Propulsion Laboratory and Scripps Institution of Oceanography at University of California, San Diego have enhanced existing GPS technologies to develop new systems for California and elsewhere to warn of hazards from earthquakes, tsunamis, and extreme weather events.
The technology was demonstrated in July by forecasters at the National Oceanic and Atmospheric Administration's National Weather Service offices in Oxnard, California, and San Diego. They used it to track a summer monsoon rain event affecting Southern California and issue more accurate and timely flash flood warnings. The system uses real-time information from GPS stations upgraded with small, inexpensive seismic and meteorological sensors.
The technology is also being integrated into other real-world cases. "These advancements in monitoring are being applied to public safety threats, from tall buildings and bridges to hospitals in regions of risk for natural hazards," said Yehuda Bock of Scripps Institution of Oceanography.
One example is making damage assessments for hospitals, bridges, and other critical infrastructure that can be used in real time by emergency personnel and public authorities. For hospitals, the primary goal is to shut down elevators automatically and send alerts to operating room personnel—for example, when an earthquake early warning is received.
"Meaningful warnings can save lives when issued within one to two minutes of a destructive earthquake, several tens of minutes for tsunamis, possibly an hour or more for flash floods, and several days or more for extreme winter storms," said Bock.
Planning is underway to integrate the technology into earthquake and tsunami early-warning and structural-monitoring systems for locations throughout California.
Shape-Shifting Wings
NASA has joined forces with the US Air Force Research Laboratory and commercial industry to help reduce aircraft drag, wing weight, and noise. The Adaptive Compliant Trailing Edge (ACTE) project is part of NASA's larger Environmentally Responsible Aviation effort that explores and documents the feasibility, benefits, and technical risk of vehicle concepts and enabling technologies aimed at reducing aviation's impact on the environment.
The ACTE experiment is being carried out on a modified Gulfstream III (G-III) business aircraft that has been converted into an aerodynamics research test bed at Armstrong Flight Research Center. Both of the G-III's conventional 19-foot-long aluminum flaps were replaced with advanced, shape-changing flaps that form continuous bendable surfaces. The flexible flaps are made of composite materials to a patented design from FlexSys Inc.
When conventional flaps are lowered, gaps exist between the forward edge and sides of the flaps and the wing surface. The ACTE flaps are gapless, forming a seamless transition region with the wing while remaining attached at the forward edge and sides. The improved flap should eliminate a major source of airframe noise generation and, in addition, should improve flight efficiency.
IceBridging the Gap
Monitoring changes to polar ice is a never-ending job. Following the end of NASA's ICESat mission in 2009, however, the space agency had no space-based mission to dedicate to the task until ICESat's successor, ICESat-2, launches in 2017.
Enter Operation IceBridge, the largest airborne survey of Earth's polar ice ever flown. Over the past five years, IceBridge—managed by Goddard Space Flight Center—has surveyed large portions of the Greenland and Antarctic ice sheets, as well as sea ice in both polar regions. IceBridge data have been used to build detailed maps of bedrock in Greenland and Antarctica, calculate changes in Arctic sea ice thickness and volume, and improve our understanding of the rate at which glaciers in Greenland are flowing into the sea.
Throughout 2014, the IceBridge team coordinated its efforts with other research groups: They partnered with the CryoSat-2 Validation Experiment team, which operates a campaign to verify measurements made by the European Space Agency's ice-monitoring satellite, CryoSat-2. And researchers from the European Space Agency, York University in Toronto, and the Technical University of Denmark likewise flew airborne instruments alongside NASA's to measure ice and snow.
Three high school science teachers from the United States, Denmark, and Greenland also joined IceBridge to get first-hand experience and knowledge they can bring back to their classrooms. These teachers came to IceBridge through partnerships with the US-Denmark-Greenland Joint Committee and PolarTREC, a US-based program that pairs teachers with polar research expeditions.
Little Bits, Lots of Science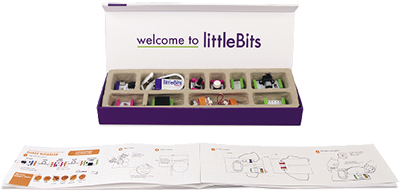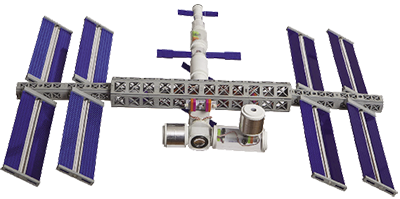 Images courtesy of littleBits
NASA Goddard Space Flight Center's Innovative Partnerships Office has entered into a Space Act Agreement with electronics toy and learning company littleBits to stimulate student interest in science, technology, engineering, and mathematics (STEM).
The activities in the littleBits Space Kit were designed and written by NASA scientists and engineers in collaboration with littleBits, which designed and manufactured the electronics. The company makes an open-source library of electronic modules that connect with magnets, allowing novices and experts alike to learn electronics and create projects—no soldering, wiring, or programming required.
The goal of the partnership is to provide a STEM resource for science explorations for everyday use in after-school programs, science centers, workshops, and other informal education settings. The activities introduce children to the fundamentals of energy and its connection to NASA science and satellite instruments.
The Space Kit allows children to conduct experiments that illustrate the basics of NASA technologies, such as remote sensing instruments used on NASA's Earth-observing satellites. Projects include instructions on how to build a grappler, a working satellite dish, and a remote-controlled Mars rover, with additional projects and lessons available online to explore energy, robotics, and other areas of NASA science and engineering.
"This type of collaboration benefits everyone—NASA, littleBits, and explorers of all ages in homes and classrooms across the country," said Blanche Meeson, chief of higher education for NASA's Science and Exploration Directorate. "We are able to bring our love and knowledge of science and engineering to a new generation of explorers through littleBits' simple yet powerful platform."
Rover Racing: The New Era
For nearly 20 years, the Great Moonbuggy Race was an annual fixture at NASA's Marshall Space Flight Center—a challenge taken on by thousands of students to build and race a vehicle capable of overcoming terrain similar to that found on the moon.
This year, NASA retired the moonbuggy motif in order to make way for a new theme: the first NASA Human Exploration Rover Challenge, held at Marshall in April. Building on the previous decades of competitive student innovation, the new event challenged students to design, build, and race lightweight, human-powered roving vehicles through a greater variety of obstacles. Participating were more than 500 students from 70 high school, college, and university teams from 19 states, Puerto Rico, Germany, India, Mexico, and Russia.
Not only did the students have to solve technical problems along the way—just as NASA must—but engineers from the space agency attended the race and will examine the winning hardware designs for potential applications to future rover and space transportation missions.