NASA's Technology Transfer Program

Bringing NASA technology down to Earth

For a relatively young agency, NASA has a remarkable history of long missions. Despite its short, 90-day planned mission, the Opportunity rover, for instance, continues to transit the surface of Mars, inspecting craters and investigating soil and rock samples more than 11 years after it tore through the planet's thin atmosphere and bounced into an impact crater. And NASA's longest-running space mission comprises the two Voyager space probes launched in 1977. These spacecraft continue to transmit data to NASA's Jet Propulsion Laboratory as they hurtle into deep space beyond the solar system at around 10 miles per second, having investigated all of our sun's outer planets.
A water cooling system in Glenn Research Center's Engine Research Building shields against superheated exhaust that can approach 1,000° F. The exhaust is a byproduct of testing on the latest engine equipment, technology that might one day power space travel and the US economy.
Then of course there is the decades-long Space Shuttle Program that, among other things, made possible the construction of the International Space Station, itself now continuously inhabited for more than a dozen years and a platform for scientific discoveries.
But NASA's longest continuously running, and arguably most successful, mission isn't in space at all. It's the one that's been working diligently since 1964 to transfer its cutting-edge space exploration and aeronautics technologies to US companies, universities, and government agencies. These "disruptive" technologies are essential to the creation of new markets, new products, and new jobs that power America's economy and enhance the quality of life on Earth to the benefit of all.
Recently, NASA's Technology Transfer Program was reorganized and refocused in response to a 2011 memo from the White House asking federal agencies to redouble their technology transfer efforts. To that end, NASA designed a five-year plan to increase the rate and quantity of its technology transfer activities. Efforts are underway encompassing process improvements, increasing efficiency, lowering access restrictions, and working directly with industry to ensure effective transfer of NASA technology.
"The Technology Transfer Program provides access to NASA's entire invention portfolio," explains Daniel Lockney, program executive in the Office of the Chief Technologist at NASA headquarters. "That includes patented technologies with apparent commercial potential, non-patented technologies that may have commercial potential, and software that has a wide variety of industrial, academic, and government uses."
While that portfolio was always publicly available, most of it was distributed among the agency's 10 field centers and managed locally. Since 2011, Lockney has overseen consolidation of NASA's technology portfolio into one body of easily identifiable, searchable categories targeted at relevant industries.
Formerly, the centers engaged in partnerships and technology transfer agreements with companies in their respective regions as part of the agency's Innovative Partnerships Program. Now, NASA's Technology Transfer Program features headquarters-coordinated portfolio management, supported by the centers in the identification of new technologies, assessment of commercial applications and feasibility, and determination of best technology transfer vehicles to relevant industries.
The effort took some of its inspiration from NASA Tech Briefs magazine, a joint publishing venture between NASA and Tech Briefs Media Group (based in New York City). Tech Briefs is the world's largest-circulation design and engineering magazine, with nearly 200,000 subscribers and about 750,000 monthly readers between print and PDF formats. Each of NASA's field centers reports its best new technologies to Tech Briefs, which organizes them into categories and publishes a number of them each month. Engineers and companies from a wide variety of fields take design ideas from the publication. They can also partner with NASA to further develop agency technologies with commercial potential.
"Technology," Lockney explains, "is geographically agnostic. A company looking for a technical solution is foremost interested in finding the right technology, not necessarily the technology from the nearest field center. Through strategic agency-level management and marketing of our entire technology portfolio, we are ensuring accessibility to the full range of NASA-developed technologies and making it simpler for companies to find the right solutions to their technical challenges."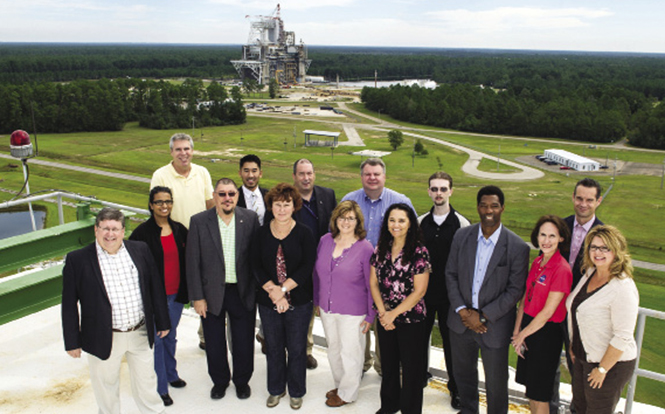 Members of NASA's Technology Transfer Program visiting a rocket test stand at Stennis Space Center in September 2014.
"NASA has over 1,600 patented or patent-pending technologies in its portfolio from all 10 field centers," says Terry Taylor, manager of the Technology Transfer Office at Marshall Space Flight Center in Huntsville, Alabama. "We are using some state-of-the-art patent portfolio analysis tools to help us assess the strength, quality, and value of our patent portfolio and to help identify companies that might want to license or co-develop these technologies with NASA." Taylor believes that a focused, agency-wide marketing approach to its patent portfolio will dramatically boost licensing and commercialization of NASA's technologies for all 10 field centers.

"We are using some state-of-the-art patent portfolio analysis tools to help us assess the strength, quality, and value of our patent portfolio and to help identify companies that might want to license or co-develop these technologies with NASA."

— Terry Taylor, Marshall Space Flight Center


"One of the first things we did was release the NASA Technology Transfer portal," Lockney says. "It's an agency-level, searchable website where you can find software solutions, patent solutions, and Spinoff content." He says his office is in the process of updating the portal and finding better ways of displaying the technologies, based on feedback from industry and partner companies. For example, the inventions will be categorized according to the industry needs they meet, rather than just what they do.
This is how the NASA Software Catalog, released in April 2014, is already organized. There, NASA consolidated more than 1,000 of its software codes into 15 clearly defined and readily searchable categories. The codes are available at no cost, although they are designated for different types of release, from programs available to all US citizens to those that can only be licensed to other US government agencies. Again, the software, which ranges from rocket science to project management and robotics, was available prior to the catalog but not always easy to find. By 2016, NASA plans to have the software codes themselves gathered in one place and available for direct download.
A NASA-invented gas sensor using carbon nanotubes, above left, could find applications in inert gas analysis, thermal conductivity sensing, infrared spectroscopy, and other fields. The Technology Transfer Program just made the patented device available for licensing in 2014. Above right, an Armstrong Flight Research Center flight loads engineer monitors testing of experimental wing flaps that could enable commercial aircraft to be significantly quieter during takeoff, approach, and landing.
In a further effort to transfer its technology both rapidly and cost-effectively to the commercial sector, in November 2013 NASA announced the agency-wide implementation of its new QuickLaunch program developed at Ames Research Center. QuickLaunch makes a set of more than 100 agency technologies available for non-exclusive licensing at pre-established prices and terms.
"It changes the model for licensing," Lockney says, comparing it to any standard online purchase: "nonexclusive, non-negotiated, upfront fee, downstream royalties and income. We've already seen commercial licenses come as a result of it." By cutting out license negotiations for a specially selected group of patents, QuickLaunch has dramatically simplified the process and significantly decreased the time required to obtain a new license from months to, in some cases, just days.
The agency is also finding new ways to involve the public in discovering viable commercial applications for its technology, including a couple of recent experiments in crowdsourcing and a Technology Transfer University (T2U) program.
Research and testing at Langley Research Center has yielded numerous advances for the airline and aeronautics industries over the years. Here, researchers have sprayed fluorescent oil on a scale model of a futuristic hybrid wing body during tests in one of the center's wind tunnels to allow them to see air flow patterns.


"We are ensuring accessibility to the full range of NASA-developed technologies
and making it simpler for companies to find the right solutions to their technical challenges."

— Daniel Lockney, Technology Transfer Program


In November 2013, NASA announced it would post 40 patents on the website of Marblar, a product development startup, and allow the public to offer ideas and contribute to submitted ideas for possible commercial uses. The Technology Transfer Program hosted an online Google+ hangout where anyone could ask some of the inventors about their technologies. By the summer of 2014, at least one commercial license had been issued as a result of the effort.
More recently, NASA has entered a similar partnership with Edison Nation, another company that seeks product ideas from the public and offers part ownership to those whose ideas succeed. This time, the technology in question, called MindShift by its inventors at Langley Research Center, uses a video-game platform to deliver biofeedback based on the user's psychological state, helping to enhance focus and manage stress.
One of the program's next big efforts is T2U, which has enjoyed an organic evolution that began with a few field centers reaching out to local business schools. Traditionally, business school students working toward master's degrees spend a semester doing market analysis for a product and another semester coming up with a business plan to sell it. Under T2U, NASA provides patented technologies for the students to browse and work with.
Lockney sees multiple layers of benefits in the idea. "For a start, they get the benefit of real-world experience, and we get the benefit of new and creative ideas on how to market our technologies," he says. "Instead of working on fictional widgets, they're analyzing NASA technology, and we have a well-earned reputation for high-tech solutions with proven results and reliability—you know that if NASA built it, it's built really well."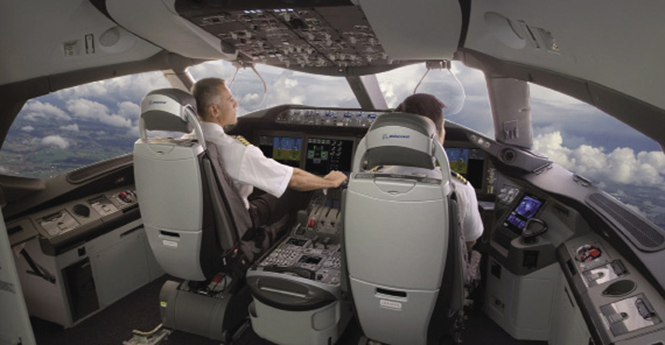 An algorithm to shorten airline flights designed at Ames Research Center was licensed to Boeing through the Technology Transfer Program. The company now uses it to offer the Direct Routes subscription service to airlines, business aviation, military, and others. Existing complementary metal-oxide semiconductor image sensors were improved at the Jet Propulsion Laboratory with active pixel sensors, and after the technology was licensed it was, at one point, used in one in every three cell phone cameras, below right.
An additional benefit to the arrangement is that the country's emerging entrepreneurs develop an awareness and understanding of the availability of federal assets. "These are tomorrow's business leaders, and we're reaching them by the hundreds—and soon thousands—teaching them that NASA and other federal agencies are places to turn to for technology solutions," he explains.
Even better, Lockney says, some students—product and business plan in hand—will actually decide to license the technology they worked with and start a company to sell it. "These are people with an entrepreneurial spirit; they're students of business. We suspected that in some instances they would like what they came up with so much they would want to pursue commercial applications." But initially, Lockney and others involved didn't expect that to happen for some time. "I thought we might see it a few years down the road," he concedes. "Then at Kennedy this year, a group of students did it and won an award."


"These are tomorrow's business leaders, and we're reaching them by the hundreds—and soon thousands—teaching them that NASA and other federal agencies are places to turn to for technology solutions."

— Daniel Lockney, Technology Transfer Program


That award recognized a partnership between Kennedy Space Center and Rollins College Graduate School of Business in Winter Park, Florida, as well as Juntura Group, the company that grew out of that relationship to market a sensor technology—also featured in this edition of Spinoff (page 156, 186).
Lockney expects others to follow, but he stresses that the primary benefit of the program remains its ability to reach a generation of entrepreneurs and leaders. "Even if they don't do anything with the technology right away, these business leaders will go out into the community, and they'll become advocates for federal research and development assets. That's a valuable lesson for them and a long-term benefit for us."
In light of its early successes, T2U is being expanded to all 10 NASA field centers. For now, the centers will reach out to local schools—for example, Johnson Space Center plans on partnering with Rice University, Langley Research Center with the College of William and Mary, Ames Research Center with the Presidio Graduate School, and so on. But Lockney anticipates that the effort will soon reach out to schools all over the country through a scaled-up version of the program.
Although the Technology Transfer Program at NASA Headquarters is the smallest of any federal agency, it is one of the most active. This is due to a distributed management model where the field centers all take part in managing agency-wide initiatives ranging from policy guidance, streamlining and standardizing processes, building common infrastructure, and designing and launching pilot initiatives.
It is through this network of program offices that the Technology Transfer Program continues to drive efficiencies while expanding the avenues by which it leverages its cachet as a hotbed of cutting-edge technology to bring new inventions and software to American industry. Since 2010, between 1,600 and 1,725 new technologies stemming from NASA funding or research have been reported every year, the overwhelming majority of them by small entities outside the government. For each of those years, NASA also processed between 850 and 1,350 software usage agreements.


+ Back to Top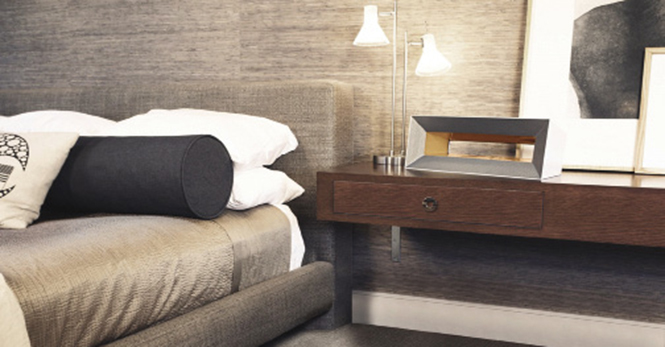 n air scrubber created at Marshall Space Flight Center for the International Space Station was later licensed for a home air purifier, that can remove all kinds of unwanted organic particles from the air.
This is how the technologies that power space exploration missions get additional mileage—by fueling the US economy. "The Apollo Program inspired a generation of young people to learn about science, technology, engineering, and mathematics," says Lockney. "In the same way, we're inspiring entrepreneurs and the business leaders of tomorrow by showing them the power and value that NASA technologies have in a multitude of commercial applications."
The following are just 20 of the thousands of NASA technologies currently on offer—two from each field center. For a full listing of available agency technologies, or to download the full software catalog, visit http://technology.nasa.gov.


Ames
Heart Electrical Actions as Biometric Identifier
Verifying individuals' identities by heartbeat
Everyone has a heartbeat, but no two heartbeats are quite the same. Ames Research Center is offering a new, patented biometric technique that takes advantage of this fact. The center has created a system that can verify a person's identity using his or her heartbeat. Often, one or more biometric indicators, such as fingerprints, voice-recognition, retinal scans, and facial features, are used to authenticate the identity of a user seeking access to a secure resource. Ames' new system can be used for everything from replacing an individual's computer passwords to accessing a bank account.
The technology uses more than 190 statistical parameters to analyze the amplitudes, intervals, and vector angles and vector lengths of the depolarization and repolarization of electrical signals associated with heart waves to authenticate or decline a person's asserted identity. In the enrollment mode, the raw electrocardiography (ECG) signal is processed, and the results, in the form of parameters, are serialized and saved. The verification and identification procedures use these parameters for recognition of heartbeats from the ECG signal of a person to be verified or identified.
Benefits
Fast and accurate
Ability to identify whether a subject is already in the database

User-friendly graphical interface

Portable enough for use in a mobile platform

Highly secure
Applications
Justice and law enforcement

Mobile biometrics

Banks and financial institutions

Network and computer login security

E-commerce and web applications

Homeland Security, airports, and national ID documents
Contaminated Water Treatment
Making a fortified drink from urine, other contaminated liquid
Ames Research Center has a patented technology available for licensing that offers a novel way of processing and recycling liquids to remove contaminants. Space exploration requires that life-support systems reduce the mass required to keep humans alive. As water accounts for about 80 percent of a human's daily mass intake, recycling water offers a high return on investment.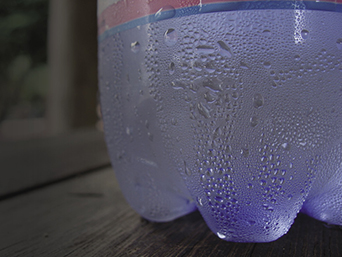 The invention, created by scientists at Ames Research Center, involves a two-step process. It includes a contaminant treatment pouch—the "urine cell" or "contaminant cell"—which converts urine or another contaminated liquid into a fortified drink, engineered to meet human hydration, electrolyte, and caloric requirements. Osmosis draws the water into the drink, and an activated carbon pre-treatment removes most organic molecules. The salt content of the initial liquid mix helps to transform organic molecules dissolved in the liquid into solid particles, allowing activated carbon to remove most organics. An osmotic bag is then used to remove inorganic contaminants.
Benefits
Reduces the amount of potable water that must be carried

Provides biologically safe, recycled drinking water

Provides a temporary source of additional nutrients

Reduces the volume of biological waste stored

Eliminates the need for urine dumping during space voyages

Portable and low-cost
Applications
Space missions

Military missions

Water source for the developing world

Extreme environments such as hiking, camping, yachting, mountaineering, and Antarctic exploration missions
All NASA licenses are individually negotiated with the prospective licensee, and each license contains terms concerning commercialization, license duration, royalties, and periodic reporting. NASA licenses may be exclusive, partially exclusive, or nonexclusive. If your company is interested in these or other Ames technologies, visit http://technology.arc.nasa.gov.


Armstrong
Real-Time Sonic Boom Display
Interactive display provides pilots, controllers with real-time sonic boom information
Engineers at NASA's Armstrong Flight Research Center have a Real-Time Sonic Boom Display available for licensing. The technology enables a pilot to control the placement of the deafening sonic boom created when an aircraft passes the speed of sound. The first of its kind, the system can be integrated into a cockpit or flight control room to help pilots place booms away from populated areas by predicting where a boom will hit the ground. It can be used on existing supersonic aircraft, as well as future-generation lowboom aircraft, anticipated to be quiet enough to fly over land.
Factors that influence sonic booms include the aircraft's weight, size, shape, altitude, speed, acceleration, and flight path, along with weather and atmospheric conditions. The Real-Time Sonic Boom Display takes all these factors into account by incorporating 3D Earth modeling and inputs of 3D atmospheric data, calculating the sonic boom and tracing it to the ground to generate a moving-map display that shows the aircraft's sonic boom footprint at all times. It also calculates cutoff altitudes and airspeeds to avoid a boom. A pilot can choose from a menu of pre-programmed maneuvers—such as accelerations, turns, or pushovers—and the predicted sonic boom footprint for that maneuver appears on the map display.
Benefits
Works in cockpits and flight control rooms, enabling both in-flight carpet boom predictions and control-room flight planning and analysis

Reduces noise pollution, allowing for appropriate placement of the boom

Provides information in real time, allowing pilots to respond to changes in flight parameters or atmospheric conditions
Applications
Commercial supersonic vehicles

Meeting current and future Federal Aviation Administration requirements
Time History Data Processing for Display and Analysis
Software processes and plots large amounts of data with time-varying values
Innovators at NASA's Armstrong Flight Research Center have developed a suite of software tools that enable powerful and efficient processing of time history data. These tools can be used together or independently, offering a variety of capabilities. Originally developed to process flight test and simulation data, this suite offers a low-cost alternative to traditional data processing and plotting systems.
Processing and plotting large amounts of data can be time-consuming and expensive, particularly for data that specify time-varying values, known as time history data. Armstrong's suite includes three components that manage key operations for time history data: (1) DthData extracts selected signals and time segments from input files and writes the selected data to output files. The software also converts time history files from a compressed format to any format suitable for displaying or plotting. (2) DthDiff compares time history files using a number of user-specified parameters, including precision, absolute, relative, and percent tolerances. (3) QuickPlot is a general-purpose plotting tool that offers a flexible data interface to enable users to read data files in a variety of formats. Commands can also be scripted and read from an input script file.
Benefits
Efficiently processes gigabytes and even terrabytes of data from multiple sources and can read and plot data in a fraction of the time required by conventional alternatives

Can convert data to different formats

Offers a user-friendly graphical interface for command input and data plotting

Works without back-end processing systems, databases, or networks, making it economical
Applications
Flight testing and simulation projects

Manufacturing processes

Scientific research

Earth climate modeling and simulation

Retail transaction and delivery analysis

Economic market modeling
All NASA licenses are individually negotiated with the prospective licensee, and each license contains terms concerning commercialization, license duration, royalties, and periodic reporting. NASA licenses may be exclusive, partially exclusive, or nonexclusive. If your company is interested in these or other Armstrong technologies, visit http://www.nasa.gov/offices/ipp/centers/dfrc.


Glenn
Raman Spectroscopy for Combustion Diagnostics
New method increases signal-to-noise ratio in detection of Raman scattering
Innovators at Glenn Research Center have developed a technology that uses a single charge-coupled device (CCD) sensor to detect Raman scattering from flames, a development that enables more accurate diagnostics of combustion systems such as engines. Measuring changes in chemical composition and temperature in turbulent flames is important for characterizing complex phenomena in most combustion systems, including gas turbine engines, power utility boilers, and internal combustion engines. A given spectrum of Raman scattering—inelastic light scattering from excited molecules—indicates what molecules are present and their state of excitement. Identifying this spectrum is a popular method of examining flames.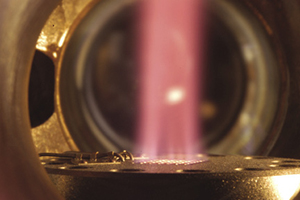 Glenn's new diagnostic technology represents an entirely new method for conducting this sort of spectroscopy and employs two key optical devices: a nanosecond-pulsed laser and a frame-transfer CCD sensor. The technology permits not only faster optical gating but also high optical throughput, resulting in a significant increase in signal-to-noise ratio. It much more effectively isolates Ramen scatter from any interferences or background. It could potentially benefit the development of advanced combustion engines for aerospace, defense, and commercial systems.
Benefits
Enables Raman signal measurements for more accurate combustion diagnostics without image intensifiers or mechanical shutters

Features fast, efficient electronic gating for spectroscopy, with no mechanical moving parts required

Enables Raman spectroscopy resolved for time, space, and polarization with a single sensor and a single collector but without loss in the detection train
Applications
Gas turbine engines

Internal combustion engines

Power utility boilers
Shape Memory Alloys
Compound Metals for Heat-Sensitive Applications
NASA's Glenn Research Center invites companies to partner in investigating applications for shape memory alloys (SMAs). SMAs are materials that can be deformed at low temperature and recover their original shape upon heating. Glenn has been working to develop new alloys that can operate up to around 300 °C, compared to the limit of around 80 °C in commercially available alloys. NASA has also been working on supporting technologies—such as modeling tools, design methodologies, test standards, and material supply chains—that will promote the application of shape memory alloys for adaptive structures and actuators.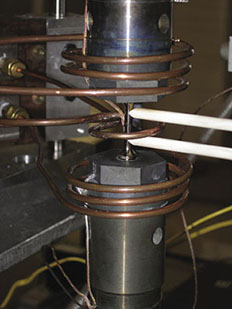 Applications of SMAs have been limited due to their low transformation temperatures. As a result of its work in this field, Glenn has developed expertise, a suite of high work-output SMAs, and design tools for the materials. SMAs can be used in passive, active, or super-elastic design applications. Passive design applications result from the material heating during normal operation and returning to its original form, resulting in an actuation force. Active design applications use the material below its transformation temperature and use supplemental heat to provide an "on-demand" actuation force. Superelastic design applications use the material above its transformation temperature and transform it through stress. SMAs are ideal for high-force, large-stroke, and modest-frequency response operations and can be used to replace larger, costlier actuators such as motors.
Benefits
Provides high force, allowing lightweight, compact actuator designs

Eliminates extraneous systems such as hydraulics, pneumatics, and motors

Allows passive control by responding to temperature changes, eliminating the need for sensors and electronics

Simple, frictionless designs result in less maintenance
Applications
Automotive industry

Aeronautics industry

Aviation industry

Robotics industry
All NASA licenses are individually negotiated with the prospective licensee, and each license contains terms concerning commercialization, license duration, royalties, and periodic reporting. NASA licenses may be exclusive, partially exclusive, or nonexclusive. If your company is interested in these or other Glenn technologies, visit https://technology.grc.nasa.gov.
Goddard
AeroPod Test and Measurement Technology
Aerodynamically stabilized instrument platform for kites and tethered blimps
The AeroPod, created by innovators at Goddard Space Flight Center and now available for licensing, is a passive device that uses aerodynamic forces to stabilize an instrument package suspended from a kite or tethered blimp. It is a low-altitude, remote-sensing craft designed for, but not limited to, agricultural and environmental research purposes.
The AeroPod's design for steadying and damping payloads includes the use of a tail boom and fin combination. The design provides a simple alternative to traditional methods for suspending equipment from kites or blimps, such as the classic "Picavet" pulley-style suspension system for kite flight, because it is lightweight and simple to construct, and it has no moving parts. It is also superior to the traditional, tethered-blimp suspension technique because the AeroPod is free of direct motions of the tether. It can accommodate various instruments, including cameras, weather meters, and pollution sensors, among others.
Benefits
Lightweight and simple to construct, with no moving parts

Useful for a variety of remote-sensing and in-situ observations from low-altitude kites or tethered blimps

Unique features and geometry allow for many different-sized instruments, even bulky ones

Lower cost than other remote-sensing and observation techniques
Applications
Crop monitoring

Observing and documenting forest canopy and cover

Wetland studies

Archeological and geological mapping

Urban pattern mapping
Molecular Adsorber Coating
Capturing outgassed volatiles using a simple spray coating
Many materials contain gases trapped on or within the surface that escape over time, a process known as outgassing. To address outgassing, NASA has historically used zeolite-based molecular adsorbers­—adsorption being the adhesion of atoms, ions, or molecules to a surface—in spacecraft and instruments to trap molecules outgassed from potting compounds, epoxies, lubricants, and other spacecraft materials, protecting contamination-sensitive surfaces. Uncontrolled molecular contamination can degrade a wide variety of systems.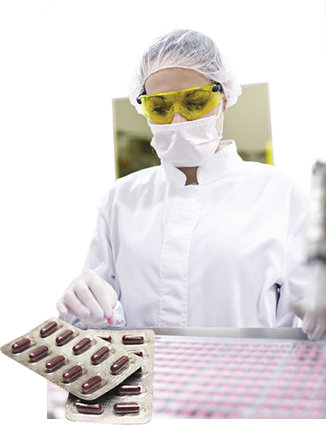 As an alternative to previously flown, complex adsorber puck systems, Goddard Space Flight Center has developed a set of molecular adsorber coatings (MAC). MAC is a zeolite-based coating that traps molecules in its microscopically porous structure. It provides a large surface area-to-mass ratio that maximizes trapping efficiency, and it works in air as well as vacuum systems. The sprayable coatings eliminate the weight, size, and hardware needs of puck-type adsorbers, resulting in savings in cost and mass. They are easier to use and provide for a greater adsorber surface area, more flexibility, and higher efficiency.
Potential ground-based spinoffs include applications where contaminants and volatiles need to be collected and contained.
Benefits
Five times better adsorption than other coating slurries

Coats virtually any surface

Based on inexpensive, commercially available chemicals, MAC can easily be applied with simple, water-based spray techniques
Applications
Pharmaceutical production

Food industry

Electronics manufacturing

Laser manufacturing

Vacuum systems

Chemical processing

General gas and water adsorption
All NASA licenses are individually negotiated with the prospective licensee, and each license contains terms concerning commercialization, license duration, royalties, and periodic reporting. NASA licenses may be exclusive, partially exclusive, or nonexclusive. If your company is interested in these or other Goddard technologies, visit http://techtransfer.gsfc.nasa.gov.


Johnson
Flash Infrared Thermography Software
Imager accurately measures defects in surfaces, subsurfaces
Researchers at Johnson Space Center have developed an effective, cost-efficient, infrared flash thermography software program capable of detecting anomalies such as voids, cracks, and delamination in composite and metallic structures. This software accurately measures flaw depth, width, and diameter.
In infrared thermography, a pulse of infrared light is directed onto a material, and the reflection generates an infrared image. If a defect is present in the subsurface of the material, heat directed at the front surface is impeded relative to the surrounding regions, and variations in the material show up as anomalies in the image. This analysis uses the evolution of measured pixel intensity over time and compares it with a calibrated empirical simulation to evaluate anomaly depth and size.
Currently available commercial thermography software does not distinguish between image contrast and temperature contrast and therefore provides less accurate characterization of defects. And because this software normalizes data, it provides more stable measurements and greatly minimizes errors due to operator variability.
Benefits
Provides detailed characterization of a flaw's shape, size, depth, and location

Provides objective, repeatable numerical measurements of subsurface anomalies

Normalizes data, which reduces errors due to operator and equipment variability

Can be used to analyze composite or metallic materials and flat or curved surfaces

Can be incorporated easily and inexpensively into existing equipment
Applications
Aerospace: aircraft wings and propeller blades

Power generation: turbine blades and pipelines

Manufacturing: welds, adhesive joints, and semiconductors

Chemical and petrochemical industries

Infrared camera manufacturers
Portable Communications Signal Booster
Fresnel ring in fabric can configure as umbrella, window shade
Innovators at Johnson Space Center have invented a portable communications signal booster that is currently available for licensing. Originally designed to improve communications for lunar missions, this lightweight, portable device can boost incoming signals to improve local reception for cell phones, laptops, and satellite and wi-fi receivers without power plugs, cables, or batteries. The signal booster can be configured as an umbrella or window shade for easy deployment and compact storage. It has the flexibility to be designed in different shapes and sizes to offer variations in booster strength and degree of directional focus.
This innovation integrates the classic "Fresnel ring" model into a conductive fabric structure. The result is an ultralight, deployable device that acts as a lens to significantly enhance the realizable gain of an antenna. The Fresnel ring is shaped to cancel specific phases of the signal. This makes more desirable parts of the signal more prominent. A round, medium-sized unit could expect to increase signal gain in all directions by about 7 decibels. A larger, elliptical-shaped unit could expect to increase signal gain in a focused direction by up to 15 decibels.
Benefits
Creates a 7-15 decibel gain increase

Requires no physical connection to wireless devices, no power plugs or batteries

Compact, portable, and lightweight

Easy to set up, easy to store

Simple, low-cost manufacturing
Applications
Military

Remote industrial

Logistics

Home and work

Field work

Travel

Emergency and rescue
All NASA licenses are individually negotiated with the prospective licensee, and each license contains terms concerning commercialization, license duration, royalties, and periodic reporting. NASA licenses may be exclusive, partially exclusive, or nonexclusive. If your company is interested in these or other Johnson technologies, visit http://technology.jsc.nasa.gov..


+ Back to Top


Kennedy
Redeployable Polymer Blanket for PCB Removal
Onite remediation of PCB-contaminated sediment
Scientists at Kennedy Space Center have developed a novel method for the onsite removal of polychlorinated biphenyls (PCBs) from sediment systems, and the center is offering licensing or partnering opportunities in the development and commercialization of this technology. PCB is a synthetic organic compound, once widely used in industry but now classified as a pollutant. Current methods for removing PCBs from sediments, however, are severely limited.
The invention is designed to be deployed in rectangular segments that can be hooked together to form a blanket. The bottom of a segment is molded from polymer and contains hollow, star-shaped spikes, to which metal tips can be added to help penetrate the sediment, into which the blanket is inserted. The top of the segment has a hermetically sealed opening through which an environmentally friendly solvent, such as ethanol, is introduced. The blanket's spikes attract PCBs through the polymer into the solvent until equilibrium is achieved. The blanket is then removed from the sediment, and the now PCB-laden solvent is drained. The solvent is then treated using a derivative of a NASA-patented PCB treatment technology—the activated metal treatment system—to break down the PCBs into benign by-products. The blanket can then be decontaminated, refilled with fresh solvent, and deployed again.
Benefits
Low cost

Contaminants cannot be reintroduced into the water table

Eliminates PCBs rather than containing or relocating them
Applications
Cleanup of PCB-contaminated sediment

Conformance with Environmental Protection Agency regulations
Smart Coating for Corrosion Detection and Protection
Formulated particles detect corrosion and stop it
Kennedy Space Center seeks partners interested in the commercial application of smart coating for corrosion detection and protection. Researchers at Kennedy have developed a smart, environmentally friendly coating system for early detection and inhibition of corrosion and self-healing of mechanical damage without external intervention. This coating will have the inherent ability to detect the onset of corrosion in the coated object and respond autonomously to control it.
The high salt content, sunlight, heat, and humidity of Kennedy's environment makes it the country's most corrosive area, according to the American Society of Metals. These conditions are exacerbated at the center's launch pads by extreme heat and acidic exhaust from the solid rocket motors of space vehicles.
The smart coating is based on the controlled release of corrosion inhibitors and indicators from specially formulated microcapsules and particles. The corrosion-responsive microcapsules detect the chemical changes that occur when corrosion begins and respond by releasing their contents. A corrosion indicator will identify the affected region with a color change, and healing agents and corrosion inhibitors help mitigate the corrosion. The microcapsules can be tailored for incorporation into different coating systems.
Benefits
Autonomous, early corrosion detection and protection

Environmentally friendly

Self-healing of mechanical damage

Reduces inspection times and repair work

Improves safety by preventing failures due to corrosion
Applications
Bridges

Automobiles

Ships

Pipes and other infrastructure

Machinery

Airplanes
All NASA licenses are individually negotiated with the prospective licensee, and each license contains terms concerning commercialization, license duration, royalties, and periodic reporting. NASA licenses may be exclusive, partially exclusive, or nonexclusive. If your company is interested in these or other Kennedy technologies, visit http://technology.ksc.nasa.gov.


Langley
Particle Contamination Mitigation Methods
Surface properties resist dust, water
Researchers at Langley Research Center have developed methods for particle contamination mitigation, originally intended for use during exploration missions to destinations such as the moon, Mars, and asteroids. During past missions, lunar dust caused an array of issues, including compromised seals, clogged filters, and abraded visors and spacesuit surfaces. Lunar dust was also a significant health concern. Langley's methods for particle contamination mitigation include both controlled chemical and topographical modifications. These methods offer a wealth of applications and commercial opportunities. The technologies include films, coatings, and surface treatments with antifouling, dust resistance, hydrophobic, super-hydrophic, low adhesion/friction, and self-cleaning characteristics.
NASA's two novel methods include both controlled chemical and topographical modifications—and they can be used individually or in combination to create superhydrophobic surfaces. First is a polyimide coating with added oxetane reactant containing fluorine, which provides a unique surface chemistry that mitigates particle adhesion and fouling. The second is a method that uses lasers to create nanoscale patterns in the surface of the material in such a way that it increases the surfaces hydrophobicity. The method is fast and single-step; it is scalable, requires no chemicals, and can be applied to a variety of materials.
Benefits
Antifouling

Dust-resistant

Hydrophobic to superhydrophobic

Low adhesion/friction

Self-cleaning
Applications
Biological templating

Biomedical devices

Corrosion and stain resistance

Drag reduction

Reduced ice and water adhesion

Reduced insect adhesion on aircraft and automobiles

Marine antifouling coatings

Microfluidics

Self-cleaning of many kinds of surfaces

Sensors

Surface-specific chemical sensing
Compact Active Vibration Control System
Point sensor and piezoelectric actuator reduce vibration in flexible structures
Langley Research Center has developed a point sensor and piezoelectric actuator system to sense and actively reduce vibrations in flexible structures. Piezoelectric material generates vibration in response to an electrical field, and it also generates electricity when mechanical pressure is applied. Miniature accelerometers in the system sense vibration in the structure and feed signals to control circuits that amplify the signal. Interlocking electrodes in the actuator apply a charge across the piezoelectric material, causing compressive stress contrary to the vibration of the structure.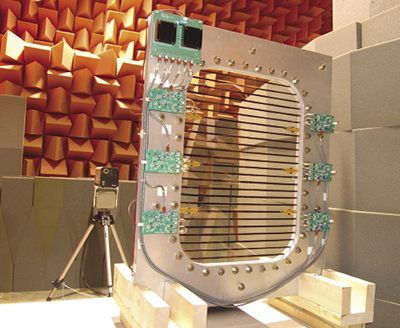 The size and placement of the actuator can be optimized to allow for a broad operating bandwidth or can be focused on a more narrow range of problem frequencies. It is effective at frequencies ranging from 500 to 3,000 hertz. The system's compact, lightweight design features a Macro Fiber Composite actuator weighing less than half a gram, made possible by a technology developed at Langley and licensed to Smart Material Corporation in 2002. The compact design allows for the actuator to be mounted on a surface or incorporated within the structure.
Benefits
Compact, lightweight design

Simple, 28-volt electronics

Effective operation over a broad frequency range

Improved actuator geometry and design offers precise coupling with vibrating structure and better control, especially at high frequencies

Versatile sensor and actuator array can be located anywhere on the flexible structure
Applications
Reduce vibration and noise in commercial helicopters or airplanes

Stabilize large, flexible space structures

Reduce noise radiation from vibrating panels during manufacturing

Stabilize optical components or other sensitive machinery in electronics
All NASA licenses are individually negotiated with the prospective licensee, and each license contains terms concerning commercialization, license duration, royalties, and periodic reporting. NASA licenses may be exclusive, partially exclusive, or nonexclusive. If your company is interested in these or other Langley technologies, visit http://technologygateway.nasa.gov.


Marshall
NASA-427 Aluminum Alloy
New metal has improved toughness, speeds heat treatment
Researchers at Marshall Space Flight Center have developed a new, stronger aluminum alloy, ideal for cast aluminum products that have powder or paint-baked thermal coatings. The NASA-427 alloy shows greater tensile strength and increased ability to bend without breaking, providing substantial improvement in impact toughness. This alloy also improves the thermal coating process by decreasing the time required for heat treatment. With improvements in both strength and processing time, the alloy allows for reduced materials and production costs, lower product weight, and better product performance. The superior properties of the alloy can benefit many industries, including automotive, where it is particularly well-suited for use in aluminum wheels.

This technology uses precise chemistry to improve the mechanical properties of cast aluminum products. It also offers improved corrosion resistance, meeting or exceeding the performance of A356-T6 alloy, as well as offering significant cost savings over forging 6061-T6 alloy when elongation is less than 7 percent. Because of its superior tensile strength, coupled with significant process improvements, NASA-427 yields energy and cost savings for both the manufacturer of cast aluminum components and the end-user.
Benefits
Improvements in tensile strength and ductility result in high-impact toughness

Lightweight, as a stronger alloy means less aluminum is required

Reduced materials cost

Energy efficient, due to shorter processing time

Meets or exceeds the corrosion resistance of other commonly used alloys
Applications
Aluminum wheels

Control arms

Steering knuckles

Brake calipers

Automotive cross members

Differential carriers
Fluid Structure Coupling Technology
Uses existing liquid stores to reduce vibrations in large structures
Marshall Space Flight Center's Fluid Structure Coupling (FSC) technology is an efficient, passive method to control the way fluids and structures communicate and dictate the behavior of a system. An FSC device developed at Marshall and weighing less than 200 pounds has successfully mitigated a potentially detrimental resonant response of a 650,000-pound structure. This technology has the demonstrated ability to mitigate various types of vibration issues and can be applied anywhere where internal or external fluids interact with physical structures. For example, in a multistory building, water from a rooftop tank or swimming pool could be used to mitigate seismic or wind-induced vibration by simply adding an FSC device that controls the way the building engages the water.
FSC is a passive technology that can operate in different modes to control vibration. In harmonic absorber mode, the fluid can be leveraged to act like a classic harmonic absorber to control low-frequency vibrations. Alternately, the device can couple itself into the shell mode and act as an additional spring in the series, making the entire system appear dynamically softer and reducing the frequency. In tuned mass damper mode, a small modification allows the device to act like an optimized, classic, tuned mass damper, enabling the primary structure to take unmitigated system response on the damping characteristics of the FSC device.
Benefits
Passive device

Minimized size and weight by leveraging existing fluids

Inexpensive and easy to retrofit to existing fluid systems

Reduced complexity, with control achieved with a single fluid source

Highly efficient
Applications
Multistory buildings, stacks, towers, bridges, pools for spent nuclear fuel

Offshore oil rigs, above-ground oil storage tanks

Water tanks and towers

Control of vibration from wet wings and sloshing fuel in aircraft

Stabilization of marine vessels or platforms
All NASA licenses are individually negotiated with the prospective licensee, and each license contains terms concerning commercialization, license duration, royalties, and periodic reporting. NASA licenses may be exclusive, partially exclusive, or nonexclusive. If your company is interested in these or other Marshall technologies, visit http://techtran.msfc.nasa.gov.


+ Back to Top
Stennis
Cryogenic Butterfly Cam Valve
No-leak valve performs in broad range of temperatures
Stennis Space Center is looking for partners interested in the commercial application of the Cryogenic Butterfly Cam Valve created by the center's scientists. The main disadvantage of currently available butterfly valves is that more energy can't be added to reduce leakage, as with globe valves. The disc has to create a tight seal with the seat around it exactly when the disc hits 90 degrees. If additional torque is added, the disc will just rotate past 90 degrees, and the valve will open again, allowing fluid or gas to flow through the valve. Typical butterfly valves also fail leakage tests in liquid nitrogen.
The Cryogenic Butterfly Cam Valve design allows additional rotation of the shaft so the disc can slide toward the valve body until it seals tightly. This high-performance design enables a bubble-tight seal at both ambient and cryogenic temperatures, allowing it to prevent leakage no matter how drastic the dimensional changes are due to changing temperatures.
Benefits
Improves performance over a wide range of temperatures

Disc can rotate and translate

Holds a bubble-tight seal regardless of dimensional changes due to changing temperatures

Zero leakage

Simple design with larger machining tolerances
Applications
Aerospace industry

Liquefied natural glass industries

Air-gas separation industries

Cryogenic plants

Food hydrogenation
Wireless Health-Monitoring Sensor
Low-energy, low-maintenance monitoring of valves, structures, and more
Researchers at Stennis Space Center have created a monitoring system that includes at least one smart sensor unit in wireless, one-way communication with a base station. The sensor lies dormant until it receives a voltage trigger from a vibration-sensitive switch, which consumes no stored power from the battery. When activated, the sensor takes a measurement, transmits the data to the base station, and then returns to its dormant state. The measurement is recorded and time-stamped. Units are optimized for low power consumption and extended operational durations without maintenance.
This system, which is available for licensing, was designed for monitoring ball valves used in rocket propulsion testing to more accurately predict valve lifespan and premature failure, but it can be used to monitor conditions on a variety of structures. Types of data collected include cryogenic cycles, total cycles, inlet and outlet temperature, body temperature, torsional strain, linear bonnet strain, preload position, total travel, and total directional changes. Data is organized into a text file and stored in a compact flash memory card for database upload.
Benefits
Sensor units are compact, encapsulated in a small package

Data is time-stamped for synchronization to within one millisecond, enabling alignment with events on other systems

Designed for an explosive environment and monitored to safeguard against outside temperature limits

Can include a solar panel for reducing or eliminating battery drain

Establishes connectivity only when necessary, eliminating the need for continually powering a receiver

Targets data events associated with degraded performance and failure, reducing amounts of data accumulation
Applications
Automotive industry

Cryogenics

Petroleum industry

Chemical industry
All NASA licenses are individually negotiated with the prospective licensee, and each license contains terms concerning commercialization, license duration, royalties, and periodic reporting. NASA licenses may be exclusive, partially exclusive, or nonexclusive. If your company is interested in these or other Stennis technologies, visit http://www.nasa.gov/centers/stennis/ssc-partnerships/#.VLa98mMkR8E.


JPL
Automated Scheduling and Planning Environment
Artificial intelligence powers framework for scheduling and planning applications
The Artificial Intelligence Group at the Jet Propulsion Laboratory has been working on a system called Automated Scheduling and Planning Environment (ASPEN). Based on artificial intelligence techniques, ASPEN is a modular, reconfigurable application framework capable of supporting a wide variety of planning and scheduling applications. ASPEN provides a set of reusable software components that implement the elements commonly found in complex planning/scheduling systems, including an expressive modeling language, a resource management system, a temporal reasoning system, and a graphical interface.
Automated planning/scheduling technologies have great promise in reducing operations costs and increasing the autonomy of systems in aerospace and other industries. By automating the sequence-generation process and by encapsulating operation-specific knowledge, we hope to allow procedures such as command of a spacecraft by non-operations personnel.
Benefits
Modeling language that requires no user knowledge in the areas of computer programming, planning, or scheduling

Generic architecture allows users to choose from several search engines and propagation algorithms to optimize the planning process

Allows re-planning during plan execution, enabling continuous real-time planning for embedded applications

Plans can be optimized for a specific set of goals, such as maximizing science data or minimizing power consumption
Applications
Make-to-order manufacturing

Capital-intensive production with constrained plant capacity

Production in facilities where many different products are manufactured

Products requiring a high number of components or tasks

Production requiring frequent, unpredictable schedule changes
Ultrasonic, Percussive Drill
Drilling with low power, low noise
Engineers at the Jet Propulsion Laboratory have developed the technology for drills that operate in the ultrasonic range and incorporate an augmenter that puts the drilling capacity of large, heavy rotary drills into smaller, rotary hammering drills. These drills require low torque power and, by operating at ultrasonic frequencies, reduce noise. They are based on technology developed to enable sampling in low-gravity and extreme environments.
Generally, hammering fractures media, while rotation of fluted bits removes cuttings. To benefit from these two actions, a novel configuration of the percussive mechanism was developed to produce an augmenter of rotary drills. The drills are driven by piezoelectric-actuated percussive mechanisms that can be operated using low average power. They were demonstrated to penetrate rocks as hard as basalt, and one design was made as light as 400 grams. Piezoelectric actuators have only two moving parts and no gears or motors. The drill can be adapted easily to operations in a range of temperatures, from extremely cold to very hot.
Benefits
Noise reduction

Low average power requirement

Compact and lightweight
Applications
Construction industry

Shallow mining

Demolition

Medical applications, such as extracting pacemaker leads, drilling bone, and ablating gallbladder and kidney stones
The Jet Propulsion Laboratory is a Federally Funded Research and Development Center run under contract for NASA by the California Institute of Technology. If your company is interested in these or other Jet Propulsion Laboratory technologies, visit http://scienceandtechnology.jpl.nasa.gov/opportunities.