Double Honor for Dawn Mission
NASA's Dawn project team recently earned two prestigious awards, honoring its successful mission to giant asteroid Vesta and dwarf planet Ceres.
The first award, the National Aeronautic Association Robert J. Collier Trop
hy, is presented annually "for the greatest achievement in aeronautics or astronautics in America, with respect to improving the performance, efficiency, and safety of air or space vehicles, the value of which has been thoroughly demonstrated by actual use during the preceding year." The Dawn project team will be added to the list of more than a century of recipients engraved on the eight-foot-tall trophy at the Smithsonian National Air and Space Museum in Washington.
The team was also honored with the National Space Club and Foundation's Nelson P. Jackson Award, presented annually for "a significant contribution to the missile, aircraft, or space field."
"We are grateful for this tremendous honor, recognizing the hard work, determination, and unwavering commitment of this team to achieve mission success and advance the spirit of exploration," said Robert Mase, Dawn project manager at the Jet Propulsion Laboratory.
The spacecraft is currently orbiting Ceres, where it will remain after its primary mission ends.
Engineer Honored for Curiosity's Innovative Mars Landing
Adam Steltzner, who helped pioneer the breakthrough technique for landing a one-ton rover on Mars, was honored with admission into the National Academy of Engineering.
Election to the academy is among the highest professional distinctions for an engineer. Academy membership honors those who have made outstanding contributions to "engineering research, practice, or education" and to "the pioneering of new and developing fields of technology, making major advancements in traditional fields of engineering, or developing/implementing innovative approaches to engineering education."
Steltzner, an engineer at the Jet Propulsion Laboratory (JPL), was involved in the design of and led the team that developed Curiosity's entry, descent, and landing system, which included the innovative sky crane landing system that placed the rover on Mars in August 2012.
The technology will also be used to land the Mars 2020 rover.
Also elected into the National Academy of Engineering was Paul Dimotakis, who served as JPL's chief technologist from 2006–2011. He was recognized for his contributions to the fluid mechanics of jet propulsion and other processes involving turbulence, mixing, and transport.
SMAP Mission Recognized for Pioneering Cooperation Model
A mission using a NASA satellite to provide daily soil moisture measurements from around the world was recognized for its pioneering inter-agency cooperation efforts, earning a 2016 Federal Laboratory Consortium for Technology Transfer award.
Data from the NASA Soil Moisture Active Passive (SMAP) satellite is used by dozens of Federal agencies to assess and monitor hydrologic phenomena.
U.S. Department of Agriculture (USDA) and NASA scientists worked from the start to engage SMAP end users and to build a broad user base for SMAP applications.
USDA scientists served on the SMAP Science Team and provided leadership to the SMAP Applications Working Group, using their knowledge of agricultural stakeholder needs to anticipate how the SMAP data might be useful. NASA scientists, for the first time, provided simulated data through a user-friendly portal so users had the opportunity to conduct simulated applied research and build prototypes.
This combination of respective agency expertise, facilities, and commitment enabled an unprecedented transfer of SMAP technology to users and critical feedback to the mission to improve product specifications and distribution of applications.
This was a first-time, one-of-a-kind program that has since been implemented in every NASA Earth Observation mission since SMAP.
FLC Celebrates NASA Tech Transfer
The Federal Laboratory Consortium for Technology Transfer honored two of NASA's field centers, Armstrong Flight Research Center and the Jet Propulsion Laboratory, with three Outstanding Technology Development awards in 2015, recognizing their efforts to move Federal technologies out of the labs and into the marketplace.
Armstrong's Collision Avoidance System
Researchers at NASA's Armstrong Flight Research Center have dramatically improved existing ground collision avoidance technology for aircraft.
Some 100 people die each year in the United States alone from aircraft accidentally flying into the ground, a mountain, a body of water, or another obstacle.
Warning systems have virtually eliminated the problem for large commercial air carriers, but not as much for fighter aircraft, helicopters, and general aviation.
NASA's improved ground collision avoidance system (iGCAS) leverages leading-edge fighter safety technology, adapting it to civil aviation use as an advanced warning system. The algorithms in Armstrong's technology also have been incorporated into an app for tablets and other mobile devices that can be used by pilots in the cockpit, enabling significantly safer general aviation.
Armstrong's Auto-Tracking Antenna
An innovative, low-cost antenna-mounting platform, developed at Armstrong Flight Research Center, addresses an unmet need in the unmanned aerial vehicle (UAV) market.
Capable of aiming four or more interchangeable antennas of any type, this unique, continuously rotating platform is portable and can position and hold nearly 60 pounds of antennas and radios at its full rated speed.
It is ideal for use with any moving system needing to transmit large quantities of data over one or more radio frequency links. Possibilities include maintaining data links with UAVs and other aircraft used for academic and government research as well as communicating with marine ships in line of sight and tracking satellites in low-Earth orbit.
JPL's Mini 3D Camera for Brain Surgery
A tiny camera that could produce 3D images from inside the brain would help surgeons see more intricacies of the tissue they are handling and lead to faster, safer procedures.
An endoscope with such a camera is being developed at the Jet Propulsion Laboratory (JPL) for the Skull Base Institute, which has licensed the technology from the California Institute of Technology, which manages JPL for NASA.
Researchers have demonstrated a laboratory prototype of MARVEL, which stands for Multi-Angle Rear-Viewing Endoscopic Tool; the next step is a clinical prototype that meets the requirements of the U.S. Food and Drug Administration.
Nanotubes and Leak Detection Tape Receive Top NASA Honors
The two winners of NASA's Invention of the Year Award for 2016 were a technology to produce high-quality boron nitride nanotubes, which form a highly heat-resistant material, and a tape that allows the simple and accurate identification of dangerous hydrogen leaks.
The first boron nitride nanotubes (BNNTs) were synthesized in 1994, but they were difficult to make on a larger scale. Langley Research Center's breakthrough discovery is the first to produce high-quality BNNTs without any catalyst at a scalable amount.
The BNNTs produced from this process are lightweight, stable, and strong. This heat-resistant material can be used at high service temperatures and for radiation shielding. The patents have been licensed by BNNT LLC, which has continued to improve production efficiency.
Kennedy Space Center's hydrogen leak detection tape—officially, Hydrogen Sensing Pigments in Manufactured Polymer Composites—is a chemochromic sensor for detecting hydrogen, a combustible gas.
This low-cost tape can be used in many commercial and government applications, such as in aerospace, oil and gas production, chemical and power plants, and other industries. It is licensed to HySense Technology LLC, which sells the product as Intellipigment tape.
Both commercial products were featured in Spinoff 2016.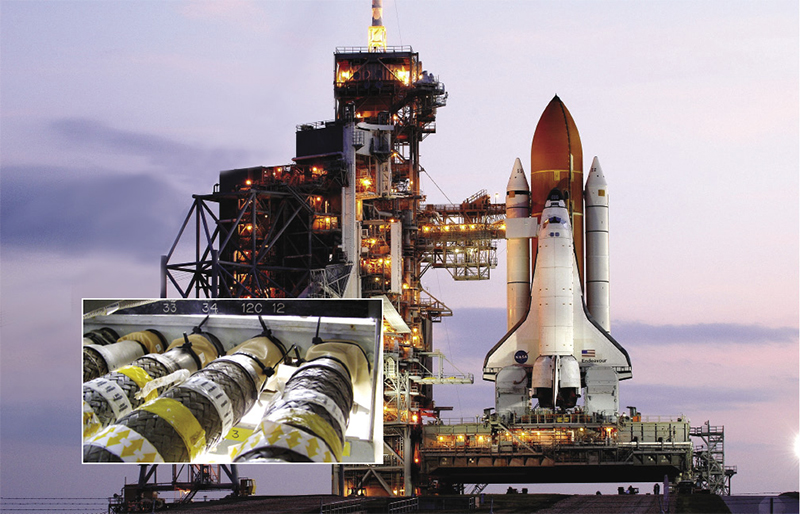 A tape that changes color in the presence of hydrogen was developed at Kennedy Space Center, where it was used to monitor pipelines of rocket fuel to locate leaks prior to Shuttle launches. Today, the tape has been commercialized and is sold to many aerospace, oil and gas, chemical, and power companies.
New Antenna Approach Gets Top R&D Honor
A new approach to manufacturing antennas, developed at Glenn Research Center and which could have a huge impact on Earth and space communications, earned an R&D 100 Award as one of the top technology products of the year.
The winning team was honored in the IT and Electrical category for a revolutionary polyimide aerogel-based antenna that is significantly lighter and longer-range than previous antennas.
On Earth, aerogel antennas can increase safety in collision avoidance systems for cars. In air and space platforms, aerogel-based antennas will free up space and reduce weight from antennas aboard aircraft, satellites, or spacecraft.
The lightweight, powerful antennas could also be used for biomedical applications, such as wearable antennas, and in radio frequency identification tags in the retail industry (Go To).
NASA researchers contributing to this revolutionary technology include Mary Ann Meador and Felix Miranda, along with team members Nicholas Varaljay, Carl Mueller (formerly of Vencore), Frederick Van Keuls (Vantage Partners), and Baochau Nguyen (Ohio Aerospace Institute).
Another Glenn team was a finalist in the Analytical and Test category for work on a supercooled liquid water content sensor for radiosondes. The lightweight, inexpensive sensors are the only technology for measuring icing conditions in the atmosphere with weather balloons instead of instrumented aircraft (Go To).
The NASA radiosonde sensor team includes Michael King, Andrew Reehorst, and John Bognar (Anasphere Inc.).
Energy-Harvesting Device Wins Industry Award
A technology developed by Langley Research Center to harvest energy from the vibrations of a piezoelectric device won an award for Best Technical Development within Energy and Harvesting at the 2015 IDTechEx Show.
The technology, called a multistage force amplification piezoelectric energy harvester, dramatically increases the amount of power captured from a piezoelectric device, from milliwatts to watts. The increase means that, for example, vibrations in a car's dashboard could produce enough power to light up one of the vehicle's instrument panels.
The technology was developed in collaboration with the National Institute of Aerospace, Virginia Polytechnic Institute and State University, and North Carolina State University.
Space Technology Hall of Fame Inducts Two NASA Spinoffs
Two technologies with origins at NASA, now saving lives on Earth, are the Space Technology Hall of Fame's newest inductees. Established in 1988 by the Space Foundation, the hall of fame aims to increase public awareness of the benefits that result from space exploration programs and to encourage further innovation.
Huge Advance for Heart Irregularities
Medtronic's revolutionary insulation for treating heart irregularities was developed by a NASA Langley Research Center engineer researching new materials for lightweight rocket bodies. Robert Bryant noticed that an experimental polymer that should have turned into a powder instead remained soluble.
Bryant developed what is now known as LaRC-SI, a durable thermoplastic readily fabricated in very thin form that it is biologically nonreactive and solvent- resistant.
Convinced of the enormous benefits of this new material, Medtronic spent more than 10 years and tens of millions of dollars to secure approval from the U.S. Food and Drug Administration (Spinoff 2008).
The thinner, more flexible material allowed surgeons to get electrical impulses into areas previously too difficult to reach, and it was more resilient, reducing lead failure over time. The new material has saved lives and improved quality of life for thousands.
A High-Tech Divining Rod
Alain Gachet founded Radar Technologies International (RTI) in 1999 to use satellite-generated remote sensing data to locate precious metals, but he discovered he could use the same data to find water underground.
Gachet created the WATEX system, using NASA's Shuttle Radar Topography Mission, NASA's Spaceborne Imaging Radar, and the joint NASA and U.S. Geological Survey's Landsat program to pinpoint promising spots to drill new wells.
"Discovering a little water brings war, but discovering a lot of water can bring peace, because everyone can share it."
— Alain Gachet, Radar Technologies International
The first significant success came in 2004 during the Darfur crisis in western Sudan, which forced some 250,000 people into refugee camps. The United Nations High Commissioner for Refugees contacted RTI, and over the next four months, RTI located enough water to sustain the camp.
Prior to RTI's involvement, aid groups responsible for locating water sources had a success rate of around 33 percent. Using WATEX, success soared to 98 percent.
Later, Gachet uncovered an unprecedented 66 trillion gallons of water in two aquifers underneath one of the world's most destitute regions, Turkana County in northern Kenya (Spinoff 2015). The discovery has the potential to improve millions of lives for generations to come.
Tech Briefs' Create the Future Design Contest Honors Five Field Centers
For more than a decade, NASA Tech Briefs magazine has aimed to stimulate and reward engineering innovation with its Create the Future Design Contest. In the most recent judging, NASA entries won top honors in four of the seven categories, and another entry was chosen as part of the top 100.
Langley's Compact Long-Reach Robotic Arm
Arobotic arm with lightweight joints that provide a long reach and wide range of motion, developed by Langley Research Center, won in the machinery, automation, and robotics category.
The arm, ideal for use in aquatic environments or for manipulation of light terrestrial loads, consists of articulating booms connected by antagonistic cable tension elements. Current efforts are focusing on a prototype and a subsystem to test the unique robotic architecture.
Inventors have developed an algorithm to scale the arm based on tip load, reach, and tip deflection inputs for any given application.
Kennedy's Smart Coating for Corrosion
The automotive and transportation category win went to Kennedy Space Center's smart, environmentally friendly coating system for early detection and inhibition of corrosion.
The coating detects corrosion in its early stages, inhibits it, and, if necessary, repairs itself. The smart coating is based on the controlled release of corrosion inhibitors and indicators from specially formulated microcapsules and particles pioneered by NASA.
Armstrong's High-Speed Fiber Optic Sensing
Armstrong Flight Research Center's fiber optic sensing system (FOSS), a major breakthrough in high-speed operational monitoring and sensing, won in the electronics category. The system delivers measurements in the most demanding environments confronted by aerospace, automotive, and energy sectors.
The system offers unprecedented density, with each of the eight 40-foot hair-like optical fibers providing up to 2,000 data points. All sensors can gather up to 100 samples per second, with several dozen able to gather up to 35,000 samples per second.
Also earning an honorable mention for Armstrong, in the aerospace and defense category, was the center's aircraft collision prevention system, which could prevent some 100 deaths each year in the United States among general aviators.


JPL's Cheaper, More Efficient Methanol Fuel Cell
The Jet Propulsion Laboratory has developed a next-generation, direct-feed fuel cell that is cleaner, cheaper, and more efficient than existing fuel cells, earning an honorable mention in the electronics category.
Methanol fuel cells use an oxidation and reduction reaction to generate electrical power without polluting the air or burning nonrenewable fossil fuels.
This fuel cell is ideal for vehicles and other portable applications, because it permits the use of high-performance alternative fuels that can be stored and transported with ease.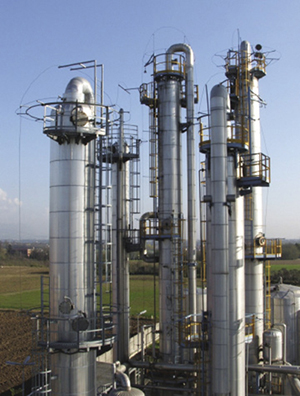 Wireless sensors developed at Stennis Space Center, originally designed to monitor rocket testing, can be used on a variety of structures to measure strain, temperatures, position, direction, and more.
Stennis' Low-Power, Efficient System for Intermittent Monitoring
Also chosen among the top 100 entries was a system from Stennis Space Center that can be used for long-term monitoring of events, such as the temperature in a particular location in a building or the strain at a specific point on a bridge.
The system includes a base station and at least one sensor unit, which lies dormant until it receives a voltage trigger. When activated, the sensor takes a measurement, transmits the data to the base station, and then returns to its dormant state.
Kennedy Engineer Earns Spot in Florida Inventors Hall of Fame
Jacqueline Quinn, an environmental engineer at Kennedy Space Center and the inventor of NASA's most licensed and recognized technology for groundwater remediation, was honored with a spot in Florida's Inventors Hall of Fame.
The hall of fame honors and celebrates inventors whose achievements have advanced the quality of life for Floridians and the Nation.
Quinn's groundwater remediation method, called Emulsified Zero Valent Iron (EZVI), is an award-winning, cost-competitive, environmentally safe method to remove contaminants from groundwater and has been successfully used across Florida, Arkansas, Tennessee, and North Carolina (Spinoff 2005, 2010).
She also created two methods, called AMTS and SPEARS, to remove cancer-causing PCBs (polychlorinated biphenyls) from materials, soils, and sediments.
In all, Quinn holds 12 U.S. patents, and her technologies have been licensed by companies throughout the United States and internationally.


NASA Honors Ames and Johnson with Software of the Year Awards
Two projects shared the top prize in NASA's most recent Software of the Year competition, Ames Research Center's NEQAIR, which calculates radiation, and Johnson Space Center's navigation and control software for the Orion spacecraft.
Each of NASA's 10 field centers nominated a technology representing the best software from their respective centers. "The final decisions were difficult to reach as the nominations were all outstanding," the Inventions and Contributions Board said in a release announcing the results.
NEQAIR, or Nonequilibrium Air Radiation, which has been NASA's main radiation code for the last 30 years, was upgraded in 2013 and 2014, both in physics and computational efficiency. Its accurate prediction of radiative heat flux allows for efficient design of heat shields with minimal mass, allowing missions to carry heavier payloads and experiments while assuring the astronauts and robotic landers will be safely shielded.
The Orion Crew Exploration Vehicle's onboard Guidance, Navigation, and Control flight software was developed to a class-A, human-spaceflight-ready standard. The technology uses a MATLAB/Simulink tool suite to embrace a model-based development approach.
Two additional software programs, the Data Optimization via Genetic Ordering System developed at the Jet Propulsion Laboratory and Airborne Doppler Wind Lidar Post Data Processing Software from Langley Research Center, were also honored as runners-up.


Greener Cleaner Wins GreenGov Presidential Award
An innovation in precision cleaning methods that avoids environmentally damaging solvents was honored with the GreenGov Presidential Award.
GreenGov Presidential Awards honor Federal teams, programs, or projects that exemplify President Barack Obama's call for a clean-energy economy. Principal investigators Kathleen Loftin and Paul Hintze received the award on behalf of Kennedy Space Center's Chemistry Team at the White House.
The team developed two different processes that can clean space hardware components without any liquid solvents.
The supercritical fluid extraction method uses carbon dioxide, compressing and heating it to the point at which it becomes a supercritical fluid, which has properties of both liquids and gas and acts like a chemical compound.
In the plasma cleaning method, the part to be cleaned is placed inside a chamber of air. When subjected to high energy levels, the gas converts to a plasma, which reacts to the part's surfaces and knocks away contaminants and other impurities.
"Our belief is that if you can do something in the right way, and in a sustainable way, you can save money and help the environment," Loftin said.