Deep Mind Learning
Scientists at Ames Research Center and the Mayo Clinic have developed the first implantable sensor for monitoring neurochemicals in the brain in real time, something that could one day help monitor astronauts' bone, muscle, and heart health on long space missions—as well as help treat Parkinson's disease on Earth.
The sensor, made of a carbon nanofiber nanoelectrode array, looks like a tiny, incredibly thin needle: it is roughly five millimeters long, less than half a millimeter wide and thinner than the diameter of a human hair.
Once it is implanted in the brain, the sensor is able to monitor the neurochemical response to deep brain stimulation. This could help doctors use the technique more efficiently, as they get real-time information on how much of neurochemicals like dopamine, serotonin, and oxygen and common interferents such as ascorbic acid are released during stimulation.
The scientists say their long-term goal is to help build a closed-loop "smart" deep brain stimulation device that incorporates ultrasensitive neurochemical detection and feedback control to improve clinical efficacy of deep brain stimulation therapy.

Full of Heart
Dr. Mark Rodefeld has spent decades fixing children's hearts, but one particular heart problem has consumed much of his research.
"About 1,500 children are born every year with a missing ventricle," said the pediatric heart surgeon at Indiana University. "It's actually the fifth most common problem in those with heart issues."
Patients commonly get a partial fix called the Fontan procedure to create a passive circulation network to replace the blood-pumping function of the missing ventricle, but pumping pressure is too low to work long-term.
Rodefeld came up with an idea to insert a small conical pump, driven by an electrical motor, into an existing Fontan network, but "I needed experts in flywheel technology at Glenn to design and scale it to size," he explains.
A team of engineers at Glenn Research Center spent two years designing, building, and testing a bi-conical heart pump for Rodefeld. Eventually they completed a functional prototype.
The Glenn team's extensive design, build, and testing led to successful results proving the feasibility of Rodefeld's original idea. Further development would help scale the motor down to the required diameter—the size of a nickel.
Over the next few years Rodefeld hopes to engage Glenn engineers in additional development and testing with the goal of advancing this life-saving technology for young patients.

On Thin Ice
Operation IceBridge, NASA's airborne survey of polar ice, completed its eighth spring Arctic campaign in 2016, adding to a trove of data on changes in the elevation of the ice sheet and its internal structure.
IceBridge's readings of the thickness of sea ice and its snow cover have helped scientists improve forecasts for the summer melt season and have enhanced the understanding of variations in ice thickness distribution from year to year.
"Our main priority is to look at the changes that have taken place since our previous campaigns, especially to look at fast-retreating glaciers like Jakobshavn and see how far inland they're melting away," said Eric Rignot, IceBridge science team co-lead and glaciologist at the University of California, Irvine and the Jet Propulsion Laboratory.
As in previous years, Operation IceBridge cooperated with several international research initiatives, including two new ones this year.
In the first, with the University of Alaska, Fairbanks, IceBridge was to fly in a racetrack formation off the coast of Alaska to study the transition between sea ice attached to the coastline and drifting ice.
The second collaboration was with the recently launched European satellite Sentinel-3. Weather permitting, IceBridge was to fly under one or more sections of the spacecraft's orbit.

The Evolution of Coral Reef Science
Scientists are looking to satellite data to monitor the health of coral reefs, especially in remote regions.
Until relatively recently, global maps of coral reefs hadn't changed significantly from maps produced by Charles Darwin in 1842 based on observations from his expeditions. In 1912, French scientist Louis Joubin updated the maps using information he received in letters from people living near coral reefs around the world.
About 15 years ago, coral reef mapping finally leapfrogged to modern times. A new global map of coral reefs was created with over a thousand Landsat 7 satellite images collected between 2000 and 2003.
But Landsat data is not high-resolution enough to provide the detailed data needed to closely monitor coral reef health.
Frank Muller-Karger, professor of oceanography at the University of South Florida, teamed up with the National Oceanic and Atmospheric Administration Coral Reef Watch program under a 2013 NASA Applied Sciences grant to develop new products using U.S. and international satellites for a coral reef ecosystem stress alert program.
And, new instruments are in testing or in the pipeline to help further improve coral mapping in the future. For example, the Hyperspectral Imager for the Coastal Ocean (HICO), which flew on the International Space Station, offered 90-meter spatial resolution, providing detailed images of coral reef regions.
Future hyperspectral data from space will enable high-quality observations that could be used to map the diversity of changing global coastal zones. This will allow scientists to better quantify how organisms change and, ultimately, how humans can better use nature to sustain a healthy planet.


NASA, Nissan Drive Self-Driving Cars
NASA's Ames Research Center and Nissan North America partnered in 2015 to research and test self-driving capabilities for automobiles. Ames will assist in reimbursed design, development, testing, and assessment of Nissan's autonomous vehicles, including the use of Ames' campus for testing.
As Ames participates in this reimbursed partnership, NASA will benefit from Nissan's shared expertise in innovative component technologies for autonomous vehicles, shared research to inform development of vehicular transport applications, access to appropriate prototype systems, and provision of test beds for robotic software.
Lessons learned from integration, testing, and demonstrations will enable Nissan North America to better plan for development and commercialization of autonomous vehicles and applications.
Deer Tracks
Mule deer mothers are in sync with their environment, with reproduction patterns that closely match the cycles of plant growth in their habitat. And new research using NASA satellite data shows that tracking vegetation from space can help wildlife managers predict when does will give birth to fawns.
"We had never tracked the deer population this way, and we had never been able to predict it with such precision," said David Stoner of Utah State University, lead author of a recent study. By measuring the greenness of the mule deer habitat, scientists were able to mark the beginning and peak of the plant growing season—and the fawning season.
"This kind of applied research is very important for making remote sensing data relevant to wildlife management efforts," said Jyoteshwar Nagol, a researcher at the University of Maryland.
Deer have a huge economic impact in the United States, from hunting to crop damage to car accidents. As regional climates shift or droughts occur, deer distributions could change in response to changes in the timing of vegetation green-up.

Greener Flights Are on the Horizon
NASA and partners in the aviation industry are working together to develop new technologies to make flying greener.
One concept studied at Ames Research Center is a new kind of rotor system that has two ultra-thin blades spinning in opposite directions around the outside of a turbofan jet engine.
This unique design allows air to flow more efficiently through the turbofan blades to improve flight performance, reduce carbon emissions, and decrease blade rotation noise.
For the past year, researchers at the NASA Advanced Supercomputing (NAS) facility at Ames have produced first-of-a kind simulations of sound produced by air—aeroacoustics—to reliably predict noise sources for contra-rotating open rotors.
Using computational fluid dynamics methods and the Pleiades supercomputer, the NAS team verified the simulation accuracy and compared sound pressure level ranges with extensive wind tunnel test data from Glenn Research Center and General Electric.
The analysis requires a massive amount of computing power and time. Currently, the NAS team is researching ways to speed up the simulation and analysis process and cut down on computing resources needed to design planes that are more Earth-friendly.
Generation X-Planes
A new NASA initiative for airplane research could help reduce fuel consumption, emissions, and noise—and even enable commercial supersonic flight.
The Agency's New Aviation Horizons initiative is a 10-year plan to achieve those goals by designing, building, and flying a number of flight demonstration vehicles, or X-planes.
"We're at the right place, at the right time, with the right technologies," said NASA Aeronautics Associate Administrator Jaiwon Shin. "We need the X-planes to prove, in an undeniable way, how that tech can make aviation more Earth-friendly, reduce delays, maintain safety for the flying public, and support an industry that's critical to our Nation's economic vitality."
The 10-year initiative also includes major field tests in collaboration with airlines, airports, and the Federal Aviation Administration to continue improving air traffic flow in the air and on the ground at airports.
It is estimated that billions of dollars are at stake in the global aviation industry as it grows from 3.3 billion passenger trips in 2014 to an estimated 7 billion passenger trips in 2034.

Staying Strong in Space
How can spaceflight help researchers better understand muscle and bone diseases and interventions on Earth? When we unload, or remove the force of our body weight from the muscles that normally work against gravity to support us, healthy muscles rapidly atrophy, or waste away and weaken.
"The ability to expose all muscles of an organism to conditions that induce muscle atrophy is not easily achieved on Earth," explained Rosamund Smith, principal investigator of a rodent study on the space station sponsored by Eli Lilly and Company and the Center for the Advancement of Science in Space.
She and her team are studying skeletal muscle, as well as other organ systems, aiming to characterize tissue responses to spaceflight and observe how these changes vary with the length of time spent in microgravity. The findings will advance understanding of the risks of long-term space exploration for astronauts.
Results will also be applied to ongoing discovery efforts at Eli Lilly and Company to seek treatments for serious muscle-wasting diseases and conditions that may help patients afflicted with degenerative diseases to stay strong.


Beneath the Surface
Pakistan relies on one of the largest continuous irrigation systems in the world to water its vast farmlands.
But where once farmers were able to depend solely on glacier- and rain-fed rivers and canals, now, thanks to a booming population, the country needs to use groundwater to keep up with demand.
Pakistan's water managers are looking to NASA satellites to help them more effectively monitor and manage that precious resource, thanks to a partnership with engineers and hydrologists at the University of Washington, Seattle.
"Satellites up in space are looking at how much water we have underground, in rivers, or in the atmosphere and are providing routine observations that can help policymakers and on-the-ground managers make informed decisions,"said Faisal Hossain, associate professor of civil and environmental engineering at the University of Washington.
The monthly updates, using freely downloadable data from NASA's Gravity Recovery and Climate Experiment mission, can offer improved flood forecasting as well as indicate areas where groundwater resources are threatened.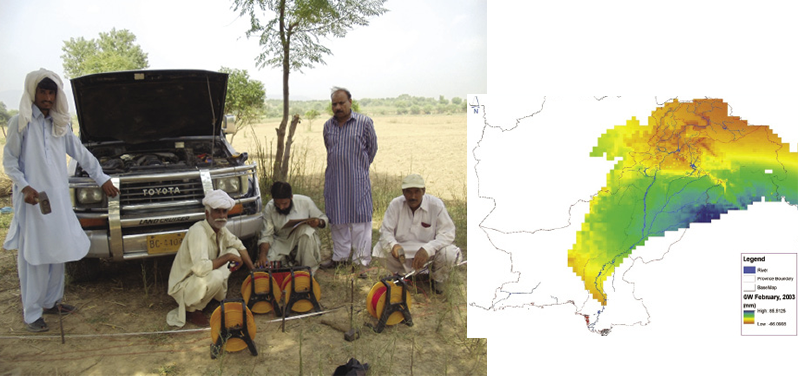 Pakistan water managers used NASA satellite data to produce this map of monthly groundwater changes in the Indus River Basin. Orange and yellow indicate areas where groundwater might be depleted, while blue and green highlight areas where groundwater is being replenished.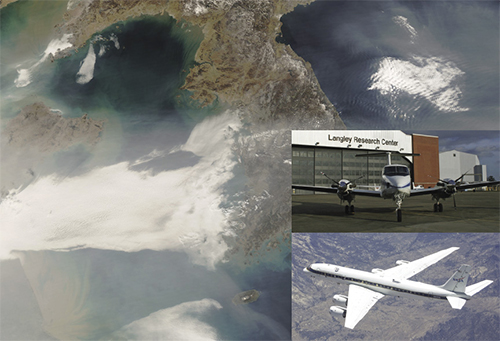 Two NASA research aircraft, the UC-12B (top) and the DC-8, gathered atmospheric data across urban, rural, and coastal areas of South Korea to help improve the ability to monitor air pollution from space.
Watching the Asian Skies
NASA and the Republic of Korea are working together to advance air pollution monitoring from space.
A study in May and June 2016 aimed to assess air quality across urban, rural, and coastal areas of South Korea using the combined observations of aircraft, ground sites, ships, and satellites.
Findings will play a critical role in the development of observing systems of ground- and space-based sensors and computer models to provide improved air quality assessments for decision makers.
Air quality is a significant environmental concern in the United States and around the world. Scientists are trying to untangle the different contributors to air quality, including local emissions from human activities, pollution from far away, and natural sources such as seasonal fires and wind-blown dust.
"Working with our South Korean colleagues on [this study], we will improve our understanding of the detailed factors controlling air quality, how the processes interact, and how they are changing over time," said James Crawford, a lead U.S. scientist on the project from Langley Research Center.

Forecasting Zika Risk
Scientists at Marshall Space Flight Center partnered with the National Center for Atmospheric Research in Boulder, Colorado, and other institutions to try to better understand the Zika virus and limit the spread of the disease.
The research team looked at key factors—including temperature, rainfall, and socioeconomic factors—to understand where and when a potential outbreak may occur. Their final product, a Zika risk map, can help government agencies and health organizations better prepare for possible disease outbreaks related to the spread of the virus.
"This information can help public health officials effectively target resources to fight the disease and control its spread," said Dale Quattrochi, senior research scientist at Marshall.

Peeking through the Clouds
Combining satellite images with novel algorithms, scientists and engineers at Langley Research Center can identify where severe winds, hail, or tornadoes are more likely to occur.
Thunderstorms form when warm, moist air rises rapidly into the atmosphere. When the rising air, or updraft, hits the stratosphere without penetrating it, it forms the flat tops of cloud formations known as cumulonimbus incus, or anvil clouds. This type of cloud can be an indicator of dangerous weather on the ground.
But anvil tops can be miles wide. Researchers at Langley, in partnership with the National Oceanic and Atmospheric Administration and other international agencies, found that a key factor was finding the strongest updrafts of air, which are strong enough to punch through the stratosphere. These create lumps in the cloud top, indicating areas where strong thunderstorms—and sometimes hail and tornadoes—usually occur.
Using infrared imagers on satellites, the researchers can spot the lumps, which emit less heat than other clouds in lower regions of the atmosphere. Combine this data with powerful software engineering and voila: almost instant forecasts.
The Big Picture
The view doesn't get any better than looking at Earth from the International Space Station's Cupola—and this year moviegoers on Earth got a chance to enjoy the sights.
A Beautiful Planet—a collaboration with IMAX and featuring narration by Hollywood's Jennifer Lawrence—stars Earth as seen from space by astronauts and cosmonauts aboard the orbiting station.
Shot over 15 months, the documentary highlights the effects humanity has had on the globe over time, from the gradual depletion of the Colorado River Basin to the effects of greenhouse gasses in the atmosphere to deforestation.
The astronauts show us a glimpse of an Earth that is vibrant in nature but also fragile, hoping to inspire positive change on our home planet as a result of their work.

Left: Onboard the ISS, NASA astronaut Kjell Lindgren prepares the IMAX camera over an empty spacesuit for a shoot. Below: Beautiful Planet narrator Jennifer Lawrence, fourth from right, joins space station astronauts who shot footage for the film at the world premiere in New York City in April 2016. From left, former NASA astronaut Scott Kelly, European Space Agency astronaut Samantha Cristoforetti, Lawrence, and NASA astronauts Barry Wilmore, Kjell Lindgren, and Terry Virts.
'Fugitive' Emissions, Caught by a Drone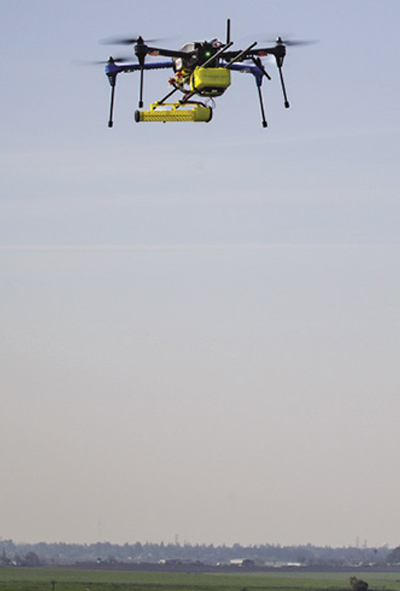 A Jet Propulsion Laboratory mini methane gas sensor is flight tested on a small unmanned aerial system under a project to improve energy pipeline industry safety. The sensor enables methane detection with higher sensitivity than previously available for the industry in hand-carried or drone-deployable instruments.
As part of a project to improve safety in the gas pipeline industry, researchers have successfully flight-tested a miniature methane gas sensor developed by NASA's Jet Propulsion Laboratory (JPL) on a small unmanned aerial system, or drone. The sensor, similar to one developed by JPL for use on Mars, enables detection of methane with much higher sensitivity than previously available for the industry in hand-carried or drone-deployable instruments.
Researchers from JPL and the Mechatronics, Embedded Systems, and Automation Lab at the University of California, Merced, conducted the flight tests in late February 2015. They flew a small drone equipped with the open path laser spectrometer (OPLS) sensor at various distances from methane-emitting gas sources. Tests were done in a controlled setting to test the accuracy and robustness of the system.
The tests were conducted in central California at the Merced Vernal Pools and Grassland Reserve and were funded by Pipeline Research Council International. The jointly conducted test of NASA's OPLS sensor is the latest effort in a methane testing and demonstration program conducted on various platforms since 2014. The ability of the OPLS sensor to detect methane in parts per billion by volume could help the pipeline industry more accurately pinpoint small methane leaks.
Advanced capabilities provided by drones, particularly enhanced vertical access, could extend the use of methane-inspection systems for detecting and locating methane gas sources.
"These tests mark the latest chapter in the development of what we believe will eventually be a universal methane monitoring system for detecting fugitive natural-gas emissions and contributing to studies of climate change," said Lance Christensen, OPLS principal investigator at JPL.