Bringing NASA technology down to Earth
Even revolutionary technology can face a long road on its way to commercial success. The unparalleled efficiency of LEDs, for example, has only recently translated into market dominance in lighting and electronic screens, though the technology itself is a half-century old. It often takes multiple generations of inventors, engineers, and entrepreneurs to get promising technology from the lab to the store shelf. (In the case of LEDs, the key breakthrough came in 1994 with the development of blue LEDs, required to make white light, followed by billions of dollars of industry and government investment to make them practical in light bulbs and televisions.)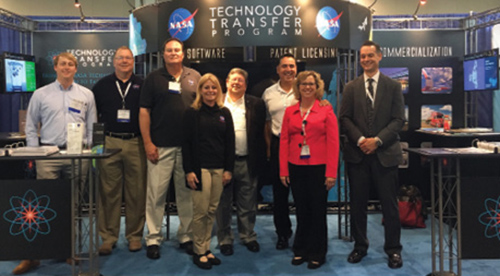 Members of NASA's Technology Transfer Program pose in front of the program's information booth at TechConnect in Washington, D.C., May 2016.
NASA innovators produce more than a thousand new technologies every year, including some with revolutionary potential. In keeping with the 1958 Space Act's directive to share the benefits of aeronautics and space research with the public, NASA's Technology Transfer Program assesses each technology's commercial potential and does its best to move these innovations toward commercialization. That includes patenting particularly promising innovations, managing a technology portfolio containing thousands of inventions and software programs, marketing technologies to industry, and overseeing licenses and other distribution agreements.
The commercial results—many of which you can read about in Spinoff—are sometimes decades in the making.
Thanks in large part to recent program initiatives, NASA technology has never been more easily accessible. Today, for example, the public can browse a central repository for NASA software (http://software.nasa.gov) that contains the Agency's publicly released codes—all of which are available free of charge and can be downloaded from the site. This catalog, first released in 2014, was the first of its kind among all agencies of the Federal Government, which is the world's largest creator of custom code.
A patent portfolio of Agency inventions, ranging from sensors and robotics to green energy innovations, is likewise managed through a single public-facing repository (http://technology.nasa.gov/patents). As of 2017, individuals and businesses interested in using these NASA technologies can apply for a license through a simple and automated online application system known as ATLAS. Commercial licenses are negotiated on a case-by-case basis, but NASA also offers a few licenses that have low or no up-front costs for startup companies or businesses interested in evaluating a technology before committing to it.
There are also thousands of formerly patented technologies that NASA has gifted into the public domain—again, with a central, searchable database developed by the Technology Transfer Program within the last few years (https://technology.nasa.gov/publicdomain). Anyone can pursue product development using these technologies for free, with no requirement to contact NASA.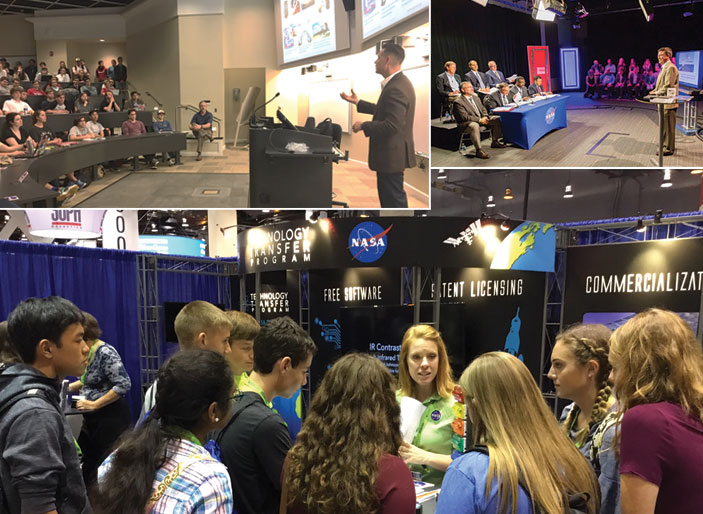 Top left: Technology Transfer Program Executive Dan Lockney speaks to University of Alabama students in the school's STEM Path to the MBA Program. Top right: In May 2017, NASA Langley inventors pitched their technologies to a panel of industry experts as part of a pilot competition using the same format as the television show Shark Tank. Bottom: Students attending a conference gather at NASA's technology transfer booth.
The Technology Transfer Program's increased marketing and promotion of NASA's various technology portfolios has led to a dramatic spike in interest in NASA technology for commercial applications. Since the release of a single catalog, requests for Agency software have multiplied, leading to many thousands of transfers to the public each year. Meanwhile, there are about 450 active licenses for NASA-patented technologies, with roughly 100 new licenses being executed each year.
Managing this increased interest requires constant and continuous process improvements across all areas of the technology transfer pipeline—from new internal tools to help NASA innovators publish their discoveries and inventions to websites and mobile applications the public can use to discover and acquire NASA technology. The Technology Transfer Program develops and maintains these tools while also conducting public outreach through media, conferences, and consultations with government, university, and commercial organizations.
All of these efforts haven't changed the nature of invention and product development: it can still take technology decades to mature from an initial idea or prototype into something consumers can use every day. NASA spinoffs profiled in its annual Spinoff publication still routinely feature products that have their origins in the Space Shuttle or even as far back as the Apollo Program. Much has changed since then, of course—not least the technologies themselves, as they wove their way into practical applications.
Some of these spinoffs from NASA aeronautics and space technology change the way we live—such as the NASA-developed aerodynamic truck and aircraft designs that dominate the roads and sky, or the international search and rescue system designed by the Agency. Others stay confined to their niche technical markets or are useful for only a short time and thus aren't as well known.
But all of these commercial successes, and the long process it took to make them happen, have helped establish NASA as the leader among Federal technology transfer programs, showing by example the ways in which public investments in science and technology yield practical benefits through commercial products.

Technology Transfer Program Network Directory



Bringing NASA Technology Down to Earth

NASA's Technology Transfer Program pursues the widest possible applications of Agency technology to benefit U.S. citizens. Through partnerships and licensing agreements with industry, the program ensures that NASA's investments in pioneering research find secondary uses that strengthen the economy, create jobs, and improve quality of life.

To learn more about licensing NASA technology, visit http://technology.nasa.gov. General inquiries may be directed to the Spinoff Program Office at spinoff@nasa.gov. To suggest a story about a commercial product or service developed with NASA technology, assistance, or know-how, contact Spinoff at the email address above, or visit http://spinoff.nasa.gov.

NASA Headquarters provides leadership, policy, strategy, resource allocation, and media relations for technology transfer activities Agencywide.

The Technology Transfer Office at each of NASA's 10 field centers represent NASA's technology sources and manage center participation in technology transfer activities.

Allied Organizations support NASA's Technology Transfer Program objectives.



NASA Headquarters

National Aeronautics and Space Administration
Technology Transfer Program Executive:
Daniel Lockney
Phone: (202) 358-2037
Email: daniel.p.lockney@nasa.gov
300 E Street, SW
Washington, DC 20546

Field Centers

Ames Research Center
Technology Transfer Office Chief:
Rose Grymes
Phone: (650) 604-4724
Email: rose.grymes@nasa.gov
Moffett Field, California 94035

Dryden Flight Research Center
Technology Transfer Office Chief:
Laura Fobel
Phone: (661) 276-3967
Email: laura.j.fobel@nasa.gov
4800 Lilly Drive, Building 4839
Edwards, California 93523-0273


Glenn Research Center
Technology Transfer Office Chief:
Harvey Schabes
Phone: (216) 433-8047
Email: harvey.l.schabes@nasa.gov
21000 Brookpark Road
Cleveland, Ohio 44135


Goddard Space Flight Center
Technology Transfer Office Chief:
Nona Cheeks
Phone: (301) 286-5810
Email: nona.k.cheeks@nasa.gov
8800 Greenbelt Road
Greenbelt, Maryland 20771


Jet Propulsion Laboratory
Technology Transfer Office Chief:
Debora Wolfenbarger
Phone: (818) 354-3829
Email: debora.l.wolfenbarger@jpl.nasa.gov4800 Oak Grove Drive
Pasadena, California 91109


Johnson Space Center
Technology Transfer Office Chief:
Charlene Gilbert
Phone: (281) 483-0474
Email: charlene.e.gilbert@nasa.gov
2101 E. NASA Parkway
Houston, Texas 77058


Kennedy Space Center
Technology Transfer Office Chief:
Dave Makufka
Phone: (321) 867-6227
Email: david.r.makufka@nasa.gov
Kennedy Space Center, Florida 32899


Langley Research Center
Hampton, Virginia 23681-2199
Technology Transfer Office Chief:
Kathy Dezern
Phone: (757) 864-5704
Email: kathy.a.dezern@nasa.gov


Marshall Space Flight Center
Technology Transfer Office Chief:
Terry Taylor
Phone: (256) 544-5916
Email: terry.taylor@nasa.gov
Huntsville, Alabama 35812


Stennis Space Center
Technology Transfer Office Chief:
Duane Armstrong
Phone: (228) 688-2180
Email: curtis.d.armstrong@nasa.gov
Stennis Space Center, Mississippi 39529


Allied Organizations

Space Foundation
Kevin Cook, Vice President, Marketing and Communications
Phone: (719) 576-8000
Email: kcook@spacefoundation.org
4425 Arrowswest Drive
Colorado Springs, Colorado 80907

Federal Laboratory Consortium
Diana Hoyt, Collaboration Program Manager
Phone: (202) 358-1893
Email: diana.hoyt@nasa.gov
300 E Street, SW
Washington, DC 20546

Spinoff Program Office
Email: spinoff@nasa.gov

Daniel Coleman, Editor-in-chief
Phone: (301) 286-4058
Email: daniel.p.coleman@nasa.gov

Mike DiCicco, Senior Science Writer
Naomi Seck, Science Writer
John Jones, Senior Graphics Designer

Goddard Space Flight Center, Building 35
8800 Greenbelt Road
Greenbelt, Maryland 20771