Infrared Camera
| | |
| --- | --- |
| Space Access and Technology | |
Teaming with an industry partner, NASA has developed a revolutionary infrared camera that offers important applications not only in aerospace research but in such other areas as air transportation, environment monitoring and medicine.
The camera was developed by the Center for Space Microelectronics Technology at Jet Propulsion Laboratory, Santa Barbara, California, in cooperation with Amber, a Raytheon company, Goleta, Georgia.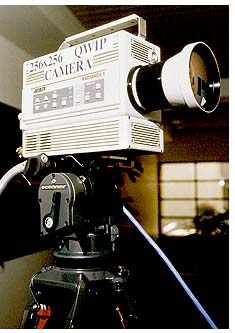 An industry/government team developed this revolutionary infrared camera that has broad applications in medicine, environment monitoring, industrial processing and law enforcement, as well as in aerospace research.
An innovative feature of the camera is its use of highly sensitive quantum-well photodetectors or QWIPS. The greater sensitivity of long wavelength QWIPS could allow physicians to detect tumors using thermographic (heat analysis) techniques; improve pilots' night vision to allow better landings; and enable environmental scientists to monitor pollution and weather patterns with enhanced measurement accuracy. Other possible applications include law enforcement, industrial process control, search and rescue, and military antimissile surveillance.
The camera weighs only 9.9 pounds and measures 4.4 inches wide, 10.3 inches deep and 7.2 inches long. The prototype plugs into a wall socket for power but the camera can readily be converted to battery power for portability.
Because infrared light detectors must operate at extremely low temperatures, the camera contains a Stirling cryocooler, a closed-cycle refrigerator about the size of a fist that cools the camera from room temperature to about 343 degrees below zero Fahrenheit in about 10 minutes. The QWIPS technology represents a half decade of development effort on the part of the Center for Space Microelectronics Technology and its industrial affiliate under contract to NASA's Office of Space Access and Technology.