Small Satellite Developments
| | |
| --- | --- |
| Space Access and Technology | |
NASA's Small Spacecraft Technology Initiative (SSTI) is a program designed to demonstrate technologies for reducing the cost and the time of getting civil and commercial space missions from the drawing board to orbit. The program features new approaches to satellite design and development that will not only significantly lower cost but will also permit the builder to incorporate commercial standards in the design and qualification process. Thus, the program will serve NASA's needs by allowing more frequent space missions within predictably lower budgets, and it will additionally enhance the competitive posture of U.S. space system manufacturers in the global market.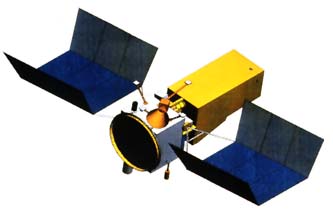 Developed by CTA, Incorporated, the Clark satellite is designed to demonstrate technologies for a new family of satellites featuring reduced cost and compressed development time.
The program was launched in 1994 with the awards of contracts to two industry teams for development of "smallsats" or "lightsats" in the 600-900 pound class. The small satellites are designed to accommodate a wide range of missions through use of standard hardware and software adapted to various applications. The initial satellites are named "Clark" and "Lewis" for the leaders of the 19th century U.S. expedition to the Pacific northwest. Although the expedition is invariably called "Lewis and Clark," the order is reversed for the NASA program because Clark was scheduled for the first launch. At Spinoff publication time in midyear 1996, Clark was targeted for November launch; Lewis was to follow at yearend or early in 1997.
Clark is being developed by CTA, Incorporated, Rockville, Maryland with Lockheed Martin Astronautics as principal subcontractor. CTA is among the world leaders in manufacturing small space systems, having built, launched and operated 21 lightsats, with several others in development.
Clark is intended to demonstrate 36 advanced technologies, among them image data compression, a mini star tracker, a low-cost Sun sensor, advanced composite structures, room temperature x-ray detectors, 3D imaging of atmospheric trace gases, and on-board data processing.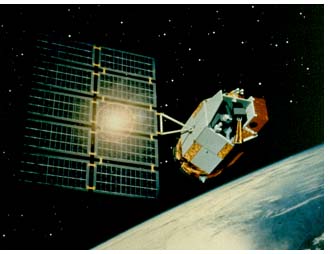 Clark's sister satellite-Lewis-has an advanced remote sensing imager that significantly broadens the range of Earth features that can be analyzed. Both satellites will operate as commercial remote sensing systems in addition to their NASA assignments as technology demonstrators.
Although essentially a demonstrator of SSTI concepts, Clark will also operate as a science and applications satellite with three science payloads and a remote sensing imaging system. Principal focus will be on commercial remote sensing which, CTA believes, has promise of becoming a multibillion dollar industry. Science research includes x-ray spectrometry, including atmospheric pollution measurements, cloud detection and atmospheric tomography.
The Lewis satellite is being developed under the team leadership of TRW Inc., Redondo Beach, California. One of the nation's largest aerospace manufacturers, TRW developed smallsat technology for a number of military programs and is currently building commercial lightsats. Like Clark, Lewis is a technology demonstrator but it will also carry science payloads and it will operate as a pathfinder to stimulate the commercial market.
Lewis incorporates more than 25 new spacecraft and payload technologies designed to provide superior performance while minimizing cost and schedule time, among them miniaturized cryocoolers, advanced composites, faster data processors, lightweight propellant tanks and smaller star trackers.
A key feature of the Lewis spacecraft is a new Hyperspectral Imager that will generate Earth imagery in 384 spectral bands (the NASA-developed Landsat satellite has seven bands). The greater capability of the imager will allow analysts to distinguish among a much broader range of Earth features. The satellite will also carry an extreme ultraviolet spectrometer, built by the University of California at Berkeley, to take images of the night sky and cosmic background.