Space Operations
| | |
| --- | --- |
| Space Operations | |
On March 24, 1996, the Space Shuttle Orbiter Atlantis flew to a rendezvous with the Russian space station Mir, docked with it, and the six-astronaut crew of Shuttle flight STS-76 joined the three cosmonaut crew of the orbiting station.
Among the Americans was mission specialist Shannon W. Lucid, a veteran of five Shuttle flights who was reporting for duty aboard Mir as a cosmonaut researcher. Lucid was to spend almost six months on Mir, then return to Earth on another Shuttle/Mir rendezvous/docking mission. Her arrival at Mir kicked off a two-year span of continuous U.S. presence in orbit.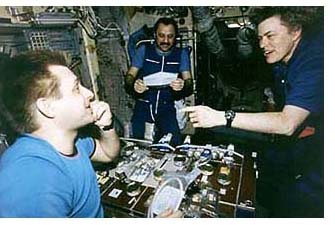 U.S. astronaut Shannon Lucid helps her cosmonaut crewmates inventory newly-delivered food supplies in the base block module of Russia's Mir space station. At left is Mir commander Yuri Onufriyenko and in the background is flight engineer Yuri Usachev.
STS-76 marked the third docking flight with Mir and the fifth in a multistep preliminary agenda intended to provide a framework for International Space Station assembly operations, which begin in 1997. Known as Phase I of the International Space Station developmental program, this agenda is intended to lay the foundation for Phases II/III through integration of U.S. and Russian hardware, working methods and scientific procedures; risk reduction, or mitigation of potential surprises; and early initiation of joint scientific and technological research. Prior flights included:
STS-60, Orbiter Discovery, launched February 11, 1994, in which cosmonaut Sergei Krikalev served on the Shuttle crew as a mission specialist.

STS-63, Orbiter Discovery, launched February 3, 1995 to a rendezvous with Mir and a slow "flyaround," in which the Orbiter circled the station at a distance of about 450 feet for photography and communications tests. The rendezvous and flyaround validated a number of techniques for subsequent employment in docking missions, such as those essential to orbital assembly of the International Space Station.

STS-74, Orbiter Atlantis, launched November 12, 1995 to the second Shuttle/Mir docking. The flight focused on delivery of equipment to Mir and demonstration of the Russian-built docking system. STS-74 underlined the international flavor of the space station effort: the Shuttle crew was made up of four Americans and a Canadian mission specialist; hardware in the payload bay included the U.S.-built Orbiter Docking System, the Russian docking module, the Canadian Remote Manipulator System, and two Russian-built solar arrays. The Mir was staffed by two Russian and one German cosmonauts, who were operating Russian and European Space Agency equipment.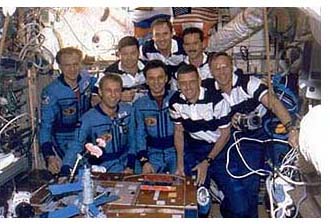 The crew of STS-74 (two-tone shirts) join the crew of the Mir space station for a group portrait after their November 1995 Shuttle/Mir linkup. The Shuttle members are, from left, STS-74 commander Kenneth D. Cameron; pilot James D. Halsell Jr.; Canadian mission specialist Chris Hadfield; NASA mission specialists Jerry L. Ross and William S. McArthur Jr.
On STS-76, Atlantis and Mir remained docked for five days during which the crews transferred to Mir some 1,500 pounds of water and two tons of scientific equipment, and moved to Atlantis a number of experiment samples and miscellaneous equipment. They also conducted joint experiments with the ESA's Biorack experiment rack housed in a SPACEHAB pressurized module aboard the Orbiter; the Biorack work embraced 11 separate investigations of the effects of microgravity on a variety of living materials. Another highlight was the first U.S. EVA (extravehicular activity) around two mated spacecraft, a six-hour "walk" performed by mission specialists Linda M. Goodwin and Rich Clifford. STS-76 landed at Edwards Air Force Base, California on March 31, 1995.
At Spinoff publication time (midyear 1996), the Orbiter Atlantis was poised for its fourth docking with Mir in mid-August. It was to pick up Shannon Lucid and deliver her replacement, astronaut John Blaha. After that, the Phase I plan contemplated three more Shuttle/Mir hookups in December 1996, May 1997 and September 1997. Each flight will involve pickup of the American crew member of Mir and delivery of a replacement; all flights will be made by Atlantis, the only Orbiter equipped for docking with Mir.