Putting Technology to Work
| | |
| --- | --- |
| Technology Transfer | |
Because they are challenging and technologically demanding, NASA programs generate a great wealth of advanced technology. This bank of technology is a national asset that can be reused to develop new products and processes, to the benefit of the U.S. economy in new companies, new jobs, and the resulting contribution to the Gross Domestic Product.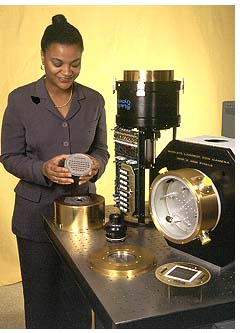 Nona Minnifield, Commercial Research Manager in Goddard Space Flight Center's Office of Commercial Programs, displays samples of innovative, Goddard-developed camera technology that has potential for commercial applications. The gold-rimmed device in foreground is a CCD (Charge Coupled Device) Camera that takes electronic pictures with high resolution; among other applications, it offers special promise in advanced mammography.
Such "spinoff" applications do not happen automatically. It takes a well-organized effort to put the technology to work in new ways and to reap thereby a dividend on the national investment in aerospace research.
NASA accomplishes that end by means of its Technology Transfer & Commercialization Program, which employs a variety of mech-anisms to stimulate the transfer of aerospace technology to other sectors of the economy. The program is managed by the Commercial Development and Technology Transfer Division of NASA's Office of Space Access and Technology. Headquartered in Washington, D.C., the division coordinates the activities of technology transfer organizations located throughout the United States.
Among the most important mechanisms are the technology transfer and commercialization offices at NASA's 10 field centers. These offices differ somewhat from center to center, but generally their jobs involve promoting transfer and commercialization of technology that has significant potential for secondary use. Representative of this type of activity is the work of the Office of Commercial Programs' Technology Transfer & Commercialization Office at Goddard Space Flight Center (GSFC).
Located in Greenbelt, Maryland, GSFC is a facility with personnel expertise in all phases of space operations, including the design, construction and test of spacecraft; the ability to operate, track and communicate with satellites in orbit; and a capability for analyzing and disseminating satellite data. Operational since 1959, GSFC has managerial responsibility for the NASA Tracking and Data Relay Satellite System ground stations at White Sands, New Mexico; the Goddard Institute for Space Studies in New York City; and NASA's Wallops (Virginia) Flight Facility, a special base for suborbital research with sounding rockets. Additionally, the Space Telescope Science Institute in Baltimore, Maryland, is operated under contract to GSFC.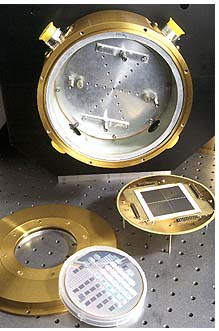 The camera, its sensors and a wafer of sensor chips are shown in this close-up.
While building a reputation as one of the world's foremost space research organizations over more than three decades, GSFC has also compiled an outstanding record for transferring NASA-developed technology to industry and other potential users. The center boasts a lengthy list of successful transfers, among them LIDAR technology, widely used in the remote sensing industry; microelectronics technology, which has found many applications, particularly in biomedical equipment; compliant cable technology, which has benefited the health care and utilities industries; and a wealth of innovative software employed in many industries, in particular the automotive industry.
Continuing this tradition, Goddard's Technology Transfer & Commercialization Office serves as a point of liaison between GSFC and those organizations or individuals who might be able to make advantageous use of NASA technology. The mission of the Technology Transfer Office is twofold: to develop and implement effective marketing strategies and to facilitate partnering relationships with U.S. industry, other government agencies and academia for transfer/commercialization of GSFC-developed technologies.
The following pages contain a summary of the mechanisms employed by NASA to promote technology transfer and commercialization, including the structure of the nationwide network, the types of assistance provided by the Regional Technology Transfer Centers, and the technology transfer activities of NASA's field centers; the summary focuses on activities within GSFC's Office of Commercial Programs and the Technology Transfer Office as representative of today's technology transfer work performed by the field centers and other groups within the NASA network.