Technology Transfer & Commercialization Activities
| | |
| --- | --- |
| Technology Transfer | |
An important element among NASA mechanisms for promoting technology transfer is the Technology Transfer Office, or TTO. TTOs are technology transfer experts based at each of NASA's 10 field centers and one specialized facility who serve as regional managers of the Technology Transfer & Commercialization Program.
At Goddard Space Flight Center (GSFC), the Technology Transfer & Commercialization Office is part of a larger office known as the Office of Commercial Programs (OCP). This office embraces three branches, one dedicated to coordinating the center's Small Business Innovation Research program, another concerned with the center's activities relative to commercial use of space, and the Technology Transfer & Commercialization Office. Dr. George Alcorn heads the broader OCP and is the center's chief TTO; Nona Minnifield, formally titled Commercial Research Manager, heads the Technology Transfer Office. They are backed by commercial technology engineers Evette Conwell and Carmon Parkinson; patent counsel Dennis Marchant; patent attorney Keith Dixon; legal technician Tammie Howcott; and secretary Michelle Wallace.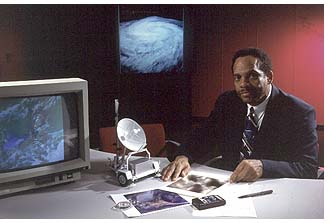 The chief of Goddard's Office of Commercial Programs, Dr. George Alcorn, oversees the center's technology transfer efforts, such as the Earth Alert project.
The duties of the TTOs vary somewhat among NASA centers and other units of the agency, but the organization and activities at GSFC are representative of the "new way of doing business" in recent years, in which NASA is broadening the scope of its technology transfer efforts and placing greater emphasis than in prior years on commercialization of NASA technologies. The TTO's main responsibility is to stay abreast of research and development activities at his center that have significant potential for generating transferrable knowledge. He assures that the center's professional people identify, document and report new technology developed in the center's laboratories and, together with other center personnel, he monitors the center's contracts to see that NASA contractors similarly document and report new technology, as required by law. This technology, whether developed in-house or by contractors, becomes part of the NASA bank of technology available for transfer.
Technology transfer activities at GSFC embrace three areas of effort: inreach, outreach and marketing. The Inreach Program is key to heightening the awareness and stimulating the participation of center personnel in technology transfer and commercialization. It also involves center-wide technology training courses; ongoing consultation with GSFC scientific and technical personnel; annual new technology recognition programs; center-sponsored colloquia; and directorate-sponsored employee development programs.
The Outreach Program is structured to identify and increase awareness of GSFC technological resources to businesses, universities and other public entities within the U.S. This is accomplished through professional and trade conferences and meetings; on-site and regional commercialization workshops; and technology demonstrations, facility tours and consultation with industry groups. The TTO also works to communicate GSFC's resources within the state and local government complex, through involvement with economic development offices, chambers of commerce, high tech councils, educational institutions, and scientific and technical organizations.
In the marketing function, the Technology Transfer & Commercialization Office works with an internal and external network to disseminate GSFC technology to the widest possible audience. This effort, framed around the Inreach and Outreach programs, employs electronic and print media to communicate the development and availability of new technologies with potential commercial applications. Such media include database systems, the Internet, videos, advertisements and brochures. GSFC's Technology Transfer & Commercialization Office also publishes information on its technological developments in several professional and trade publications.
One mechanism for announcing developments with commercial potential is the "Technology Opportunity Announcement," usually a brief flyer that describes a technology originally developed for NASA use by the center but available for transfer. A recent example: GSFC developed a Holographic Optical Element (HOE), a receiver telescope and scanning mirror to measure clouds and aerosols from a ground-based platform. GSFC's Technology Opportunity announcement described the technology, listed a number of potential commercial applications (laser probes/scanners, optical communications, robot vision systems, promotional attractions) and invited interested firms to submit proposals for transfer and commercialization of the technology.
The GSFC Technology Transfer & Commercialization Office also initiates partnerships with industry, other government agencies, or academic institutions to apply NASA-developed technologies to industrial and national needs. One aspect of partnering is facilities utilization, where specific GSFC facilities are made available for use, on a non-interference basis, by any of the partnering entities for R&D, analyses, and performance testing of products. The Technology Transfer & Commercialization Office coordinates and participates in both industry-led and government-led cost-sharing development programs.