Technology Transfer &
Commercialization Network
| | |
| --- | --- |
| Technology Transfer | |
To meet the technological needs of American industry and boost U.S. international competitiveness, NASA operates a technology transfer network, composed of a National Technology Transfer Center and six Regional Technology Transfer Centers (RTTCs).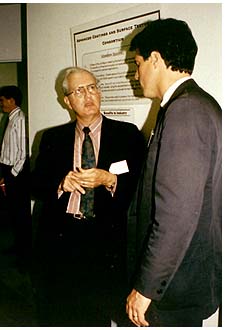 Chris Coburn (right), executive director of the Great Lakes Industrial Technology Center (GLITeC), outlines a center program to a client at a GLITeC open house.
The RTTCs generally provide their clients a range of information, technical and commercialization services of similar nature, but each RTTC offers certain specialized services and each has close relationships with a particular NASA center or centers. They are geographically located to provide an equal distribution of services throughout the U.S. The regional deployment of the centers and their alignments with the Federal Laboratory Consortium allows the RTTCs to work closely with federal, state and local programs in serving the technology-related needs of business and industry.
The six RTTCs in the national network include:
Serving the Northeast, the Center for Technology Commercialization (CTC), Inc. is a not-for-profit corporation that helps industry firms obtain and commercialize NASA, defense, industrial and university-developed technologies. CTC provides technology acquisition, market identification, partnering and commercialization services and, like the other RTTCs, conducts a TAP-IN technology utilization effort designed to help defense-oriented companies redirect their products and services into commercial markets. The CTC Technical Information Center offers technology research, marketing research, patent research, document and patent delivery services. The center also operates an "inner network" of eight Satellite Technology Transfer Centers located in the six New England States, New York and New Jersey.

Far West Regional Technology Transfer Center, located at the University of Southern California, offers help to industry in such areas as new product identification and marketing, licensing opportunities, business development, funds sourcing, organizational networking, needs assessment, technology problem solving and research/engineering assistance. Far West RTTC has also initiated the new TAP-IN program to aid defense conversion measures. Under this program, Far West RTTC (and other RTTCs) can assist companies in finding new markets, developing new products, finding funding sources, writing proposals and business plans, and acquiring new technologies.

Great Lakes Industrial Technology Center (GLITeC), the Midwest RTTC, works with industry in the six-state Great Lakes region (Illinois, Indiana, Michigan, Minnesota, Ohio and Wisconsin). Located in Cleveland, Ohio, within a mile of Lewis Research Center, GLITeC has special access to Lewis technology and staff and the two centers have initiated several technology transfer programs to promote industrial use of Lewis technology in commercial applications. GLITeC offers the full range of RTTC services, including technology assistance, commercialization, technology packaging, industrial problem solving and TAP-IN. To transfer NASA technology and commercialize Lewis technology throughout the 50 states, GLITeC maintains a network of state affiliates and partners which provide complementary services. GLITeC is managed by Battelle Memorial Institute, the world's largest nonprofit independent research organization.

Headquartered at the University of Florida College of Engineering, the Southern Technology Applications Center (STAC) has a special responsibility as the focal point of a technology transfer partnership that involves three NASA field centers: Marshall Space Flight Center (Alabama), Kennedy Space Center (Florida) and Stennis Space Center (Mississippi). The partnership is known as the Southeast Technology Transfer Alliance; its mission is to provide direct access to NASA-generated technologies and indirect access to technologies available through the national technology transfer network. The Alliance enables private sector firms to use technologies, facilities and expertise for industrial problem solving, new product development and technology commercialization. Additionally, STAC performs the full range of technology transfer and commercialization services common to all the RTTCs. The STAC Information Services Center offers access to more than 1,000 databases worldwide and provides customized value-added searches. STAC works closely with the Federal Laboratory Consortium to enable private sector clients to access the extensive R&D library of some 700 federal laboratories.

Mid-Continent Technology Transfer Center (MCTTC), headquartered at the Texas Engineering Extension Service (TEEX) of the Texas A&M University System, embraces a 14-state area served through a team of affiliates composed of private industry, university and federal/state agencies. The MCTTC has two primary customers: the federal laboratories and high tech industrial firms that need to acquire and commercialize new technology. By exercising its unique position at TEEX, MCTTC extends its technology transfer resources to other programs, particularly the Texas Manufacturing Assistance Center and the Economic Development Administration at Texas A&M. MCTTC's range of services includes technical needs assessment, technology search, innovation process situation analysis, market assessment, applications engineering, TAP-IN, technology transfer agreement facilitation, company diagnostics and a variety of training courses.

Located at the University of Pittsburgh, the Mid-Atlantic Technology Applications Center (MTAC) helps U.S. companies improve their competitiveness by assisting them in the location, assessment, acquisition and utilization of technologies and scientific/engineering expertise within the federal laboratory system. MTAC enables companies to stretch tight R&D budgets by helping them assemble a "virtual R&D" capability from external resources, such as the federal laboratories. The center works one-on-one to provide a variety of services supporting technology commercialization, including information retrieval, technical analyses and assessments market intelligence, product enhancement and applications development. MTAC has close associations with two NASA field centers: Langley Research Center and Goddard Space Flight Center.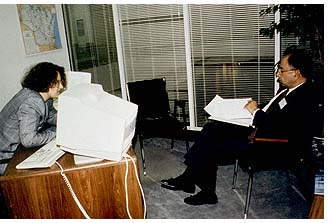 Project manager Priscilla Diem (left) explains a joint GLITeC/Lewis Research Center surface texturing program to a prospective client. Located a mile apart, GLITeC and Lewis have a close technology transfer relationship.
The hub of the national technology transfer network is the National Technology Transfer Center (NTTC). Located at Wheeling Jesuit College, Wheeling, West Virginia, NTTC serves as a clearinghouse for federal technology transfer, linking U.S. firms with federal agencies and laboratories, the RTTCs, and state/local agencies.
The center operates, in the interest of enhanced U.S. competitiveness, a "gateway service," toll-free telephone access to a full federal technology database and indexing system. By calling a 1-800 number, U.S. companies can access the federal laboratory system in search of technologies and research data that can assist them in developing their businesses.
The NTTC also provides training and educational services to government and industry to develop the skills essential to effective technology transfer, and it conducts outreach and promotional activities to improve private sector awareness of technology transfer opportunities.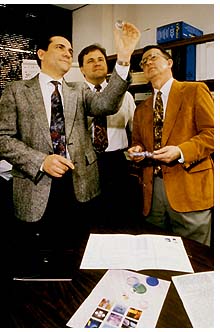 Ron Thornton (right) and Erik Sander (center) of the Southern Technology Applications Center learn about precision molded optics from their client, Dr. Jean-Luc Nogués of Geltech.
A new resource of the national network, introduced in 1996, is a special client/server database known as TechTracS, which is designed to monitor network-wide technology transfer activities. TechTracS is a means of inventorying and managing the great many technological projects that have commercialization potential; additionally, it provides a system for the administration and processing of inventions under the NASA Patent Program. The database links the 10 NASA field centers in a client/server structure that communicates across the Internet on a regular basis with the main database server at NASA Headquarters in Washington, D.C. TechTracS was developed by a team that included Research Triangle Institute, Research Triangle Park, North Carolina and ACI US, Inc., Cupertino, California, developer of the 4th Dimension (4D) software that is the core of the system.
Support for all the elements of the National Technology Transfer Network is provided by the Technology Transfer Office at the Center for AeroSpace Information (CASI). This office executes a wide variety of tasks, among them maintenance of a document request list for and mailout of Technical Support Packages (TSPs), which provide details of new technologies available for more than 70 percent of the listings published in NASA Tech Briefs (see page 126). The mailout of TSPs involves a reproduction effort of more than 1.8 million pages annually. CASI is also responsible for responding to requests for information, an activity that entails processing of some 40,000 letters and other inquiries and mailout of about 300,000 documents a year. The office additionally serves as a "central call-in" facility, channeling information and technical assistance seekers to the proper NASA technology transfer and commercialization organization or to other appropriate agencies.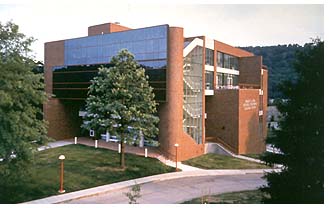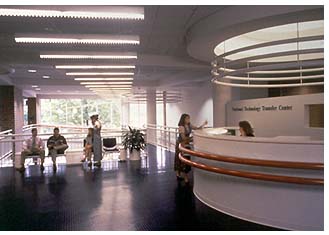 The headquarters of the National Technology Transfer
Center, the hub of the nationwide system, located at
Wheeling (West Virginia) Jesuit College.
In addition, the CASI Technology Transfer Office is responsible for research, analysis and other work associated with this annual Spinoff volume, for distribution of technology transfer publications, for retrieval of technical information and referral of highly detailed technical requests to appropriate offices, for developing reference and biographical data, and for public relations activities connected with media, industry and trade show interest in technology transfer matters and commercialization.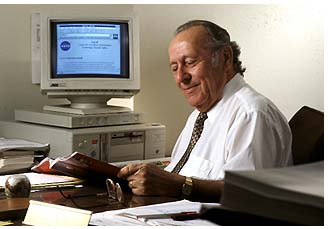 Walter M. Heiland heads the Technology Transfer Office
at NASA's Center for AeroSpace Information.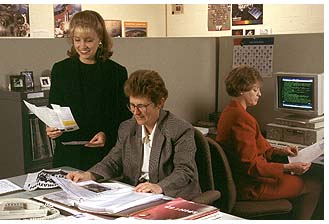 At the Center for AeroSpace Information, Jennifer Munro
(standing), Maria Zimmerman (center) and Sharleen
Angyelof research technology transfer cases for Spinoff.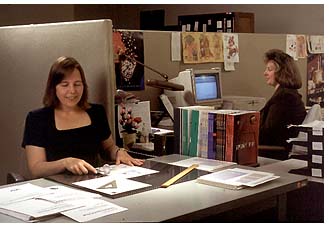 Lenora Parris (left) and Diane Odachowski prepare
cutsheets for the NASA Tech Briefs publication.