Publications
| | |
| --- | --- |
| Technology Transfer | |
An essential measure in promoting greater use of NASA technology is letting potential users know what technologies are available for transfer. This is accomplished primarily by the publication NASA Tech Briefs.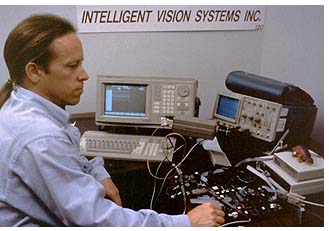 A technician of Intelligent Vision Systems, Inc. conducts a test of the company's TDS-200 Traffic Detection System. An article in NASA Tech Briefs enabled solution of a major problem with the TDS-200's sensory system.
The National Aeronautics and Space Act requires that NASA contractors furnish written reports containing technical information about inventions, improvements and innovations developed in the course of work for NASA. These reports provide the input for NASA Tech Briefs. Issued monthly, the free publication is a current awareness medium and problem solving tool for more than 200,000 government and industry readers.
Each issue contains information on newly-developed products and processes, advances in basic and applied research, improvements in shop and laboratory techniques, new sources of technical data and computer programs, and other innovations originating at NASA field centers or at the facilities of NASA contractors.
An example of how NASA Tech Briefs inspires secondary application of NASA technology is the experience of Intelligent Vision Systems, Inc. (InVision) (InVision is a trademark of Intelligent Vision Systems, Inc.), Houston, Texas, which ran into problems while developing the TDS-200 Traffic Detection System. Designed to monitor road traffic, the system consists of a series of pole-mounted sensors that identify shapes (vehicles, pedestrians), detect movement or the lack of it, count individual objects in their respective lanes, and calculate their speed; information of this type is important to highway control engineers. The problem that surfaced during development of the system was the sensor's inability to provide adequate image recognition in rain, fog or other bad weather.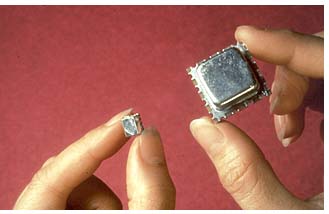 A pair of representative ICS oscillators manufactured by Integrated Component Systems, Inc. The Tech Briefs publication gave the company a lead to an improvement that has been incorporated in the ICS line.
InVision president Paul Mayeaux credited NASA technology with the breakthrough that solved the problem. He said: "After three years of limited R&D success and dwindling enthusiasm, our research group realized that we had to find another image-sensing approach. We had an economical computer, super signal processing hardware and software, but poor imagery."
In an issue of NASA Tech Briefs, an InVision researcher found an article describing a NASA technology developed for satellite imaging that utilizes multiple electromagnetic frequencies to improve image acquisition in all weather conditions. The InVision group requested and received from NASA a Technical Support Package (TSP), a collection of detailed technical data about the technology in question. The TSP, plus advice and consultation provided by Johnson Space Center, enabled solution of the problem after modification of the technology to meet InVision's special design requirements. The TDS-200 system is being produced commercially and it is in operational service at various U.S. locations.
Another example of Tech Briefs utility is supplied by Eliot Fenton, president of Integrated Component Systems, Inc. (ICS), Coconut Creek, Florida, which designs and manufactures synthesizers and oscillators used in wireless systems, modems, test equipment and related products. ICS products range in size from inch-square surface mount units to full size boards for frequency-hopping communications systems.
A regular reader of Tech Briefs, Fenton read an article therein that seemed to be the answer to an ICS problem. One of the company's customers wanted a synthesizer with wide phase modulation characteristics, yet low noise. The problem was that the two requirements are inherently incompatible in a single-loop design. An ICS engineer suggested an approach, but Fenton wanted confirmation.
The Tech Briefs article described research at Jet Propulsion Laboratory (JPL) resulting in a modified configuration for a phase-locked angle modulator that made it possible to design the filters in the modulating portion of the circuit independently of the filter in the phase-locked loop portion; applied to a phase-locked oscillator, it offered superior phase noise performance.
"The article gave my engineer valuable insight into how the process works," Fenton said, "and it substantiated our method as viable for wideband phase modulation." The technology was incorporated in the ICS series of phase-locked loop synthesizers.