Lyndon B. Johnson Space Center
Putting a face on space exploration first meant short excursions above Earth by an astronaut sitting alone in a small, confining "capsule" who ended a brief journey under a billowing parachute and plopping down into cold, ocean waters.
Astronaut flight of today features a crew that wings their way into Earth orbit in a huge space shuttle, docking with a space station, deploying scientific spacecraft or servicing a large observatory, then gliding to a smooth, runway touchdown at mission's end.
Decades of pacesetting work has created a road into space for human travelers that stretches into Earth orbit and has carried humans to the faraway shores of the Moon.
NASA's designated Center of Excellence in human operations in space is Lyndon B. Johnson Space Center in Houston, Texas. Through the Mercury, Gemini, Apollo, Skylab, Space Shuttle, and the planned International Space Station, the Johnson Space Center has been the hub for extending and expanding human operations in space.
The Space Shuttle Discovery on its Mobile Launch Platform makes its slow 3.4-mile trek from the Vehicle Assembly Building to the launch pad in preparation for the STS-82 mission. The mission crew performed the second servicing of the orbiting Hubble Space Telescope in early 1997.
Established in September 1961, first as the Manned Spacecraft Center (MSC), Johnson Space Center is NASA's primary center for design, development and testing of spacecraft and associated systems for human space flight. This center selects and trains a cadre of astronauts for space missions, and is extensively involved in medical, engineering and scientific experiments carried aboard space flights.
Johnson's Mission Control Center is where all human space flights are monitored, located at the center of the complex. A Space Station Control Center was completed in November 1991, and is now ready to support the International Space Station project.
Johnson is the very nerve center of America's piloted space endeavors. No doubt, many a television viewer has watched the cool faces of Mission Control Center workers experiencing a range of emotions, be it from "Houston, Tranquility Base here. The Eagle has landed," to "Houston, we've got a problem..."
Since 1965, the Mission Control Center has been vital to the success of every piloted space flight since the Gemini 4 mission. These teams of experienced engineers and technicians monitor systems and activities aboard spacecraft 24-hours a day during missions, using sophisticated communication, computer, data reduction and data display equipment. Watching each movement the crew and spacecraft make, Mission Control personnel double-check every number to assure that missions are proceeding as planned, and provide the expertise needed to deal with the unanticipated.
A complex of some 100 buildings dot the Johnson site of 1,620 acres near Clear Lake. The center has management responsibility for the Space Shuttle program, as well as a major accountability for the development of the International Space Station (ISS). The center is responsible for the interfaces between the ISS and the Space Shuttle and flight operations of both, and maintains excellence in the fields of space systems, engineering, life sciences, and lunar and planetary geosciences.
Additional Johnson facilities are located at nearby Ellington Field, with the center also responsible for direction of operations at the White Sands Test Facility. These facilities are situated on the western edge of the U.S. Army White Sands Missile Range at Las Cruces, New Mexico, supporting the spacecraft propulsion check-out, power system evaluations and materials testing.
Johnson Space Center engineers and scientists in 1973 were busy debriefing the last set of Apollo astronauts sent to the Moon. The Apollo 17 crew had completed a 12-day mission December 19, 1972 ending the lunar landing program initiated by then President John F. Kennedy in 1961. After six lunar landings in the Apollo program, twelve people had walked on the Moon's surface, explored the "magnificent desolation" as moonwalker Buzz Aldrin called it, and returned 842 -pounds of lunar rock and soil samples. During 1973, this precious cache of resource material was under intensive analysis at Johnson's Lunar Receiving Laboratory and being distributed to anxious scientists around the world.
From May 25 through February 8, 1974, three missions of astronaut teams to Skylab were completed. Each of those flights consisted of a three-person crew. Over this period of time, engineering groups on the ground were mobilized to problem solve. Through Johnson's Mission Control, obstacles were overcome as Skylab crew members fixed the station's woes, thus enabling the astronauts to chalk up months of living and working aboard the orbiting complex.
Early in 1973 the name change from the then Manned Spacecraft Center (MSC) to today's Lyndon B. Johnson Space Center was executed. This dedication was fitting the vision of former President Lyndon B. Johnson who helped draft, introduce, and enact the legislation that created NASA.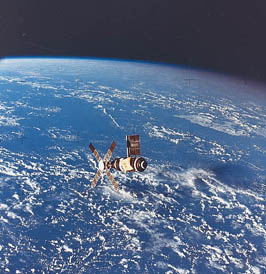 Through the guidance of Johnson Space Center's Mission Control, astronauts chalked up months of living and working aboard Skylab beginning in 1973.
Lastly, 1973 was also a time when planning was underway for the first joint undertaking with the former Soviet Union. The Apollo-Soyuz Test Project to be flown two years later would mark a new era of cooperation between spacefaring nations, sowing the seeds for U.S.-Russian collaboration in evidence today. While busily at work on this mission, Johnson Space Center planners were orchestrating America's next generation of space transportation, the Space Shuttle, a just-approved project by then President Richard Nixon.
No longer would launching cargo into space be a one-way trip. Led by Johnson Space Center engineers, the Space Shuttle Transportation System would consist of a fleet of piloted space planes called "orbiters," mounted to a giant external fuel tank and two solid rocket boosters. The result is a new class of space travel, a revolutionary way to gain access to Earth orbit.
Among the specialized training facilities at Johnson are Shuttle simulators; Space Shuttle Orbiter Trainer, the Manipulator Development Facility, Precision Air Bearing Facility and Space Station mockups; and the Weightless Environment Training Facility.
Life sciences, planetary and Earth sciences, robotics, artificial intelligence and lunar samples are a few of the center's research areas dedicated to space and life sciences.
Engineering facilities at Johnson Space Center include vacuum chambers, an anechoic chamber, antenna range, avionics testing and various structural and environmental test areas. These and other facilities, hardware and test equipment are brought to bear to support human space missions using the Space Shuttle today, and in the future as the era of the International Space Station matures.
Introduced into service in 1981 as the world's first reusable space vehicle, the Space Shuttle system has carried hundreds of people into space and delivered several millions of tons of cargo into orbit. The Space Shuttle continues today as the nation's most capable form of space transportation. It is supporting flights of astronauts to the Russian Mir space station, a prelude to assembling the International Space Station to be finished in the opening years of the next century.
In the nation's quest to master space, Johnson Space Center is positioned to seek new answers to new questions in the arena of living and working in the space environment. That work will entail building large space structures, supporting an eventual human return to the Moon and dispatching expeditions to the distant dunes of Mars.