Technology Transfer Centers
Network
The NASA Commercial Technology Program encompasses a national network of specialized centers and programs that assist U.S. businesses and industry in accessing, utilizing and commercializing NASA-funded research and technology. These organizations work closely with the NASA field centers to provide a full range of technology transfer and commercialization services and assistance. Within the program is the National Technology Transfer Network, consisting of the National Technology Transfer Center (NTTC) and six Regional Technology Transfer Centers (RTTCs).
The NTTC, located at Wheeling Jesuit College in Wheeling, West Virginia, is the hub of the network, linking U.S. companies with federal technological resources through its National Gateway. The Gateway provides businesses with rapid access to NASA and other federal technologies, expertise and facilities through various means including the World Wide Web at http:/ /www.nttc.edu and discussions at trade shows.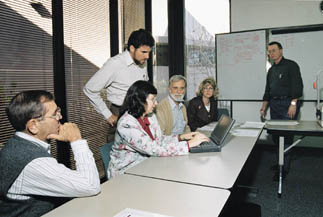 Employees of the Southern Technology Applications Center (STAC) at the University of Florida's College of Engineering in Alachua exchange ideas at their annual Strategic Planning meeting. From left to right are Bill Huffman, Debra Mills, Dave Sapuppo (standing), Jim Nicholson, Ellen Boukari and STAC director Ron Thornton. STAC is one of six NASA Regional Technology Transfer Centers.
NTTC also administers NASA's primary tool for managing its commercial resources: TechTracS (Technology Tracking System). TechTracS is an on-line network of databases located at each of the 10 field centers, Headquarters and NTTC and can be accessed on the World Wide Web at http://ntas.techtracs.org. It is designed to maintain a complete inventory of all NASA technologies, help manage the identification of new technologies and their commercial potential, administer intellectual property protection and seek commercialization partners.
The six RTTCs in the national network are: Northeast (Connecticut, Maine, Massachusetts, New Hampshire, New Jersey, New York, Rhode Island, Vermont)
The Center for Technology Commercialization (CTC) in Westborough, Massachusetts, is a not-for-profit corporation that manages NASA's RTTC in the Northeast. With a focus on technologies and facilities available at Goddard Space Flight Center, CTC works with regional companies to obtain and commercialize technologies developed by federal laboratories, universities, and industry. CTC has eight Satellite Technology Transfer Centers located in the six New England states, New York and New Jersey. As of late 1996, CTC had established four new companies, secured 30 licenses, completed 59 partnership agreements, and provided services to 3,400 companies.
Far West (Alaska, Arizona, California, Hawaii, Idaho, Nevada, Washington)
The Far West Technology Transfer Center, located at the University of Southern California in Los Angeles, focuses on linking regional companies with NASA and federal laboratories to license technology and/or enter into cooperative development agreements. The center operates its unique Remote Information Search Service to generate information from hundreds of federal, state and local databases; staff works with companies to identify opportunities at specific federal laboratories and other resources.
Mid-Atlantic (Pennsylvania, West Virginia, Virginia, Delaware, Maryland)
The Mid-Atlantic Technology Applications Center (MTAC) in Pittsburgh, Pennsylvania, can utilize a variety of resources to provide clients with "virtual" R&D. With close associations with Langley Research Center and Goddard Space Flight Center, MTAC supplies support and guidance from initial inquiry to market. MTAC also has initiated Public Service Partnerships, which are technology commercialization activities designed to solve problems and create new products that improve quality of life; one example is a Memorandum of Understanding Langley Research Center signed with the Pittsburgh Bureau of Fire, facilitated by MTAC.
Southeast (Alabama, Georgia, Florida, Kentucky, Louisiana, Mississippi, North Carolina, South Carolina, Tennessee)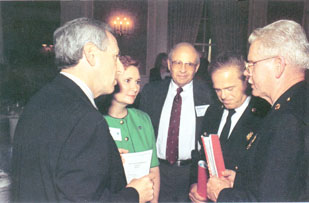 Celebrating the signing of the Memorandum of Understanding between the Mid-Atlantic Technology Applications Center (MTAC), NASA and the City of Pittsburgh Bureau of Fire (PBF) are NASA Administrator Daniel S. Goldin, MTAC Executive Director Lani S. Hummel, Business Development Specialist Robert Saba, and Robert Hirosky and Charlie Dickinson of the PBF.
The Southern Technology Applications Center (STAC) at the University of Florida's College of Engineering in Alachua expedites technology transfer and economic development through affiliates in nine southeastern states. STAC also works closely with Marshall Space Flight Center, Kennedy Space Center, and Stennis Space Center as a partner in the NASA Southeast Technology Transfer Alliance. The Alliance leverages resources and promotes NASA technologies, expertise and facilities for industry's use.
Midwest (Illinois, Indiana, Michigan, Minnesota, Ohio, Wisconsin)
The Great Lakes Industrial Technology Center (GLITeC) in Cleveland, Ohio, has helped more than 2,100 companies in its six-state region with technology-based problem solving and commercialization assistance services. Less than a mile from Lewis Research Center, GLITeC has special access to Lewis technology and staff and has initiated several technology transfer programs with Lewis. One such program is the series Technology Dialogue Over Lunch, which GLITeC uses to create relationships between Lewis and Ohio industry. The RTTC also collaborates with the federal Technology Access for Product Innovation (TAP-IN) program, implementing its market campaigns. GLITeC is managed by Battelle Memorial Institute, a nonprofit independent research organization.
Mid-Continent (Montana, Wyoming, Utah, Colorado, New Mexico, Texas, Oklahoma, Kansas, Nebraska, Arkansas, North Dakota, South Dakota, Iowa, Missouri)
Headquartered at the Texas Engineering Extension Service (TEEX) of the Texas A&M University System in College Station, the Mid-Continent Technology Transfer Center (MCTTC) works within a 14-state area to match technology-related needs to solutions drawn from a nationwide pool of resources. By exercising its unique position in TEEX, MCTTC extends its technology transfer resources to other programs, including the Texas Manufacturing Assistance Center and the Economic Development Administration at Texas A&M. Reporting directly to Johnson Space Center, the MCTTC provides public and private affiliates with the tools, expertise and resources to grow and compete on a national level.