The roar of rocketry has long been associated with the John C. Stennis Space Center. Formerly named the Mississippi Test Facility, Stennis is NASA's Center of Excellence in rocket propulsion testing. Located near the Mississippi Gulf Coast, Stennis operations take place within a huge tract of land covering nearly 14,000 acres.
This center is no stranger to the challenging demands of test firing powerful engines. Stennis was tasked in the 1960s and 1970s to test fire all first and second stages of the giant Saturn V rocket used to hurl astronauts to the Moon. In the 1970s, the center took on the role of flight acceptance testing of each Space Shuttle Main Engine (SSME)--a role that Stennis continues today. Every SSME is certified for flight prior to installation in the back end of a shuttle orbiter. Modifications over the years to the SSME, evaluated at Stennis, are making the engine more reliable and less expensive to operate.
Stennis continues its important work in propulsion testing, with the goal of developing a next generation of rocketry that can dramatically drop the cost of placing payloads into space. NASA's Reusable Launch Vehicle work involves testing at Stennis of major elements built for the Lockheed Martin X-33 test vehicle. X-33 cryogenic fuel tanks and components, including the experimental rocket plane's Linear Aerospike Engine, are scheduled to be evaluated and rung-out at Stennis. So, too, is the Evolved Expendable Launch Vehicle (EELV), the Air Force program to drop the cost of launch vehicles from twenty-five to fifty percent. Stennis Space Center's unique test hardware and static test stands will help modernize rocket technology, providing crucial engineering in the creation of new generation reusable and expendable launch vehicles.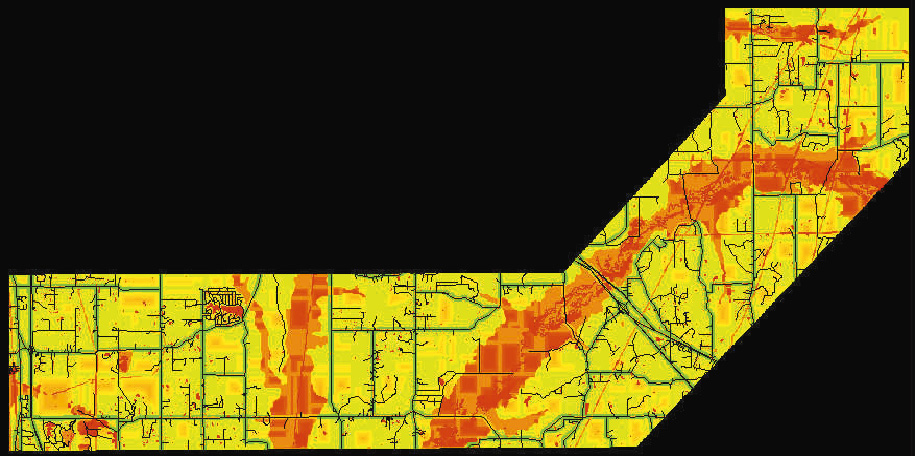 The Commercial Remote Sensing Program recently applied it's comprehensive remote sensing capabilities to highway routing plans for the Mississippi Department of Transportation (MDOT).
While working on technology to propel payloads more cheaply into orbit with greater efficiency, Stennis also has a strong interest in looking at Earth from space, through the tools of remote sensing. Remote sensing is the process of acquiring information about some object or feature of interest from a distance. Data collected by a satellite with a remote sensing device are processed into information. The information that is derived may be used to monitor forest, agricultural, environmental, mineral, or cultural resources. Maps can be created or updated using remote sensing data. Applications for data acquired from remote sensors are quite numerous, with the list growing yearly.
Enhancing U.S. economic competitiveness through development of remote sensing technologies is the mission of the Commercial Remote Sensing Program (CRSP) Office at Stennis. Stennis is the lead center for commercial remote sensing within NASA's Earth Science Enterprise. The center works to assist companies involved in environmental consulting, land use planning, and natural resource management. Stennis is enabling companies to commercialize remote sensing. Through co-funded partnerships, companies use NASA-developed technology to create information products.
One way the CRSP fulfills this objective, is by offering partnership programs that help companies use remote sensing technologies in business applications. This lowers the risk of a commercial group bringing new or improved products and services to market. By working with NASA's CRSP, private concerns can explore remote sensing technologies and equipment without investing large sums of money or revealing company-proprietary information. NASA is a temporary partner. CRSP projects last from three months to three years.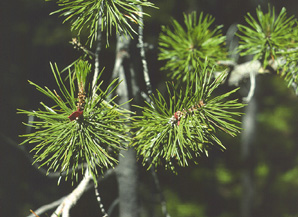 The Earth System Science Office (ESSO) at Stennis Space Center has offered ongoing assistance in the fight against the Southern Pine beetle infestation that has struck neighboring territories.
One partnership program is the Earth Observations Commercial Applications Program (EOCAP). Projects under the EOCAP banner are designed for companies already familiar with spatial information technologies. NASA shares technical, financial, and product-development risks with private sector companies while providing access to facilities, technical expertise, and experienced spatial information specialists. The objectives of the EOCAP partnerships are: To increase the economic benefits from Earth observation and related spatial information technologies; to support the development of new space-based information products and markets; to broaden the application of Earth observation technology within the public and private sectors; and to help create a self-sustaining U.S. spatial information industry.
Recently, two new partnership programs have been announced which highlight advanced technologies. One, the EOCAP-SAR, is focused on synthetic aperture radar (SAR) applications. Unlike conventional remote sensing which requires the sun for illumination, radar images and other useful data, such as ground elevation, can be obtained at night and through clouds.
Another program, the EOCAP-Hyperspectral, is intended to develop applications for remote sensing instruments which produce data in hundreds of spectral colors or "bands" (rather than just a few, such as blue, red, and green). This type of data makes possible vastly improved classification and discrimination of remotely sensed features, but with the concomitant need to store and process enormous quantities of data. Applications of these new types of data are not yet in the mainstream and CRSP intends to bring this technology into common use, much in the same way that digital remote sensing and imaging processing technologies evolved a few short years ago. Looking into the near future, the EOCAP-SAR will help advance SAR technology from the pure science and research stage to a validated operational, product-oriented status.
The Earth System Science Office (ESSO) at Stennis investigates key biological, chemical, geological, and physical processes, as well as human influences on these processes. This is done through the study of coastal processes in support of NASA's Earth Science Enterprise. Research done at the ESSO has assisted in the fight against the Southern Pine beetle infestation that has struck forests neighboring Stennis. The global carbon cycle of local bays has also been studied, providing new information on shrimp and oyster production.
The ESSO has spurred the use of remote sensing for archaeological and anthropological research. Human adaptation to changing coastal environments can be assessed through remote sensing. Ecological baselines of coastal and estuarial areas are quickly established through the study of archaeological sites. Human settlement subsistence patterns can be examined over changing coastal conditions. In addition, the delineation of ocean processes via remote sensing offers insight into the complex interactions between coastal land and ocean processes, including human influence on those mechanisms.
Stennis Space Center is well-suited to nurture increased application of remote sensing within the public and private sectors. These customers are able to utilize remote sensing data to help businesses grow and give public sector managers more powerful tools to exercise stewardship of the Earth's bounty of natural resources.