Throughout the nation, the NASA Commercial Technology Program sponsors several centers and their activities which are designed to assist U.S. business and industry in accessing, assessing, utilizing, and commercializing NASA-sponsored technology. These organizations work closely with NASA to provide a full range of technology transfer and commercialization services and assistance.
The hub of the network is the National Technology Transfer Center (NTTC) <http://www.nttc.edu>, located at Wheeling Jesuit College in Wheeling, West Virginia. The NTTC is an integrated resource for accessing federally-funded research and development and other information. By way of the NTTC Gateway, a free service, the private sector can maintain person-to-person contacts in the federal laboratory system. The Gateway provides a direct link to many resources including technical reports, technologies, and facilities at NASA and other federal laboratories.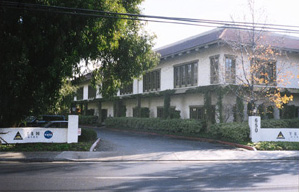 The Ames Technology Commercialization Center (ATCC) is located in San Jose, California. As a business incubator, the ATCC provides office space and related business services for local start-up companies utilizing NASA technologies.
The NTTC is also responsible for administering NASA TechTracS <http://www.techtracs.org>, which provides access to NASA's technology inventory and numerous examples of the successful transfer and commercialization of NASA-sponsored technology. TechFinder, the main feature of the Internet site, allows users to search the technologies and success stories, as well as submit requests for additional information. All of NASA's field centers submit information to the TechTracS database as a means of tracking technologies that have potential in the commercial marketplace.
Since their inception in January 1992, the six NASA-funded Regional Technology Transfer Centers (RTTC) have helped U.S. firms investigate and utilize NASA and other federally-funded technologies for commercial and industrial applications. RTTC services include technology sourcing, technology/market analysis and the development of technology transfer and commercialization projects and agreements. Companies seeking new products, improvements to existing products, or solutions to technical problems go to the RTTCs for help. The RTTCs provide technical, commercial, and general assistance to several thousand customers every year.
Northeast (CT, MA, ME, NH, NJ, NY, RI, VT)
The Center for Technology Commercialization (CTC) <http://www.ctc.org>. is a non-profit organization based in Westborough, MA. Covering the six New England states plus New York and New Jersey, the CTC currently has seven satellite offices that form strong relationships with the Northeast industry. Operated by the CTC, NASA's Business Outreach Office stimulates business between regional contractors and NASA field centers and prime contractors, with a focus on technologies and facilities available at Goddard Space Flight Center.
Mid-Atlantic (DC, DE, MD, PA, VA, WV)
The Mid-Atlantic Technology Applications Center (MTAC)
<http://www.teccenter.org/. html> is located at the University of Pittsburgh in Pennsylvania. MTAC has designed TechScout, a highly specialized set of matchmaking services designed to help companies locate technology/technical expertise within NASA and the federal laboratory system. Close relationships with Goddard Space Flight Center and Langley Research Center allow MTAC to help U.S. firms improve their competitiveness by assisting them in the location, assessment, acquisition and utilization of technologies and scientific engineering expertise.
Southeast (AL, FL, GA, KY, LA, MS, NC, SC, TN)
The Southern Technology Applications Center (STAC). is headquartered at the University of Florida in Alachua. Working closely with Marshall Space Flight Center, Kennedy Space Center and Stennis Space Center, STAC helps to spur economic development in each of the nine states in the southeast. To facilitate the transfer of NASA technologies, expertise and facilities, the four NASA entities formed the NASA Southeast Technology Alliance.
Mid-Continent (AR, CO, IA, KS, MO, MT, ND, NE, NM, OK, SD, TX, UT, WY)
The Mid-Continent Technology Transfer Center (MCTTC) <http://teexweb.tamu.edu/teex.cfm?pageid=programs&area=teex&templateid=186>, under direction of the Technology and Economic Development Division of the Texas Engineering Service, is located in College Station, Texas. The MCTTC, which provides a link between private companies and federal laboratories, reports directly to Johnson Space Center. The assistance focuses on high-tech and manufacturing companies that need to acquire and commercialize new technology.
Mid-West (IL, IN, MI, MN, OH, WI)
The Great Lakes Industrial Technology Center (GLITeC), <http://www.battelle.org/glitec> managed by the Batelle Memorial Institute, is located in Cleveland, Ohio. GLITeC works with industry primarily within its six-state region to acquire and use NASA technology and expertise, with a special concentration on Lewis Research Center. Each year, over 500 companies work with GLITeC and its affiliates to identify new market and product opportunities. Technology-based problem solving, product planning and development, and technology commercialization services are among the services offered.
Far West (AK, AZ, CA, HI, ID, NV, OR, WA)
The Far West Regional Technology Transfer Center (RTTC) <http://www.usc.edu/dept/engineering/TTC/NASA> is an Engineering Research Center within the School of Engineering at the University of Southern California in Los Angeles. Utilizing the Remote Information Service to generate information from hundreds of federal databases, the staff then works one-on-one with businesses and entrepreneurs to identify opportunities, expertise and other necessary resources. The Far West RTTC enhances the relationship between NASA and the private sector by offering many unique services, such as the NASA Online Resource Workshop, NASA Tech Opps, and links to funding and conference updates.
The Research Triangle Institute (RTI) <http://www.rti.org> located in Research Triangle Park, North Carolina, provides a range of technology management services to NASA. RTI performs technology assessments to determine applications and commercial potential of NASA technology, as well as market analysis, and commercialization and partnership development. Working closely with all of NASA's Commercial Technology offices, RTI's efforts have already resulted in the negotiation of 27 licenses to companies and 18 new product introductions based on NASA technologies.
The MSU-NASA TechLink Center <http://www.montana.edu/techlink>, located at the Montana State University-Bozeman, was established in 1997 to match the technology needs of client companies, with resources found throughout NASA and the federal laboratory system. TechLink focuses on a five-state region which includes Montana, Idaho, Wyoming, South Dakota, and North Dakota. Working closely with public, private and university programs, TechLink provides ongoing support in the process of adapting, integrating and commercializing technology.
NASA currently sponsors four technology commercialization incubation centers across the nation. Programs established at Ames Research Center, Kennedy Space Center, Lewis Research Center, and Stennis Space Center assist start-up companies with commercializing NASA technology. The incubators offer low-cost executive office space and related business services, onsite staff to meet the daily needs of the tenant companies, and access to NASA technology, expertise and facilities.
The Ames Technology Commercialization Center (ATCC) <http://ctoserver.arc.nasa.gov/> is a physical and virtual small business incubator located in San Jose, California. The ATCC provides opportunities for start-up companies utilizing NASA technologies to grow and become robust high technology businesses.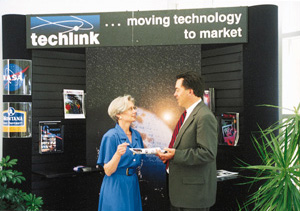 The MSU-NASA Techlink Center was established in 1997 at the Montana State University-Bozeman. Diane Cattrell, Techlink Program Specialist, presents a Certificate of Appreciation from the Montana Tradeport Authority to Peter Perna, Techlink Executive Director.
The Florida/NASA Business Incubation Center (FNBIC) is a joint partnership of Brevard Community College, the Technological Research and Development Authority, and Kennedy Space Center. The mission of FNBIC is to increase the number of successful technology-based small companies originating in, developing in, or that relocated to Brevard County.
The Mississippi Enterprise for Technology is sponsored by NASA, the Mississippi University Consortium and Department of Economic and Community Development, and the private sector. The mission of the Enterprise is to utilize the scientific knowledge and technical expertise at the Stennis Space Center to aid individuals, as well as companies, in applying the technological discoveries of the government to the non-government world.
Managed by Enterpriser Development, Inc., the Lewis Incubator for Technology (LIFT) <http://www.liftinc.org> is the newest addition to NASA's technology incubators. A strong relationship with staff at Lewis Research Center provides outstanding technology and support resources to businesses in the Cleveland, Ohio area.