Affiliated Organizations & Services
| | |
| --- | --- |
| Affiliations | |
To complement the specialized centers and programs sponsored by the NASA Commercial Technology Program, affiliated organizations and services have been formed to strengthen NASA's commitment to U.S. business. Private and public sector enterprises build upon NASA's experience in technology transfer in order to assist the channeling of NASA technology into the commercial marketplace.
The road to technology commercialization begins with the basic and applied research results from the work of scientists, engineers, and other technical and management personnel. The NASA Scientific and Technical Information (STI) <http://www.sti.nasa.gov> Program was established to provide the widest appropriate dissemination of NASA's research results. The STI Program acquires, processes, archives, announces, and disseminates NASA's internal, as well as worldwide, STI.
With the largest collection of aerospace STI in the world, many products and services are available to the aerospace community and public including:
NASA STI Report Series including Technical, Conference, and Special Publications; Technical Memoranda; Contractor Reports; and Technical Translations;

STI World Wide Web site with access to the NASA STI database; online ordering of documents;

Automatic and on-demand document distribution; custom bibliographies; specialized indexing; and

The NASA STI Help Desk for assistance in accessing STI resources and information.
Free registration with the program is available through the NASA Center for AeroSpace Information (CASI).
For more than three decades, the reporting to industry of any new, commercially-significant technologies developed in the course of NASA's R&D has been accomplished through the publication of NASA Tech Briefs <http://www.nasatech.com>. First issued in 1963 as single sheet reports and converted to a magazine format in 1975, NASA Tech Briefs has been a joint effort of NASA and Associated Business Publications since 1985. The current qualified circulation surpasses 207,000.
The monthly magazine features innovations developed by NASA, industry partners, and contractors that can be applied to develop new or improved products, and solve engineering or manufacturing problems. Authored by the engineers or scientists who performed the original work, the briefs cover a variety of disciplines including computer software, mechanics, and life sciences. Most briefs offer a supplemental Technical Support Package (TSP), available free by downloading from the World Wide Web, which explains the technology in greater detail and provides contact points for questions or licensing
discussions. NASA Tech Briefs also contains feature articles on NASA spinoffs, tech transfer resources, news briefs, and application stories.
The NASA Small Business Innovation Research (SBIR) <http://www.sbir.gsfc.nasa.gov/SBIR.html> Program provides seed money to U.S. small businesses for developing innovative concepts that meet NASA mission requirements. Each year NASA invites small businesses to offer proposals in response to technical topics listed in the annual SBIR Program Solicitation. The NASA field centers negotiate and award the contracts, and monitor the work.
NASA's SBIR Program is implemented in three phases:
Phase I is the opportunity to establish the feasibility and technical merit of a proposed innovation. Selected competitively, NASA Phase I contracts last for six months and must remain under specified monetary limits.

Phase II is the major R&D effort. It continues the most promising of the Phase I projects based on scientific/technical merit, results of Phase I, expected value to NASA, company capability, and commercial potential. Phase II places greater emphasis on the commercial value of the innovation. The contracts are usually for a period of 24 months and again must not exceed specified monetary limits.

Phase III is the process of completing the development of a product to make it commercially available. While the financial resources needed must be obtained outside the funding set aside for the SBIR, NASA may fund Phase III activities for follow-on development or for production of an innovation for its own use.
The SBIR Management Office, located at Goddard Space Flight Center, provides overall management and direction of the SBIR Program.
The Small Business Technology Transfer (STTR) <http://www.sbir.gsfc.nasa.gov/SBIR.html> Program awards contracts to small businesses for cooperative research and development with a research institution through a uniform, three-phase process. The goal of Congress in establishing the STTR program is to transfer technology developed by universities and federal labs into the marketplace through the entrepreneurship of a small business.
Although modeled after the SBIR Program, STTR is a separate activity and is separately funded. The STTR program differs from the SBIR program in three ways: the funding and technical scope is limited; offerors must be teams of small businesses and research institutions who will conduct joint research; and limitations are set for time and funds in the Phase I and II efforts.

The Federal Laboratory Consortium for Technology Transfer (FLC) <http://www.federallabs.org> was organized in 1974. To promote and strengthen technology transfer nationwide, more than 544 major federal laboratories and centers, including NASA, are currently members. The mission of the FLC is twofold:
To promote and facilitate the rapid movement of federal laboratory research results and technologies into the mainstream of the U.S. economy.

The approach of the FLC is to use a coordinated program that meets the technology transfer support needs of FLC member laboratories, agencies, and their potential partners in the transfer process.
The National Robotics Engineering Consortium (NREC) <http://www.cronos.rec.ri.cmu.edu> is a cooperative venture of NASA, the city of Pittsburgh, the state of Pennsylvania, and Carnegie Mellon's Robotics Institute. Its mission is to move NASA-funded robotics technology to industry. Industrial partners join the NREC with the goal of using high technology to gain a greater market share, develop new niche markets, or create entirely new markets within their area of competition.
Scientists and business work together to develop full business plans to guide product development toward the goals of the industrial sponsor. Project teams offer a full range of expertise, from design through marketing. The NREC patents new concepts, provides entrepreneurial training, and streamlines licensing arrangements.
Highlighted below are publications available through NASA's Commercial Technology and STI Programs.
Aerospace Technology Innovation <http://www.nctn.hq. gov/innovation/index.html> is published bimonthly by the NASA Office of Aeronautics and Space Transportation Technology. Regular features include current news and opportunities in technology transfer and commercialization, aerospace technology and development, and innovative research.
NASA Spinoff <http://www.sti.nasa.gov/tto/spinoff. html> is an annual publication featuring current R&D efforts, the NASA Commercial Technology Program and successful commercial and industrial applications of NASA technology. In addition to the print version, the publication maintains a World Wide Web site which includes online versions of the publication and a searchable database of products and services derived from NASA technology that have been featured since 1976.
NASA's STI Program generates, among others, these important publications:
The Scientific and Technical Aerospace Reports (STAR) is an electronic abstract journal, published biweekly, that announces documents recently entered into the STI database.

The NASA Thesaurus contains the authorized subject terms by which the documents in the STI databases are indexed and received.

The NASA Patent Abstracts Bibliography is a semiannual publication containing comprehensive abstracts of NASA-owned inventions covered by U.S. patents and applications for patent.

The STI Bulletin, now an online-only publication, is the official newsletter of the NASA STI Program.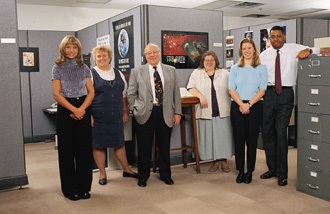 The NASA Center for AeroSpace Information in Hanover, Maryland is home to the Scientific and Technical Information Program as well as the NASA Spinoff Team. Pictured left to right are members of the Technology Transfer, Publications and Graphics Team: Danielle Israel, Editor, Doris Wahl, Publications coordinator, Walter Heiland, Spinoff Project Manager, Deborah Drumheller, Senior Publications Specialist, Amy Harding, Senior Editor, and John Jones, Senior Graphic Designer.
Previous Page / Home / Contents / Next page