While many of us are familiar with the technologies resulting from aerospace research, we often fail to consider the vast array of outreach success to which NASA research and development efforts have contributed. The benefits are far-reaching and often times allow those other than astronauts, to reach for the stars.
In the past, visually impaired students were unable to experience images from space. But now, a new book entitled Touch the Universe: A NASA Braille Book of Astronomy combines tactile illustrations with images of planets, star clusters, and nebulae captured by the Hubble Space Telescope. The book was made possible by a grant from NASA's Office of Space Science, and the efforts of astronomer Bernhard Beck-Winchatz, of DePaul University, Chicago, Illinois, and author/astronomer, Noreen Grice. Grice developed clear tactile overlays for each image. The overlays were sent to science teacher and astronomy enthusiast, Benning Wentworth, at the Colorado School for the Deaf and the Blind. Wentworth's students evaluated images for clarity and provided important suggestions. The resulting book contains tactile thermoform pages, placed in front of the color Hubble images, making the book appealing to readers of all visual abilities.
Retired NASA professionals are now applying their skills to the medical industry. Enterprising space veterans, who helped establish what we can now call the "Space Age" are dedicating their time to Volunteer Professionals for Medical Advancement. Retirees from NASA's Jet Propulsion Laboratory work with doctors and other medical professionals, attempting to develop new medical technologies. The organization's ultimate goal is to provide hospitals with free services that are otherwise unaffordable. To date, the organization can claim credit for a number of medical advancements including: using a stent to solve a blood-clot problem that could cause heart attacks; the preliminary design of an automated oxygen-enrichment system for premature infants; and the creation of an advanced database private computer network for pediatricians. Now in its tenth year, the organization looks forward to upcoming challenges in the medical field.
Another NASA outreach success helps brain-injured patients to explore the stars with the click of a mouse. Through a new interactive hands-on program, patients at the Delta Rehabilitation Facility for the Severely Head-Injured, in Snohomish, Washington, were able to view and download celestial images through Telescopes in Education, a program sponsored by NASA's Jet Propulsion Laboratory. The program allows both educators and students around the globe to remotely control research-grade telescopes and charge-coupled device cameras at the Mount Wilson Observatory, Mount Wilson, California. All that is needed is a computer modem and the special astronomy software. As the Director of Internet Services for the Brain Injury Association of Washington, Paul Walsh, and his wife, Valarie, teach basic astronomy to the Delta residents. Mr. Walsh was inspired by the enthusiasm of the students and sensed that astronomy could help with the rehabilitation process, which involves surrounding patients with community and bringing life stimulation to them. Both Mr. Walsh and the patients are truly grateful for the program. "It's one of the best down-to-earth ideas they've ever come up with. The program is all about tying people to the stars; the young, the disabled, the city bound, and the imagination bound."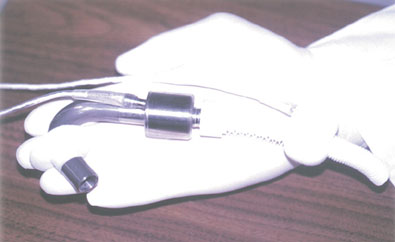 While NASA research is always helping to spark new technologies, some of that research helped battle the blazes of wildfires that seized the West in the summer of 2000. NASA scientists provided fire officials with observations of the fires, courtesy of the Moderate-resolution Imaging Spectroradiometer (MODIS) instrument, onboard NASA's Terra satellite. NASA's Goddard Space Flight Center and the National Oceanic and Atmospheric Administration provided fire officials with daily images of fires in Montana and Idaho, the two states that ultimately suffered the most damage. These images provided a brief overview as to where the fires were most active, allowing firefighters to plan each day's strategy and allocate resources for monitoring and battling the flames. Terra Project Scientist, Yoram Kaufman explains that "new satellite technology, as manifest in the MODIS instrument on Terra, can be used not only to do new Earth system science, but it can also be used to help monitor wildfires, save lives and property, and monitor air quality."
Developed with the assistance of Johnson Space Center, the DeBakey Ventricular Assistance Device (VAD) is bringing hope to patients awaiting heart transplants. Dr. Michael DeBakey led a team of Johnson scientists and medical specialists to develop the miniature heart assist pump, which is based partly on technology used in Space Shuttle fuel pumps. The VAD helps patients whose hearts cannot pump sufficient blood to maintain adequate blood flow while recovering from heart surgery, waiting for a heart transplant, or for a variety of other medical reasons. It is estimated that more than 35,000 patients a year could benefit from this pump. Presently, over 2 million people suffer from congestive heart failure and a pump such as the VAD could also assist a large portion of these patients. While still in clinical trials, the pump has been implanted in as many as 100 people for as long as four months. The pump gives patients an extension on hope as they wait for a heart donor. MicroMed Technology, Inc. of Houston, Texas, is the exclusive licensee and manufacturer of the DeBakey VAD.
A young Texas boy was finally able to enjoy the outdoors thanks to NASA technology. Cardi Hicks of Magnolia, Texas, suffers from four rare skin diseases that cause a severe reaction to the Sun and even bright indoor lights, which can raise his body temperature to fatal levels. With the help of NASA technology from Johnson Space Center and the Hypohidrotic Ectodermal Dysplasia (HED) Foundation, Cardi received an ultra-violet (UV)-protection suit that allows him to go outside
and remain protected from harmful light. HED is a disease where the victim lacks sweat glands, which can lead to heat stroke, heat exhaustion, and even death. The suit consists of a white jacket, pants, gloves, headgear, and goggles, and protects the skin from more than 99.9 percent of the Sun's UV rays. NASA and HED have worked together since 1997 to provide the special suits to children who need them.
More than 15 million Americans are afflicted with diabetes. Thanks to NASA's virtual reality technology, many of these sufferers may experience a new treatment in the self-management of the disease. NASA's artificial-vision technology can help patients at risk for nerve damage associated with diabetes to visualize and control blood flow to their arms and legs. This new application of virtual reality results from several years of research aimed at enhancing aviation safety and combines two technologies: sensors to measure the body's reactions, and powerful computer graphics to turn those measurements into a 3-D virtual environment. Researchers hope this use of self-management, or biofeedback, will help diabetes patients learn to eventually control their blood flow without the use of the virtual reality device.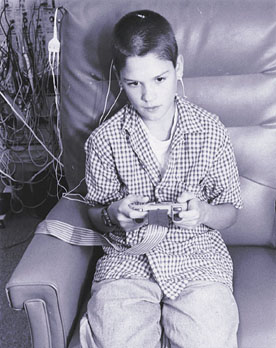 An ingestible capsule is becoming a valuable tool in the diagnosis of diseases in the small intestine. Invented at NASA's Jet Propulsion Laboratory, the capsule uses image sensors and high-performance image-capture technology, incorporated into pill form. Photobit Corporation, of Pasadena, California owns the rights to the NASA-developed technology, which is still undergoing clinical trials. The pill obtains color video of the gastrointestinal track as it makes it way through the body. The images are transmitted to a computer workstation, where they are viewed by medical professionals who use them to diagnose gastrointestinal diseases. It is hoped that this development will lessen the need for x-rays and invasive endoscopic exploration, both of which can cause patient discomfort.
NASA is continuously making significant strides to provide for the well-being of the Earth and its residents. By using its resources to create revolutionary technologies, NASA is bettering the lives of people everywhere.