The Technology Programs and Commercialization Office at the NASA John F. Kennedy Space Center, in Florida, is vigorously implementing Administrator Daniel S. Goldin's Agenda for Change by striving to increase its number of partnerships with the commercial sector. To facilitate this, a staff of seven permanent NASA technology transfer professionals, two NASA rotational assignment employees, and eight on-site support specialists work within the framework of the office that encompasses technology evaluation, intellectual property, commercialization, patent licensing, joint development partnerships, SBIR/STTR programs, grants, and Space Act Awards. Kennedy Space Center's patent counsel and a paralegal also support the office. In an effort to more closely align Kennedy's way of doing business with that of the private sector, the Center is supporting the development and transfer of technology leading to commercial products and services through a mix of business practices and specific plans to leverage NASA resources.
Licensing
Several Kennedy-developed technologies have resulted in exclusive licenses during the past year, including:
Conducting Compositions of Matter, a technique that uses template guided polymerization to increase the solubility and processibility of electrically conducting polymers;

Gas-Liquid Supersonic Cleaning and Cleaning Verification Spray System, a spraying system for cleaning mechanical components, which uses less liquid and operates at significantly lower pressures;

Process and Equipment for Nitrogen Oxide Waste Conversion to Fertilizer, a control element within a nitrogen oxide wet scrubber used to reduce emissions of rocket fuel oxidizer;

Non-Intrusive Cable Tester, for detecting a short or open circuit in a shielded cable that requires low frequency input;

Internet Display of PC GOAL Real-Time Data Using Java (JView), a personal computer-based software for distributed multiple Space Shuttle subsystem status displays;

Corrosion Resistant Coating, electrically conductive polymer coatings developed as corrosion-protecting coatings for metal surfaces; and

Multipurpose Inspection Software, a customized software system that automates the scheduling, reporting, and tracking of the fire inspection (prevention) process.
Other technologies such as the Remote Monitor Alarm System, an electronic central monitoring system used to monitor malfunction alarms and power supplies on remotely located equipment modules of transmitting and receiving equipment in fiber-optic communications network; and Accurate Location of Lightning Strikes, a system that determines the locality of a lightning strike within the perimeter of a launch pad, were licensed non-exclusively.
Under a Dual Use Cooperative Agreement, The Aerospace Engineering Group of IDEA (Beltsville, Maryland) was competitively selected to jointly complete development of the Automatic Particle Fallout Monitor (APFM) with NASA, fulfilling an immediate demand as part of International Space Station processing. The APFM measures the size and number of particles, as small as 5 micrometers in diameter, that are collected on a witness surface and provides multiple cleanliness measurements that conform to Military (MIL) Standard 1246. IDEA is commercializing the patented Kennedy invention through an exclusive license and has targeted several markets, including aerospace, semiconductors, medicine, and electronics fabrication.
Industry briefings are a mechanism used increasingly at Kennedy Space Center to market technologies that have commercial application. Two such briefings were held at the Center this year, with representatives from 20 companies benefiting from a general session, which included a technical briefing by the inventors, followed by breakout sessions which addressed intellectual property issues and licensing specifics. These briefings resulted in multiple license applications, from which two licenses were negotiated, providing future royalties to NASA.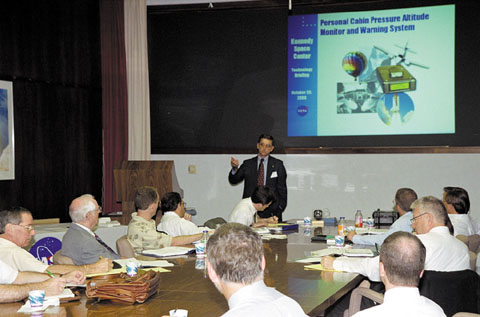 Representatives from various companies attend an industry briefing on the Cabin Pressure Monitor at Kennedy Space Center.
Partnerships
Key to the success of the technology transfer function are the partnerships that the Center has established. Recently, the Georgia Institute of Technology was chosen to operate and manage the Southeast Regional Technical Transfer Center (SERTTC) under a five-year, $7 million contract, with Kennedy acting as the regional NASA sponsor. The SERTTC contract supports three NASA field centers: Marshall Space Flight Center, Stennis Space Center, and Kennedy Space Center. The SERTTC serves the southern states of Alabama, Florida, Georgia, Kentucky, Louisiana, Mississippi, North Carolina, South Carolina, and Tennessee, and is one of six regional technology transfer centers (RTTCs) around the country. In addition to the licensing of technologies, the SERTTC assists applicants for NASA's Small Business Innovation Research (SBIR) and Small Business Technology Transfer (STTR) initiatives. Specialists at the SERTTC also help connect businesses that have specialized research needs with available research and development (R&D) facilities within NASA.
Kennedy benefits from a highly successful and long-standing relationship with Research Triangle Institute (RTI). RTI has worked with NASA for over 30 years on its technology assets, providing a range of services including: technology assessment, valuation, and marketing; market analysis; commercialization planning; and the development of partnerships. During the past five years, the group evaluated more than 1,000 NASA technologies, helped develop 55 licensing agreements, and brought 27 products to market.
Kennedy Space Center has entered into a two-year agreement with the Technological Research and Development Authority (TRDA) to help the Center promote a newly restructured, dual-use technology program. The partnership is designed to support the identification of promising new technology within NASA that has commercial applications. This will result in more viable dual-use technology projects and the accomplishment of multiple technology transfers and commercialization on a continuing basis. Under the new agreement, the TRDA will be responsible for providing awareness to Florida companies. The program will be marketed to universities, regional economic development organizations, small business development centers, and others who can help the TRDA search for commercial companies, especially small businesses, focused in the high-tech, defense, and aerospace industries.
Another resource that Kennedy uses to transfer technology to the commercial market is the Florida/NASA Business Incubation Center (FNBIC). FNBIC was created to assist entrepreneurs and small technology-based businesses by offering share office resources at a reduced cost, enhanced access to state and local business assistance programs, and enhanced access to NASA technologies. To date, three royalty-bearing license agreements have been signed between NASA and FNBIC clients to commercialize Kennedy-developed technologies.
In addition to partnerships sponsored directly by the Technology Programs and Commercialization Office, Kennedy Space Center sponsors other business-related partnerships. In partnership with the State of Florida, the Center is developing the Space Experiment Research and Processing Laboratory (SERPL). It will be a world-class laboratory with all the capability and systems necessary to host International Space Station experiment processing, as well as associated biological and life sciences research, including biotechnology; microgravity; space agriculture; biomedicine, conservation biology; and microbial ecology. This unique laboratory will be the magnet facility in the initial phase of a proposed 400-acre Space Commerce Park at Kennedy Space Center. The park will provide an ideal location for businesses and research groups with a need for close proximity to the Space Center's launch and landing facilities, and technical capabilities. This project represents a significant opportunity to enhance commercial and academic access to the spaceport and the International Space Station. Research will be jointly conducted by NASA and a university-led consortium open to public and private institutions. Each partner's scientific research and intellectual resources will enhance the total knowledge base and expertise, and provide a solid foundation for a new science, research, and technology development community in the area.
The Cryogenics Testbed Facility, a new venture in technology and research collaboration, is just one more example of the partnerships being forged with Kennedy Space Center. Cryogenics and high vacuum techniques and technology are being used all around the world. Kennedy created this facility to better apply cryogenics to our lives in the fields of medicine, biology, food, computers, industry, rocket propulsion, and the spaceports of the future. The special facility is operated under a jointly funded agreement between Dynacs Engineering Co., Inc., the Florida Department of Community Affairs, the Technological Research and Development Authority, and NASA. The facility has already paid dividends in applying technology solutions to operational needs at the Space Shuttle launch pad. Several commercial cryogenic projects have already been completed with the number of businesses seeking services steadily starting to climb. The testbed demonstrates the win-win philosophy and the innovative initiatives in technology transfer for which Kennedy has become known. This testbed will be the pathfinder for making other Kennedy testbeds commercially available as well.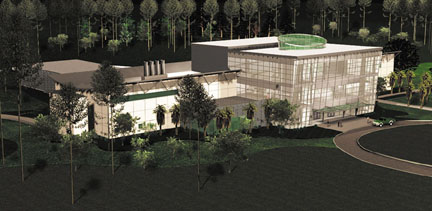 An artist's conception of the proposed Space Experiment Research and Processing Laboratory (SERPL) facility. Construction is projected to begin in October 2001.
SBIR/STTR Programs
The Technology Programs and Commercialization Office is a major contributor to the Small Business Innovation Research (SBIR) and Small Business Technology Transfer (STTR) programs at Kennedy Space Center. Congress established the SBIR Program in 1982 to provide increased opportunities for small businesses to participate in research and development (R&D), to increase employment, and to increase private-sector commercialization of innovations derived from Federal R&D. Legislation enacted in December 2000 extended and strengthened the SBIR program and increased its emphasis on pursuing commercial applications for innovations developed with SBIR funding. Kennedy has been very successful in granting six Phase III contracts totaling over $3 million on SBIR innovations. Kennedy's SBIR program has also generated 18 NASA Success Stories, where a small business concern has successfully commercialized an innovation developed through a SBIR contract.
The STTR program is very similar to the SBIR program but requires that the small business concern enter into a cooperative agreement with a non-profit research institution to jointly propose technology developments. The STTR program requires that at least 30 percent of the contract work be performed by the research institution. The STTR program has proven to be extremely successful in increasing the number of Florida companies and research institutions involved in the program and receiving awards.
The SBIR/STTR programs support technologies such as: fluid system technologies, spaceport structures and materials, process engineering, command control and monitoring technologies, range technologies, and biological sciences. The combined SBIR/STTR programs at Kennedy in the past year have funded close to $5 million for research and development contracts.
Marketing
The marketing program in the Technology Programs and Commercialization Office at Kennedy Space Center is specific to technologies developed in support of the Space Shuttle, Space Station, and Payload Processing missions. The marketing effort supports Agency-wide initiatives, such as sensors, medical devices, and materials. The sensors industry initiative is particularly relevant to Kennedy, since many of our technologies involve detection devices capable of performing under rigorous conditions of launch and the harsh conditions of space. Throughout the launch process, from pre-launch testing through the final seconds of countdown, more than 300 sensors are critical in the launch decision. These sensors with high-performance criteria are of great interest to industry applications ranging from medical and environmental, to manufacturing and instrumentation. For instance, the UV-IR Hydrogen Flame Detector, used to detect hydrogen fires on the Shuttle pad, has applications in the petrol chemistry industry.
Since Kennedy technologies are developed for use at the Center, they are in a higher state of readiness for transfer to applicable industries. The Transient Voltage Recorder that helps detect surges that could damage high-tech equipment on Shuttle systems also has applications in sensitive environments such as computer rooms, communications systems, and control operations. The Conversion of Nitrogen Oxide Waste conversion technology, developed to reduce hazardous rocket fuel waste, also has applications in the power plant industry. The Wireless Universal Interface Adapter provides push-to-talk signals to a communications system as if the user were directly wired to the system. Used at in Kennedy ground support equipment operations, this technology is applicable to call centers, emergency response, and law enforcement. These and other technologies are readily available for licensing and transfer for commercial application through Kennedy's Technology Programs and Commercialization Office.
Awards
Several Kennedy technologies earned awards this past year, both inside and outside of NASA. Nitrogen Oxide Waste Conversion won the NASA Commercial Invention of the Year, Gas-Liquid Supersonic Cleaning and Cleaning Verification Spray System was honored by the Federal Laboratory Consortium Southeast Region for Excellence in Technology Transfer, while Advanced Lubricants, a success story from a previous year, was inducted into the U.S. Space Foundation Space Technology Hall of Fame in April 2000. Additionally, with concerted efforts through the Space Act Awards program, Kennedy Space Center increased recognition for inventors through technical awards in the amount of $175,000. Award recipients attend an annual luncheon, which serves not only to bring recognition to inventors, but also promotes awareness of the requirement and benefits of reporting new technologies to the Center.
Inreach
Kennedy's inreach efforts include an annual Technology Transfer Week, during which office representatives staff an exhibit in the several facilities at the Center, answering questions and dispensing program literature. Center director, Roy Bridges, sponsored a Center-wide initiative to increase the number of new technology reports. Toward this effort, the Technology Programs and Commercialization Office partnered with contractor representatives to promote an understanding of technology transfer objectives and contract requirements to report technologies developed at the Center in support of the Shuttle program. The results showed a marked increase in the numbers of new technology reports filed by contractors.
Many challenges lie ahead, and the role of the Technology Programs and Commercialization Office will continue to be refined. The office is an integral part of the NASA commercial technology mission and a mainstream function of Kennedy Space Center. As we enter the 21st century, Kennedy Space Center will continue to review and improve the process of enabling commercial development, supporting development of dual-use technology, and transferring technology.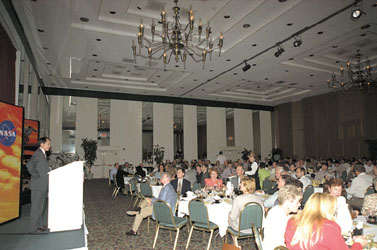 Space Act Award recipients are honored at an annual luncheon.