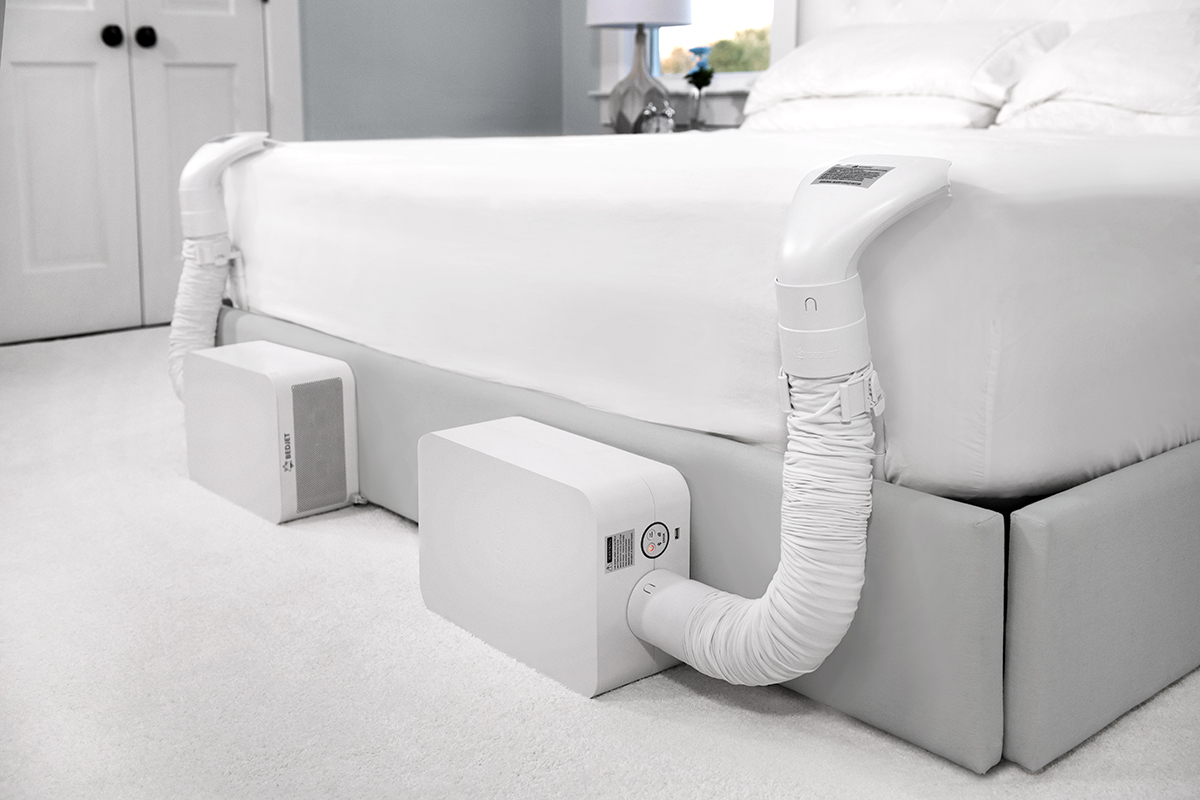 Keeping Beds in the Goldilocks Zone
Subheadline
NASA experience inspires machine that keeps sleepers comfortable
Originally published 09/05/2023
Body
For Mark Aramli, the bed was a battlefield.
He liked the bed a little cool, while his partner liked to stay warm under the covers. The constant fight over the thermostat meant that in the end, neither of them was particularly satisfied. He'd had enough, and he was going to do something about it using his experience with NASA.
Aramli had worked for NASA contractor Hamilton Sundstrand (now part of RTX Corporation) in its Space Systems division. The company had a contract with NASA's Johnson Space Center in Houston to build and maintain spacesuit components for the agency. In this capacity, Aramli worked on the spacesuit's environmental control systems.
"I thought to myself, how is it that I helped keep astronauts perfectly comfortable in the most hostile environment in the universe, and here I am uncomfortable in my own bed?" Aramli said.
Soon after the thermostat battle, he'd built a prototype on his kitchen table of a machine to address the problem. The device was made from a broken hand dryer and assorted parts ordered from the internet, but he immediately saw results.
Inspired to take his idea further, Aramli founded BedJet of Newport, Rhode Island, in 2013. After an unsuccessful appearance on the TV show "Shark Tank" and several successful crowdfunding campaigns in 2015, the company started shipping finished models soon after.
BedJet works with a cotton sheet that inflates using air pushed by an external machine. This machine has both a fan and a built-in heater, resulting in a temperature-controlling bed cover with no internal electronics. With two BedJet units, the temperature on the left and right sides of the bed can be controlled individually, much like dual-zone climate control in a car. No matter their temperature preferences, people can stay comfortable without fighting over the thermostat.
Today, the company has sold over 180,000 units and has had tens of millions of dollars in sales. Aramli says many of these sales come from not only married couples, but Olympic athletes, menopausal women, and people in chemotherapy who experience temperature swings at night. In addition, because BedJet only pushes air into a sheet that doesn't have any heating elements integrated, the company believes it's far safer than alternative solutions like electric blankets. Aramli credits his experience making equipment for space with ensuring safety and redundancy.
"When we were seeking liability insurance, the inspector said that with BedJet, the biggest hazard is with the outlet it plugs into," Aramli said. "That triple redundancy on safety when it comes to engineering systems at that NASA prime contractor, that was definitely a big role in helping me create a safe product."
Abstract
Using his former experience as an engineer working on spacesuit environmental control systems, the founder of Bedjet LLC of Newport, Rhode Island, designed a cooling system to keep each side of the bed at its occupant's ideal temperature.