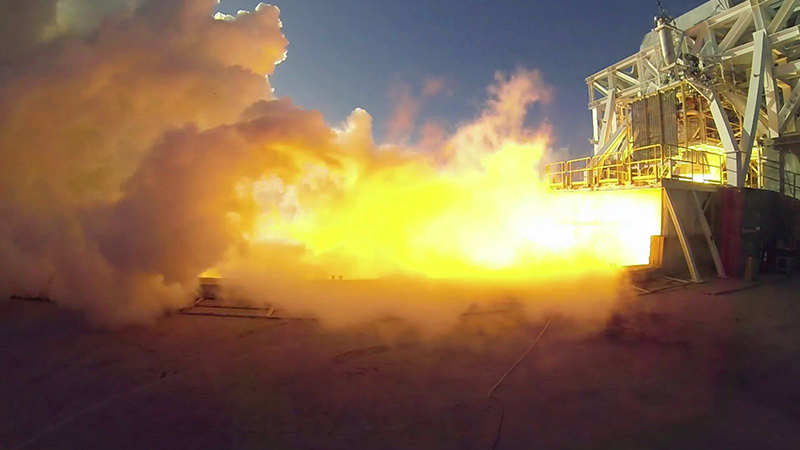 High-Heat Cement Gives Ashes New Life
Originally published in 2017
Body
NASA Technology
When constructing high-performance structures, at NASA or elsewhere, materials made from recycled ingredients might not seem like a good fit. But when it comes to concrete made from ashes, the environmentally friendly material may actually be better than its more traditional, nonrecycled counterparts.
One structure at NASA that takes more punishment than almost any other is the trench that deflects the inferno of flames and exhaust during a rocket test. The trench needs to be lined with a material that can take the extreme heat—thousands of degrees Fahrenheit, though temperature probes have struggled to get accurate measurements, because they burn up during testing, says aerospace engineer Nick Cenci.
The lining also needs to be able to resist wear and abrasion as much as possible. Typically, Cenci says, "as a material gets hotter, it gets a little softer and then it wears away faster."
Recently, Stennis Space Center, where Cenci works, tested geopolymer concrete—made with fly ash, the waste left over from burning coal at power plants—to see if it would be a good candidate to replace the current material that is lining these test stand flame deflectors.
"What we're after is reducing the erosion rate," explains Stennis engineer Daniel Allgood. "It's very, very costly for us to go in and cut out these sections that are damaged and repair it with new material. The less material that gets eroded, the better."
A team at Louisiana Tech University had been working with geopolymer concrete since 2006, exploring different formulations and applications. Unlike traditional concrete, in which cement, typically composed of limestone and clay, is mixed in a water-based solution with sand and gravel aggregates, the geopolymer concrete is mixed with an alkali solution and aggregates.
By choosing different alkali activators and different materials for the aggregates, as well as by changing the fly ash source, the Louisiana Tech team found they could fine-tune the properties of the finished concrete—achieving concrete that was stronger and more temperature- and erosion-resistant than traditional high-heat materials.
Rocket testing, however, would be a new frontier for the material.
Technology Transfer
At Stennis' E1-Cell 3 test facility, full-size rocket engines are bolted upright into the test stand. Fuel is piped in, and the rocket engines fire, letting out a massive plume of orange and yellow flames.
In 2012, Stennis used the E1-Cell 3 test stand to put an Aerojet Rocketdyne AJ26 rocket engine through its paces for Orbital Sciences, now known as Orbital ATK. The engine, which Orbital planned to use to power the Antares rocket to the International Space Station, "has a certain orbit it has to achieve, so it is designed to run at different power levels for different durations to get there," Allgood says. "For this engine, the burn lasted about a minute."
The flame trench is designed to withstand the test, but some wear and tear is par for the course. The AJ26 engine could be fired three times before making major repairs to the trench, but in between, engineers recoated patches as needed, explains Cenci.
And that's how Stennis tested the geopolymer concrete.
Earlier that year, Louisiana Tech had entered into a Dual Use Technology Development cooperative agreement with Stennis for the testing. Louisiana Tech supplied the materials—several new formulations of the geopolymer concrete designed to NASA-specified parameters—while Stennis supplied the facility and people to carry out the trials.
An earlier round of testing, on a sub-scale test facility, had good results, Allgood says. "They gained understanding about the material, and we did as well." And at that scale, the material outperformed all but one of the commercially available high-temperature materials Stennis used.
Allgood and Cenci, who oversaw the testing for Stennis, decided to use the material for small patches on the full-size test stand, specifically E1-Cell 3, and see how it performed during a real-life rocket trial.
Both say they were impressed with what they saw, though further testing would be necessary before they would consider adopting the material as standard for the flame trenches.
Nevertheless, buoyed by the NASA results, which confirmed what they had been seeing in the lab, the Louisiana Tech team decided to start a company, Alchemy Geopolymer Solutions.
Benefits
Initially, the plan was to manufacture products similar to the formulations NASA tested, using Louisiana-sourced fly ash, and ship it to customers or help them install it, says Carlos Montes, one of the original Louisiana Tech researchers and now Chief Technology Officer at Alchemy Geopolymer Solutions LLC.
But the Ruston, Louisiana-based company soon found that their biggest asset was their expertise in devising new materials using fly ash—the same expertise that drew NASA's interest and which was further honed during the Stennis partnership.
"Most of our clients were not in Louisiana at all," Montes explains. "They wanted us to design geopolymer products with their waste stream, with their raw materials."
Fly ash is not particularly hazardous to the environment by itself, but it is a waste product that would otherwise be sent to a landfill. Additionally, using waste ash replaces the need to manufacture traditional limestone cement, a process that produces greenhouse gasses and consumes energy. And unlike many ingredients for high-performance cements, fly ash is relatively inexpensive.
For some of Alchemy Geopolymer Solutions' clients, these environmental and cost benefits are the main draw.
For instance, a company in Utah makes its profit from harvesting metals from incinerated garbage. The resulting ash was typically sent to a landfill.
"If we come in and make products out of the ash, they don't have to throw it away. And that creates another revenue stream," Montes says. For that client, they were able design a manufacturing process to make pavers and similar products, and they expected the company to take them commercial in early 2017.
Other clients, however, are drawn in by the high-performance properties of the geopolymer concrete, and the environmental benefits are a bonus, or even completely incidental.
A client in Texas already had a factory to build pipes, but they wanted to make them from geopolymer concrete because of its impressive anti-corrosion properties and compression strength. They specified the characteristics they needed in the pipes and the manufacturing conditions of their factory, and asked Alchemy Geopolymer Solutions to provide a process to produce pipes with geopolymer concrete, ideally using their local sources of fly ash.
"It took us about four or five months. Now they're doing field testing to install these pipes to monitor them for a year and get real data before they start commercializing their product," Montes says.
Another company, which runs coal power plants, is exploring using its own fly ash to make concrete to line the floors of its boilers. These, like the NASA flame trenches, suffer extremely high temperatures and corrosion from molten slag.
In its first two years of operation, Alchemy Geopolymer amassed a diverse client base and won a prestigious Startup Louisiana prize, which brought them funding and a great deal of positive press.
Montes says the NASA testing was a crucial stepping stone, giving them the confidence to start their company sooner and attracting clients for the new startup.
"This is definitely a very strong case study for us. Maybe not directly because people are trying to buy what NASA uses, but they'll think, 'Oh, they designed this for NASA, so they're probably good at designing materials for us too.'"
Abstract
Stennis Space Center engineers are always on the lookout for materials that can hold up better in the inferno of a rocket test. A Louisiana Tech University team had a good candidate: geopolymer concrete made with fly ash left over after burning coal. Testing under a dual-use cooperative agreement confirmed the material_s strong resistance to heat and corrosion, prompting the Louisiana Tech team to start Ruston, Louisiana-based Alchemy Geopolymer Solutions LLC, to help turn waste ash into concrete across the country.