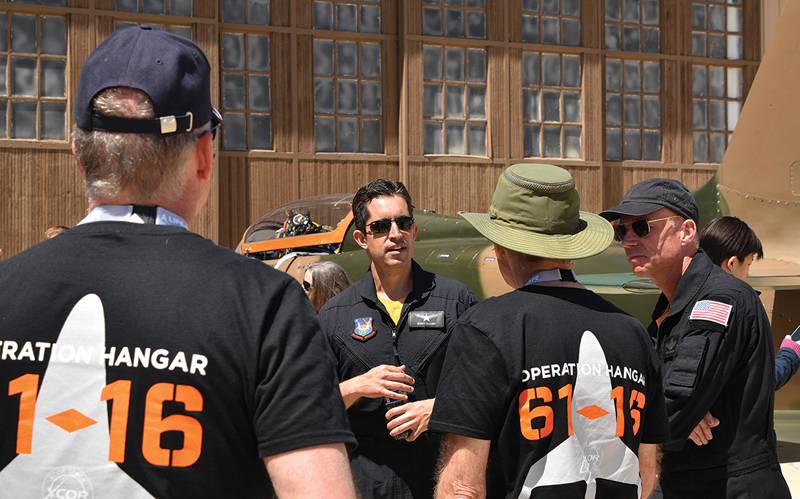 Astronauts Instruct Newcomers on Peculiarities of Spaceflight
Originally published in 2017
Body
NASA Technology
Few people are more thoroughly trained for their work than astronauts. After all, their already-complex work is carried out in an unforgiving environment that plays by completely different rules than life on Earth. The lack of gravity, the alternately searing and freezing vacuum of space, and the mechanics of piloting and docking a vehicle while orbiting at more than 17,000 mph all require preparation that very few people will ever need.
But for the many thousands of nonastronauts who work in the space industry—whose numbers are growing now that space exploration is spilling into the private sector—some of that training would come in handy.
"There's been no place you can go to get formal training in how things work in the spaceflight industry," says Scott Glaser, vice president of operations for the International Flight Test Institute (IFTI) in Mojave, California. Beginning in 2016, IFTI is changing that with the help of two former NASA astronauts, retired Air Force Colonel Rick Searfoss and retired Navy Commander William "Billy O" Oefelein.
Even for an astronaut, Oefelein has had a lot of training. Members of the Astronaut Class of 1998, he and his crew started their mission training at Johnson Space Center early due to the complexity of their planned International Space Station (ISS) assembly operation. And when the Space Shuttle Program was suspended for two and a half years following the Space Shuttle Columbia disaster in 2003, they just kept training.
"The timing was good and bad in a sense," Oefelein says, noting that he ended up training for almost five years before finally piloting Space Shuttle Discovery to the ISS in December 2006 on the STS-116 mission.
All that practice paid off. From the outset, the mission was considered one of the most difficult NASA had ever attempted, and that was before things went wrong.
Three spacewalks were planned for the mission, during which the astronauts would install the station's new P5 truss segment—part of the assembly that holds the portside photovoltaic arrays—and rewire all of the station's power and thermal control systems into their permanent configurations in a process never attempted before. Half of one of the solar arrays would also have to be retracted to make way for a rotary joint to be activated, allowing newer arrays to track the sun.
A mission overview published before launch called the effort "the most choreographed assembly flight to date between the Shuttle and station crewmembers and flight controllers in Mission Control." The in-cabin choreographer for all the mission's spacewalks was Oefelein.
"We figured something was going to go wrong," he says. "But what went wrong wasn't what anyone expected to go wrong."
Toward the end of the mission, the solar array that needed to retract refused to fold. With all the work they'd done now at risk, the astronauts and flight controllers had to create new procedures for a fourth spacewalk, insulate a spacesuit against electricity, develop a new tool, and figure out what was wrong with the array—all in one day.
"We had confidence in our abilities," Oefelein says. "I think the ground crew was losing more sleep than we were."
The last-minute improvisations were a success, and the incident highlighted not only the importance of training but the difference between what Oefelein calls task-based training and skills-based training. "We developed the skill, without us really knowing it, to be able to adapt to a contingency we didn't train for."
Technology Transfer
Oefelein and Searfoss—who piloted two Shuttle missions and served as commander on another—have both used their experience as military test pilots and on the Space Shuttle to help teach IFTI's test pilot course since the company launched in 2014. Now, as instructors for the school's new spaceflight course, they bring the full weight of their NASA training and flight time to bear.
It's training that can only really be offered by the relatively few people who have direct experience of operations like docking a vehicle in orbit or using tools in a zero-gravity environment, where Newton's "equal and opposite reaction" can mean inadvertently flipping head over heels or sailing backwards across a module.
The course, which typically runs two weeks, is not intended for future astronauts so much as for the many other people involved in spaceflight, says Glaser. "It's much more focused for people making it happen on the ground than on the crews."
These could be design analysts, test engineers, program managers, technicians, or a host of others who need an understanding of spaceflight. The first week of the course is classroom-based, covering subjects from orbital mechanics to legal regulations and from spacecraft design and testing down to administrative paperwork. The optional second week consists of hands-on exercises that apply concepts taught in the first week, with students designing a payload and planning and carrying out a mission in zero gravity and high gravity, simulated by flying a plane in parabolas. The material, Oefelein says, is based largely on NASA's astronaut candidate training.
Glaser emphasizes that the duration and curriculum are flexible. "One of our mantras is, we tailor all our courses to the customer's requirements." For example, if a group wanted to train engineers to fly experiments in space, that's what their course would focus on. For those who have less time, the material can be compressed, and the instructors also can teach the one-week academic module at a company's location.
Benefits
It was Oefelein's idea to start a spaceflight course at IFTI. "It's kind of hard to go get a degree in spaceflight," he says. "This gives you a lot of the practical knowledge you need to get into your job and be productive from day one."
A mechanical engineer graduating from MIT and hired by a spaceflight company likely knows little about space operations or space law, for example, says Glaser, noting that this represents a growing market as the commercial space industry continues to burgeon. "During the marketing we've done at trade shows, we have heard a lot of interest."
The astronauts' background not only informs the coursework but also lends credibility to the whole effort, Oefelein says. "I honestly don't think you can assemble this kind of team unless you have folks who have been there and done that." He refers to experience not only in space missions but also in engaging with the major players in spaceflight, from companies like Lockheed Martin to organizations like the Russian space agency Roscosmos.
In addition to his NASA background, Oefelein was part of the military space program, and both he and Glaser are veterans of the commercial space industry.
"Having been there is so key, especially with regulatory and political topics," Glaser agrees. "There's no other program where a professional can go and get that background from someone who has that experience."
"Commercial space now is where commercial aviation was 100 years ago," Oefelein says. "We want to tap into that excitement, the people who are excited and want to be part of building that."
While their customers may never need to improvise a spacewalk, IFTI hopes to use the lessons from such experiences to teach them the skills and knowledge needed to meet whatever unexpected challenges they will encounter while helping to push the boundaries of space travel.
Abstract
The growing numbers of engineers, managers, and others in the space industry generally do not graduate with much knowledge of the unique challenges posed by space travel. The International Flight Test Institute in Mojave, California, aims to fill that knowledge gap with crash courses in spaceflight taught in part by two former astronauts. Largely based on the training they received at Johnson Space Center, the curriculum includes everything from orbital mechanics to space law.