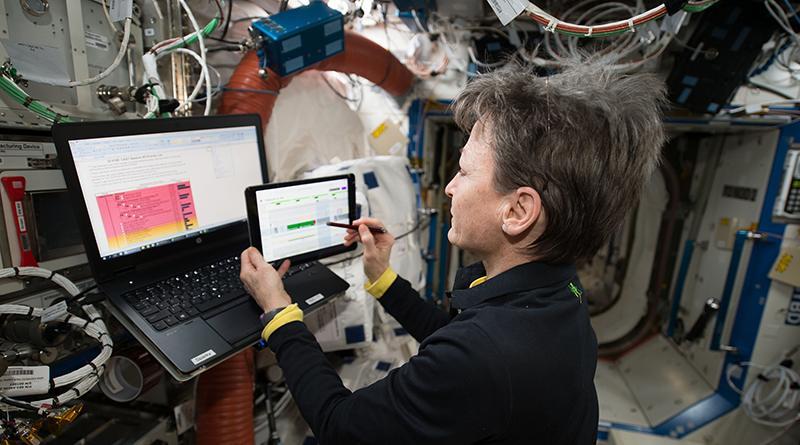 Recalibrating Fine Motor Skills
Subheadline
Space app for testing fine motor skills touches down in the Apple App store
Originally published 12/15/2020
Body
A touchscreen control panel similar to an Apple iPad seems like it would be easier to use than a panel of switches and buttons that must be flipped and pushed in the right order. But what if an astronaut's hand-eye coordination is slightly off? Will she still be able to operate the touchscreen with accuracy?
Research conducted by NASA proved what astronauts learn first-hand – fine motor skills are impaired during the first week in space. The human body undergoes an adjustment to functioning without gravity. However, it adapts quickly, and fine motor skills revert back to normal. Returning to Earth also interferes with fine motor skills, impacting touchscreen performance for tasks that involve pointing and tracing. Those problems can last up to a month, and it's possible this disruption could also occur after landing on the surface of the Moon or Mars.
The Reston, Virginia company Leidos Holdings Inc. developed the Fine Motor Skills (FMS) test battery app for the Human Research Program at NASA's Johnson Space Center in Houston, and it was used in research conducted on the International Space Station. Thanks to technical fellow Kritina "Tina" Holden, principal investigator, the agency has quantitative data that may help inform the design of equipment, procedures, training, and more to account for temporary impairment of motor skills. The FMS software is now available for testing fine motor skills on this planet.
Holden and her colleagues are talking with researchers and physicians about numerous ways the app could support ongoing research and patient health. Some likely uses include training and testing the fine motor skills of surgeons, physical therapy for stroke patients, and monitoring recovery after traumatic brain injury. Anyone can download the app from the Apple App Store and test their fine motor skills, but in the near future, it's likely to be a tool for research studies.
Holden explained that the app can also be used to test skills under different environmental conditions. NASA is currently using it to study subjects' reach and accuracy when touching targets under G-forces in a centrifuge. The military is interested in using the tool to test the effects of CO2 on performance. While there's no current plan to make changes to the test battery, it's possible an Android version will be available sometime in the future.
The Fine Motor Skills app is also available in the NASA Software Catalog.
Abstract
How does leaving and returning to gravity impact fine motor skills? An app to test astronaut performance helps NASA learn more, and now it helps anyone measure their abilities via an app released by the agency.