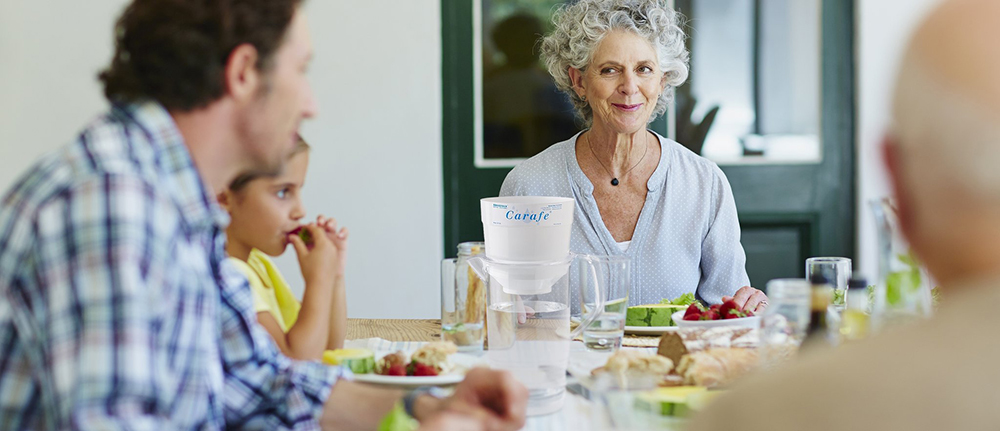 'Positive Energy' Captures Contaminants
Subheadline
Aquaspace filters still build on research for Apollo, space shuttle water purification
Originally published 01/24/2022
Body
The carbon-based compound in Aquaspace water filters started out more than 35 years ago in Mike Pedersen's basement, with a stack of NASA research. Now the filters have appeared in the White House, Environmental Protection Agency (EPA) facilities, and every drinking fountain in the D.C. Public Schools system, in addition to homes across the country.
In the 1980s, Pedersen decided to start a business in water purification, and he learned that the space agency was a step ahead of the industry. NASA has been working on water purification since its beginning, as drinking water supply is extremely limited in spacecraft.
Pedersen contacted NASA requesting information and received reports on work NASA's Johnson Space Center in Houston had funded before the Apollo and space shuttle missions, developing water purification systems that used positively charged silver ions to attract and destroy pathogens. The reports consistently showed that stronger positive charges better captured contaminants, he said, noting that this was not an approach others were taking at the time.
Pedersen applied the same principle to different filter media and contaminants more relevant to household drinking water. "They did studies to do one thing, and I saw you could do other things," he said. "If it wasn't for the NASA research, I never would have gotten there."
Instead of using silver ions to capture microbes, he worked on increasing the positive charge of activated carbon to remove contaminants like organic chemicals, toxins, chlorine, and lead. He founded Western Water International of Forestville, Maryland, using the brand name Aquaspace.
The company developed activated carbons that not only had high electropositive charges but also excelled at trapping specific impurities. The Aquaspace compound is a composite of several of the resulting carbons.
By the mid-1990s, the company offered a variety of countertop, under-sink, portable, and whole-house filters.
Aquaspace filters effectively end up costing less than other alternatives because they last a full year, Pedersen said, and they also capture a larger range of contaminants due to the modified charges of the activated carbon.
What began as a basement operation now occupies a 6,000-square-foot facility with five employees, Pedersen said, noting that the company grew mainly through word of mouth, although Apollo astronaut James Lovell was also the company spokesperson for 17 years.
It also helped that for 12 years, in the 1980s and '90s, Aquaspace filters were used in the White House. And more recently the EPA selected Aquaspace filters for the childcare center at its D.C. headquarters.
In 2017, Washington, D.C. schools decided to shoot for lead levels of just one part per billion, well below regulations. Several companies were invited to meet the challenge, but only Aquaspace filters succeeded. They're now in all water fountains and kitchenettes in the city's public schools.
One thing that hasn't changed since the company's start is that its Carafe Pitchers remain its top seller. "Nowhere else can you get that quality for that price," said Pedersen. "I call it the No. 2 pencil of water filtration, because it's just not going away."
Abstract
Decades ago, Western Water International of Forestville, Maryland, based its Aquaspace water filter compound in part on NASA technical reports. The business continues to grow after being selected by high-profile customers like the White House and D.C. schools.