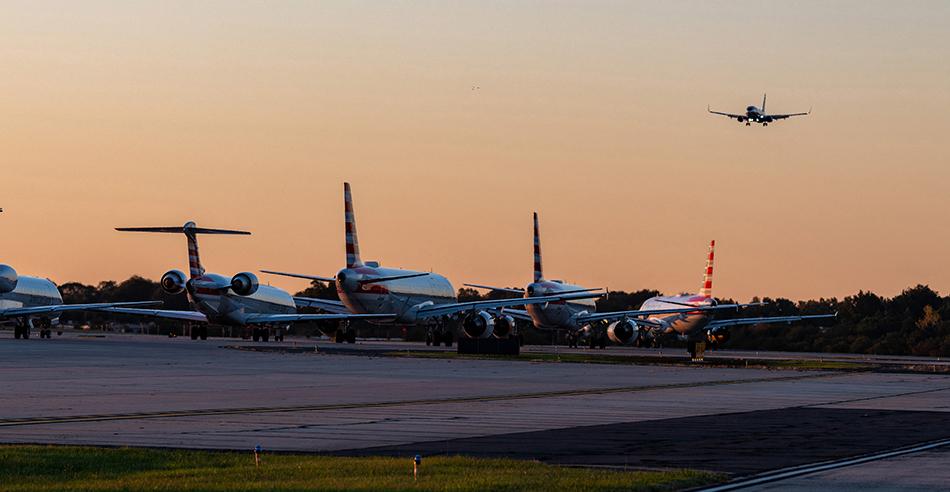 An Electronic Traffic Monitor for Airports
Subheadline
Ground traffic management program saves passengers and airlines time while cutting fuel costs
Originally published 06/27/2022
If every commuter drove the same few roads at the same time every day, the traffic would be unbearable. That's exactly what's happening in the skies above the nation, called the national airspace (NAS). Multiple flights from different airlines try to use the most direct flight paths, converging on the same airports. With limited runway space, that causes jumbo-sized traffic congestion. So NASA worked with the Federal Aviation Administration (FAA), commercial airlines, and airports to develop and test a new program to manage airport traffic on the ground – the Integrated Arrival, Departure, and Surface (IADS) system. In 2022, the FAA began incorporating IADS capabilities at 27 of the busiest airports in the country.
"The majority of uncertainty in the NAS can be attributed to surface operations, and in particular, uncertainty related to when a flight will be available to push back from the gate," said Jeremy Coupe of NASA's Ames Research Center in Silicon Valley, California, who served as the deputy chief engineer for the technology demonstration. So Ames focused on how to improve managing traffic on the ground and scheduling departures.
Ames, which houses the Aviation Systems Division of NASA's Aeronautics Research Mission Directorate (ARMD), is at the forefront of enabling improvements in aeronautics. For decades, ARMD has conducted research and developed innovative technologies to transfer to the entire aviation community in support of the ever-growing commercial flight industry. The technology demonstration that resulted in IADS, called Airspace Technology Demonstration 2 (ATD-2), was a six-year effort by NASA Aeronautics to build a completely new software that could help improve airports' data-sharing and traffic movement on the ground, according to Coupe.
Ending Tarmac Gridlock
ATD-2 technology is already helping airline flight managers oversee plane movement with a commercial software that integrates arrivals, departures, and surface traffic. But managing all activity for all aircraft on the ground requires a sophisticated program.
Just as a traffic officer can prevent gridlock at a busy intersection, IADS is designed to prevent similar traffic tangles. The first test site for the program development was Charlotte Douglas International Airport in North Carolina, the second-busiest airport on the East Coast with only three runways. About 75% of those are connecting flights.
"Knowing that you're going to get where you need to go when the airline says it's going to deliver you is what people stress about when they're traveling, especially if they're trying to make connections in an airport like Charlotte," said Lee Davis, communications director for the airport. Many factors, including weather, influence timeliness, but making ground operations run predictably is fundamental.
Before IADS, one struggle the airport faced was a technology mismatch – the airport's control tower used one software program and ground management used a different one, with no way to integrate them. A phone call was the most common way to notify each other about changes or problems. With approximately 115 aircraft on the ground at any time, a delay in communication could create complications, according to Davis. A plane leaving the gate before an order to delay was received would mean several planes could end up waiting in line at the runway.
To help NASA create a baseline understanding of airport operations, the Charlotte airport provided blueprints of the runways and buildings, procedures, and any information needed to digitize the process of getting planes and their passengers where they need to go on schedule.
'A Million Baby Steps'
For ramp controllers, managing airplane movements involves hundreds of people and thousands of procedures. American Airlines Inc. operates 700 or more flights out of Charlotte a day, so the Fort Worth, Texas-based company was able to provide NASA a wealth of information about everything from passengers, wait times, and crew schedules to ground services and FAA tower communications.
"In the very beginning, it was basically a million baby steps, which included our challenges as ramp controllers. That morphed to including the pilots and the airlines that fly in and out of Charlotte," said Kerry Facer, American's ramp traffic manager. The test demonstration participants provided input about priorities and then feedback on the new program's performance, including the end-user display that shared the data.
Departure surface metering tracks and helps coordinate aircraft movement while they're on the ground. Facer explained that seeing the exact location of every plane, even when it was in motion, was revolutionary. The visuals made it easier to coordinate the interrelated activities. The resulting benefits were tremendous.
When flights were assigned an order for takeoff – first, second, or third – the airline could hold each plane at the gate longer, only starting engines when it was time to push back. Taxi time was also shorter because the place in line was set. Takeoffs occurred within minutes of leaving the gate.
During the first four years of ATD-2, it's estimated the airlines at Charlotte Douglas realized a savings of over one million gallons of fuel, almost 11,500 tons of carbon dioxide emissions, and 5,948 hours of engine run time and the related maintenance costs. Savings for flight crew costs were approximately $1,330,000, and the value of passenger time saved was approximately $4,400,000, thanks in part to a 916.4-hour reduction in delays.
A significant innovation that made it all possible, according to Facer, is the visual display that automatically populated data related to each plane on the surface. If the IADS system identified a delay, the impact for every flight was provided almost immediately. Facer appreciated the opportunity to develop the user interface in particular. "In every situation, NASA is able to come up with a solution or a way to fix the things that need to be fixed," he said.
Filling the Gaps
The last two years of the technology demonstration tested the program in an airspace with multiple airports at the North Texas Metroplex – Dallas Fort Worth International and Dallas Love Field airports. Dallas-based Southwest Airlines Co. volunteered its flights at Love Field to help demonstrate another feature of IADS, which lets airlines review and revise flight routes, requesting changes to avoid restrictions that can cause delays.
Flights are tracked while in the air, but metering enables more efficient management of the flow of an aircraft through all phases of the flight from departure gate to arrival. Making changes to a flight path also contributes to more efficient operations overall.
"We've got a lot more data on aircraft movement once it's in the air, but we typically have a big gap while it's on the ground," said Rick Dalton, director of airspace and air traffic management for Southwest. Uncertainty leads to inefficiencies.
He estimates the airline will save $11 million annually because IADS provides data for every aspect of ground movement. In addition to burning less fuel, the savings will come from the ability to predict the ripple effect of events on the ground. With near real-time data related to on-time departures and delays, Southwest can actively address issues related to connections for crew, customers, and cargo.
Because it's impossible to know in advance when planes will be ready, the airlines must schedule quite a bit of time between departures and arrivals to make sure planes can access the runways. Airlines require an efficient way to stay on top of the state of readiness for each flight in order to let the FAA know when each can be scheduled for takeoff. IADS automates this two-way data flow, removing a lot of that uncertainty.
Airlines were able to better manage their fleets. The FAA could facilitate flights better. And passengers could count on reliable flight information. So that more airports will enjoy these benefits, the FAA is integrating IADS capabilities into its existing system and will eventually make it available to some of the busiest airports. All of the airlines credit NASA with making this possible.
"It's critical that NASA stay engaged. They're helping us overcome challenges. It would have taken years longer without their problem-solving expertise," said Dalton.
Abstract
A collaboration between Ames Research Center, the Federal Aviation Administration, American Airlines Inc., Charlotte Douglas International Airport, and Southwest Airlines Co. resulted in a new program to manage airport traffic on the ground – the Integrated Arrival, Departure, and Surface system – leading to shorter wait times for passengers, a drop in air pollution, and significant cost savings.