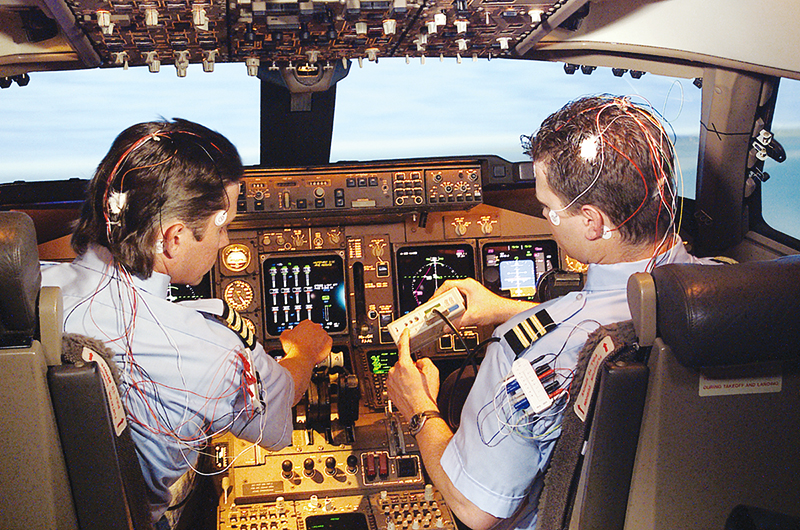 Feeling Well Rested and Wide Awake When it Counts
Originally published in 2006
Body
Originating Technology/NASA Contribution
Responding to a congressional concern about aviation safety, NASA's Ames Research Center created the Ames Fatigue/Jet Lag Program in 1980 to examine the extent to which fatigue, sleep loss, and circadian disruption affect pilot performance. The program's primary research was conducted in field settings, as well as in a variety of aviation, controlled laboratory, and full-mission flight-simulation environments, to study fatigue factors and circadian disruption in short-haul, long-haul, military, cargo, and helicopter operations.
In 1990, NASA changed the program's name to the Fatigue Countermeasures Group, to provide a greater emphasis on the development and evaluation of countermeasures that would mitigate the adverse effects of fatigue and maximize flight crew performance and alertness. The research conducted by this group at Ames included field studies of cockpit rest, quantity and quality of onboard sleep, and performance changes associated with long-haul flights.
Partnership
Dr. Mark Rosekind initiated the transition to the Fatigue Countermeasures Group, along with several other NASA colleagues. Rosekind led the program from 1990 until 1997. During his tenure, he made many important contributions to applied research, accident investigation, aviation policy, and operational environments. In addition, he served as the chief of the Aviation Operations Branch in the Flight Management and Human Factors Division at Ames, where he helped enhance aviation safety and performance through the analysis, experimentation, and modeling of human performance and human-automation interaction. Prior to working for NASA, Rosekind had directed the Center for Human Sleep Research at Stanford University's Sleep Disorders Center.
For over 20 years, Rosekind's research, publications, presentations, and practical applications in the fields of fatigue and alertness paved the way for significant improvements in real-world settings. These accomplishments did not go unnoticed, as Rosekind racked up award after award for his work. Honors included the NASA Exceptional Service Medal, NASA "Group Achievement" awards, a NASA "Turning Goals into Reality" award, a Flight Safety Foundation "Presidential Citation for Outstanding Achievement in Safety Leadership," a Flight Safety Foundation "Business Aviation Meritorious Service" award, and being named a Fellow of the World Economic Forum, in Davos, Switzerland.
In 1997, Rosekind brought his expertise to the private sector by founding Alertness Solutions, Inc., a scientific consulting firm that translates knowledge of sleep, circadian rhythms, alertness, and performance into practical products, services, and strategies that improve safety and productivity. These offerings are geared towards individuals and organizations involved with around-the-clock operations, altered shift schedules, sustained or continuous requirements, and frequent travel across time zones.
In 2005, Cupertino, California-based Alertness Solutions added another NASA fatigue countermeasures veteran to the mix, when Dr. Melissa Mallis, who led the Fatigue Countermeasures Group from 2000 to 2005, joined the company as its director of scientific affairs. While with NASA, Mallis had made significant contributions to safety, research, and education in aviation, space, and other diverse operational settings. She had also helped other Federal agencies set standards for evaluating technology designed to enhance human awareness of neurobehavioral decrements, by performing the first-ever controlled, double-blind scientific studies of the validity and reliability of various drowsiness-detection technologies and alerting countermeasures.
Together, Rosekind and Mallis are applying the scientific prowess they honed at Ames and incorporating the latest research available to help individuals and organizations manage and overcome the operational challenges of their environments. Such challenges include drowsy driving that occurs from long durations behind the wheel, jet lag from crossing multiple time zones in a short period of time, and sleep deprivation resulting from irregular schedules and challenging sleep environments.
Product Outcome
Sleep-related crashes cost the American Government and businesses $46 billion each year, estimates the National Commission on Sleep Disorders Research. Thirty-seven percent of drivers have nodded off for at least a moment or fallen asleep while driving at least once in their driving career, according to a 2002 National Highway Traffic Safety Administration report compiled from a national survey. Nine out of every 10 police officers responding to an Internet survey from the AAA Foundation for Traffic Safety reported having stopped a driver who they believed was drunk, but turned out to be drowsy.
These statistics should be alarming enough to open even the drowsiest of eyes, but they are just a small sampling of available data illustrating how drowsy driving and fall-asleep crashes are major road-safety issues, accounting for thousands of fatalities and injuries every year.
"People don't realize how common fall-asleep crashes are; that they often have tragic consequences, and that a variety of people are affected," said Rosekind, who resides as president and chief scientist of Alertness Solutions.
"Drowsy driving is a significant and largely unappreciated cause of motor vehicle crashes," added Susan Coughlin, former vice chair of the National Transportation Safety Board. "Alertness Solutions has an innovative remedy that combines state-of-the-art science with a practical tool, offering the potential to reduce crashes and make highway driving safer."
This solution, called Awake at the Wheel, serves as a unique driver-alertness tool for various at-risk groups, including sleep-deprived shift workers—particularly those who work at night; young adults, age 16 to 29; and commercial drivers who spend long hours on the road, especially at night. It combines information, self-evaluation tools, alertness strategies, travel planning, and safe driving activities in an "engaging, real-time format."
Awake at the Wheel includes a 32-page alertness guide and a 36-minute audio CD to give drivers: information about what makes them sleepy and how this affects their ability to drive safely; ways to accurately evaluate their alertness (when it is time to "get out of the fast lane and get into bed," as the company says); "sure-fire" strategies to help them stay alert; and planning tools that allow them to implement alertness strategies on the next big trip. The alertness guide is full of scientific-but-easy-to-understand information and exercises, and the CD contains vignettes and characters that aid the listener/driver in staying awake and alert.
Johnson & Johnson's "Safe Fleet" corporate driving safety program was the first to implement Awake at the Wheel. The alertness tool was distributed to 15,000 corporate drivers and has received resounding accolades. Besides all of the direct benefits promoting driver alertness, one individual even reported that the information in the tool directly led to the diagnosis and treatment of their sleep disorder, sleep apnea.
Moving from road safety to air safety, there is a plethora of research showing that the aviation industry has been profoundly affected by fatigue. For example, in 1997, NASA conducted a survey on fatigue factor in corporate/executive aviation operations, wherein 1,488 corporate flight crewmembers—the majority of whom flew jet aircraft—responded. Nearly three-quarters (71 percent) of the responding pilots reported that they had "nodded off" during a flight—yet another alarming statistic to open some eyes.
Alertness Solutions is indeed opening eyes, with a product called AvAlert that has come to the aid of numerous pilots and crewmembers, and other key flight operations personnel plagued by fatigue. As the predecessor for the principles and objectives that make up Awake at the Wheel, AvAlert consists of multimedia presentations and adaptable tools on CD-ROM that provide scientifically based information on, and practical management strategies for, fatigue, alertness, and performance.
"The AvAlert program has been very useful in the battle against aviation fatigue. We've applied what we learned on our trips, and it works," according to representatives of ACM Aviation, LLC, a worldwide charter service based at the Mineta San Jose International Airport.
Alertness Solutions markets AvAlert as comprehensive, convenient, and customizable. The technology is comprehensive in that it includes: guidelines and resources for creating an active and effective in-house alertness management program; guidelines for duty- and rest-scheduling; educational materials for a better understanding of sleep, circadian rhythms, and performance; fatigue-related findings and insights from NASA aviation studies; and a management communication package to convey the importance, benefits, and requirements of alertness management to corporate/executive management.
The technology is convenient in that it incorporates interactive lessons, practical tools, and paper and electronic forms in one easy-to-use package. (Two full sets of materials are included: one to remain with flight departments, the other to travel with flight crews.) Because human physiology and flight operations are complex, other methods of creating and promoting a comprehensive and effective alertness management program would take months of research, preparation, planning, and, often, outside expertise, according to Alertness Solutions. Conversely, AvAlert provides corporate flight departments with the knowledge and materials they need to create a comprehensive alertness management program, "literally, overnight," added Alertness Solutions.
Finally, it is customizable. Since every corporate aircraft operation is unique, AvAlert allows flight departments to tailor an alertness management program to their specific operational requirements, for maximum efficiency and impact. For example, tools are provided that allow a flight department to audit its specific schedules and create tailored strategies to address any identified fatigue issues. Also, electronic versions of resource material can be edited and personalized for use within the flight department.
Based on its NASA experience, Alertness Solutions also created Alertness Metrics Technology, an empirical approach to collecting objective data related to fatigue, alertness, and safety. The Alertness Metrics Technology makes use of an actigraph, a wristwatch-like device that objectively measures 24-hour sleep/wake patterns and provides a valid and accurate determination of sleep quantity and quality. It also makes use of a specially programmed PDA that collects daily log information on activities such as meals, sleep timing, exercise, and caffeine use. The PDA includes a simple, 5-minute reaction time test that is taken on a regular basis to assess performance.
In 2004, Alertness Solutions was engaged by JetBlue Airways to develop and implement a comprehensive alertness management program (by expanding and tailoring a core set of AvAlert tools), and then collect data during actual JetBlue flights, using Alertness Metrics Technology.
To help pilots and passengers fight off the effects of jet lag, Alertness Solutions created a handy reference guide entitled "Alert Traveler: Your Passport to Managing Jet Lag." Whether it be for a pilot responsible for landing a jet in a new time zone where day quickly changed to night, or for a passenger who just crossed multiple time zones and needs to be clearheaded for a business meeting, this reference guide contains all of the hints and tips needed to successfully manage jet lag.
In another example of applying science to a practical situation, Alertness Solutions worked with Hilton Hotels Corporation to combine "renowned hospitality expertise with the power of science" to give U.S. Olympians an optimal sleep environment and, hence, a competitive edge at the 2006 Olympic Winter Games, in Torino, Italy. As a result of this partnership, Hilton—an official sponsor of the U.S. Olympic Team—modified 160 resident athlete dorm rooms at the Colorado Springs U.S. Olympic Training Center, based on recommendations from Alertness Solutions, to help increase the athletes' alertness and reaction times for peak performance.
"Sleep is so important and so basic that it could make the difference between winning the gold or the silver at the Olympic Games," said Rosekind. "The proper amount of sleep could boost an athlete's performance as much as 30 percent."
Modifications included enhanced bed size and bedding, a usable work area, enhanced lighting controls, "black-out" drapes, and an effective MP3/CD player-compatible wakeup mechanism that Hilton Hotels proclaims is the "world's easiest-to-set" alarm clock.
"It sounds so simple, but getting the proper rest really does increase my confidence and abilities on and off the track," said U.S. Olympic speedskater, Apolo Anton Ohno. "Rest and relaxation is a critical component to competing at your best. With the improvements that are being made to our living space, I'm excited to come to a place designed to help my performance."
The redesign paid off, as Ohno turned in a brilliant overall performance at the 2006 games, winning a gold medal (men's 500-meter race) and two bronze medals (men's 1,000-meter race and men's 5,000-meter relay).
Awake at the Wheel®, AvAlert®, Alertness Metrics Technology®, and Alert Traveler: Your Passport to Managing Jet Lag® are registered trademarks of Alertness Solutions, Inc.