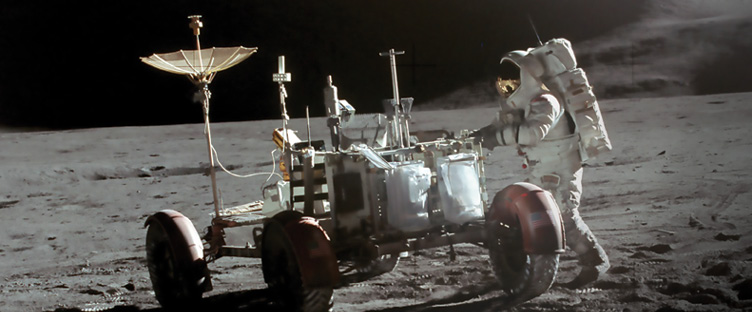 Spacesuit Insulation Protects Personal Devices
Originally published in
Body
NASA Technology
Protecting astronauts from the extreme temperatures of space while they explore the Moon or repair the exterior of the International Space Station requires a suit that performs well in temperatures ranging from 249 °F to -245 °F. Now the same insulation used in spacesuits keeps mobile phones and other electronics on Earth at optimal temperatures, regardless of the thermometer reading.
The extravehicular activity spacesuit has evolved from those designed for the first moonwalk in 1965. For that first model, it took six years for NASA technologists and clothing manufacturers to create, test, and refine the construction of a suitable material. A lightweight insulation, now called radiant barrier, was part of the multi-layered fabric that was ultimately used to create the spacesuits. It performed the essential functions of maintaining body heat and reflecting heat from the Sun's rays.
Reflective insulation was already in use in industry when NASA started exploring its possible uses in space applications in the mid-1960s. However, the Space Agency improved this technology when Marshall Space Flight Center contracted the metallized products division of the National Research Corporation to create an insulation made from multiple thin sheets of crinkled, aluminized Mylar. Ultimately, the NASA-pioneered material became the model for various types of lightweight, durable insulation that have found their way into dozens of uses on Earth such as protecting buildings (Spinoff 2013), emergency blankets for people and animals (Spinoff 2010), and improving light fixtures (Spinoff 1988).
Technology Transfer
Relaxing on a boat enjoying the sun and sea was great until Kevin Conway realized he missed an important call because his mobile phone overheated. Subsequent trips to every phone store he could find, where he was unable to locate a case with high-performance thermal protection, only added to his frustration. If he wanted a case to insulate his device from the heat while enjoying outdoor sports, he was going to have to make it himself.
Conway, a professional racecar driver, recalled that the fireproof suit he wears when driving uses a lightweight material called Nomex that can also be found in spacesuits. (The fabric was invented by DuPont in the 1950s and '60s, finding its way into NASA's spacesuits for its fire-resistance, durability, and comfort.) This led him to study NASA's spacesuits and how they have been engineered to overcome the extreme temperatures in space. When he discovered that the metallized thin films used in radiant barrier are not only paper thin but also able to insulate against both heat and cold, he knew he had hit on a potential solution.
"If we could design a phone cover that could withstand the heat of the beach, why not protect against the cold of the ski slopes as well?" says Conway.
In 2017, Conway and his friend Josh Inglis cofounded Charlotte, North Carolina-based eXclaim IP LLC to develop and launch multiple lines of smartphone protectors under the brand name PHOOZY. In addition to a layer of radiant barrier insulation, Conway says the Apollo Series and subsequent XP3 Series are space-inspired in that they incorporate ripstop nylon and Velcro, two other materials made popular during the space age, though neither was invented by NASA.
Benefits
"You can't beat Mother Nature—the heat and the cold will eventually get through," says Conway. "But thanks to radiant barrier, we can delay that process for quite a while."
The company's patented layering of materials include their Chromium Thermal Barrier that reflects more than 90 percent of solar radiation. Several layers of additional materials protect devices from liquids, sand, and snow while adding buoyancy to prevent sinking. And the company's proprietary Impactor Core technology provides military-grade impact resistance, which it claims can protect a phone from drops up to nine feet.
Moreover, the case does all of this without negatively affecting Bluetooth connectivity and cellular signals.
Conway notes the PHOOZY has proven popular enough in online sales that it's now also sold in several national retail outlets, including Best Buy, Home Depot, and REI. Tablet and laptop protectors made available in 2019 are just the start of the company's expansion into other product lines. An upcoming pocket-sized PHOOZY hot/cold storage case for emergency epinephrine (better known as EpiPen), insulin, and other heat-sensitive medications will help maintain an optimum temperature while hiking or just sitting by a campfire.