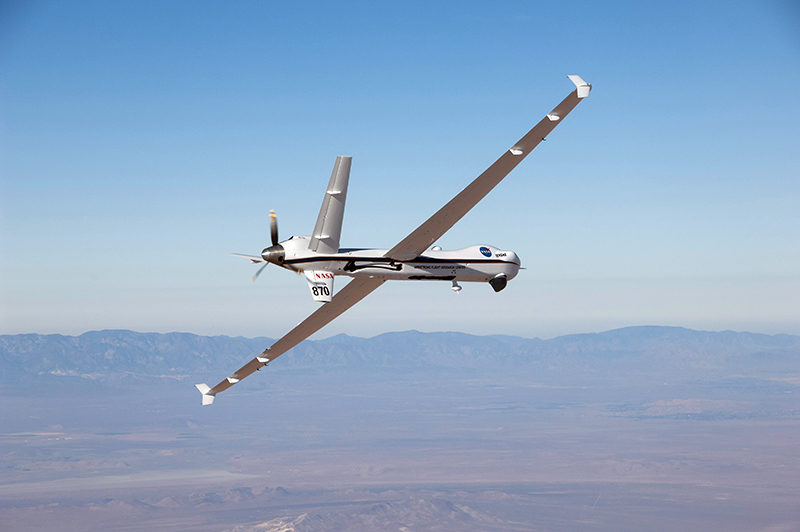 Remote Sensing Technology Fights Forest Fires Smarter
Originally published in 2018
Body
NASA Technology
Fires were raging in Northern California in June 2008, at the height of one of the state's most destructive wildfire seasons in history, and one blaze was headed right toward the town of Paradise. Well, maybe.
It's not so easy to figure out the future path of a forest fire—a lot depends on wind and other constantly changing factors. But it's crucially important to be as accurate as possible when making predictions. The lives and homes of the tens of thousands of people living in towns like Paradise may depend on the reliability of those predictions.
Sensors mounted on an airplane or drone, which give a picture of the fire from above, are an important tool—and that's where NASA comes in. The Space Agency has a lot of experience with remote sensing technology and relaying the information quickly to scientists on the ground.
NASA isn't the Government agency officially tasked with monitoring forest fires, of course. The U.S. Forest Service, as well as local and state firefighting agencies and the Bureau of Land Management all work together to battle the infernos and keep people out of harm's way.
For decades, NASA has worked in partnership with the Washington, DC-based Forest Service, sharing technical expertise that helps get better information to firefighting decision makers faster.
The collaboration stretches back to the 1980s, explains Vince Ambrosia, associate program manager for wildfires in the NASA Applied Sciences Program at Ames Research Center. At the time, NASA was working on sensor technology and asked "how we can transfer the information they gather in near real time to make it useful for the fire community."
"We wanted to be able to leverage the subject matter expertise and sensors and aircraft that NASA has and the Forest Service doesn't have," notes Everett Hinkley, National Remote Sensing Program manager for the Forest Service. "It's a positive feedback loop: we have the information needs, and NASA has the requisite expertise in those areas."
In the 1990s, NASA began a project to adapt uncrewed aircraft for environmental research, and the researchers at Ames wanted to ensure the technology would be useful to the broadest possible spectrum of potential end users.
One concept tested during the project was sending data in near real time to the ground via communications links installed directly on the aircraft.
For the Forest Service, this was a much-needed upgrade to the original system on their crewed jets: rolling up a printout of thermal sensor data into a plastic tube, attaching the tube to a parachute and dropping it out of the airplane. A later version—downloading digital sensor readouts onto a thumb drive and dropping the drive out of the airplane—wasn't much better.
A downlink connection would allow the data to arrive faster, and it could be sent to multiple recipients at once—not just the team on the fire front line, but the commanders organizing the teams, as well as decision makers looking at the big picture across the entire region throughout the fire season, explains Don Sullivan, who specializes in information technology design for NASA's Airborne Science Program at Ames.
Technology Transfer
When Sullivan and Ambrosia and the Airborne Science team at Ames were considering the best ways to get information from an aircraft to the ground they considered several methods, including relaying via geosynchronous or low-Earth orbiting satellites or connecting directly from aircraft to ground.
For NASA's larger project on environmental research with drones, a satellite relay made the most sense, because the research would be done over oceans, in the Arctic, and around the globe.
But since U.S. forest fires are on land, Sullivan and the Ames team determined an aircraft-to-ground system would work best—it was less expensive than relying on geosynchronous satellites and offered a much higher bandwidth than the existing network of low-Earth orbiting satellites.
NASA recommended a contract with Aircell, which recently rebranded as Gogo Business Aviation, a private company unaffiliated with NASA, explains the Forest Service's Hinkley, who adds that it's the same technology that's often used on commercial aircraft, "any time there's Internet."
NASA's expertise identified the merit of this airborne wireless networking technology for the Forest Service: "NASA helped us with the evaluation and testing of the various systems to see which one would work best for us," he emphasizes.
"NASA has Don Sullivan, who is a brilliant communications and networking person. We don't have anyone that has that particular set of skills in the Forest Service," Hinkley says. "People like Don can steer you away from things: 'You don't want to do this because of incompatibility issues or cost issues you don't see up front.' Having those kinds of skills is really invaluable.
"We ended up purchasing two Aircell systems," he adds.
Benefits
NASA's expert evaluation and recommendations have had significant benefits for the Forest Service and for the agencies that rely on the remote sensing data the Forest Service supplies.
NASA and the Forest Service continue to explore using uncrewed aircraft to expand data-gathering. NASA's uncrewed Ikhana test plane has demonstrated improved thermal sensors and provided helpful data in real fire situations. For the moment, however, the Forest Service continues to rely on the proven service of its two crewed aircraft.
With just two planes to cover the entire country, every minute of air time is in high demand. Using a network connection to send sensor data to decision makers makes the whole system safer and more efficient. "It means we can do more fires per night, 10 or more on busy nights," says Hinkley.
"And it means fewer takeoffs and landings, which increases safety for the pilot and crew on board," he adds.
Sending the sensor data to multiple recipients also saves time, ensuring decision makers get the information they need in near real time. As an added bonus, an onboard computer system can quickly process the raw data and send customized information to the various recipients as needed.
"On the fire line, they want a small file that finds where the fire is, and its intensity," explains Sullivan, whereas "other people, planners, wanted to be able to look at the entire thing and allocate resources," so they need larger image files.
"But then there are people who are doing instant commands for the entire incident, who want to know what nine crews are doing," so they need a rich image that combines a photographic snapshot with infrared imagery.
In California in 2008, all that paid off—big time—when a NASA test flight using a data downlink system was able to provide updated information to the incident managers that was crucial in determining where to send firefighting resources and whether a full evacuation of the town of Paradise was needed.
Without that timely information, says Sullivan, "there likely would have been injuries and certainly property damage that was worse than it turned out to be."
Abstract
A long-standing partnership between NASA and the U.S. Forest Service aims to help firefighting agencies make good use of advanced technology to better fight forest fires. One recent collaboration with researchers at Ames Research Center led to installing a digital downlink connection on the Forest Service's instrumented aircraft, to make it easier to send the latest fire updates to people on the ground.