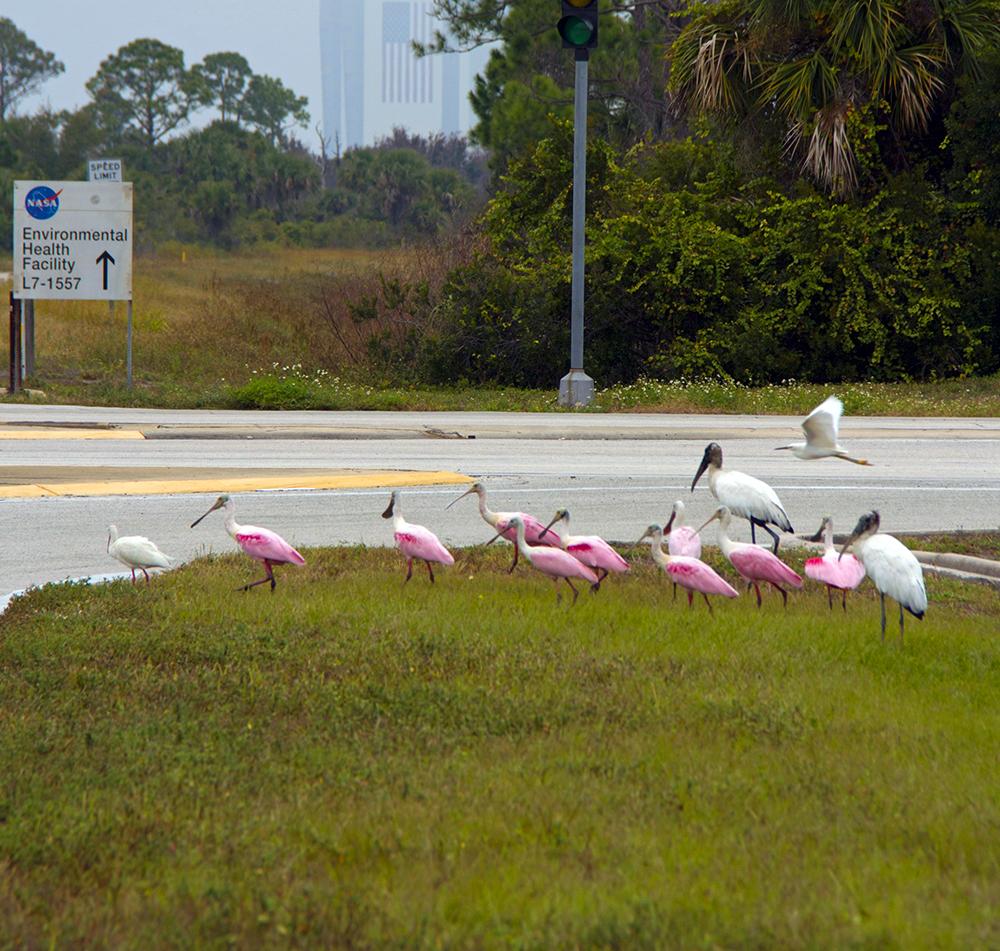 Safely Detoxifying Soil and Groundwater with NASA Technology
Subheadline
Revolutionary iron emulsion added an eco-friendly alternative to costly site decontamination
Originally published 10/15/2021
At 5:12 a.m. on Sept. 28, 1982, a train derailed near Livingston, Louisiana, waking residents nearby to the sound of explosions and raging fires. What the residents didn't see until later were the thousands of gallons of toxic chemicals – 27 train cars' worth – soaking the ground, polluting soil and groundwater alike.
The town spent millions of dollars, and more than 30 years, using well-known remediation techniques to attempt to clean up the spill, but the toxic chemicals remained at levels high enough to keep the area perennially on the Environmental Protection Agency's list
of "brownfields," or contaminated properties.
In 2013, the town was ready for something new. It turned to a unique environmental remediation technology first created at NASA in 2002 to safely destroy chemical contamination left over from the early days of the space program.
Called emulsified zero-valent iron (EZVI), the formula has become one of the space agency's most far-reaching success stories (Spinoff 2005, 2010). The two related patents have been licensed more than a dozen times by private companies, which have in turn cleaned up contamination across the United States and around the world.
This innovative technology has made it possible, for the first time, to eliminate chlorinated chemicals left deep in soil and aquifers by dye and paint manufacturers, dry cleaners, chemical manufacturers, metal cleaning and degreasing facilities, electronics companies, pharmaceutical manufacturers, and more.
October 2021 marks a significant milestone as the technology turns 20 and the patents expire, leaving behind a significant legacy of companies that have successfully manufactured the technology for close to two decades.
Mini-Bioreactors
"If you're aware that you may have any potentially contaminated sites, by law you're required to go investigate," said Jackie Quinn. An environment engineer at the time with NASA's Kennedy Space Center in Florida, Quinn also served as the project lead for EZVI development.
The law she was referring to was the 1976 Resource Conservation and Recovery Act, which prompted NASA's review of potentially hazardous sites. One such site was Kennedy's historic Launch Complex 34, where thousands of gallons of chlorinated solvents had soaked into the ground during the Apollo program. Chlorinated solvents, which NASA used to clean rocket engine components, were once thought to be harmless but are now known toxins and carcinogens – and are difficult to eliminate.
Only slightly soluble in water, and much heavier, they sink below the water table and settle into tiny cracks and spaces among the rocks and soil, making them virtually impossible to find and remove. They're also persistent, barely breaking down over time. As they mingle with water, they can threaten local wildlife and contaminate drinking water.
So Quinn and Kathleen Brooks Loftin, a NASA analytical chemist at the time and now Kennedy's chief technologist, partnered with the University of Central Florida to find a way to break down these chemicals across a vast area without causing any additional environmental damage. They came up with a combination of emulsified vegetable oil, water, and microscopic iron particles. It was revolutionary.
"We create an oil bubble around a little bit of water with iron in it," explained Quinn. "Each one of those bubbles is like a little micro-reactor." The vegetable oil attracts the hydrophobic chemicals, drawing them in. Concentration gradients then push the toxins from the oil into the water, where the iron spurs a reaction that degrades the molecules into by-products that are expelled from the bubble. Then the process repeats, over and over, for decades if necessary, until no toxins remain.
The Florida sites where NASA and the U.S. Air Force tested the new technology – Launch Complex 34 and nearby Patrick Air Force Base – saw dramatic reductions of contamination within a few months.
Cheaper, Faster, and More Effective
It was clear EZVI would be useful outside NASA, so the Kennedy Technology Transfer Office jumped into action to get it into the hands of private companies.
Along with the patent license, Quinn showed some early adopters how to reproduce the correct formula. Toxicological and Environmental Associates Inc. (TEA) of Miramar Beach, Florida, the company that brought EZVI to the Livingston site, used the NASA training and insight to scale up the manufacturing needed for thousands of gallons of its EZVI product, called Sourcekill.
The company also had to figure out the best methods for injecting the emulsion into different soil conditions such as sand, silt, and clay.
"The delivery of the EZVI was going to be a big issue," said Brad Droy, CEO of TEA. "How do you get it to effectively distribute throughout the contaminated area?" Over time the company, working with injection experts, developed best practice methodologies for soil mixing in shallow soils and for hydraulic fracturing in silts, clays, and fractured rock.
TEA now both manufactures EZVI for other companies and uses it with its own remediation customers. The company has supplied or injected several hundred thousand gallons of EZVI for projects in 15 states in the United States as well as Canada, Australia, and Japan.
Applying EZVI can be done in a matter of days or weeks, with positive results seen typically within three to six months, making it far less costly than treatments that can take decades. "This remediation technique destroys the source material that causes the contamination, so it's a cheaper, more effective solution," said Droy.
'Significant Advance'
EZVI can destroy a variety of chlorinated hydrocarbon compounds such as carbon tetrachloride, tetrachloroethylene, and trichloroethylene. Some alternative decontamination methods require excavating soil and rock for treatment, which can cause major disturbances to the site. These approaches could leave toxins deep underground where excavators can't reach, allowing the chemicals to migrate deeper and farther.
"The innovation of EZVI is the structure of the emulsion," said Greg Booth, senior technical leader for on-site remediation for the Portland, Maine-based Woodard & Curran. "The NASA patented technology provides the ability to directly contact and destroy the contamination source and continues to be a very significant advance for the industry."
Booth was one of the first users of the technology, even before joining Woodard & Curran, as part of the team that worked on the cleanup project at Patrick Air Force Base. The goal was to reduce the contaminant source by 50% within 25 years and 100% within 80 years. But after one EZVI treatment, the reduction was close to 90% in just six years. Since then, he's also worked to advance formulations of EZVI.
Building on the Recipe
Provectus Environmental Products Inc. in Freeport, Illinois, also manufactures EZVI for its own projects and the environmental remediation industry. The company develops remediation solutions for clients, frequently combining multiple technologies to maximize cleanup efficiency.
"By taking a holistic approach, we've found ways to combine biological activity with oxidation and reduction chemistry," explained Wade Meese, CEO of Provectus.
To date, the company has manufactured EZVI for cleanup projects in 17 states and provided EZVI for Brazil. Whether it's an electronics manufacturing site in South Carolina or a former dry cleaner in New Jersey, Provectus has used the technology to address soil, groundwater, and bedrock chlorinated solvent contamination.
"NASA did the world a favor by creating the product," said Meese. "It's a key component of our business structure, and it gives us another innovative remediation tool to enable a comprehensive solution at complicated sites."
Beyond the Hall of Fame
In 2005, EZVI was recognized as both the NASA Government Invention of the Year and NASA Commercial Invention of the Year. In 2006, the inventors won the Federal Laboratory Consortium's Award for Excellence in Technology Transfer. And in 2007, EZVI was inducted into the Space Foundation's Space Technology Hall of Fame.
One of the first license holders, Terra Systems Inc. of Claymont, Delaware, has used the award-winning solution to manufacture and provide EZVI for projects in New Jersey, Florida, and Washington state, as well as projects in Japan, according to Dr. Michael D. Lee, vice president of research and development.
"NASA has been a good partner with reasonable patent licensing terms," he said.
"We look forward to hearing about more successful usages of the EZVI technology for decades to come," said Jim Nichols, technology licensing manager for Kennedy. "NASA is constantly innovating to solve its own challenges and is always happy when the resulting technologies also help solve problems well beyond the scope of aviation and space travel," he said.
Hundreds of NASA technologies are available for licensing to the public through the NASA Patent Portfolio.
Abstract
The chemicals used to clean rocket parts in the 1960s posed a threat to a wildlife refuge next to NASA's Kennedy Space Center, inspiring an eco-friendly cleanup solution that's now decontaminating sand, soil, fractured bedrock, and groundwater around the world.