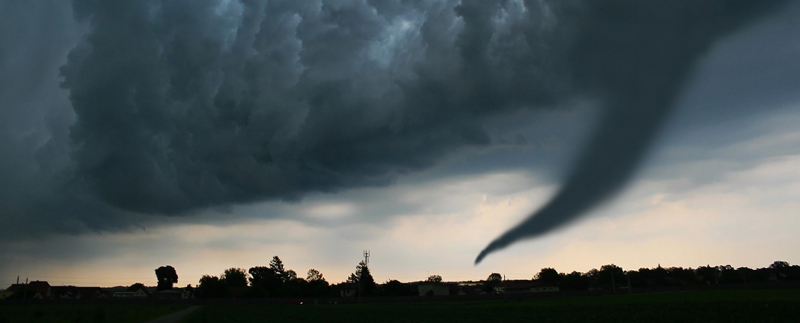 Eagle Eyes in Treacherous Skies
Subheadline
A rugged drone designed for NASA supports research and commercial enterprise from the air
Originally published 08/12/2020
Body
Tornados can flip a car when the wind speed reaches 122 mph, making them unpredictability dangerous. Volcanic eruptions are as toxic as they are destructive. Researchers are working hard to improve forecasting techniques and earlier warning systems for these and other extreme events, but they need more data. Collecting that data, though, is no simple task.
Conditions can be monitored from the ground, but measurements taken from the air at different altitudes add an important perspective. A remotely piloted vehicle equipped with the relevant sensors can dramatically reduce risks for researchers, costs less than chartering a helicopter or plane and is more eco-friendly than a large aircraft.
But a drone must be rugged to perform effectively under such extreme conditions. Thanks to partnerships between NASA and a company called Black Swift Technologies, such a drone exists.
Black Swift's S2 fixed-wing aircraft was specifically designed, with NASA funding and support, to perform in demanding environments that would damage other small drones, from a volcano to a wildfire or everyday arctic weather.
Now the S2 provides researchers and commercial enterprise, including farmers, surveyors, and the oil and gas industry, with a cutting-edge alternative for gathering reliable aerial data, because of the high expectations of NASA's requirements.
"A lot of the unique capabilities of our aircraft system have come from doing research with NASA," says Jack Elston, Black Swift CEO. Field work with the agency challenged the company to develop an aircraft that incorporated hardware durability, quick-launch capability, and an intuitive pilot interface with precise sensor readings and data accuracy. "We integrated all kinds of lessons learned into our platforms."
From Soil Moisture to Ice Cores
The most important result of the company's work with NASA is a fully integrated set of miniaturized instrumentation that delivers usable data under extreme conditions, says Geoff Bland, a research engineer in the Earth Science Field Support Office at Goddard Space Flight Center's Wallops Flight Facility. Bland managed multiple Goddard-supported Small Business Innovation Research (SBIR) projects with Black Swift to develop the technology, beginning in 2012.
As part of the SBIR work done with Goddard and other agency field centers, the Boulder, Colorado-based company also designed a new drone airframe with improved electronics to meet NASA's exacting specifications. This became the S2. The customized aircraft system includes flight instruments and software that gather and process data with nearly real-time results.
The unique body design houses sensor systems inside the nosecone to help protect them from extreme conditions and also lets users easily change sensors in the field. For the Institute of Arctic and Alpine Research (INSTAAR) at the University of Colorado, the modular, rugged vehicle was perfect for atmospheric sampling in Greenland.
"The S2 was flown by INSTAAR last year above where they were taking ice cores, in order to sample the atmosphere and tell them what the composition was up to 14,000 feet at minus 20 degrees Fahrenheit conditions," explains Elston.
The University of Virginia is using an S2 with a soil-moisture measurement system that also has a NASA lineage. Black Swift worked with a University of Colorado professor and NASA to develop a miniaturized radiometer for soil-moisture research, according to Bland. While other NASA missions use satellites to map global and national soil moisture, drones can map smaller areas at far higher resolutions.
The data collected closer to Earth augments the broader-view satellite information while also providing data needed for the ongoing calibration maintenance of satellites in low-earth orbit. The lower-altitude drone measurements can take into account local conditions that can't be detected from space, such as the influence of land contours on local-scale winds.
Farmers can now use the same technology to regularly evaluate crop and field conditions from the air to adjust watering and fertilizing schedules. And local municipalities can also benefit.
"Soil moisture is important for not only our agricultural interests but for infrastructure," says Bland. For example, knowing the ground is already saturated is important to knowing whether heavy rains might undermine road stability and put drivers at risk.
Cutting-Edge Design
Cognizant of how challenging field conditions can be, Elston says Black Swift made a concerted effort to create a user-friendly system. In addition to interchangeable custom, miniaturized sensors, the S2 is also capable of autonomous launch, flight, and landing to make multiple flights easy to coordinate.
The pilot interface, called the SwiftCore Flight Management System, is an original program that makes it easy to see and address in-flight activity. Refined and tested during the SBIR sensor research, the simple interface helps the operator to focus on the flight map and data points about the health status of the vehicle. To avoid distracting pilots from essential tasks, supporting resources such as battery life and preventive maintenance algorithms running in the background aren't presented on the main display.
"You can delve down into the details," says Elston, "but we're trying to make it very simple for you to define an area, then automatically execute that plan. If there's anything wrong with the aircraft, the operator knows before they get in a bad situation by following guidance from automated prompts."
Early problem-detection alerts make it possible for the pilot to mitigate issues and avoid data corruption.
It also helps the drone during the flight: while the vehicle is sending data to the ground control, it's simultaneously using that information to make adjustments to precisely follow its pre-programmed flight plan.
If, for instance, the flight is monitoring a plume of gas, the autopilot system monitors the data and can create an optimized flight path according to a preprogrammed set of parameters. When it identifies the outside edge of the plume, the aircraft can be directed to automatically correct its course to help gather data at the best possible locations.
Flying Beyond the Line of Sight
The S2 could also be used for more efficient visual inspections of power lines and conducting geological surveys. However, that won't happen until the Federal Aviation Administration (FAA) updates rules governing all flight in U.S. airspace to include remotely piloted aircraft.
Until the rules are changed, the pilot of any drone must be able to see the aircraft at all times during its operation. NASA is conducting research to help the FAA develop rules to permit beyond-line-of-sight remote and autonomous operations. Black Swift is participating in this research as well and is incorporating the results into the systems necessary for its drones to be ready to fly beyond the pilot's line of sight.
"Most of the flights we perform for science would greatly benefit from that," says Elston. "And a lot of our commercial partners would benefit from that as well for infrastructure inspections such as a power line that you need to check."
Bland agrees, calling NASA's work with Black Swift an "excellent example" of how public/private partnerships are essential for bringing about the technology development and changes to related regulatory standards essential for long-term success in aviation.
"The willingness of Black Swift to partner with others, whether it's a university or other small businesses, is essential to their success," he says. "The company recognizes and capitalizes on collaborative work to get the job done."
Margo Pierce
Science Writer
Abstract
To collect Earth science data, NASA awarded a company SBIR contracts to Black Swift Technologies develop a rugged remotely piloted drone. Now farmers and other industries use it to monitor everything from soil moisture to Arctic atmospheric conditions.