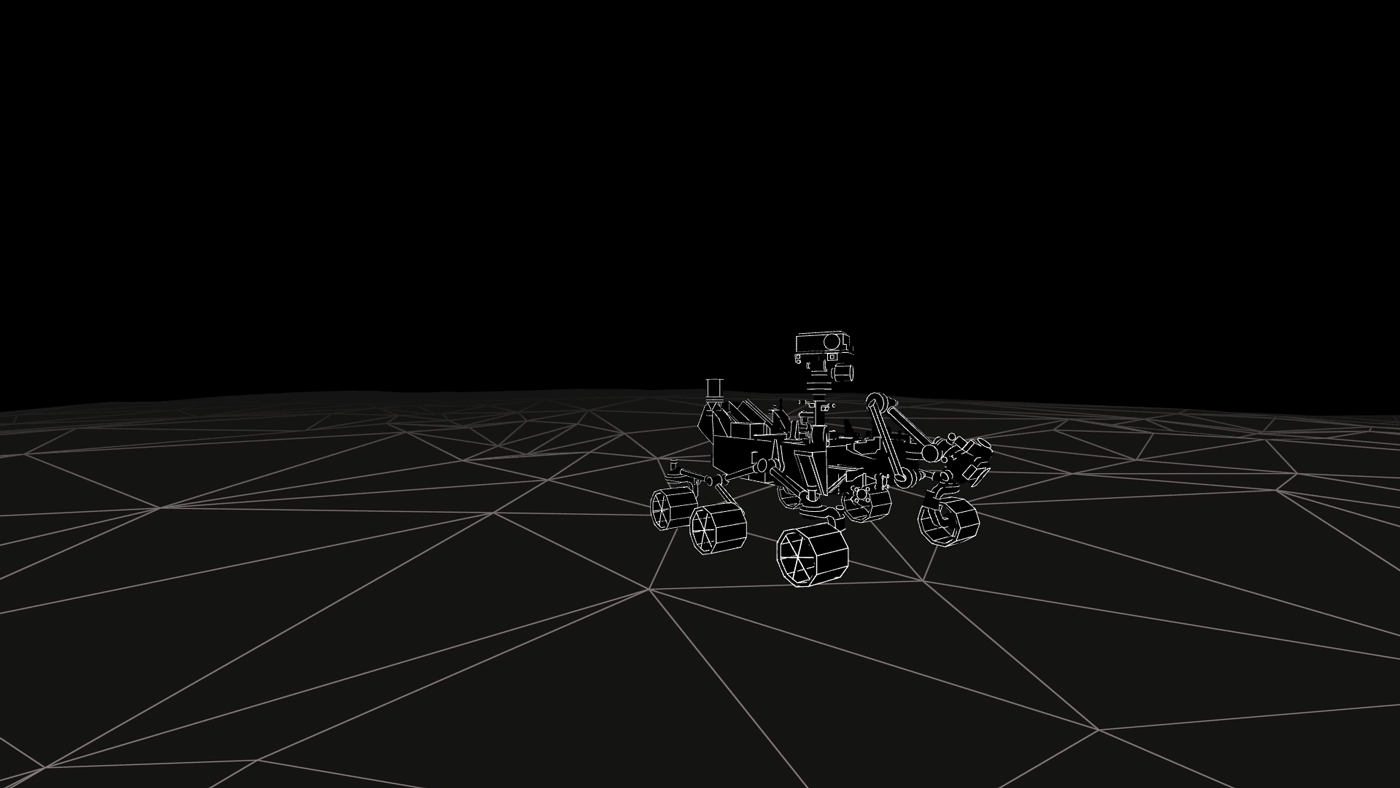 Planets Take Virtual Shape on Earth with NASA Knowledge and Imagery
Subheadline
Companies are creating virtual worlds with NASA's planetary data and augmenting our own, enabling immersive experiences of space
Originally published 09/14/2020
In a time of quarantines and online learning, guided strolls along the surface of Mars are especially appealing.
These tours are possible with Access Mars, a free virtual reality experience of the Red Planet, with interactive landmarks and narration by a NASA scientist, using the Planetary Data System (PDS).
PDS is a long-term archive of digital data products returned from NASA's planetary missions and actively managed by scientists for the worldwide planetary science community. While all archived products are free and available online, PDS also provides a variety of tools useful in producing, obtaining, and using archived data.
The collaboration between NASA and Mountain View, California-based Google is one of numerous virtual and augmented reality projects made possible by the high-resolution imagery and data the space agency has collected with spacecraft and rovers on and around other worlds over the years.
Access Mars was created with photos taken by NASA's Curiosity rover, which has been studying the Red Planet since 2012. Users can navigate Curiosity's path, including the rover's landing site, its current location, and Martian landmarks like the Pahrump Hills, Marias Pass, and Murray Buttes, with wind hissing steadily in the background and explanations spoken by NASA scientist Kathryn Stack Morgan.
Users only need a cellphone or computer and an internet connection, making the project broadly accessible, especially compared with traditional virtual reality experiences that require expensive headsets and large file downloads. This accessibility has come in handy for people feeling cooped up amid the pandemic of 2020.
"We saw a 15-times increase in visitors starting in mid-March," said Ryan Burke, creative producer at Google's Creative Lab. That uptick coincided with the first wave of stay-at-home orders in the United States to prevent the spread of the novel coronavirus.
The additional traffic is, at least in part, the result of teachers accommodating distance-learning situations and students and others looking for ways to learn and explore while maintaining social distance.
"Access Mars is very active Monday through Friday, while schools are in session, and then traffic dips a bit on the weekends," Burke said.
Getting NASA data into the hands of more people was always the point of the NASA-Google collaboration, which was formalized in a Space Act Agreement (SAA) with NASA Headquarters and is one of numerous SAA partnerships with the tech giant.
Working with private-sector organizations helps NASA get information about the agency's work to the public, and it can help keep that information up to date and accessible, according to Sasha Samochina, deputy manager of the Ops Lab at NASA's Jet Propulsion Laboratory in Southern California, which worked with Google on the Access Mars project.
Samochina and her team at the Ops Lab previously worked with Microsoft on a Mars app for the company's HoloLens, mixed-reality smart glasses that can function as a virtual reality headset. The HoloLens app, OnSight, allowed planetary geologists at NASA to study the surface of Mars by walking through the virtual terrain captured by Curiosity.
"Scientists could basically do site visits to places they were studying on Mars," Samochina said. "It was a first of its kind."
The OnSight app won NASA's software of the year award in 2018, and Mars scientists at NASA still use it to visualize and understand the terrain around the rover. However, besides a temporary exhibit at NASA's Kennedy Space Center Visitor's Center in Florida, it wasn't easily accessible to the public.
NASA shared the same Martian terrain data with Google to make an experience that's available to everyone.
The original files were too big for the web, so Google rebuilt the terrain data into smaller pieces. These smaller files load faster and use less data, giving a high-definition view of the surface of Mars to almost anyone with internet access.
"Our data is out there to be used," NASA's Samochina said. "The more accessible and the more understandable we can make it, and the more we can put it into easily digestible experiences, the better it is for us and for people who are trying to learn about what NASA is up to, what we're doing."
The World at Your Fingertips
In addition to creating its own browser-based Solar System Treks, NASA has worked with multiple companies on space-related virtual reality projects. The agency's robust repository of planetary imagery and data make it a natural partner for companies aiming to build other-worldly experiences. The PDS currently holds 1.85 petabytes of data from over 70 missions and continues to grow, with millions of files downloaded by users every month.
Through another SAA, NASA partnered with Fusion Media Group Labs to create the Mars 2030 virtual experience. And sometimes NASA's public information is enough. Ireland-based Immersive VR Education created its Apollo 11 virtual reality experience almost entirely from images and drawings posted on NASA's historical webpages.
Publicly posted datasets are also feeding the creations of AstroReality, a Cupertino, California-based company that sells intricate Moon and planet models with augmented reality features that are accessible through a cellphone app.
Hold a smartphone, with the app installed, over one of the company's detailed and heavy Moon globes, for example, and information about individual craters and other topographical features will pop up, in addition to general Moon knowledge.
"Rather than learning everything on a computer, we're trying to merge digital experiences with the best and most up-to-date data we can find with something you can hold in your hands," said J.R. Skok, AstroReality's chief science officer.
In creating its models, the company drew from NASA sources, like the Lunar Orbiter Laser Altimeter, or LOLA, which is onboard the Lunar Reconnaissance Orbiter that has been orbiting the Moon since 2009. LOLA has been gathering detailed topographical information that will inform the agency's decisions about landing sites for future lunar missions.
The company has also consulted the Mars Orbiter Laser Altimeter, or MOLA, data for its Mars model topography, and NASA satellite imagery for its Earth model. LOLA, MOLA, and much of the agency's satellite Earth data are managed by NASA engineers at NASA's Goddard Space Flight Center in Greenbelt, Maryland.
AstroReality's products also draw on NASA experience. Skok has worked as a NASA contractor and intern, and he received funding from the agency as a graduate student. He has used his knowledge of the agency's resources to help the company recreate celestial bodies with detail and accuracy.
In addition to planet models, the company sells augmented reality-enabled notebooks and mugs that also work with their cellphone apps.
While enthusiasts are the company's main customers, AstroReality also works with the Aldrin Family Foundation to bring space to children through schools and curricula.
"There's something the human mind gets when you can actually feel the craters on the Moon," Skok says. "There's an interplay between feeling it with your fingers, seeing it, and then getting the deeper detail through the technology. It creates a human experience, and that makes a difference."
Rebecca Carroll
Science Writer
Abstract
Companies are creating virtual worlds with NASA's planetary data and augmenting our own, enabling immersive experiences of space.